Daniel Dilallo renders reality for a living. A film director and game developer combining both skillsets within the virtual reality space, Dilallo creates "smart" content for everyone from porn companies to medical practices.
"This is the era of the brain," he tells me. "We can learn a lot by watching the way people interact when we immerse them in different environments."
As a developer for Vixen VR, Dilallo frequently monitors how people behave when inserted into erotic surroundings. Creating VR versions of popular strip clubs, including the Spearmint Rhino in Las Vegas, is just one of the way he's now transitioning into the adult space after a successful career in video game development.
How do you define virtual reality?
It's different for everybody, but for me virtual reality is just the evolution of the storytelling process. We moved from storytelling around the fire to watching pictures on the wall, and then animations. From that film and TV standpoint, VR is just another way to consume media and use technology to become closer to stories. Humans evolved to see in 3D, so watching things on 2D planes is unnatural for the human eye. VR actually immerses you completely around the image or video you want to see and completely engulfs you in that. It's a better perspective.
What initially drew you to VR?
At my root, I'm a storyteller and my mission to is to bring viewers as closely into the story as possible. I want to remove all outside distractions and visuals, and for them to become so immersed and engulfed in the story they become a part of it. That's been my mission since I was a kid.
I grew up in a poor family and all I had was a small television and a game console — only because I would beg, and it would usually be a couple of years late. But I finally got one and my only escape from reality was watching a film or playing a game. I couldn't travel; we didn't have any money to even leave the state, more or less leave the country or go on a vacation. We had nothing and the only way to escape was through media, to live out different lives.
Moives would engulf me: you could yell at me, you could talk to me, but I was stuck. I was watching. I was traveling into that story with my mind, with my imagination. As we grow older our imaginations aren't as free; they're clouded with distractions. And now there are cell phones and computers — so many different things going on that it's much harder to travel into these stories. I want to make sure what I'm creating is deep, passionate and more immersive and powerful. VR is making it easier to travel inside these stories again.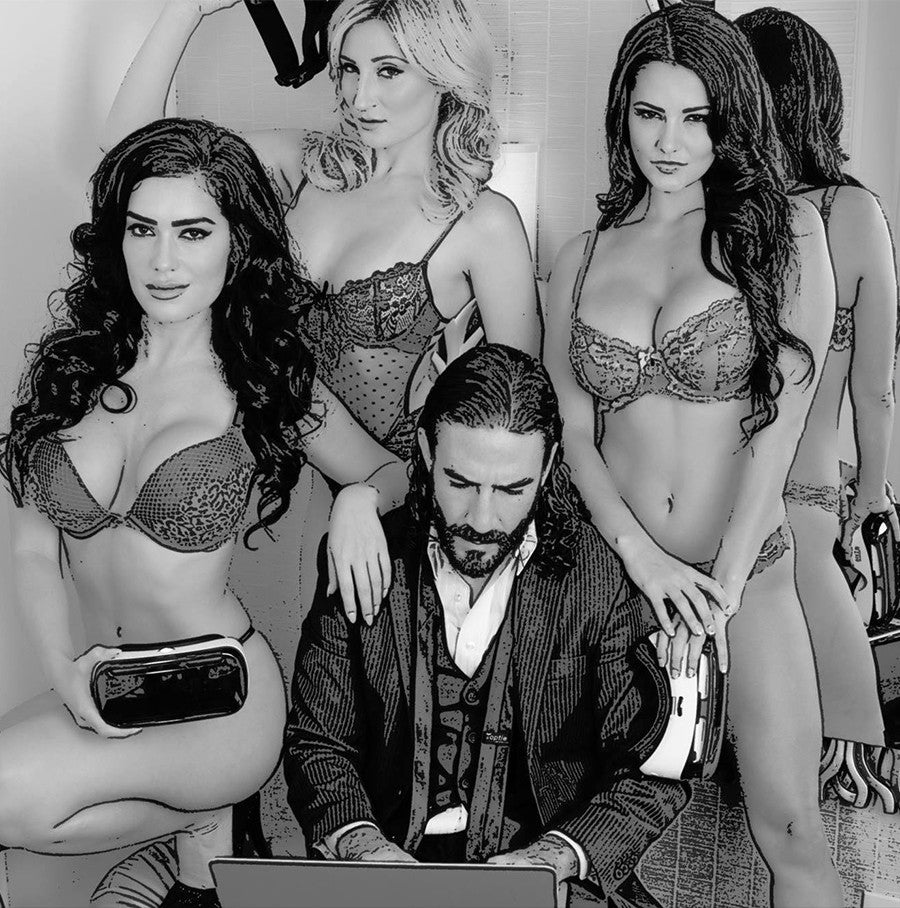 What about when your travel destination is porn? Do you think that VR can make porn more intimate?
Yes, I'm in the adult space right now for several reasons, and one is how intimate this technology can get to a user. [VR porn] is really going to evolve the way we consume adult content.
First, the sound. I love binaural holophonic sounds for being in a room with a girl. When you're using VR for a webcam stream instead of watching it on your computer screen, you're really sitting in front of a woman's bed. When she talks, it echoes perfectly so you forget you're in your own room. You feel like you're in her room. As an adult entertainer, the whole premise is to become intimate with the user. Now, you're bringing them even closer into your world.
Secondly, when you start making a film smart, that adds a whole new dimension of intimacy. There's nothing more immersive than when a film is interacts with you based on what you do inside these VR worlds. For example, when we know the user is looking at a girl's breasts, animation-based filming techniques can offer an experience where the girl looks at you right in the eyes. I want men to be able to look into [their partner's] eyes and for the film to come alive, because it has a brain. Then when you add peripherals, that's a whole other layer.
When you say peripherals, you're referring to the kind of hardware accessories that get paired with VR?
Touch-seal sensor systems that attach to man's male parts, extending the kinetics. You can buy a package where the girl on one end can interact with your actual penis via a virtual penis. The hardware syncs up perfectly to the virtual experience so you can feel exactly what she is doing. Now they're making machines that allow women to have an equivalent experience.
You weren't directing porn before you began working on adult VR content. Why now?
Adult content has always been at the forefront of technology when it comes to consuming media. Working with adult content you get a chance to work with all these new technologies that a lot of companies just aren't investing in yet, like with these peripherals. It doesn't matter what part of the body the device is attached to: the fact of the matter is that a peripheral is an extension of a user to another user. I started working with adult content because I want to see the technology at work.
Aside from the 1-on-1 webcam experiences, what other adult VR projects are you working on?
We're working on a property called "VR Clubs." There's a VIP membership option, so if you have it, you don't have to stand in line to get into a club. Once you're in the club, there's even an ATM machine where you can get singles and have access to everything from a VIP table to a champagne room. We identify everything that happens in a real club and break it out as features to virtualize, making everything as realistic as possible. Some of the features — like the VIP membership — are monetized and other elements are given to the user for free. We want to be able to offer to the user everything a strip club has. Perhaps, everything they've always wanted to see, but couldn't afford.
Even in VR you pay to be VIP?
It's subscription-based, so you'll have a subscription to the VIP membership. You'll get extra lap dances for free and special options like a VIP room — we want to offer all those perks. We can't all afford to go to the champagne room or to sit at the best table. But with our model, you can just for a simple subscription. We want to finally give people who have never been able to get that VIP treatment a chance to finally enjoy it.
How could this affect bachelor parties?
A lot of our best friends live across the country — or even across the world. We're all separated, but we still want to enjoy each other's company and have a good time. When we want to have a bachelor party, but we can't all make it, we'll do a virtual reality bachelor party, where we all go to the hottest strip clubs. We jump in the limo and arrive at Spearmint Rhino. We go in and have a blast, spending hardly any money. And we enjoyed all of our company of our best friends and we had a great club experience.
No plane ticket needed.
You sat in your room and you hung out with your boys! You had the same amount of fun and then two hours later you can take off your headset and you're back at home making dinner.
Some people are already very critical of the effect of porn, sexting and camming on relationships today. I can't imagine they'd like this.
Coming from the game industry, we get an extreme amount of criticism for trapping generations behind their computers and their televisions playing games, but that's not necessarily the case. It can be safer! I can go to a virtual reality club get that experience out of my system in a safe environment.
What about VR outside of porn? Are you creating any experiences that aren't erotic?
Yeah, I'm in multiple verticals and some are at completely different ends of the spectrum. I'm really interested in the medical and therapeutic sides of VR. My dad passed away from addiction and my mom and brothers all suffer from it. There's a way therapists deal with addiction, a technique called desensitization, that is like cue therapy. But they have such limited resources that it really amounts to [showing a patient] a picture or a video of a bar and being like: Can you picture yourself in this scene? Well just imagine you're in this scene, what kind of feelings does this you know bring up? But you're in the doctor's office still. It's a desensitization technique, but it's so weak because the therapist has no tools. VR allows the therapist to bring their patient into a bar scene and see how he or she is going to react. You put them in that environment. The only other way to do it is to go on a field trip to a bar and I don't think that's productive or time efficient. If you have a VR set, you stick it on the person, you bring them to that bar and you evoke those feelings.
I'm not focused on whether projects are adult, meant for entertainment or medical. I'm focused on immersing users into realistic experiences.
Tierney Finster is a writer-actress-model-activist from the San Fernando Valley.
More sex on MEL:
For even more MEL, follow us on Medium or subscribe to our newsletter.