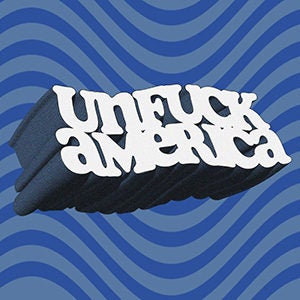 Every day until the election, we're introducing you to one character or issue whose fate centers around the political state of sex and gender. We'll discover which freedoms are at stake, what battles are being fought and what sex in a free country really looks like, all in honor of unfucking a system that seems increasingly hellbent on fucking up fucking. Welcome, everybody, to UnFuck America.
If you read porn-world publications, you won't see much coverage on pandemic stimulus checks, health-care reform, court appointments or other big political issues that have dominated this pivotal election year. This lack of coverage doesn't reflect an apolitical bent in the adult industry. On the contrary, because sex and porn are so deeply politicized in the U.S., the industry teems with activists, keenly attuned to legislative goings-on in D.C. and beyond. Industry outlets just tend to focus on the issues with the greatest potential to affect the porn world — issues like the fate of Section 230 of the Communications Decency Act (CDA), a 26-word, one-sentence snippet of a law passed in 1996 that numerous major politicians on both sides of the aisle are currently working to tweak or repeal. 
Over the past year, publications like AVN and XBiz have tracked and covered almost every legislative, judicial and regulatory development related to this relatively obscure clause, and published guides on Biden's and Trump's statements and stances on it. Beyond pure coverage, industry lawyer Corey Silverstein says that every one of his clients — clip and tube sites, content producers and web hosts alike — "is dreadfully concerned about Section 230" developments.
"I have seen a lot of girls in the industry on social media urging people to call their representatives and urge them not to amend Section 230," adds performer Joslyn Jane. 
Why? Because that single sentence within the CDA plays a key role in determining what kind of content gets to live where online. As such, even minor tweaks to the section could have major — and most likely devastating — effects on the porn world. They could, for instance, potentially drive porn off of mainstream social media platforms like Twitter, which the industry depends on for visibility. Or they could lead to increased restrictions on the content people can post on cam, clip or tube sites. Or any number of other wide-ranging, unpredictable effects. A total repeal, many industry insiders fear, could even kill off entire online porn communities or sites. 
Changes to Section 230 wouldn't just affect the porn world, though. They could reconfigure the shape of the internet as we know it, radically altering the rules on what we can say online in chaotic ways, perhaps even eviscerating popular digital forums. Which makes it odd that, as Jane notes, only a few people outside of the adult, legal and tech worlds even know what Section 230 is. "Trump mentioned 230 at a recent rally," says Daniel Lyons, a Boston College law professor, internet policy expert and Section 230 wonk, "and the crowd responded with crickets." 
Section 230 emerged as part of a bipartisan response to a lawsuit filed in 1994 against the early online service provider Prodigy, holding it legally accountable for a defamatory statement a user posted on its forums. Prior law held that venues like bookstores weren't liable for the contents of the books they sold, as the books weren't their objectionable actions or speech. However, because Prodigy attempted to moderate their forums to keep them safe, the legal system determined that those protections didn't apply — that its failure to remove the objectionable comment made it legally culpable for the shit that a random poster said on its platform. 
Observers realized this created a perverse incentive for companies to either moderate forums into a sterile oblivion, abandon moderation altogether and let the internet turn into a giant 8Chan or avoid digital communications projects entirely. But because that would crush both the rapidly developing economic and communications potentials of the internet, Congress came up with a simple solution: Section 230 of the DMCA. It declared that digital platforms are not the publishers or speakers of the contents their third-party users post on them, and so cannot be prosecuted over hosted content. 
In the years since, courts and legislators have carved out exceptions for sites that knowingly and intentionally host federally criminal content. But the core of Section 230 still stands as "the legal foundation of the internet services we use and love the most," explains digital legal expert Eric Goldman, including sites like Twitter, Yelp, Amazon and Airbnb, to name just a few. 
Early on, the clause allowed web hosts and forum sites to feature adult content posted by third parties without worrying too much about obscenity trials, which the George W. Bush administration especially used in the aughts to try to go after "extreme" porn, a nebulous term for which there was no real definition and thus could cover everything from rough sex to scat play. That vagueness, though, just made it all the harder to know what kind of porn would have been safe to host without Section 230 protections.
Today, Section 230 also helps to protect the existence of cam, clip, fan and tube sites, allowing them to host content uploaded and managed by external companies, solo performer-producers and amateurs without (much) fear of someone coming after their sites legally for content they find objectionable or believe to be harmful, which would bury operators in lawsuits. Ditto for social media sites that allow adult content, but might not if they knew people could sue them over controversial posts. Essentially, Branden Richards, an adult performer, producer and owner of the site DickDrainers.com, explains, "it affects the way most of us market ourselves — social media — and the way we make money via platforms." 
Few legislators in 1996 could have envisioned what the internet would look like 24 years later. According to some reports, few even cared enough about the world wide web at the time to really pay attention to the details of Section 230. But as we've learned more about the power and reach of social media platforms especially, a growing number of politicians and public-interest groups have expressed an interest in revisiting the clause. Most want to find ways of selectively paring back its protections to give sites stronger incentives to police what they believe to be dangerous user-generated content. Or they want to make Section 230 protections contingent on proof that sites are doing their darndest to make sure that the content on their platforms don't cause social harms. 
A few reform pushes have succeeded. Notably, in early 2018 Congress passed FOSTA-SESTA, a bill that killed Section 230 shielding for sites that host content implicated in the facilitation or promotion of prostitution and sex trafficking. To many, that sounds like a noble goal — and that's why it passed with only two dissenting votes in the Senate. (One of them, Democrat Ron Wyden, co-authored Section 230.) 
But critics like Silverstein note that the government already had enough power to go after sites facilitating sex trafficking without the bill. So its primary effect was really, thanks to its over-broad language, shutting down sites that sex workers used not for trafficking, but to technically facilitate consensual prostitution, including forums used to share safety advice, which wound up putting sex workers at greater risk of harm. The law also scared platforms like Craigslist into shutting down their personals sections for fear of someone posting something related to sex work that their moderators wouldn't be able to catch, and that would lead to a lawsuit under the new law. To top it all off, it arguably made it even harder for authorities to monitor and bust traffickers, who merely went deep into the dark web underground instead. 
"Given that many legislators refuse to believe that sex work, including adult content creation, can ever be consensual, there's potential broad applications [of bills like FOSTA-SESTA] to all of the adult industry, as well," if a zealous attorney general decides to push the notion, argues Michael Stabile of the Free Speech Coalition, an adult industry political advocacy group. "We're already seeing [mainstream platforms] shadow banning or de-platforming sex workers, whether or not they violate a site's terms of service." 
FOSTA-SESTA showed clearly that, as Jamie Jett, a performer and pre-law university student, puts it, "even well-intentioned changes to Section 230 can have a cascading effect, causing new restrictions." And it's put the adult industry on high alert about future erosions of the provision ever since. Few other reform proposals, however, have garnered much political traction. 
Until this year, that is. In May, Donald Trump threw a massive temper tantrum after Twitter finally decided to fact-check a couple of his blatantly false tweets. In response, he signed an executive order instructing federal regulators to find as many creative ways as possible to stretch their authority to kneecap Section 230. He and other Republicans seem to believe that curbing or revoking the clause will force platforms to stop moderating political speech entirely for fear of a flood of lawsuits, allowing them to post whatever the fuck they want with impunity. (Experts, though, note it may just lead to bans on all political speech on, or the total implosion of, Trump's preferred platforms.) Notably, what Trump was asking his minions to do here wasn't totally clear — his war cry, it seemed, was just that they do something.
The next month, the Justice Department issued reform bills recommendations. Congressional Republicans responded with a flurry of anti-230 ideas — and Trump re-upped his cries for reform or repeal of the provision in September and October, in response to new perceived social media company slights against him. (No studies have, to date, born out his or his allies' assertions that digital platforms selectively censor conservative speech.) Within the last couple of weeks alone, the FCC announced it would step up, using dubious authorities, to issue new rules constraining the Section, while Congress hauled in tech execs to grill them about it. 
Meanwhile, in January Joe Biden told reporters that he wanted to kill Section 230 in order to hold platforms more accountable for hate speech, harassment and other harms perpetrated on and through them — a common sentiment among Democrats. He reaffirmed his position in May, while congressional Democrats expressed an interest in exploring reform bills in the future, spurred on by tales of electoral and public health disinformation and misinformation. 
As of early October, Techdirt identified 17 bills introduced in Congress in 2020 alone that aimed to either destroy or rewrite Section 230. And more are likely on the way. "Substantively, the legislative proposals aren't that different from what we've seen over the last couple of years," Matthew Feeney of the right-leaning Cato Institute notes. They are, however, more numerous — and louder. 
Most of this legislation is half-baked nonsense that's so muddled it's hard to predict what effect it would have on any type of content or platform, and it would immediately get trashed by the courts. It's intended more as a shot across the bow of Big Tech, or a sign of culture war stances. Much of it arguably also misunderstands what Section 230 or their proposals mean. None of it, Feeney and others believe, is likely to pass this year. But legal scholars, tech insiders and adult industry observers alike agree that a couple of bipartisan bills could advance in 2021. 
Notably, the EARN IT Act, first floated back in March, has gained steam through the year. It would set up an independent panel to decide on best practices for preventing the spread of child sexual abuse imagery online, then revoke protections from any sites that failed to live up to those (potentially ever-evolving and industry-specific) recommendations. Greg Guice of the open internet advocacy group Public Knowledge calls it a bill "that's really built on FOSTA-SESTA." 
Adult industry insiders worry that reforms like EARN IT, even if they are well-intentioned, will open up more and more space for over-broad actions against sexual content that will slowly push porn off of mainstream social media platforms, and shut down smaller adult sites that host third-party content and couldn't weather a tide of lawsuits. An independent panel's best practices could, for instance, require sites to get definitive proof that every adult image they feature shows people over the age of 18. That demand would impose such a high monitoring and verification burden that platforms might decide no one but established producers, with performer age records on hand, can post adult content. If the penalties for violations are high enough, social media sites especially might decide hosting any porn is too much of a risk, a decision that would decimate content creators who depend on sites like Twitter and Reddit for visibility and outreach. 
Stabile also worries that reforms targeted at something entirely non-sexual, like hate speech, could be twisted around to come after and slowly wear away at the viability of digital porn. "Anti-porn scholars routinely refer to porn as hate speech," he notes. "Someone's going to find a way to use that to attack us." 
A full 230 repeal, like those Biden and Trump have proposed, would cause "a lot of adult communities to disappear from the web" entirely, adds Alex Hawkins of the tube site xHamster, as without protections, sites would either have to end all moderation and let the internet descent into chaos or, in a more likely scenario, scrub all even remotely controversial (e.g., sexual) content off their platforms just to avoid the risk of someone coming after them for something. 
Moreover, EARN IT also leaves so much evolving flexibility to its best practices trade-off that it would make moderation a moving target, always leaving the threat of liability over the head of any site hosting third-party content — not just the ones that host porn. An EARN IT panel could, for example, suddenly decide that encrypted messaging systems interfere with adequate content monitoring protocols and so suddenly pull protections from a non-adult site built around the digital privacy that encryption offers. This eternal risk of a new ruling challenging a site's model and leaving it legally prone could drive smaller platforms out of business, further entrenching the power of big tech companies. This, Goldman argues, would result in a "broad reduction in the number and richness of internet services that allow us to talk to each other online." 
Even big platforms like Twitter, Reddit and Facebook, may feel the need to radically alter their terms of service in response to laws like EARN IT, in ways that go far beyond limiting sexual expression. In other words, these sorts of reforms could radically change the core experiences of using some of the world's most popular websites.   
If that's the case, though, why isn't every internet user as concerned about 230 reforms as adult industry insiders? 
Partially because it's taken me more than 2,000 words to establish the stakes. Though a short law, it's not simple — nor are the implications of reform proposals. This nuance, Feeney says, makes it hard to get people informed, much less jazzed up, about the topic. That's especially true in an election year when far better-known and intuitive issues like health care and social justice are in the news and dominating the political landscape, and amidst a devastating pandemic. 
"Unfortunately, the opponents of Section 230 have done a remarkable job framing the issue as one that only affects big tech companies," adds Elliot Harmon of the Electronic Frontier Foundation, a digital privacy and free speech advocacy group that's been leading charges against reform and repeal efforts for years. 
In theory, it might not be so hard to educate the public, Silverstein argues, "if you start telling Facebook and Twitter users that the government trying to take away Section 230 could affect their ability to use those platforms. Then they'll start talking about it." If they believe you, that is. Not everyone is inclined to believe political messaging coming out of the adult industry. 
Not to mention, people with similar interests who get invested in Section 230 can't always agree on how to respond to reforms. Especially in 2020, with both presidential and most congressional candidates expressing some flavor of 230 opposition, lesser-of-two-evil calculations get tricky. 
Performer Mary Moody believes that Democratic reform movements aim to help marginalized groups like sex workers, but miss the mark out of a lack of understanding, while many on the right just want to destroy the industry. She'd rather take her chances on the left and hope that pro-Section 230 elements within their ranks push Biden and his ilk to chill out. Stabile adds that many Republican officials and candidates espouse beliefs in QAnon and other conspiracy theories tinged with sexual panic, potentially teeing up an anti-porn crusade, riding on Section 230 erosions, he'd like to avoid. 
Meanwhile, commentators in adult publications have argued that some Republican bills that aim for a total repeal of Section 230 could force all mainstream social media to stop censoring porn that's protected under the First Amendment, increasing its visibility and reach. (This argument ignores the fact that most Section 230 repeal efforts say they'd maintain sites' abilities to moderate adult content to spare their users from smut.) Others believe Republican bills are all rhetorical jabs at Big Tech, while Democrats are truly censorial and dangerous, more prone to act on anti-Section 230 ideas. 
"A lot of people in the industry see our fight as separate from the elections," adds fetish model and camgirl Lux Lives, because the effort to censor them is bipartisan. For some, that means they don't factor Section 230 issues into their votes. Others just disconnect from the system, seeing the parties as merely "two wings of one — a fascist oligarchy called the United States of America."
But activism outside of the act of voting is tricky, because industry insiders say they find it hard to get their representatives to listen to them, marginalized and demonized as they are, about their concerns about industry-specific and wider general harmful implications of 230 reforms. They also have a hard time getting the tech world, which is up in arms about 230 issues too, to team up with them to educate the public about the stakes involved, or to put pressure on politicians. 
Without a strong alliance between all those who'd be most affected by 230 reforms, and a real effort to educate and mobilize the general public about the ways changes to this obscure yet big, potent law could affect their everyday lives, it's hard to see anyone in D.C. putting the brakes on the charging reform train. "I do sometimes worry that there could be a massive reform to the internet that goes unnoticed by the vast majority of people who actually rely on it," until it suddenly takes effect, says Feeney. 
Perhaps the only way we can avoid that fate is to start thinking about politics the way porn stars do.