If you're a man in your 30s or 40s, it's easy to feel average — caught between the studliness of youth and (one hopes) the refined appeal of silver foxhood. No longer young and sexy, but not mature and worldly, either. It's a sense of ordinariness that comes to resemble invisibility: You worry that no one would spare you a glance in a crowd.
Well, the web is the biggest crowd of them all, but its innumerable niches have created loving communities around every human aesthetic. Reddit in particular is a labyrinth of highly customized amateur porn, mostly styled as "_____ Gone Wild," where the blank is filled by just about anyone: tattooed women, newlyweds, lesbians, gay men, bisexuals, BDSM fetishists, 30-somethings, BBWs, stoners, polygons and far more. And while a good deal of the extremely NSFW content I linked to is female-centric, you can also find plenty of dudes, too, if you know where to look — including guys in their 30s and 40s. They're on a subreddit called r/DadsGoneWild.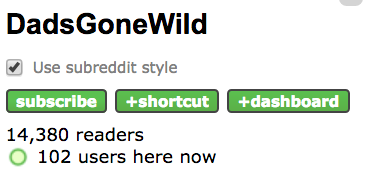 Don't get it twisted: The "dads" of Dads Gone Wild aren't necessarily parents, but "daddies" by the internet's expansive definition of the word. They simply give off that vibe. At 35 or older, though, they're certainly old enough to be dads, and many are. Some have what's affectionately known as a "dad bod," a soft, cozy, not-so-toned physique that became something of a meme in 2015. It's a look, according to one expert, that says: "I go to the gym occasionally, but I also drink heavily on the weekends and enjoy eating eight slices of pizza at a time." Still, there's considerable variety on r/DadsGoneWild: beer guts hang out comfortably alongside pronounced abs and pecs.
Most importantly, of course, these "dads" like showing off their proud erections.
Why are they posting nude selfies in this specific forum? It depends! Some look for validation: "I need an ego boost," wrote one 39-year-old, pictured handling his cock in bed. Others who want something a touch more intimate will ask for private messages. "I could use a hand," wrote one such man in his 40s, showing off a half-hard hog; while another shared his location, as if holding out the possibility of an actual hookup.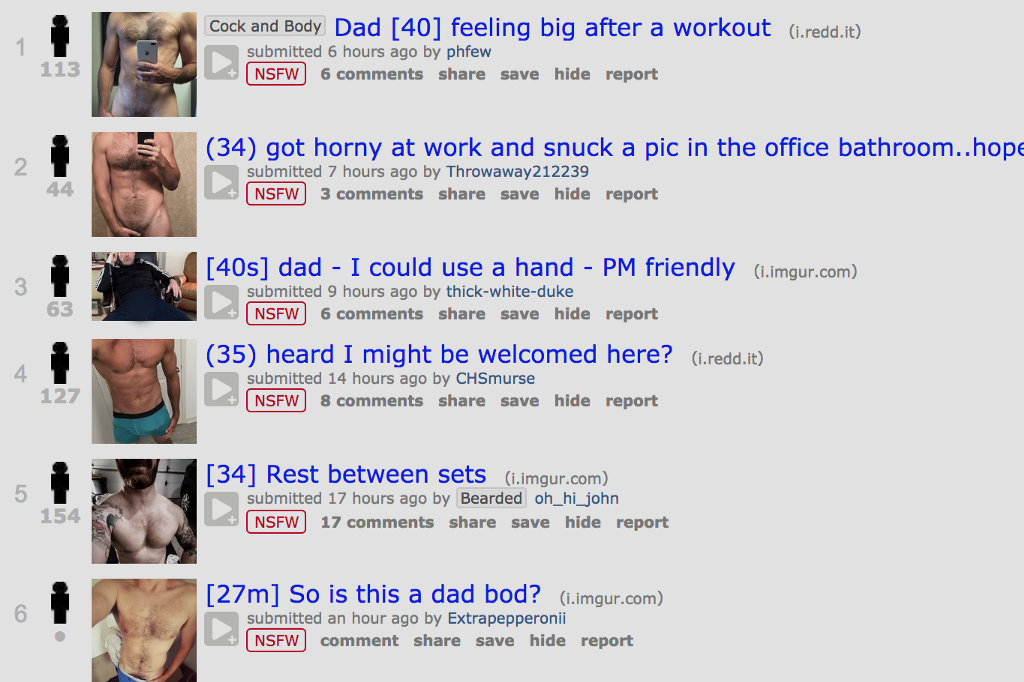 Their courage in stripping down for Reddit strangers notwithstanding, however, very few of these dads were willing to talk to me for this piece. The regular commenters were more forthcoming. The first to reply to me, "K," is 19 years old and identifies as genderless, "but male I guess if you're going for standard terms." K couldn't quite recall how they'd stumbled across Dads Gone Wild but may have found it in a random search or through a cross-post on another subreddit. Because they're not a dad or "daddy age" yet, K doesn't upload their own photos. They see the "dad" genre as "a bit of a mix: It can be a literal father, or a status of older gentlemen that still have got a sexy aura about them."
As for his interest in these dads: "I'm into beautiful people, and they certainly are," K says, adding, "I love spreading positivity and making them feel happier," punctuating that thought with a smiley face emoticon. "I can't say their motives [in posting]; I only know how I respond. But everyone wants a confidence boost every so often." K has private messaged with a few dads, but never sexted nor met in person for a hookup. It sounded pretty wholesome, really.
Another commenter, "B," is a 33-year-old from New Zealand. He discovered r/DadsGoneWild because he was following a guy who shared his photos there. "I like it because it's more so focused on dad-type guys," he explains, and "most seem [like] straight ordinary guys." He's "followed a bunch" and "commented on a bunch of pics," and he notes that the dads are fairly appreciative: "I often get a thank you or other positive comment back from them," B tells me. He doesn't post photos, despite having a dad bod himself, preferring to chime in with compliments for men who cut his favorite figure: "solid, maybe a lil' gut, or trim-ish … but the body of a guy 35 to 40. Hairy-ish." He summarizes this physical type as "just average, guy next door."
What's sweet is that when an "average" dad gets love, he tends to be humble about it. A bearded dad who offered a mid-workout nude shot from his garage was met with great favor but laughed off the suggestion that he's a stud, insisting he's "nothing special." On the opposite end of the spectrum, guys who read too aggressively (hetero)sexual don't seem to do as well: the headline "34 horny dad: ladies can I grab your head like this and bury my cock in your mouth??" was apparently less than enticing for this audience, which skews toward less graphic innuendo.
At the end of the day, Dads Gone Wild is a place for generosity, not demands—you're meant to put yourself out there and see what kind of organic reaction you get.
When I did finally get hold of a dad, "R," who recently shared a close-up of his crotch bulge with the subreddit, he told me it was a matter of throwing caution to the wind and announcing his presence. "I'm no stranger to Reddit," he writes, yet he'd always "lurked in the background," staying quiet. "After seeing subreddits like r/GoneWild gain a lot of attention for women [who] like to show off, I thought I'd look for one that was for us men." One Google search later, he'd turned up r/DadsGoneWild and was impressed by how active it was. "I figured, what the hell, why not post something and see where it goes?" he explains. "And that's how it all happened."
It can be hard to maintain such openness and positivity elsewhere online. But on Dads Gone Wild, at least, the commenters are cuddly, the bods are bulky and average is just perfect.