Forget Jake Paul's rematch with Tyron Woodley. Forget any of the upcoming UFC events, and forget 48-year-old Oscar De La Hoya fighting 44-year-old MMA legend Vitor Belfort. 
No, the most absurd, anticipated prizefight on the calendar doesn't feature any of those muscled men. The man the fight world wants to see most is Hasbulla Magomedov, the 19-year-old sensation from Dagestan who stands just over three feet tall. And he's got a challenger of equal stature, talking shit and ready to brawl. 
If the name "Hasbulla" rings a bell, it's probably because you've seen one of the seemingly endless TikToks or Instagram posts featuring his smirking, cherubic face. Born with an undefined genetic disorder that has kept his frame minuscule (he reportedly weighs under 40 pounds), Hasbulla speaks with a nasal, childlike lilt, often cracking up into squeals of laughter in his videos. 
But his mind is mature, which makes for a dramatic contrast: A man with the appearance of a five-year-old, flexing and cursing in Russian while counting stacks of cash, waving a golden pistol and shadowboxing in elevators. 
Hasbulla came to us seemingly fully formed as a viral sensation when he began posting on Instagram in November 2020. Soon after, segments of his content began appearing on TikTok, fomenting the rise of memes and a fantastical narrative around Hasbulla himself. He wasn't just a short man from a far-flung country — Hasbulla was swagger, manhood and "the most ducked fighter in the world." All this, without throwing a single punch in a sanctioned fight.  
"It's incredible how much they've elevated this guy's platform so quickly. It's like one video caught fire, not that long ago, and now there's been this massive push and I see him everywhere, every time I open up Instagram I see a little video of him," Joe Rogan incredulously says in a podcast.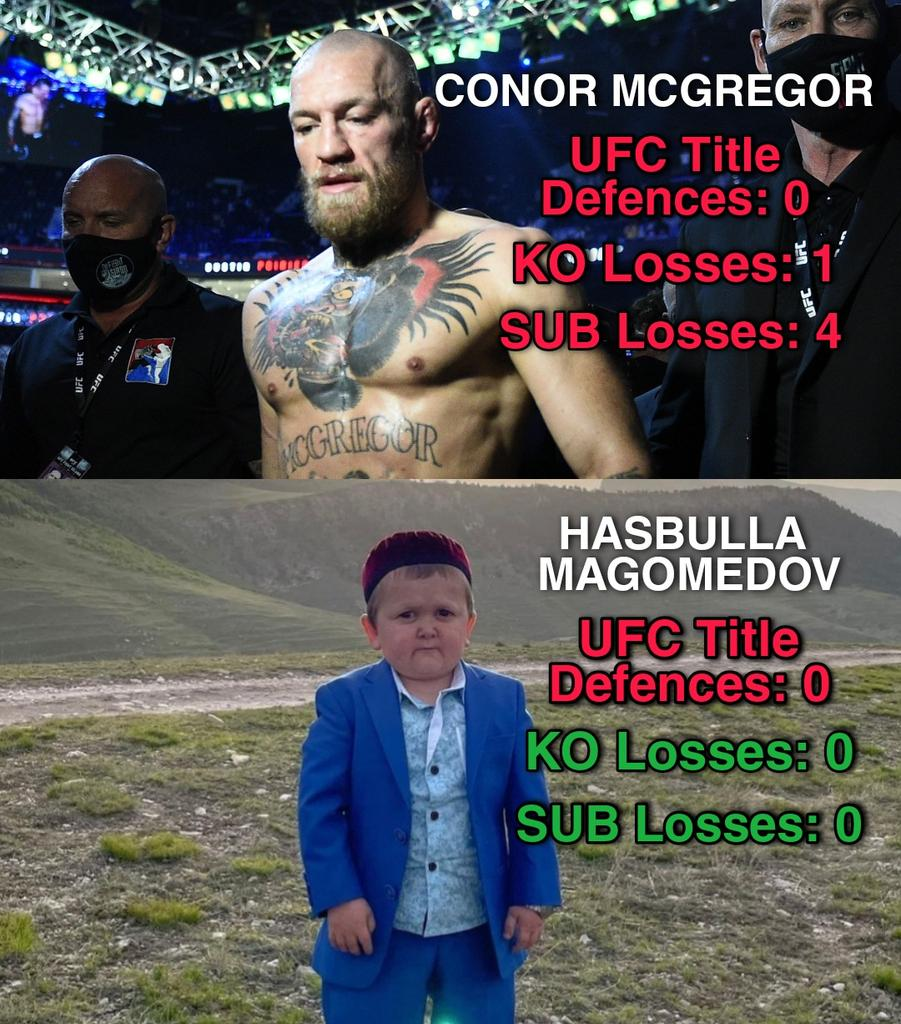 His nickname, "Mini Khabib," gives a hint to the rise. Newly retired Khabib Nurmagomedov, arguably the pound-for-pound GOAT in the UFC, is also from Dagestan, and he and Hasbulla struck up a casual friendship earlier this year. There's a viral picture of Hasbulla posing in the fighter's lap, wearing Khabib's UFC championship belt and signature papakha hat. They also keep in touch on social media, with Khabib boosting Hasbulla's content and even having his back in online beefs. When former UFC champion Henry Cejudo called Hasbulla out in Russian, saying he would tear him apart, it was Khabib who stepped into the comments, warning Cejudo that "all Dagestan with Hasbulla [sic]." 
Khabib is responsible for making much of the Western world aware of Dagestan, a rugged republic of Russia tucked away in the Caucasus Mountains, bordering Georgia and the Caspian Sea. His utter dominance in the sport, with a 29-0 record and one of the scariest highlight reels of any athlete, made him famous. In his footsteps have come other Dagestani rising stars, like Islam Makhachev, Magomed Ankalaev and Zabit — all of whom display calm, humble but deadly demeanors.
The social culture of post-Soviet republics like Dagestan has long been a fascination of the West, with scholars noting that a clash of rural masculinity and a collapsing economy has led to a cohort of men who are proud, hardened and sometimes toxic. It's not a coincidence the Caucasus region has become a modern hotbed of martial arts and combat training, including some controversial child fights. Khabib's father famously made him wrestle a bear as a child, which is perhaps an illustrative metaphor. (Young Khabib tried to notify his dad that the bear was biting him. "You know what father say? 'Bite him back,'" Khabib recalled.) 
No wonder that Hasbulla fits right in, and appears to be genuinely celebrated as an entertainer in his country. And in a veteran promoter's move, Hasbulla has parlayed all of that newfound fame into a superfight with a small-statured 17-year-old from Tajikistan, Abdu Rozik, who himself has gone viral for his singing. 
The duo made waves in a "press conference" that mostly consisted of the two attempting to wrestle and slap each other at every opportunity. The fight was supposed to go down in May, with a huge payday for both men, but has been delayed for all kinds of reasons, which cast doubt on whether it'll ever happen at all. Fans continue to champ at the bit, hoping something will come through. (And yes, they've been memeing all along.) Meanwhile, other fighters continue to call Hasbulla out: 
What should we make of all this? On one hand, it seems the fascination with Hasbulla is mostly around his appearance and the unusual nature of hearing an 18-year-old channeled through a childlike body. Maybe his attitude and belligerence gives us some tiny cultural insight into a post-Soviet society marred by violence. Some people are offended: Uliana Podpalnaya, the head of the Russian Dwarf Athletic Association, condemned Hasbulla vs. Abdu Rozik as "unethical and wrong" ("They get paid a lot of money and it's a show to make people laugh. There's nothing serious about this; this isn't sport," she continued). 
In any case, again, the fight has been postponed — and Hasbulla's star seems no dimmer for it. Neither does Rozik's, to be honest; the duo have been spotted chumming around and generally having the time of their lives thanks to an internet audience that found joy in their existence and rewarded them with cult fandom. 
It's unclear how long the ride will last, but I don't think anyone really cares if Hasbulla fights at this point. Sometimes, our daydreams do a better job than reality can when it comes to absurd prizefights. And sometimes, a myth grows bigger than the man and becomes the stuff of legend.