They may be watched by more surveillance cameras than Americans are (a lot more), and their government may crack down even harder than Homeland Security does on suspected terrorists (a lot harder), but the citizens of the United Kingdom are legally permitted to bet on almost anything. Elections, Nobel prize winners, whether Julian Assange will escape from the Ecuadorian embassy in London before 2020 — there's a legal book on all these things and more at U.K. betting sites like Paddy Power and Betfair. At the time of writing, the newspaper drama Spotlight is a shoo-in for the Best Picture Oscar at Paddy Power, which is giving 10/11 odds; German chancellor Angela Merkel, at 2–1, has edged out the early favorite, refugee advocate Father Mussie Zerai, currently at 5–1, on the 2015 Nobel Peace Prize leaderboard.
But a new prediction market called PredictIt is giving U.S. bettors another chance to give these "novelty" or "specialty" wagers a try. In addition, these wagers help researchers provide a surprisingly accurate means of predicting outcomes, based on "the wisdom of crowds."
What is it?
PredictIt is a not-for-profit project of Victoria University of Wellington, New Zealand, and its nominal goal is academic research; that is why the project (which is operated by the University "with support from" voter database firm Aristotle, Inc.) was able to secure an exception from the U.S. Commodity Futures Trading Commission, permitting it to operate. The Iowa Electronic Markets, a similar group of political prediction markets at the University of Iowa, have operated under the same exception since 1988. "The university plans to use the results from its market as teaching tools in its courses on statistical analysis, market theory and trader psychology," explained the CFTC in a press release, "and as supporting data for research papers and analyses."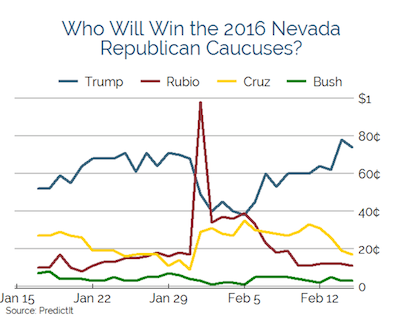 No single bet on PredictIt can be more than $850, and each contract is limited to 5,000 participants; nearly all the contracts on offer are politics-related. The low betting limits help keep the markets clean, an important feature especially where politics is concerned. Say, for example, that it was possible for an unscrupulous political operative to game the results of a poll by buying up all the available contracts, just to create an impression of popularity for a particular candidate; it might easily require opening dozens or hundreds of separate accounts in order to weight the betting.
Is this new?
Traditionally, perhaps in obedience to its Puritan roots (in the 17th-century Massachusetts Bay Colony, the possession of playing cards and dice was illegal even in private homes), the U.S. gambling laws have been stricter than the U.K. and many other countries. That no-fun attitude has been extended online. Americans were able to enjoy a brief flirtation with online gambling before Congress and the Feds shut it all down on April 15, 2011 (otherwise known, in poker circles, as "Black Friday"). A Dublin-based specialty betting site called Intrade operated in the U.S. for a short time, as well, before being closed down by regulators in late 2012. Intrade was a freewheeling U.K.-style prediction market, broader based, permitting far larger bets on a wide range of contracts, including Oscar winners and the like in addition to politics.
Nominally, the CFTC cracked down on Intrade for running an unregulated market in commodities futures. But many observers (including myself, at BuzzFeed) inferred that political shenanigans were the true cause of Intrade's demise. Supporters of Mitt Romney, either through misguided optimism or a deliberate attempt to game the odds, lost millions on Intrade in the days leading up to the 2012 election by betting on a Romney win. The odds on Intrade were so skewed in Romney's favor in comparison to the odds in the U.K. prediction markets that an arbitrage arose, creating the opportunity for savvy traders to make out like bandits. An analysis was eventually published by researchers at Microsoft and Barnard College showing that a single mysterious trader lost between $4 million and $7 million betting on Romney — or, perhaps, investing in improving Romney's odds on Intrade — in the election's final days.

Wanna bet?
PredictIt works like this: you fund an account using a credit card and submit to a verification process, which takes a few days. Once that's complete, you can check out the available wagers, all of which are based on a Yes or No question; the sum of the two probabilities is always 100 percent. Those percentages are expressed as cents, so that every share has a price between 1 and 99 cents.
When the decision is made, the winning side is redeemed at $1, and the losing shares are worthless.
At the time of writing, the odds are currently 43% in favor of Sri Srinivasan's nomination to the Supreme Court, with 28% going to Loretta Lynch; I'm quite tempted to take a flutter on Lynch, since there are powerful disincentives for Republicans to deny her Scalia's seat in a presidential election year.
Fees are quite stiff, it should be noted. PredictIt takes a 5 percent fee on withdrawals, in addition to a 10 percent fee on any winnings. So unless you really feel like you've got a sure thing, best to keep your dough (the math here, at least, is really easy!).
Still, though. Looks like fun, and I might take a little flutter on some of these election results … If I do, I'll share my positions with you.