Dean Norris, a hardened-looking character actor perhaps best known for portraying drug enforcement agent Hank Schrader in the TV series Breaking Bad, knows about sex GIFs. We know that he knows because he tweeted the phrase "Sex gifs," without context, on the evening of Tuesday, May 23, 2018. No, it's true. Take a look, y'all: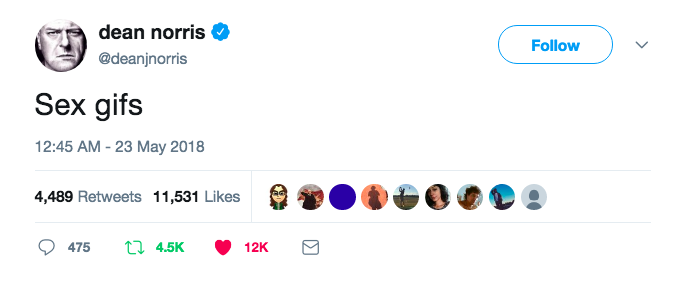 As of this writing, Norris has not issued any follow-up statement regarding said sex GIFs. We can't be sure if he was trying to perform a search, directly asking followers for links and recommendations, or just confirming the existence of lossless image files that are pornographic in nature. However you read the post, though, you will have to agree that Norris was, in social media parlance, "horny on main," which is to say he revealed — accidentally or otherwise — that he was likely in the process of pounding off.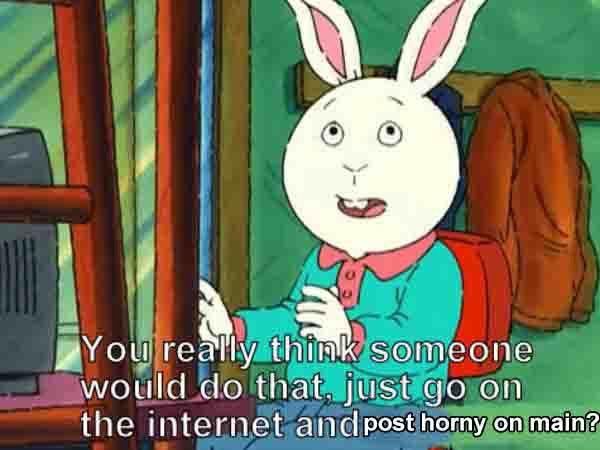 For most people, being horny on main is no big deal. I frequently am myself. But public figures — be they politicians, journalists, athletes, or entertainers — have often panicked after outing themselves this way. I suppose they feel it stains their reputation or will offend the followers who see it, but efforts at "damage control" in these situations tend to make matters worse for the horny party (and funnier for everyone else). That's why I'd like to share a few tips for people who forget to log out before getting turned on.
DO: Enjoy a laugh at your own expense.
For god's sake, lighten up. Unless the porn you shared or liked can be classified as extremely fucked-up stuff, this is nothing more than an amusing gaffe. People are going to have a chuckle about it either way, and you have a chance to endear yourself to them by fessing up right away. "Whoops, LOL!" That's all it takes. Consider how many gigawatts of brain electricity are devoted to sexual fantasy around the world every second of the day and you will see the common sense in this approach. Harry Styles had the right idea when he countered the hoopla over his "like" on a photo of fingers coated in pussy juice by awkwardly (yet winkingly) trying to change the subject. Still, I imagine we'd all respect him more if he hadn't un-faved the explicit tweet in question.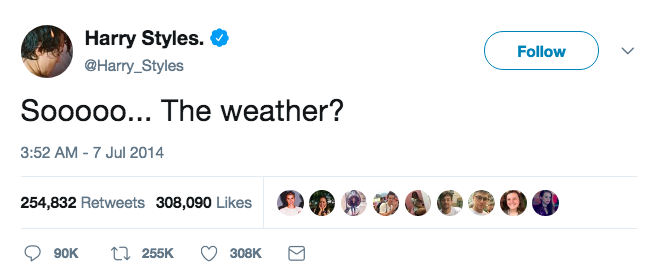 DO NOT: Blame "a hacker" or "hackers."
OK, maybe somebody broke into your account with the express purpose of posting a video titled "Sexy little brunette bitch sucking and fucking her personal trainer's big cock"… but absolutely no one will believe that. When, for example, sportscaster James Brown tweeted that exact clip after hosting Sunday Night Football, he tried the lame-ass hacker defense and ended up having to delete that tweet, too. There's something about the sentence "Obviously my account has been hacked!!!" that invites a bigger pile-on.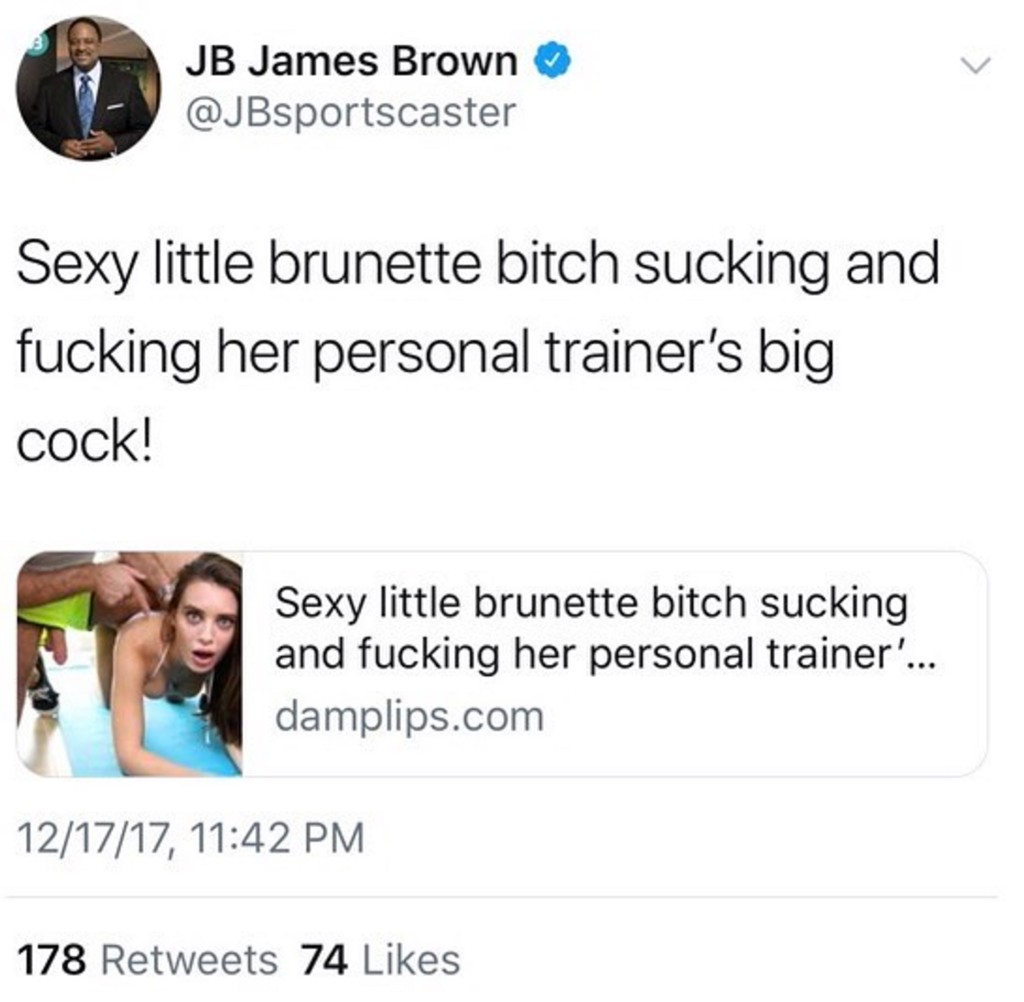 The hacker line is more typically peddled by middle-aged politicians who are still adapting to a post-Geocities internet and vastly overestimate their constituents' eagerness to commit cyber fraud in the service of a prank. Always a bad look.
DO: Know when you're busted.
Josh Marshall, editor and publisher of the news site Talking Points Memo, was in the midst of discussing Russia sanctions announced ahead of Trump's inauguration when he shared a 25-minute-long video of lesbian cunnilingus. Nice. In the aftermath, he briefly seemed to imply this was intentional (if misunderstood) political commentary, but he then corrected course and got a bit more candid regarding his browser history. No shame, no blame, just good old-fashioned American jerkin'. You really gotta love it.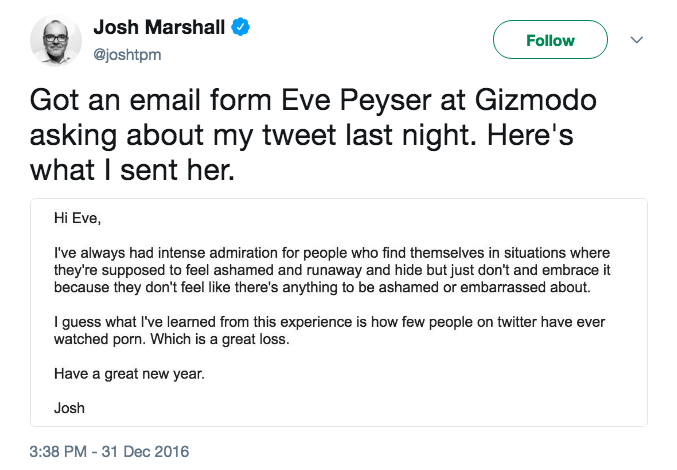 That Marshall also bravely left the porn tweet up on his feed is a testament to his transparency. Journalism is alive and well, folks, and it's steamier than you think.
DO NOT: Overcomplicate the issue.
Porn has a single purpose, and you will not erase this fact by casting a fog of horseshit that posits some non-horny reason for surfing hardcore content. Forget your "technical glitches." No, you do not follow "SexyTwitPics" because one of the nude models is your "friend." Sen. Ted Cruz is welcome to try and throw his anonymous "staffer" under the bus when a naughty scene from @SexuallPosts "mistakenly" shows up in @tedcruz's "likes" column, but we will instead remember that the phony Texan, failed presidential candidate, and anti-masturbation ideologue himself was the one seeking solo climax on 9/11.
The writer Kurt Eichenwald could've taken the cake in this category with the now infamous "I was trying to prove to my wife that tentacle porn exists" meltdown if it weren't for Mike Webb, a congressional candidate who wrote a 2,000-word Facebook essay to explain a screenshot that revealed his open tabs for "LAYLA RIVERA TIGHT BOOTY" and "IVONE SEXY AMATEUR." According to Webb, he was testing "the suggestion that somehow, lurking out in the pornographic world there is some evil operator waiting for the one in a gazillion chance that a candidate for federal office would go to that particular website and thereby be infected with a virus that would cause his or her FEC [Federal Election Commission] data file to crash the FECFile application each time that it was loaded on the day of the filing deadline, as well as impact other critical campaign systems," he wrote. Oooooooookaaaaaaayyyyy then.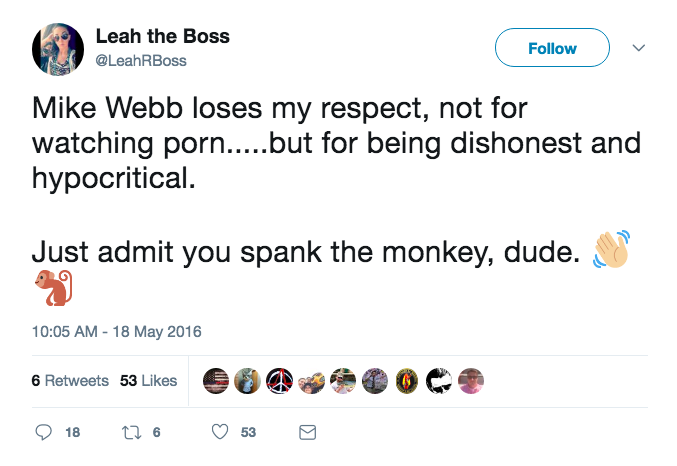 DO: Keep rubbing out orgasms.
Maybe you don't have a profile that can readily absorb the disclosure of horny habits — moral conservatives are in a particularly tight bind there, which is why they're so prone to preposterous deflections. But regardless of who you are, you should not let a "horny on main" moment prevent future jack sessions. Remember: it's only proof of what we all assume is true of everyone anyway. Embarrassment is a choice here. Soon enough, the next schmuck in this parade of idiocy will blast the Twittersphere with bondage smut or fan art of the Game of Thrones dragons sucking each other off, and you can happily return to incognito mode. Thanks for blessing our timelines, though.