There's nothing extraordinary about a celebrity-run eatery in Los Angeles, but Au Fudge—which opened last week in West Hollywood, thanks to the combined efforts of actress Jessica Biel, stylist Estee Stanley and Barry's Bootcamp CEO Joey Gonzalez—manages to be unique, nonetheless. Just off the main dining area is a day care. "You, as a parent, can go enjoy your life and not be interrupted by your children," Stanley explained to Architectural Digest. "If you don't have kids, we have a full bar and we invite everyone to get really drunk."
Ever wanted to bring your kid to a restaurant and then ignore them completely so you can get loaded? As in, "Aw, fudge! We forgot to hire a babysitter." Well then West Hollywood's Au Fudge might be for you.
Naturally, MEL sent Lara Marie Schoenhals and John McDermott — two childless, single, non-celebrity writers — to Au Fudge's opening day last Friday for an early lunch and drinks later that night.
John: First, let's discuss the name. Namely, how terrible the name is.
Lara: Not only does "Au Fudge" sound like a Southerner attempting not to curse, but it also speaks to my basest level of personal humor. I couldn't help but make poop jokes the whole time I was there.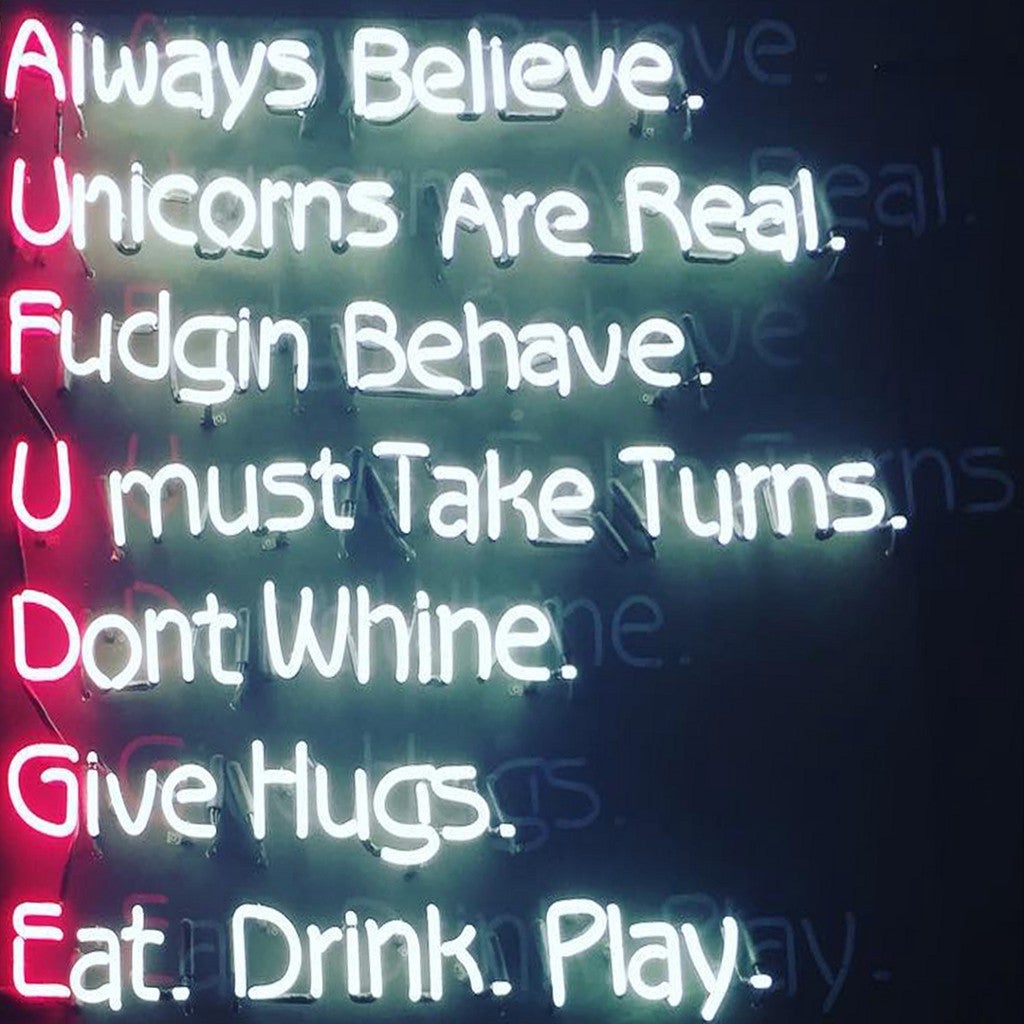 John: That was definitely what I wanted to hear as I settled in for lunch. Speaking of, Au Fudge doesn't even serve much fudge! There were, like, two dessert dishes with fudge in them.
Lara: They served fudge in the marketplace section of the restaurant, but they refused to serve me one piece of fudge during nighttime hours. I would have had to order the Fudge Flight for $18.
John: The foyer/marketplace was very pleasant — like a kitschy Nantucket country mart — but the staff was a tad overzealous. I was surrounded by three hostesses the moment I walked in the door, all of them wearing pink dresses with white, sequined lace bibs that looked like a bunch of doilies stitched together.
Lara: The hostess uniforms were wild. I can't imagine being made to wear a frilly pinafore at work every day. The decor is shabby chic; it feels like an Anthropologie fucked a Pottery Barn Kids and gave birth to a dining establishment.
John: We sat on the patio, which was very white. The tables, the brick walls, the benches, the wood beams overhead — they were all painted white, and it made the patio so luminous that we kept our sunglasses on despite sitting in the shade. You know what was also very white? The clientele! On the patio was a British woman and her daughter, a 30-something couple and their baby boy and a bearded man who wore a navy blazer and ate lunch alone in the corner (which, by the way, is not a good look at a place that actively markets itself as super kid-friendly).
Lara: I got the sense that he might be a restaurant critic or a food writer? I hoped so, at least.
John: Au Fudge encourages a lot of drinking, which is terrifying for a place that also houses a day care. There are certain things that don't go together — one of them being getting drunk and the presence of other people's snotty children.
Lara: The house cocktails were the first thing I saw, as they were listed on the front page of the menu (which was chill). If I had kids I'd want to drink heavily, or at least more heavily than I already do. Though, there weren't really a lot kids there.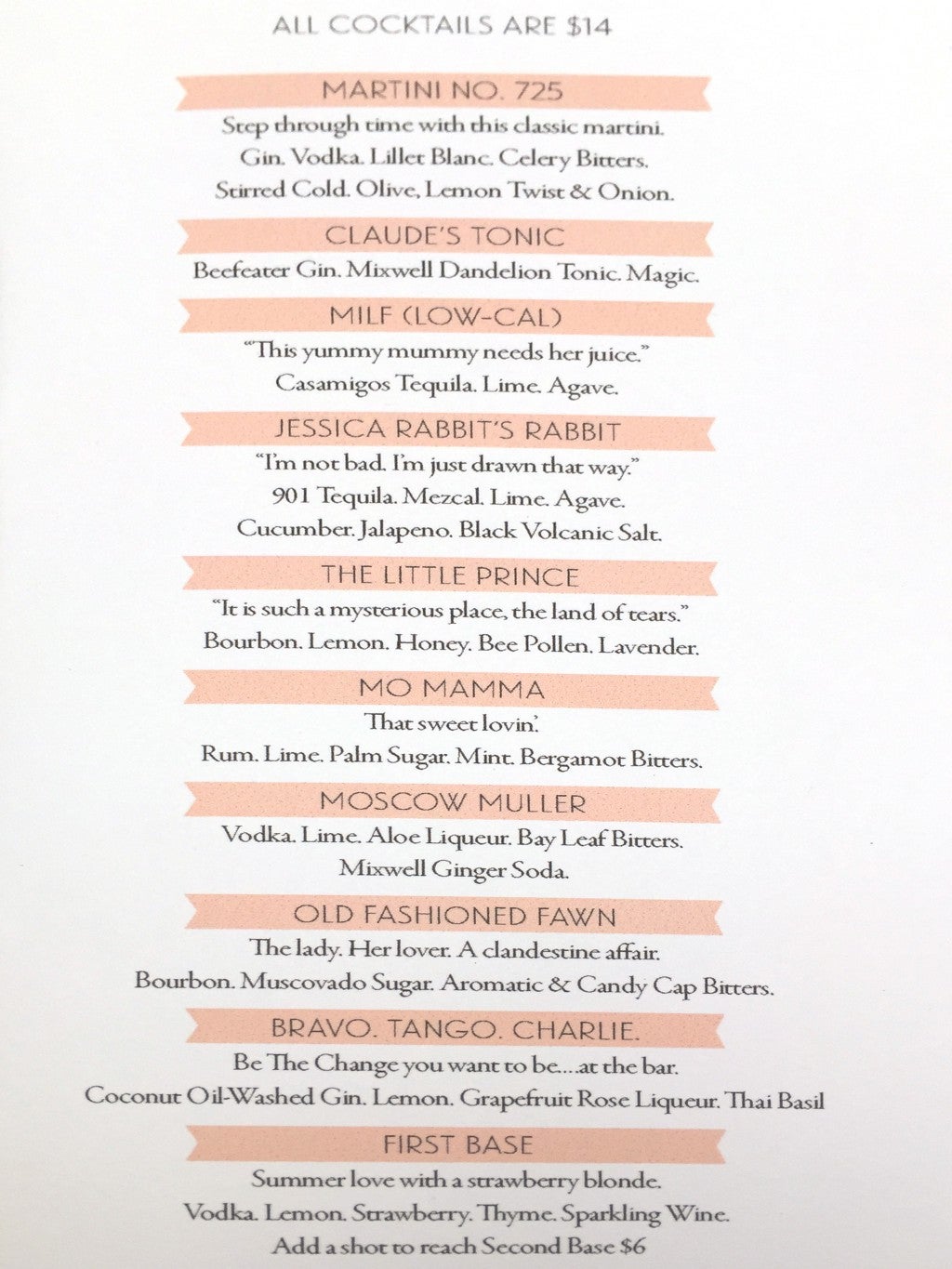 John: Thankfully. I had the house martini — which was too sweet and not alcoholic enough for my taste — and you had …
Lara: … The MILF, which was basically a skinny margarita. (Tagline: "This yummy mummy needs her juice.") But instead they brought me a Jessica Rabbit's Rabbit, which was a spicy mezcal margarita. All their drinks have these barely tongue-in-cheek, super sexual names. I guess if you're a mom who wants to drop her kid at the day care and get bombed, you'd get a real kick out of them.
My biggest question is: After a day (or night) out at Au Fudge, who drives you home? Do you Uber? Does the nanny pick you up and drop you off? Does Au Fudge offer some sort of designated driving service?
John: That part drove me crazy. The restaurant has valet, which suggests "come drive to us." But it also bills itself as a place to tie one on while young Pennington plays with the other neighborhood brats. Then you drive home drunk with Pennington in the back seat, I suppose.
Lara: According to Zagat, the menu is "tailored for both adult and kid palates." I can't tell you how much anxiety I have about bringing my future offspring to a restaurants whose menus are not tailored to both our palates! Thank God for Au Fudge. I ordered "grilled cheese sticks" and deviled "egg-lets" to start.
The word "egg-let" is so sick, I actually feel nauseous typing it right now. We asked our waiter why "egg-lets", and he said it's because they are shaped like little chickens. Cute.
John: I sucked down the majority of the egg-lets, which were just okay, but I enjoyed pretending like I was eating live chicks by the mouthful.
Lara: The "grilled cheese sticks" were a culinary revelation. I'm still thinking about them two days later.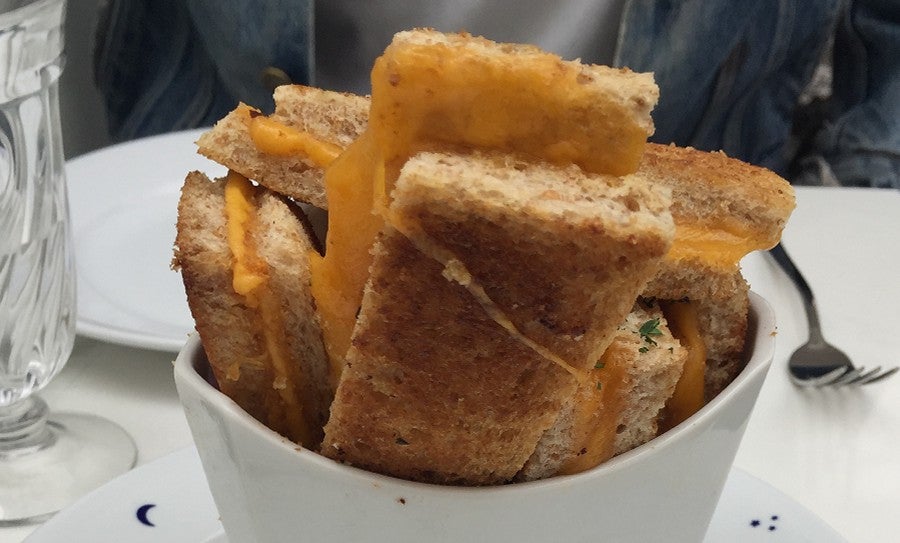 John: I first read grilled cheese sticks as cheese sticks (the ones mom would pack in your school lunch) that had been grilled, and was pumped to see such a dish. Alas, it was a grilled cheese cut into strips, optimal for either the small hands of a child or dipping.
Lara: They definitely appealed to my inner child.
John: I wasn't feeling adventurous, so I went with my tried-and-true lunch entree: A Cobb salad. And it was the single worst dish I've ever had at a restaurant. I've never paid so much money ($19) for something so lackluster. A Cobb salad is, by definition, lettuce, tomatoes, chicken breast, hard-boiled egg, bleu cheese, bacon and possibly avocado, corn and/or a wild card ingredient depending on the restaurant's spin on the dish. Not at Au Fudge, however — their Cobb was lettuce, tomatoes and bacon bits. That was it.
Lara: For a Los Angeles eatery, the salad section of the menu was bleak. There were four salad options with no descriptions of what the salads actually contained. Even though I should have known better, I ordered the Cobb salad as well, and when our waiter informed us that it was only half of a true Cobb, I added chicken for $8 and avocado for $4, making my salad a whopping $31. After living in LA for seven years, I consider myself to be somewhat of a salad connoisseur and this was the worst salad of all time.
John: The entire allure of a Cobb salad is that it is one of the few dishes that is both healthy and filling. But the Cobb salad at Au Fudge was an abomination. I'm still pissed off about it three days later.
Lara: Would Jessica Biel eat this salad? I think not.
John: Midway through our meal my friend Antonio, a barback at Au Fudge, gave us a tour. He took us into the day care wing, which was legitimately impressive. They had board games, a karaoke station, plush toys, building blocks — I easily could have entertained myself in there for hours.
Lara: The day care was indeed chic. I would feel safe dropping my kid off there, and having a boozy girls lunch somewhere other than Au Fudge.
John: The highlight of the day care (and the entire restaurant, for that matter) was its makeshift, indoor treehouse. It was the chicest — throw pillows everywhere and the floor was painted gold. Plus, you had to climb a spiral staircase to get there, and spiral staircases make any experience more refined.
Lara: I feel like a spiral staircase might be particularly dangerous for toddlers, but what do I know? I'm no Biel. That treehouse was a total soothe zone. Honestly, my dream scenario would be to lie up there for hours while various sexy waiters bring me bottomless MILFs and grilled cheese sticks.
John: If I were the insufferably spoiled child of two Hollywood C-listers, Au Fudge would be my favorite restaurant. I'd throw a tantrum each morning until my au pair Inga agreed to drop me off. Then I'd commandeer the treehouse — I'd go in, barricade the door and refuse to let any other kids into play with me. I'd be the king of that fucking treehouse.
Lara: Another highlight of our tour was hearing Antonio describing what it was like at Jessica Biel's birthday party the night before. At one point he said something like, "It was crazy, David Blaine was doing all these magic tricks for Justin and Jess."
John: I'm an apologist for David Blaine, illusionist extraordinaire and founding member of the Pussy Posse.
We rendezvoused at Au Fudge later that night to see how it fared as a cocktail spot, and it was a ghost town. By 10:30, it was just us at the bar and one table finishing up dinner.
Lara: I'd conned two of my girlfriends into going there after dinner, promising them it was the hottest spot in town ("David Blaine was just there!" etc.) When I asked the bartender what was up with the lack of clientele, he said: "We were slammed and then everyone left right before you got here. But it's actually a good thing because we're totally booked tomorrow, so it's great that tonight is more chill." Right. The bartenders had to wear these LED name tags, which truly transfixed me.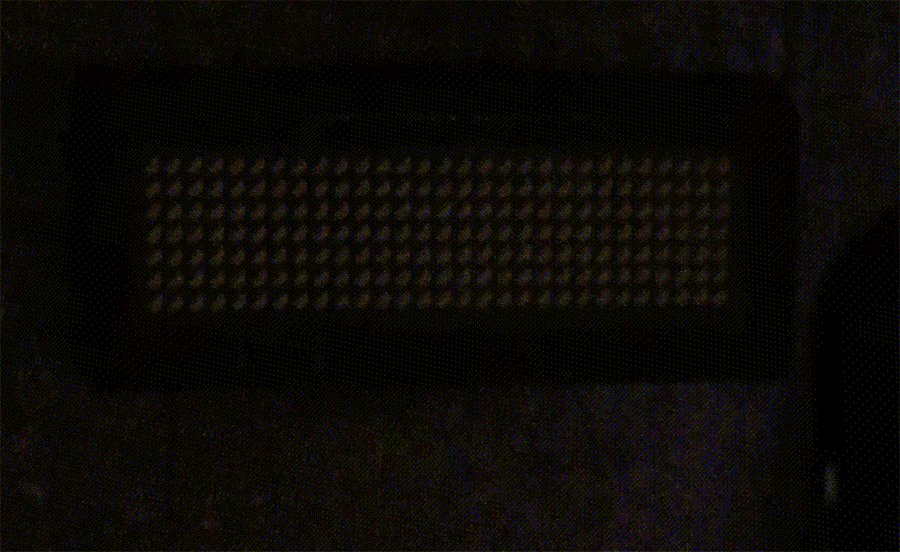 We ordered a round of MILFs and perused the dessert menu. I was denied a piece of fudge a la carte, so my friend Jenny and I opted for the s'mores bread pudding. It was incredible. When deciding what to order at Au Fudge, I think if you stick to the basics (i.e., carbs, sweets, cheese and booze) you'll be fine.
John: And it only took an hour for the kitchen to make it and bring it you.
Lara: The playlist at Au Fudge was like being at Coachella in 2012. Lots of Phoenix and MGMT. But then, halfway through my third MILF, Chris Brown's "Fuck You Back To Sleep" came on, which was truly shocking considering Au Fudge is supposed to be a kid-friendly space.
John: They played The Raconteurs at one point during the day, which I fully support. Anything to get the kids interested in Jack White's vaguely horrifying side projects at an early age.
Lara: I had a decent buzz going, and was getting increasingly weirded out by the dichotomy of this insanely sexual song vs. the saccharine, nurturing decor. I turned to my friend Christine and remarked, "This doesn't really feel like a turn-up room." She replied with a whisper, "I hate it here."
John: The name on the sign is "Au Fudge Los Angeles," which would seem to indicate that this just the first of many Au Fudges. But by judging by the crowds on opening day, I'd be surprised if Au Fudge were successful. The food isn't good enough to eat there again, and the bar isn't open late enough to be a regular hangout. Although it might be perfect for meeting newly-divorced moms, which is something for me to mull over.
That said, I was shocked how much I enjoyed Au Fudge, especially since it combines several cultural phenomena I actively loathe: Celebrities; people who obsess over celebrities; overpriced, underwhelming food; gimmicky eateries; other people's children. Au Fudge is the bougie Los Angeles equivalent of taking your children to the McDonald's with the play place.
Lara: I have a gut feeling that Au Fudge is going to be a success. It certainly is not for me (or clearly for you, John), as neither of us has kids, and there's nothing in our lives (other than the divorcees and the hot chefs who work there) that would compel us to return. But, like, let super rich moms have their fun. They deserve it.
John McDermott and Lara Marie Schoenhals are writers at MEL.
More eating on MEL:
For even more MEL, follow us on Medium or subscribe to our newsletter.