A Prince Albert is a penis piercing — specifically one that goes down the urethra and out of the bottom of the penis. It's one of the most common type of penis piercings, along with the Jacob's Ladder, a piercing (or multiple piercings) along the underside of the shaft. Generally, to do a Prince Albert, a tube is inserted into the urethra, then a needle is poked through the bottom of the penis until it enters the tube, which is used to bend it through and out of the urethra. Joe Exotic has one, as does Tommy Lee.
But what's with the royal connection?
There have been a lot of people with the title Prince Albert over the years. Belgium has had two King Alberts, both princes beforehand. Monaco, a principality rather than a kingdom, was ruled by Albert I for 33 years. One of the world's youngest billionaires, who inherited his fortune at the age of seven, is a Prince Albert — in this case the 12th prince of the German noble family Thurn und Taxis. Hawaii briefly had a crown prince named Albert Edward Kauikeaouli Kaleiopapa a Kamehameha.
But the Albert most commonly associated with pierced penises is Prince Albert of Saxe-Coburg and Gotha, the husband and consort of Queen Victoria. Born in Germany in 1819, Albert was Victoria's first cousin, and their marriage was in part arranged by a mutual uncle — all slightly unsavory to modern eyes but common enough back then, particularly among European nobility (in fact, after getting divorced, Albert's father married his niece).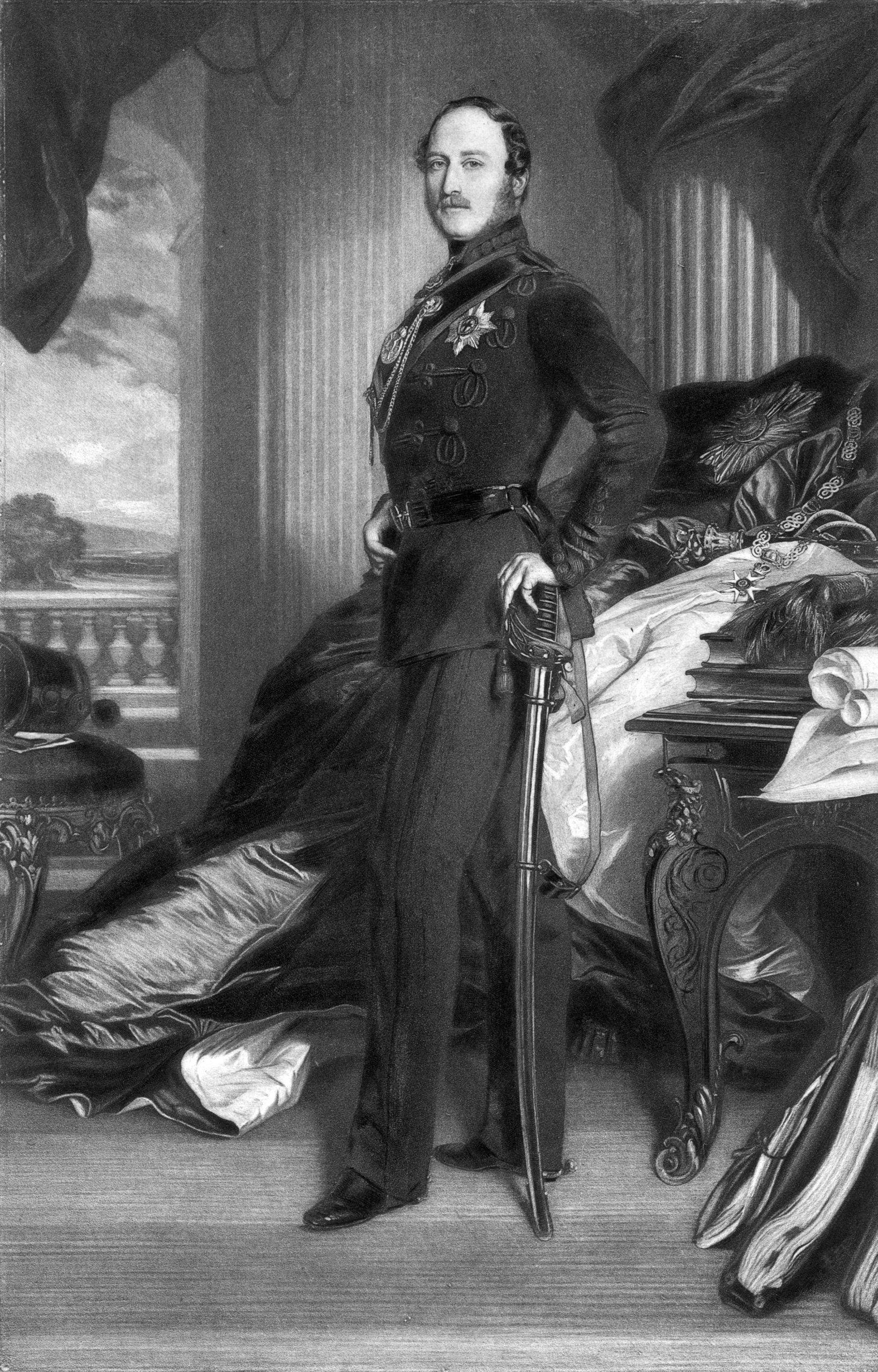 While he was initially unpopular, Victoria and Albert's marriage was very close, and Albert became increasingly well-liked. For the time, he was pretty progressive politically, campaigning to abolish slavery and child labor and to make university education available to more than just the very wealthy. After Albert died at the age of 42, leaving behind nine children, Victoria wore black for the rest of her life as a symbol of mourning, as well as building the spectacular Albert Memorial in London and naming the Royal Albert Hall after him.
What about his dick though? 
The story about Prince Albert and Prince Alberts that often gets repeated is this: The prince, being enormously well-endowed, often found that his massive penis ruined the line of his trousers. He decided to pierce a ring through the end of it in order to secure it in place up to the side, and the Prince Albert was born.
The thing is, this stands up to no scrutiny whatsoever. Like, there are all sorts of ways to keep a hog in place that don't involve sticking a needle through it. r/BigDickProblems — at least partly populated by liars — is full of them. Even in the 19th century though, when Reddit was a madman's dream, poking a Victorian spike down your dickhole would have been far from Plan A — you'd at least try, say, "underpants," tying it to your leg with a piece of string or perhaps wearing a looser trouser. Surgery all but guaranteed infection, to the point that pus was seen as a good thing. These days a Prince Albert piercing heals in about six weeks with appropriate aftercare, but a Victorian dick piercing would in all likelihood have become extremely gnarly, especially if Albert was tugging on it all the time to clip it in place.
Victorian-era Britain also wasn't famed for being the kind of place where you'd whip out your cock to show off the bolt through it. While the idea of a completely buttoned-up society of sex-fearing prudes is being increasingly challenged by historians, this is the Queen's husband. The idea that details of his penis would be public knowledge just doesn't add up. 
"Prince Albert himself almost certainly didn't have a genital piercing, or any other piercing, of any kind at all," says Matt Lodder, body modification expert and senior lecturer in Art History and Theory at the University of Essex. "To the best of my knowledge, the name seems to be a playful invention of a guy called Doug Malloy, who created a lot of pseudo-historical tales about the origins of various piercings back in the 1960s and 1970s."
Paul King of the Association of Professional Piercers and Body Piercing Archive concurs. As he explains it, Malloy was the mentor of Jim Ward, who opened Gauntlet, the first body-piercing shop in the Western world, in 1975. "Doug gave Jim his mailing list, piercing kit and what techniques and history he had cobbled together to that point in time," says King, who later worked at Gauntlet. "There was no scene, no industry, and everything was very underground and protected. From that oral information, Jim produced a document called A Brief History of Body Piercing. We would hand this single double-sided page of information out to any customer, media person, academic, etcetera that asked for any information about piercing origins."
However, as King explains, some of the information contained within it was slightly questionable. While plenty of it was true, some of it was speculation and some was outright fantasy. "Doug went to Versailles and saw a statue of a Roman centurion wearing an armored chestplate with rings for attaching a cape," says King. "He didn't know the rings were for attaching the cape and assumed they were nipple rings. And he had a dream that an Egyptian pharaoh had their navel pierced — this was the 1970s, and Doug was into New Age belief systems, so he extrapolated it to be the truth." 
It was only in the 1990s when Paul began studying history and anthropology that the full spectrum of veracity within the document came clear.
All of which is to say that A Brief History of Body Piercing was where the name Prince Albert originated. Nobody knows the story behind it, and King can't find any record of it that pre-dates Doug Malloy, so he's reasonably confident the name was born from him. Why, though, is lost to time. Malloy died in 1979.
So, as disappointing a discovery as it is, Prince Albert went to his grave with his penis unpierced, and with no idea he would go down in history as the prince with a hog so whopping he had to pin it out of the way. The penis was buried, the legend lives on.