"It's hard for a guy to say 'I need help,'" says Paige Flink, the chief executive of the Family Place, a domestic violence shelter for men in Dallas that opened in May. "It's just not a natural instinct for a lot of men."
The Family Place is on track to serve 65 to 70 men this year, Fink tells me, and she says there's no common denominator among them. To wit: Of the seven men who currently live at the shelter, one's girlfriend began beating his daughter; one was strangled by his male partner; and one was stabbed by his brother, after the resident had accused him of sexually abusing his daughter.
Then there's Joshua Miller, whose girlfriend smashed their 2-year-old son's guitar into his forehead. When the police arrived, however, Miller was the one cuffed. "Men are not looked at as victims," he told the Los Angeles Timesearlier this month. "People say, 'A woman can't hurt you.'"
Miller's experience is typical, says Emily M. Douglas, an associate professor of social work at Bridgewater State University in Massachusetts, whose research over the last 15 years has largely focused on partner violence against men.
She says the need to be "macho" has resulted in men not even considering themselves victims or realizing the violence they're experiencing is a crime. "We don't think of men as being capable of being victims or targets of abuse. We associate them with moral and physical strength and being protectors, which doesn't align nicely with an image of someone being physically abused, psychologically manipulated or degraded."
Plus, when men do seek help, she adds, they often feel they've lost their "man cred" — i.e., strength, self-reliance, etc. "That's largely an internal barrier that women haven't had to overcome."
According to the most recent study from the CDC, there are more men than women who are victims of intimate partner physical violence. I ask Douglas if that could possibly be true — after all, aren't men thought to be more aggressive?
"Research since the early 1970s has shown that men and women perpetrate violence against each other at roughly the same rates," she says. "It's an issue that's largely been overlooked. And men have trouble finding help."
For example, she says when men call domestic violence agencies or law enforcement they're often ridiculed. "Men report that the police often laugh at them and say things like 'What's wrong with you? Can't you control your woman?'"
"When I called the police to file a complaint against my former wife," Ian Alterman wrote in a 1994 letter to The New York Times, "the initial response was amused disbelief. When I finally convinced them my complaint was real, the response — without missing a beat — was, 'So hit her back.'"
Nine years before Alterman's letter, the U.S. National Family Violence Surveyfound that when domestic violence calls to the police were made…
The man was ordered out of the house in 41.4 percent of cases when a woman called, but the woman was never ordered out of the house when the man called.
The man was threatened with immediate arrest in 28.2 percent of cases when a woman called, but the woman was never threatened with arrest when the man called.
The man was threatened with arrest at a later date in 10.7 percent of cases when a woman called, but the woman was never threatened with arrest at a later date when the man called.
The man was actually arrested in 15.2 percent of cases when a woman called, but the woman was never arrested when the man called. In fact, in 12 percent of cases when the man called, the man himself was arrested.
Men receive a similarly unsympathetic reaction from friends, Flink says. "The minute they start talking about what their girlfriend is doing to them they say, 'C'mon man, buck up.' Then the guy feels like he's not as strong of a man. It's emasculating."
Accounts from both the history books and tabloids seem to support the notion that none of this is all that new:
Although DIY castration is rare, when men are the victims of domestic violence, there's a much better chance they've been physically injured. That's because, as journalist Philip W. Cook points out in Abused Men: The Hidden Side of Domestic Violence, the stereotype of a husband getting a plate thrown at him or being hit over the head with a rolling pin is accurate. "Women were significantly more likely to throw an object, slap, kick/bite/hit with fist and hit with an object," he writes.
Maureen McLeod, an assistant professor of criminal justice at Stockton College, conducted the most exhaustive examination of police reports on spousal abuse in 1984 and had a similar finding. "Offenses against men are significantly more serious in nature," she noted. "Whereas just over one-fourth of all spouse abuse incidents involving female victims are categorized as aggravated assaults, the corresponding for male victims is demonstrably higher: 86 percent are aggravated; over two-thirds of these events are serious assaults with a deadly weapon."
And so, McLeod says, nearly all men injured by domestic violence require medical attention and half of them are hospitalized overnight or longer.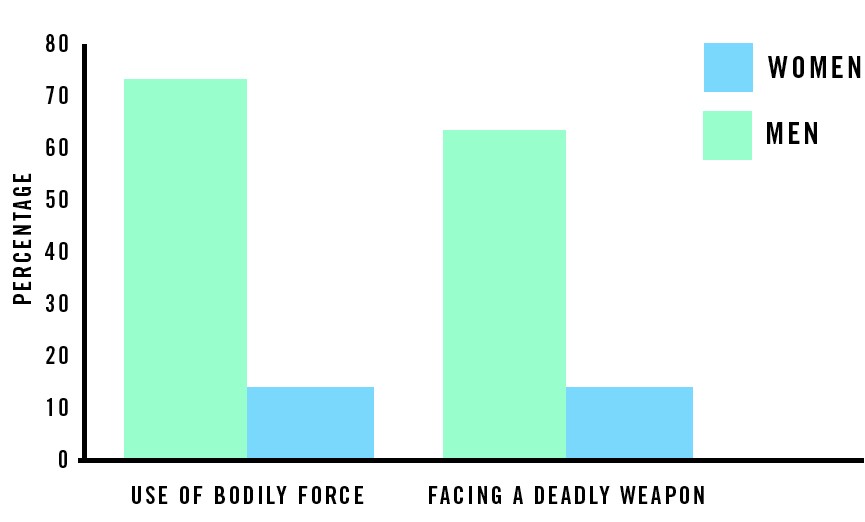 Nor is anything really changing. Case in point: While incidents of domestic violence have dropped more than 50 percent since the 1994 Violence Against Women Act was passed, studies have shown that violence against males has remained steady. Douglas says this demonstrates that we're not paying enough attention to the issue. "There's been a longstanding belief here and across the globe that patriarchy is the root cause of domestic violence. That may have been true in another time. It may be true in other parts of the world. It may even account for some of the partner violence we still see here. But it certainly doesn't explain all of the partner violence today."
She adds that the methods we've traditionally used to tackle partner violence — reaching out to women, public education campaigns, making services available to women — have been effective, but only through one lense. "Those same efforts haven't been put in place with regard to men. It's been advocated that men speak out against male violence, but women haven't been asked to speak out against female violence."
Shelters like The Family Place are trying to do their part. "We moved gender-neutral at The Family Place 10 years ago because we felt it was a more open-minded way to look at things — and the need was there," Flink explains. The Taylor House Domestic Violence Shelter for Men in Arkansas, which opened in 2015, saw the need, too. Valley Oasis, a domestic violence shelter north of L.A., provides services to both men and women in a co-ed living space. And all shelters in Illinois now provide services for men.
As a society, Douglas says, we've worked hard to have systemic responses to domestic violence, which include educating judges, law enforcement, attorneys and average men and women. "It's time to make the next shift and start educating that same group of providers, professionals and responders to understand domestic violence isn't always what it looks like," she continues. "Stop asking, 'Are men the real victims, or are women the real victims?' and just accept that partner violence exists among all partners, regardless of gender."