The Solar Living Institute is the initial stop on the daylong Mendocino Experience Cannabis Tour, which begins with a chartered ride out of foggy San Francisco into the warmer summer weather of Mendocino County, one-third of the famed cannabis growing region of Northern California that's better known as the Emerald Triangle. An environmental education center full of redwoods, lily ponds and organic gardens, the institute is also home to Emerald Pharms Cannabis Dispensary and Resource Center, the world's first solar-powered dispensary. 
It's by far the nicest one I've ever visited, but not in a sterile or boutique way. Plush white couches and hanging plants make the space feel cozy, as do the plentiful slabs of large crystals, decks of intuitive cards, and the tap of free Yerba Mate tea. It lives up to its name, too — Emerald Pharms — with its budtenders acting as much as pharmacists as salespeople, complete with knowledge of the terpenes in each product and how they could be useful for specific ailments. 
Linalool has the potential to treat anxiety, relieve pain and act as an anticonvulsant. Limonene helps with focus, memory, depression and cancer prevention. Humulene is an anti-inflammatory and can suppress appetite. And myrcene can relax muscles and stop spasms. There are even free cards that profile each major terpene, intended to further educate consumers about the scope of cannabis and medicinal uses. 
Medicinal or not, everyone in my tour group is excited to spend money on some organic, locally grown weed. For half of the group, the dispensary stops alone are reason enough to come on the tour — a far cry from their cannabis options in their home states. But even for me, a long-time stoner who can legally get weed delivered to my home in L.A., the inventory at these Mendocino outposts is unique and impressive.
I find the rest of my tour group out back in the outdoor consumption lounge. There's about 10 of us total, including our two tour guides — Chris Vardian and his business partner Misha Frankley. Physically, Vardian resembles Jeff Bridges in The Big Lebowski, but his hair is longer and more silver. A smile is almost permanently plastered onto his endearing face. For his part, Frankley wears a newsboy hat and a T-shirt featuring a giant weed leaf over a California flag. He looks like Wolowitz from The Big Bang Theory but with a pinch of Billy Crystal's attitude. Both are veteran tour guides who got their start driving San Francisco's famous doubledecker buses and love facilitating fun experiences. "I get to interact with people on the best days of their life," Frankley says. 
Lauren, 26, and Andrew, 32, an Italian-American couple from New Jersey, are wearing sunglasses that conceal their stoned eyes as much as the Mendocino sun. Seasoned cannabis tourists, Andrew's first weed-centric trip was to Amsterdam a few years ago, and together, they've checked out the weed scenes in Washington and Colorado. This, however, is their first time being able to legally light up in the middle of nature. "We usually search for stuff online before we go. I'll post a question on Reddit about what dispensaries to visit or what products to buy," Andrew tells me. "I like to try a couple of the strongest or most popular strains in the area." 
"This is my favorite so far," Lauren tells me of the hybrid flower she's smoking. "I see California labels on weed back home sometimes, but now I'm really seeing where it comes from. It's cool to learn more about the history of something that you do so much." 
In terms of today's itinerary, we'll be getting into the nitty-gritty of the legal marijuana business in Mendocino County by visiting a cloning operation, outdoor and indoor grow and a processing and cultivation center. That is, of course, after a final smoke at the Solar Living Institute, which Vardian and Frankley tell me will soon become the official entrance to the Emerald Triangle (the other points of the triangle being Humboldt and Trinity counties). "Right now, most people don't know cannabis tours exist, but I think it's going to be huge," says Vardian. "Look at how big Amsterdam was for cannabis tourism, and look at how many thousands of people leave San Francisco and go on wine tours everyday. This is the source. This is where the terroir is. Cannabis has been growing here in the Emerald Triangle for generations, and people who are connoisseurs of cannabis — or 'cannasseurs' as the case may be — are going to want to see where the best weed is grown." 
Right now, in fact, the only thing that's really keeping the Emerald Triangle from becoming the Napa of weed (or turning Napa into the Emerald Triangle of wine) is a California law that doesn't allow for a quick, free taste. That is, on the Mendocino Experience Cannabis Tour, nobody hands me a one-hitter full of fresh flower at the weed grows we visit in the same way someone leading a wine tour may pour me a glass of wine out by the grapes. Nor does anyone tear off a piece of cannabis plant for me the same way they might pluck a grape to sample. 
We're able to smoke under the redwood trees right outside Emerald Pharms because the land belongs to the Solar Living Institute, the private entity that permits us to do so. It's not built out as an actual part of the dispensary, such as the lounge at Barbary Coast Dispensary in San Francisco, where everyone in my tour group had already visited on their own. I light up the "Wedding Cake" pre-roll I just purchased, a delectable hybrid cross between "Girls Scout Cookies" and "Cherry Pie." Our first communal smoking session is fun, but way more of a choose-your-own-adventure kind of thing than your standard wine tasting. 
"Under the present law, most cultivars aren't licensed to do tastings at the site of production," explains Richard Mendelson, a wine law expert at Dickenson, Peatman & Fogarty in Napa and the director of the Wine Law and Policy Program at the University of California, Berkeley School of Law. "It's a privilege of what we call the 'winegrower license' that they're able to taste wines to the consumers who visit and then sell the wines to them. Right now, in California, the normal cultivator cannot do that. It's always educational to see where the plant is being grown, but part of agritourism isn't only seeing the product and the producer, but also sampling and buying it. Right now, that isn't usually possible." 
"Early on, before cannabis became legal for recreational use and was only legal for medical use, a dispensary might have a new patient that they'd give an introductory free joint to or something like that," Frankley adds. "But they can't do that anymore. Under the California law, nobody can give away any cannabis. That means no free tastings." 
Also an issue for Vardian and Frankley — family farmers have grown weed in these parts for generations, but since California became the first state to make cannabis illegal in 1913, most have been doing so in deep secrecy. "The really forward thinking growers want tourism up here, they want people to know cannabis country exists much like wine country," Frankley explains. "But after 100 years of prohibition, you can sense that people have a little more trepidation about bringing tourists on their land than a winery does. It's not like vineyards where vines are literally growing down the side of the road. A lot of cannabis grows have traditionally been up in the mountains and purposefully difficult to find, down dirt roads and all that." 
Luckily for them, Emerald City Genetics, the largest cannabis facility in Mendocino County, is an exception to this rule. At full capacity, it grows 20,000 to 25,000 plants at a time. Vardian considers the indoor grow here his favorite part of the tour. "It's almost like a spelunking adventure," he says. "When we go into the flowering rooms, we get in Tyvek suits, put on the little foot covers and use green flashlights to see in the giant, pitch-black cavernous rooms. Plants don't see green light, so we use that to be able to explore the plants while they're flowering." 
Personally, my new friends and I love finding our way through the huge, dark room and realizing we're surrounded by countless rows of weed plants that are much taller than us. And this is just one area within Emerald City's enormous indoor complex, a former sheet-metal fabrication factory turned cannabis operation. Emerald City's owner is 33-year-old Wei Shi, a low-key guy in a gray hoodie who sniffles from time to time because he happens to be allergic to weed plants. 
Nonetheless, Shi provides us with a thorough tour of the property, pointing out practical tools such as the printer Emerald City uses to make its government-compliant labels and fantastical normalities (for him at least) such as a row of jumbo-storage bins chock-full of the most purple, fragrant weed I've ever smelled — e.g., freshly trimmed, extra-strong Chem Dog with 28 percent THC. He also shows off buxom nugs of Trifi Cookies, one of his newer strains that crosses Triangle Kush and Fire OG, and points to containers brimming with high-quality trim that will become concentrates for vaping and dabbing. "The weed you're smoking now is going to be cleaner than the fruits and vegetables you're eating," Shi vows. (To that end: The entire complex and its surrounding farms are all organic, meaning ladybugs are used to protect the plants instead of pesticides.)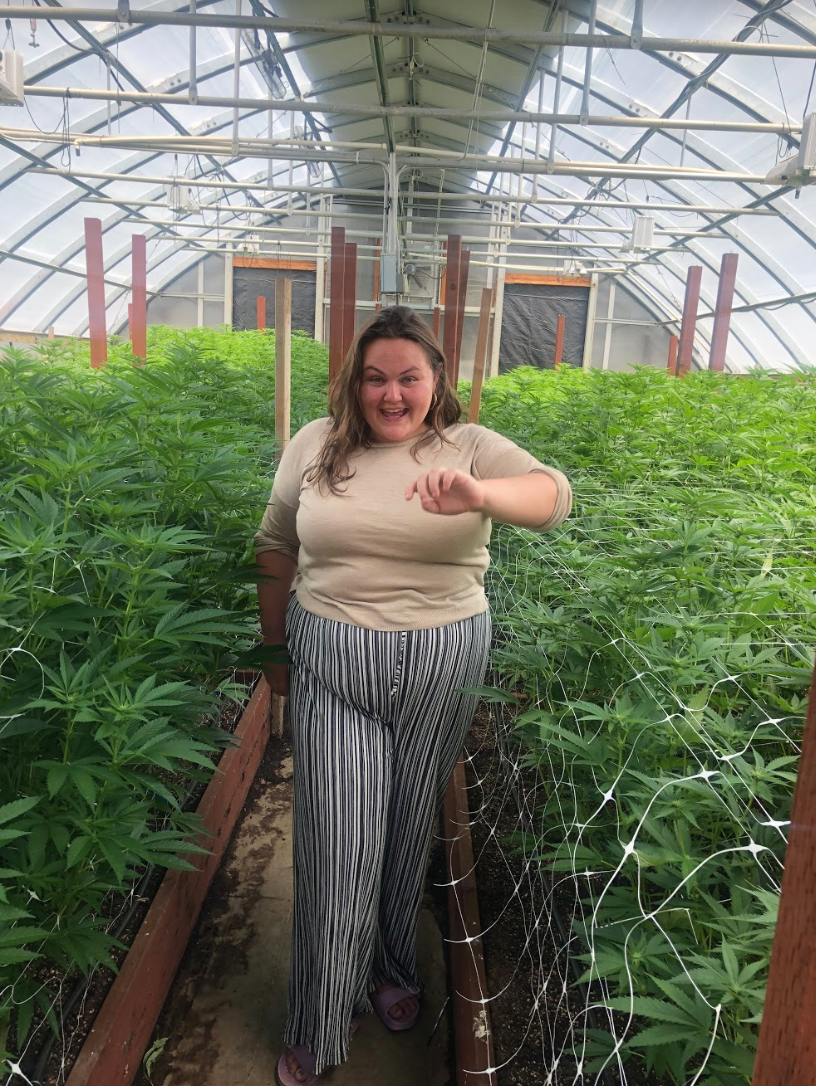 Nearby is the Emerald City Genetics cloning center, which prepares 3,000 to 4,000 clones a day to sell to other farms. A twentysomething dude roots individual plants into their little containers, mostly because the dimensions of the plants he's working with are so much tinier than the more mature plants we see outside. "This is outdoor farming, so you can't control the environment," an Emerald City employee named Brad explains. "It's never the same. Every harvest is new. We sell clones to other farms once they're rooted, and those farms plant the rooted plant so it flowers faster."
According to Victor Pinho, founder and CEO of Emerald Farm Tours, another cannabis tourism company operating daily out of the Bay Area, tourists love learning about the science of cannabis production. "They're blown away by how much science goes into it all, and how advanced the technology we're using now is," he says. "For example, when we visit Jetty Extracts during our Emerald Farm tours, they get to see what scientists are doing to process oils to the cleanest, most refined states. People are amazed that PhDs are making their cannabis oil. It's insane to them." Pinho began giving tours in February 2018 in which tourists can actually smoke weed (or eat it, etc.) while in the vehicle. (this isn't a privilege afforded to us on the Mendocino Experience tour because there is no divider between us passengers and the driver.) 
Pinho and Vardian both emphasize the difference in the wine and weed tour demographics, at least at this point in time. "I actually never took a wine tour until I started this company. People ask me if I'm copying the wine tour model and I'm like no, I'm doing my own thing. Authenticity is really important to designing cannabis tours," Pinho says. He adds that a couple got engaged immediately following one Emerald Farms tour, and that Japanese tourists are the most common international guests aboard his buses. Overall, he isn't surprised international cannabis tourists choose to visit California instead of other states in the U.S. with recreational weed. "San Francisco is the birthplace of legal weed," he says. "It's the nexus of legal weed. You can't take that away from it. Northern California has the richest cannabis history in the country — and the world." 
Naturally, Michael Eymer, founder and CEO of Cannabis Tours, the Colorado-based company with offerings in just about every major city in every recreational market, disagrees with this statement. He believes that Colorado is "mopping the floor" with California in terms of the cannabis hospitality space — and will continue to do so as Colorado Governor Jared Polis recently signed a new social-consumption bill that will further boost the state's cannabis hospitality industry. "Basically, it'll allow for mobile-consumption, lounge-based businesses such as tours," Eymer says. "It also includes a number of other things such as hotels, lounges and restaurant operations. In short, the entire hospitality community now has a version of cannabis-regulated licenses that can be issued."
Obviously, for the hospitality industry to grow in Mendocino and the rest of the Emerald Triangle, similar measures will need to be adopted – turning big chunks of legal gray space green. Given the economic potential — Napa Valley had 3.85 million visitors in 2018, generating $2.23 billion in total visitor spending — as well as the competition from states like Colorado, it's probably only a matter of time before the state laws change, and as Eymer says, "just like every winery has a tasting room," every Northern California grow will have one too.
Eymer considers himself a normalization activist. His work really begins in states after they legalize, when he steps in and asks, "Can I really smoke here?" He says a lot of his efforts are about shifting the culture: "There's some things I hold sacred and that's getting my customers the ability to consume the plant we love. Period," Eymer says. 
We do our final bit of shopping on the Mendocino Experience tour at Kure Wellness in Ukiah, another local dispensary in the middle of a pastoral oasis. We're allowed to smoke whatever we buy here because Kure Wellness is licensed for consumption in its outdoor lounge. Consumption lounges are very rare, even in states with adult-use cannabis, because a lot of local governments don't allow them. (For example, West Hollywood is the only part of Los Angeles that allows for consumption on-site). 
I see a house pre-roll made from Watermelon Zkittles, a strain I have to try because of the name alone (it's as fruity as it sounds and creates a soothing body high). I also pick up some "Mimosa," bountiful pre-rolls full of enlivening weed from a place called Sweetwater Pharms. Most excitedly, I inhale a cloud of milky smoke at the Kure Wellness dab bar (my first dab since a weed brunch I went to in 2017). A kind stoner loads the dab rig up with some fresh wax and encourages me to finish it without actually putting any pressure on me to do so, which I find to be a perfect example of real stoner etiquette. 
After my dab, I look around at my fellow tourists and feel safe and melty. You have to be really chill to get stoned with strangers all day. Maybe it's the bonding activities we did on the ride up to cannabis country, including a round of group sharing about our first time smoking weed and Vardian's expert oration of Shel Silverstein's famous cannabis poem "The Smoke Off." 
My new friend Sherry, 63, loves the poem. "What was that last line again?" she asks when it ends. (For the record, it's, "Beware of Bein' the Roller When There's Nothin' Left to Roll.") Sherry stopped in San Francisco on her way to a conifer tree conference in Oregon for the sole purpose of acquiring weed. She lives in Brooklyn and says New York's medical marijuna process is too stringent for her. "I'm absolutely a cannabis tourist," she explains. "I was really keen to buy some weed because I haven't had any in a long time. I used to get weed from a friend, but she passed away. I don't know who sells it anymore, and I don't want to try buying it from a random person on the street. I'm so happy, though, I can go back to it here." 
I sip my roadie, a Lagunitas Hifi Hops Sparkling Water, as Sherry talks. It's a refreshing 12 ounces of non-alcoholic beer that contains 5 milligrams THC and 5 milligrams CBD. Zero alcohol, zero calories, zero carbs and enough CBD to help curb the potency of THC in my system. "I would never have been able to see Mendocino County this way without a tour," Sherry continues. "And before this, I'd only smoked with my friend who isn't with us anymore, an old boyfriend and people who I don't remember from when I was 14." Sherry's friend passed away and her boyfriend broke up with her, so after a few years without pot in her life, she flew across the country to reconnect with the plant on her own terms. 
When I return to San Francisco at sunset, I already miss the sun and scent of Mendocino. I'm certainly stoned, but in this clear, mellow way that I find only really high quality, pesticide-free weed creates (not anxious or stuck, just fizzy and gleeful). Cannabis enthusiasts will certainly love this tour, but someone who just loves uniquely Californian experiences could really enjoy it too. As Sir Douglas Quintet sings in his 1969 THC-infused track, life is "such a groove" in Mendocino.