Despite the abundance of advertising telling you otherwise, you will almost certainly never win millions of dollars playing daily fantasy sports (if for no other reason than more and more states are outlawing it as a form of illegal gambling). But Rob and Dave Gomes, two 20-something brothers from Boston, are among the few who did just that. Last November, the pair of New England Patriots fans won $1,000,000 on daily fantasy sports website DraftKings. You might recognize them, as they were prominently featured in DraftKings's ubiquitous TV commercials throughout the fall.
Dave: It seemed so much like a dream at the time.
Rob: It was one of the most surreal moments of my life.
Dave: I didn't start playing daily fantasy sports until Week Nine, two weeks before we went on to win the million. And in Week 10 I won $3,500.
Rob: Once Dave won that, we thought, We have a lot of money to play with right now. We need to let this ride.
Dave: We decided to spend $1,500 creating various teams for Week 11, because that's when DraftKings was giving away the $1 million prize to the top winner.
Rob: Obviously, in terms of bankroll, you're never supposed to do what we did. It's recommended you put only 10 percent of your winnings back into play, not a third of them. My mother was saying, "Oh, you won $3,500. Maybe you should just walk away." Both of us were like, "Yeah, whatever. We'll keep playing."
Dave: Man, I was nervous. We were in first place among a field of more than 100,000 teams headed into the Monday Night Football game between the Steelers and Titans, and had, like, a 20-something point lead on the guy in second place. I wasn't too optimistic; it's rare that someone goes into Monday night with a lead and hangs on.
Rob: The guy in second place was playing Steelers running back Le'Veon Bell and wide receiver Martavis Bryant, so we needed both guys to not play their greatest games. Bryant ended up dropping two passes that would've been touchdowns. He catches one of them, we wouldn't have won.
Dave: Still, the game wasn't going so well because Bell was running all over the Titans defense.
Rob: We decided to watch the game at Antico Forno, an Italian restaurant in the North End that my mom owns. It was filled with family and friends.
Dave: We look happy in the commercials, but I was pretty nervous. I felt nauseous the entire night. I thought I was gonna have a heart attack or throw up. It was one of the best and worst moments of my life.
Rob: To be honest, it wasn't a very fun day. It was mostly scary.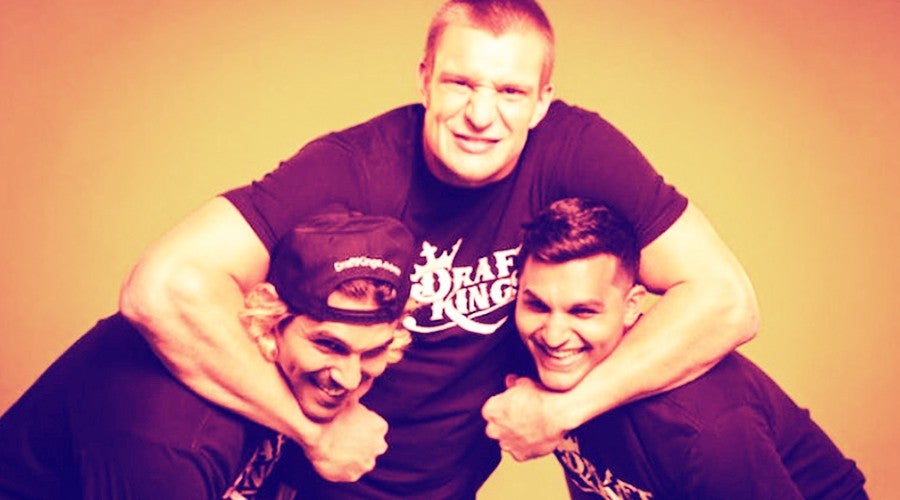 Dave: It wasn't until the fourth quarter that we thought, We could actually win this thing. The Steelers had the ball and were up by three with about seven minutes left in the game. As long as Bell didn't score a touchdown or break off a big run, we'd win. I was thinking it could be fate. But we were freaking out because the Steelers kept running the ball with Bell.
Rob: It wasn't until there was a little more than a minute left in the game, when the Steelers started taking a knee, that I started thinking, I'm about to win half a million dollars.
Dave: A bunch of friends started dousing us in champagne. Everyone was getting drunk and having a blast.
Rob: I was going fucking crazy. It was the best feeling I've ever had. I just couldn't believe it.
Dave: We actually didn't have any money on us at the time we won. Everyone was expecting us to drop, like, 10 Gs, but we didn't have it.
Rob: We went to a couple strip clubs, a couple bars, all the while carrying around a big Happy Gilmore novelty check that DraftKings gave us after the game.
Dave: It took three days for the money to get to us. We had to wait for the league to do its stat check on Tuesday and finalize everything from the previous week's games. After that, DraftKings wired me $600,000, the amount we won after taxes. I never thought I would see that much money in my bank account. I took screengrabs of it and would show it to anyone who doubted me.
Rob: As far as what I'm going to do with the dough, the majority of it will go to my mom. I'm hoping she can use it to buy the building her restaurant is in. I probably owe her a lot more than that, anyway.
Dave: I was still in school studying to be a physician's assistant when we won the million, so at first, I didn't end up doing anything too crazy with my half. I finished up my semester, went to the Super Bowl in February and that's when the craziness started.
Rob: We did buy Super Bowl tickets, but we got them wicked cheap. Our neighborhood friend sold them to us for around $2,500 a pop.
Dave: We actually won another $100,000 on the Super Bowl. Back in August, months before we won the million, I was in Vegas, and Rob had me place a preseason bet on the Patriots to win the Super Bowl at 7.5:1 odds. I put down $10,000 of his money, and threw in another $3,000 of my own, so it paid out almost 100 grand.
The next day we drove from Phoenix, where the Super Bowl was played, to Las Vegas, and the Aria Resort comped us the Sky Villa Suite. It was the biggest hotel room I've seen in my life, bigger than my house. It had everything: a gym, massage room, a barber room. Floyd Mayweather and Michael Jordan stay in that room when they're in town.
We met a lot of Patriots players through the experience. We'll get an email from a promoter saying, "Hey, the Pats will be here, and we'd like you to come and celebrate with them." We'll just go to their table and not have to pay for anything.
Gronk is everything like he seems on TV, by the way — always dancing, drinking, having a good time. Although he's hard to hang out with with all the tail chasing him around.
Rob: A couple of networks have asked us to do a reality TV show, but I don't know if I'm cut out for that kind of lifestyle. I didn't make any major lifestyle changes, really, except that I moved out of my parent's house and into my own apartment on the North End.
The only big difference is that I was bartending at my mom's restaurant when we won, and now I'm working on launching my own fantasy football app, Chalk Brackets. I've used about $40,000 on that; everything else is my mom's.
Dave: After we won, I got some texts from ex-girlfriends and some other girls who never gave me the time of day before. But I don't pay them much time. I don't go chasing the ones who want me only because I have money.
I don't think of myself as having money anyway. I still live off the money I make bartending and am still in physician's assistant school. I gotta keep working and studying hard; I'll party once I'm done with school.
I am back playing fantasy football. I have a lot of people talking trash, saying I was lucky. So I'm planning on proving the haters wrong by winning the million again. If I do, I'll live off that money.
— As told to John McDermott
John McDermott is a staff writer at MEL. He previously wrote about Millennials who pop Adderall to find passion in their work.
For more MEL, follow us on Medium or subscribe to the newsletter.