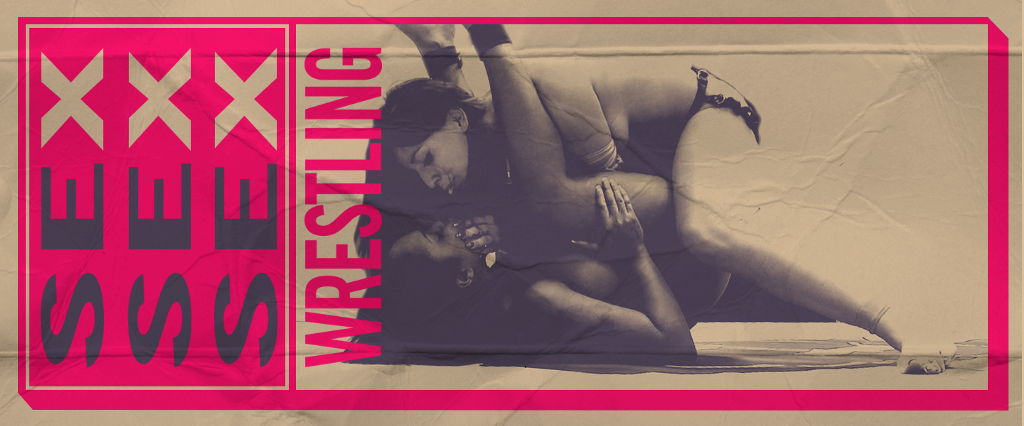 Two women in string bikinis, with matching bands of fabric tied around their upper arms and ankles, stand barefoot on a wrestling mat, facing the camera. They're deadly serious as they describe in detail how they plan to defeat their opponent in a wrestling match. Ariel X, the shorter but more muscular opponent in pink, tells the camera, "My strategy today is to get a squirting orgasm out of Annie Cruz." Slimmer but taller, Cruz, in red, outlines a similar plan for what she'll do after she wins the match: "It's going to be simple. It's going to be messy. Lots of squirt, maybe some oil. I'm going to fuck the shit out of her."
Ariel, by far the more experienced fighter, agrees to fight with her right arm in a sling to even the odds against Cruz, and the fight commences. The referee awards points according to a complicated system: control points for gaining the match's upper hand; toughness points for extended holds; submission points for making the opponent submit (especially if the submission includes tickling or breast or pussy smothering); and style points for breast fondling, fingering (pussy or ass), pussy licking or kissing (with or without tongue).
After three rounds of rigorously athletic, unscripted grappling, Cruz has scored no points whatsoever, while Ariel has amassed 1,448 — one-handed. ("I'll choke you out while I have fingers inside of you," Ariel taunts at one point.) After a short break, Ariel dons a gigantic strap-on and penetrates Cruz anally until she gets the squirting orgasm she wanted; next, she rides Cruz's face until they've both come.
It's all for Ultimate Surrender, the female sex-wrestling branch of Kink.com's vast online porn empire, which celebrates the darker side of sex — from electrocution to bondage to hardcore wrestling capped with, as the website puts it, "punish fucking." Originally the brainchild of adult director and actor Matt Williams, Ultimate Surrender has been part of the Kink family for nearly 15 years now.
Over its long history — and under the careful direction of performer and coach Ariel X — it's developed into what Kink.com spokesman Mike Stabile calls "an actual sport" that mirrors its mainstream counterparts. Competitors are divided into three weight classes: featherweight (90 to 115 pounds); lightweight (116 to 135 pounds); and welterweight (135 pounds and up). And while wrestlers train for their matches with coaches versed in Ultimate Surrender's particular requirements, the matches themselves are completely unscripted and competitive. "Despite the sex, it's much closer to MMA than it is to WWE," Stabile says. Over the years, thousands of matches have been recorded — some in front of live studio audiences — and a flourishing industry (i.e., fetish wrestling) has developed around it.
Obviously, it's not news that the heightened adrenaline, bare skin and overt displays of power differential in boxing, amateur wrestling, pro wrestling, martial arts and mixed martial arts pair well with sex. But as far as professional fighting organizations are concerned, overt displays of sexuality in the ring (or octagon) are taboo — scantily-clad ring girls and valets notwithstanding. Sexual desire, however, thrives on taboos, and in the dark space between mainstream fighting and mainstream porn, fetish wrestling (aka fantasy wrestling) celebrates both the urge to fight and the urge to fuck. "It's a massively popular fetish," asserts Sinn Sage, a porn performer and fetish wrestler. "I'd say wrestling is the most popular fetish out there, yet most people would never guess that."
"When you first see the fetish wrestling world, you think, Wow, this exists?" adds Mistress Kara, a dominatrix and multiple-time Ultimate Surrender champion. "The reason it might not be so public is that — and I hear this from my male clients all the time — growing up, they couldn't express their feelings toward strong, muscular women because it wasn't socially acceptable."
The video described above has more than 1.1 million views on Pornhub. Meanwhile, a search for "wrestling" on Pornhub yields more than 3,500 results. And on Clips4Sale, one of the world's largest erotic clip sites, the "wrestling" category is home to more than 1,000 individual stores featuring a wide variety of activities, like muscular women lifting and carrying other people (some stores focus on women dominating men, while others stick to all-female bouts); submission holds followed by spanking sessions; wedgie-giving matches; breast smothering; belly punching; foot choke holds; and standard grappling in all manner of costumes and levels of nudity. Taken together, these stores collectively offer more than 206,000 clips. (For reference, there are fewer than 157,000 "anal" clips available on the same site.)
Jezabel Romo's Lucha Girls has cornered the masked wrestling sexual combat market, offering non-explicit fights ranging from luchador-style foot-tickling bouts to superhero-costume grudge matches to standard bikini wrestling. Previously, she tried her hand at professional wrestling and managing on the indie circuit, but had trouble paying the bills. "In 2010, a friend told me about custom [videos]," she says. "Customs being me and another wrestler bringing to life a customer's script." She went into production and has never looked back. "The pay is a lot better than on the pro [wrestling] circuit!"
Custom videos are a staple of the scripted side of the fetish wrestling industry, where there are few venues for live performances, and where the secretive nature of the fetish keeps most fans of the genre at home. Despite their underground nature, though, customs are exceptionally bankable. "After I send [the videos] to the customer, I upload them on my clip stores, so basically I get paid via both custom [videos] and my clip stores and website," Romo explains.
Meeting clients' specific demands — customers are encouraged to "book" their fantasy matches by paying for their favorite performer pairings, the costumes they wear and the specific fetishes included in the match — requires producers to be not only competent in wrestling, but also versatile. "I'm open-minded," says Robin, a career wrestler and the owner of Les Femmes Fatales Productions. "I've produced everything from G-rated wrestling all the way to X-rated wrestling," as well as facesitting and smothering, "scissor" (where a woman crushes her opponents' head between her thighs), tickling and foot fetish videos.
Similarly, says Romo, "I do pretty much whatever the customer wants. One guy has completely sponsored my Piledriver Perversion series, and gets off on piledrivers." (The piledriver, of course, being the notoriously painful and dangerous pro wrestling move in which one wrestler turns the other upside down, traps their head between their legs and drops into a sitting position.) "I've realized through the years that a fetish doesn't necessarily have to be sexual. It's whatever brings pleasure to the viewer," she adds.
To that end, a lot of the work Mistress Kara has done outside of Ultimate Surrender's pornographic ring, she says, "isn't even necessarily sexy or erotic. It's women's competitive wrestling, which is hot to a lot of people, so it's going to be eroticized," but there's no overt sexuality involved.
That said, sex or no sex, the combatants always take the wrestling seriously. Even at Ultimate Surrender, where hardcore sex takes place on the mat, explains Mistress Kara, "We're still fully competitive. Even though sex is involved, it's 100 percent balls to the wall, no faking. We're doing everything in our power to win."
"What made Ultimate Surrender different was that it not only added sex, but that when it added sex, it kept the integrity of the sport," explains Mike Stabile. "The point system isn't something just thrown in — it's an actual, somewhat complicated, rule-based scoring system that the participants, ref and fans take seriously. This isn't entertainment wrestling."
At Ultimate Surrender, the combatants are "mostly porn stars who train to wrestle, rather than the other way around," says Stabile. "Not every porn star is cut out to do wrestling, but many who have sports backgrounds can excel — for example, our most successful wrestlers often have some experience, like high school wrestling. Moving wrestlers to porn, however, is much rarer."
"I've seen a lot of girls get on the mat for the first time and think, Oh, this is another shoot where it's going to be easy!" says Mistress Kara. "But no. It's not. We're fully competing." That's why training is so important. "You'll see a heavyweight like me go up against a tiny girl. She's obviously going to lose," Mistress Kara adds. "I still, though, know how to keep them safe because we're skilled athletes. So we take the newbies, and they wrestle us. They learn by losing, and they're kept safe."
Mistress Kara, Robin and Romo all have formal training in jiu jitsu, compounded by years of experience on the mat. "I was one of the first female wrestlers in the business to learn how to really wrestle, and I brought legitimacy to the business of wrestling," claims Robin, who was on the cover of Martial Arts Illustrated in 1999. "I do 100 percent real wrestling, and [I] trained with one of the best. My sensei trained Ronda Rousey." (Robin's credentials are further solidified by her preference for wrestling men. "I like wrestling women, but it's not the same thrill I get when grapple with guys," she tells me.)
"Other than narrow-minded, judgmental people saying it's just 'porn wrestling,' there's not much difference" between mainstream professional wrestling and what Lucha Girls does, says Romo. "The majority of my matches are straight pro style, such as you see in the pro wrestling industry, even if it's in a bikini or lingerie. But I mean, even WWE in the Attitude Era did bra-and-panty matches!"
"I want the world to know that we're not doing it just to cater to men," declares Mistress Kara, an avowed feminist. "We love what we're doing. We're fierce; we're competitive; and we're using every part of ourselves consensually. There's great power in that. As women, historically, we aren't taught that that primal fire inside of us can be let out. We're told to suffocate it. We're told to repress it. We're told not to make anybody feel uncomfortable with it — or not to make any man feel weaker than us."
But in fetish wrestling, she says, "I've thrown all of that to the wind. Like, fuck that. It's been so freeing. That primal nature isn't just masculine. It's also feminine. We do have that fire, and we've been repressing it for too long."