The reign of the twink has ended. We're now in the Age of the Lank.
Twinks — slender, boyish men — entered the straight lexicon in a big way through Timothée Chalamet in Call Me by Your Name and Ashton Sanders in Moonlight, both of whom garnered critical acclaim exposing their bony bodies. Since then, we've coronated new twink royalty: pop twink Troye Sivan, superhero twink Tom Holland and the endless twinks on TikTok.
As the twink has risen in popularity, so too has the height of our slender heartthrobs. Enter the lank, a type of guy exemplified by the 6-foot-5 actor Nicholas Braun, aka Succession's Cousin Greg.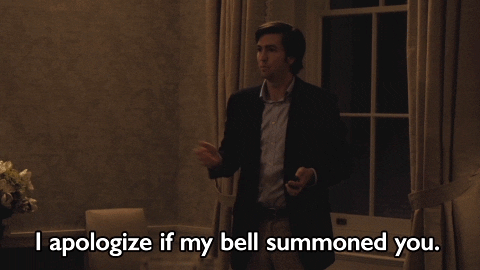 "We are in a preponderance of tall, gangly and weirdly hot goofy guys on TV," says Michael Fails, a New York director and designer. He coined the term "Age of the Lank" on Twitter.
Besides Braun, there's Theodore Pellerin on On Becoming a God in Central Florida, Dustin Ingram on Watchmen and even John Paul Reynolds on Search Party. But it's not height that makes a lank. Pellerin is 5-foot-9 and a lank, while Chalamet is 5-foot-10 and a twink.
"A lank is just being a twink with bad body proportions," says writer (and lank) Sam Van Pykeren, who says he first saw his body type onscreen with Bugs Bunny. "Being a lank means looking like a real-life cartoon character all the time."
All lanks are twinks, but not all twinks can be lanks. Chalamet, for instance? Too effortlessly cool. Not even a bowl cut can bring down his confidence. Compare the King heartthrob to Timothy Simons (6-foot-4) as Veep's neurotic Jonah Ryan, or comedian Zach Woods (also 6-foot-4) as Silicon Valley's Jared Dunn.
To be sure, tall and gangly white men have always existed; tip of the hat to Abe Lincoln, who was memorably redrawn as an angsty millennial teenage lank on the short-lived Clone High. But we can really thank Zach Woods (and his strong online fanbase) for popularizing the beloved modern-day TV lank.
In 2014, writer Louis Peitzman wrote an ode to Woods for BuzzFeed. At the time, Woods was moving from playing painfully awkward corporate director on The Office to painfully awkward techie on Silicon Valley.
Five years later, Peitzman is more attracted than ever to the actor. "I define my type as some combination of guys who look like rare exotic birds, guys who look like sad ghosts and guys I could climb like trees," Peitzman tells MEL.
What's the sex appeal of men with awkward body proportions? "That awkwardness makes them seem more approachable, whereas a tall, competent handsome" — handsome as a noun — "like Armie Hammer gives me intense anxiety," Peitzman says. So, of course, he describes the lanky men he likes as NBILFs — "Nicholas Brauns I'd Like to Fuck."
(Braun may be a certified Twitter hottie, but he's not for me. I'm holding out for his Succession costar Kieran Culkin.)
For some real-life lanks, seeing oddly tall men on TV is unexpectedly cathartic. "As an actor who once got the note to 'embrace my scarecrow body,' it is inspiring to see this kind of representation," says David Beran, who is 6-foot-1.
Others say it's about time hot men aren't so muscular. "I am HERE. FOR. IT. Short, muscular men have had the market share on hotness for far too long," says Dylan Hauck, a flight attendant who has hit his head on more overhead bins than he can count.
But in 2019, it's past time to diversify the lank. Where is the lank representation for men of color? The "Age of the Lank" doesn't work for Toronto-based Armani Haven, though he's 6-foot-2 and slender. "I'm black, so I really don't see these guys as a representation of me, even if they might have similar body types," he says. Instead, Haven feels more represented by tall rappers like Wiz Khalifa, A$AP Rocky and Joey Bada$$ — "skinny black guys who are seen as attractive."
"Age of the Twink, Age of the Whatever-the-Fuck — white, skinny men have literally been the standard for all of eternity," admits Van Pykeren. "But I can't deny that it was nice to see that tweet and see that people are thirsting over those guys. It's nice to receive that kind of attention."