Yesterday, if you logged into Tumblr, you saw this at the top of your dashboard:

Click through, and you learn that the new policies are designed to ensure a "better, more positive Tumblr." Moreover, the changes come after the company's recent child pornography fiasco, which got the social media platform dropped from Apple's iOS App Store. Like Facebook and Twitter, Tumblr has reckoned with the influence of bots, trolls and sock-puppet accounts in the wake of the 2016 election — and has done so with significant transparency. This new announcement, by comparison, is wildly disingenuous, though its import is equally clear: They can't figure out how to block harmful and illegal graphic content, so they're just gonna delete all the boobs and dicks.
"There are [sic] no shortage of sites on the internet that feature adult content," wrote Tumblr CEO Jeff D'Onofrio in the update. "We will leave it to them and focus our efforts on creating the most welcoming environment possible for our community." But what if the community was what made Tumblr's adult content different (and better) than most?
The porn ban news drew an avalanche of jokes about how porn is the only thing Tumblr was even good for anymore, and it's worth thinking about why that might be. Yes, it was the last major social forum where you were likely to scroll past a hardcore sex GIF at random. But because Tumblr was first a haven for left-leaning, feminist, queer, trans and marginalized groups, that content acquired a flavor quite distinct from what you see on the billion other porn directories D'Onofrio alludes to. It makes little sense to say that Tumblr's raunchy blogs are the equivalent of a Pornhub page — because they aren't.
A quick search of the not-yet-deleted archive yields all kinds of curiosities you're unlikely to find anywhere else. There's the Anarcho-Feminist, curated by an anthropology student who went on to direct a multidisciplinary alternative-porn festival in Switzerland. Oldenskin collects vintage nudes going back decades. Here's an account that blends steamy lingerie spreads with astrology — and here's one exclusively for admiring men's sculpted butts. All of them reach for an aesthetic familiar to anyone who has used Tumblr over a sustained period: lush, gentle, dreamy, intimate. In a word, arty. Users wanted the same palettes and contours, the same cinematic angles and black-and-white exposures, as they did for their photos of architecture and Sunday morning coffee. In fact, I just found a Tumblr dedicated to naked people drinking coffee.   
Not to mention the economic impact on the creators running those blogs:
The politics of the successful porn accounts matched the soft touch of these visuals. Bloggers and cam performers emphasized consent, body positivity, healthy kink and mutual respect — in sharp contrast to the degrading scenes of humiliation that proliferate on male-focused streaming sites. With more women than men, Tumblr was uniquely poised to offer alternatives, including a galaxy's worth of seductive illustration and fantasies in prose.
Sure, you could still pull up video of oily monster cocks violently ejaculating onto a woman's face, if that's what you really wanted, and no one would judge you for it. Meanwhile, though, would-be masturbators turned off by the gonzo style that dominates our cultural definition of porn were discovering that smut needn't be reduced to the piston-like mechanics of penetration. On the dashboard, you could linger over a tender kiss in close-up, or watch a passionate hair-tug on loop. These were motions that prized sensuality and realism above the theater of predetermined orgasm.
Last year, MEL colleague Alana Levinson wrote about how women felt safer watching porn on Tumblr, where the product was more customizable and less assaultive. She noted that the free-floating GIFs, by crystallizing that perfect bounce or squeeze, "allow you to feel things free of the confines of a specific narrative." It's up to the viewer to supply "the sounds, the context, the background," and create a personally arousing story.
Now, perversely, Tumblr is punishing both the sex workers and people drawn to this liberal, enlightened, open-ended format with guidelines that try to couch the inane prudery of another century in the "woke" language common to its key demographics. Along with genitalia and sex acts, they've promised to crack down on "female-presenting nipples." Just how they plan to enforce such a nuanced standard when, again, they've struggled to keep sexual abuse off the site — and have barely lifted a finger to halt the rise of a neo-Nazi lifestyle blog network — is anyone's guess. But already, the purges are in effect, taking out plenty of stuff that isn't exactly "adult."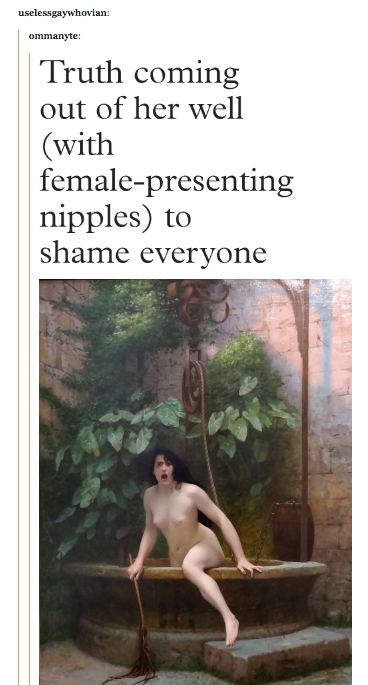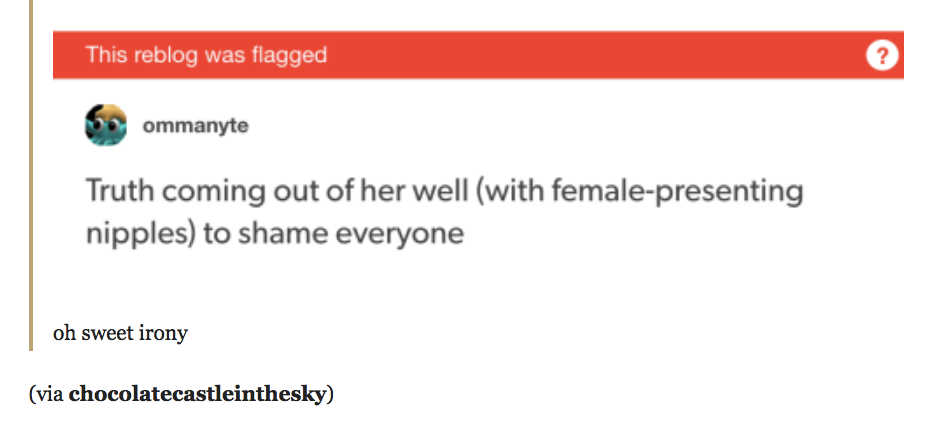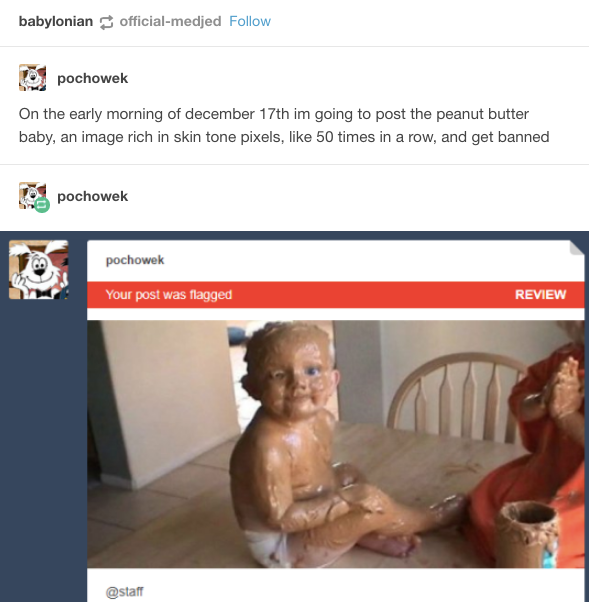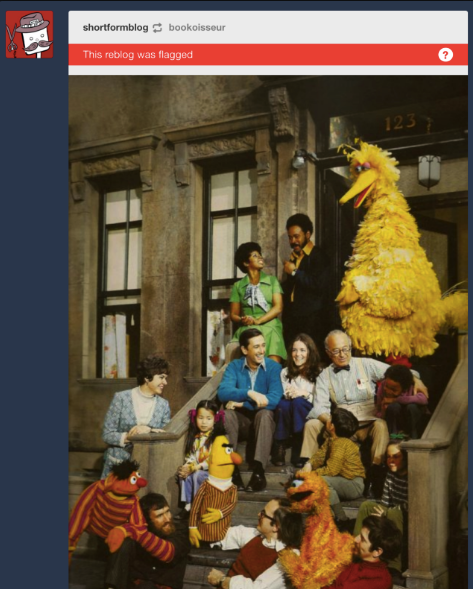 Most galling of all, however, is that Tumblr has decided to attack the non-problem of adult content the way they should have handled the spam bots and underage porn. As TechCrunch reported in November, the latter issue was the result of Tumblr "relying on a database" to match and remove unacceptable imagery, "instead of a combination of algorithms, AI technology and human moderation." That, in essence, is the approach the company is about to take — though now at a ridiculous scale, because they'll be monitoring for all explicit imagery, not just the truly vile and criminal shit (remember, "This work requires a mix of machine-learning classification and human moderation by our Trust & Safety team," the staff wrote in an explanatory note. "We've been expanding the team to handle the increased workload, and we will continue to expand as needed."
But hey, going overboard and nuking anything even vaguely resembling a body part is surely an easier way to scrub Tumblr for an inevitable sale. The last great censoring occurred before Yahoo acquired it in 2013 for $1.1 billion, with porn blogs abruptly hidden from search results and rendered accessible only to logged-in users, not the larger online public. Last summer, Verizon closed its acquisition of Yahoo, and it's been at odds with Tumblr since then — quashing the platform's vocal support for net neutrality, for example. The adult content announcement this week came from Oath, a subsidiary of Verizon. Whether or not this cull becomes a mass exodus, as many outraged Tumblr personalities have predicted, the telecom may get the result they want.
A shame they'll have to burn the world's greatest library of progressive porn to do it.