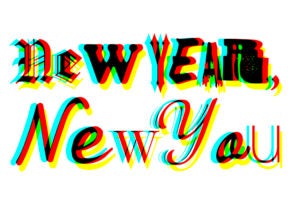 Is there a better way to change everything about your life than by changing your name? Because while it might not completely erase your circumstances, it definitely allows for a new you, if in name only. So this week, we're looking at what's in a new name — for yourself, for your favorite TV characters, for your boat, for your stripper, for your son and for nearly everybody (and thing) in between.
On a cold, early November day in 1932, Emzy and Eddie Fay Jackson of Ardmore, Oklahoma welcomed their first child, a beautiful, bouncing baby boy with a bright future. But while he appeared to be a healthy and otherwise normal Dust Bowl tyke, there was something very unusual about him; something that wouldn't only define his life, but his legacy after it. 
You couldn't tell what it was by looking at him. Nor would you have picked up on it were he and you friends, coworkers or lovers. But had he told you his name at any point during the 74 years he was alive, that special something would have clicked right away during his introduction. "Hi," he would have said. "I'm Tonsillitis. Tonsillitis Jackson." 
Mr. and Mrs. Jackson had, apparently, named their first-born child after an infectious disease. 
They did the same to the rest of their children, too. According to a smattering of stories about the Jackson family that ran in local newspapers between 1937 and 1955, Tonsillitis was the first of seven children, each of whom were, per legend, named according to the particular type of inflammation Mrs. Jackson was suffering from around the time of their conception or birth. Their second child was a boy named Meningitis, and a quartet of later daughters dubbed Appendicitis, Laryngitis, Peritonitis and Jakeitis (an inflammation caused by "Jake," a type of liquor cleverly disguised as a patented medicine during Prohibition) followed close behind. 
In 1937, the birth of Appendicitis made local news, and journalists started to catch wind of the peculiarly named family. Unsatisfyingly short snippets of their story ran in Newsweek, Reader's Digest and Time, as well as the "weird news" sections of bunch of regional papers whose basic angle was: "WHAT THE HELL IS GOING ON WITH THIS FAMILY?"
Tonsillitis offered a brief explanation when he made news after enlisting in the Navy in 1951. As reported in The Talladega Daily Home and Our Mountain Home, he explained to shocked recruiters that his mother had a sore throat at the time of his birth and had thought it would be clever to name him — and the rest of her children — after what she was suffering from. Thinking he might be kidding, they cross-checked his story "with Ardmore" and were stunned to find that he wasn't. A minor local news flurry around his odd name ensued, but it wasn't until he re-enlisted in 1955 that Tonsillitis went viral (for the time at least) — according to multiple newspapers, our guy appeared to be suffering from actual tonsillitis when he came back to the Navy for a second go-around. 
If you're not screaming yet, you can start now. 
Journalists of yore certainly were. The Jackson Sun was just waiting for something like that to happen, proclaiming that Tonsillitis Jackson had "finally" turned up with tonsillitis and that the incident was the "height of ironic coincidence." Meanwhile, the San Bernardino County Sun reported that the doctors who examined him had gleefully exclaimed, "Oh! Oh! Tonsillitis has tonsillitis!" and that the Navy was willing to "have Tonsillitis a second time," if only he'd agree to have the pesky things removed. He did, and was reportedly sent to the San Diego Amphibious Base where he served for six more years.
Tonsillitis drops off the map after that, though. While I tried to find him using every conceivable method known to man — including tracing his family tree, talking to a genealogist and attempting to hire a private investigator — there are hardly any mentions of him or anyone else in his family after 1978.
Sharon Hall, a genealogist and editor of the genealogy website Digging History, thinks that might be because Tonsillitis actually had another name: Teddy Lyren. His siblings did, too. Meningitis also comes up as "Emzy Lee" on the 1940 Census, and Appendicitis might have been a "Jo Ann." In fact, there's so little verifiable information about the Jackson family that she believes the whole thing may have been a hoax. "I might do a follow-up article on this as a warning to genealogists not to fall for hoax stories," she says. 
Nevertheless, a "Tonsillitis Jackson" does show up in Census data, in the U.S. Social Security Death Index and in numerous public records that show him living in multiple locations in L.A. County throughout the 1990s and early 2000s. There also just so happens to be a headstone with his name and birthday on it at Riverside National Cemetery in Riverside, California. So regardless of whether he lived as Tonsillitis, he seems to have died that way, his fate sealed inside his coffin along with his body.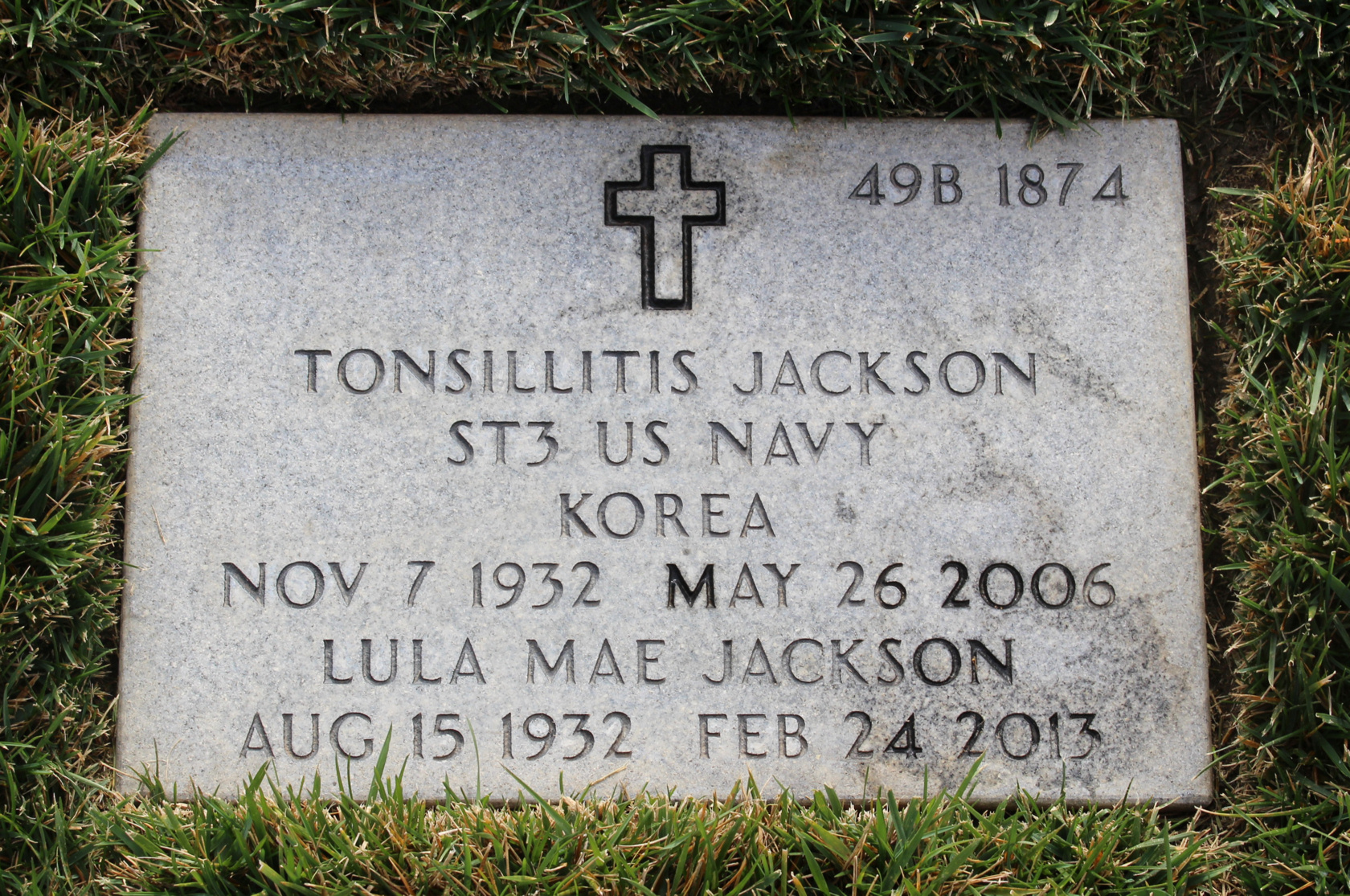 The febrile, swollen moniker of Tonsillitis Jackson is only part of his legacy, though. In addition to being named after a tonsil infection, he's also one of the best and weirdest examples of something called nominative determinism, or the hypothesis that a person's name determines key aspects of their career, interests, character or health. When it does — like when, say, Tom Baker bakes you a mean sourdough — the name is called an aptronym or aptonym.
If nominative determinism is to be believed, it should be no coincidence that the fastest man in the world is named Usain Bolt, that Donald Popadick was arrested for indecent exposure and that there was once a British Parliament member named Mark Reckless whose reckless behavior was so reckless that he failed to get re-elected on account of his recklessness (getting too plastered to vote in a coalition meeting is pretty reckless). Infamous director Kenneth Anger is, by all accounts, pretty dark, and there's an ex-fire department lieutenant named Les McBurney who was once interviewed by Jimmy Kimmel for having what many consider to be the best firefighter name ever. 

He's, uh, not doing so hot right now …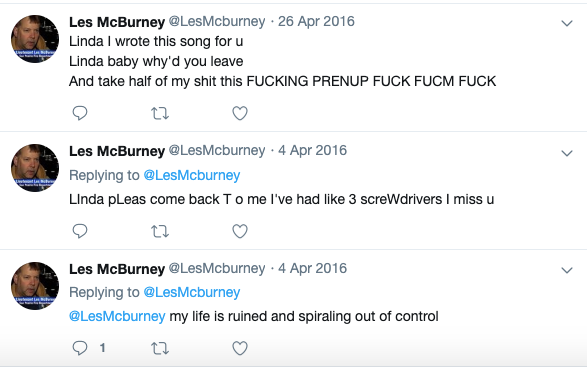 Nominative determinism first became an official "thing" in 1994 when New Scientist journalist John Hoyland started a weekly column on people whose names fit a little too well with their personality or profession. Called "Feedback," it told the stories of people like pig researcher Alex Hogg and urologists J.W. Splatt and D. Weedon, whose 1977 article on incontinence in the British Journal of Urology first alerted the world to the strangely satisfying phenomenon of having a "wee-wee" doctor who gets "weed on" (I never said nominative determinism was mature). Hoyland never mentioned Tonsillitis' extremely apt aptronym in his column, but he wrote about so many other examples of similarly incredible names that the magazine eventually declared the topic "forbidden" and shut the column down. 
Academics, however, have remained fascinated by how common aptonyms seem to be. Serious research has been conducted on the validity of nominative determinism, and there does seem to be some evidence to support the idea that, in some cases, a person's name can dictate bits and pieces of who they are. This appears to be particularly true when it comes to career choice. One 2005 study revealed that people disproportionately choose careers whose labels resemble their names, a finding that researcher Ernest Abel confirmed in 2010 when he discovered that Americans with the word "doctor" in their last name are much more likely to be M.D.s than average Joes in the general population. Same thing with "lawyer" — there are far more Lawyers who are lawyers than Lawyers who are not. 
Then, in 2015, C. Limb, R. Limb, D. Limb and a second C. Limb, all members of the same family who climb as a hobby (!!!), published a study called "Nominative Determinism in Hospital Medicine." They found that doctors who specialize in certain medical fields are much more likely than the general population to have surnames associated with their profession, with the most common doctor-flavored last names occurring in specialties that focused on — drumroll please — genitals. In genitourinary medicine, they found a Hardwick, Kinghorn and Woodcock, and in urology, they spotted Dick, Koch, Cox, Balluch, Ball and Waterfall. One of the study's authors, D. Limb, is subject to this very effect himself — he's an orthopedic surgeon who works on, well, limbs.
Meanwhile, in 2015, researcher John Keaney and his colleagues studied the prevalence of the surname "Brady" among bradycardia patients in Dublin, Ireland and found that Bradys are significantly more likely to be implanted with pacemakers as a treatment for — you guessed it — bradycardia. This led them to the conclusion that it might not just be people's careers that are related to their names, but their health, too. Even, you know, the health of their tonsils.
Which brings us back to Tonsillitis. Given what's been found about how a name can forecast the future, doesn't it make perfect sense that he lived up to his pus-filled name? 
Well, maybe. While there are few things more satisfying than a tonsillitis patient named Tonsillitis or a penis doctor named Dr. Dick, it's still worth noting that examples of nominative determinism aren't actually that common, in medicine or outside of it. In the Limbs' study, for example, the frequency of names related to medicine was only 1 in 149. Names related to a subspeciality of medicine were even less common — only 1 in 489 doctors had a surname that had any feasible relation to their particular profession. 
That's why naming researchers like University of Indiana bioinformatics professor Matthew Hahn aren't convinced that nominative determinism is as much of a thing as we'd like to think it is. "These cases are only newsworthy because they're rare," he says. "Tonsillitis is one of the most pedestrian infections, so of course we'd only hear about someone having it if their name was, in fact, Tonsillitis. It's tempting to think that your name influences who you become, but it really doesn't." Any association between a person's name and their future is, he thinks, pure coincidence. 
Either way, it's a shame that we'll never know what it was like for Tonsillitis to be named Tonsillitis. If having actual tonsillitis is any indication, it sucked, but you never know — he did have his name engraved on his headstone, so he might have owned it for its enviable SEO potential, the rush of superiority that comes from being the only Tonsillitis on Hotmail or the weird glee of hearing "Iced caramel no-whip frappuccino for Tonsillitis!" in the Starbucks line.