I first picked up my very own guitar, specifically a $75 Yamaha purchased in a kit from Costco, when I was 12 years old. 
It was just a cheap copy of a Fender Stratocaster, plugged into an even cheaper shitbox of an amplifier, but I felt like Eric Clapton when I turned the volume knob and plucked the strings, one at a time. The Yamaha kit included a book full of basic chords and scales, and it dawned on me that actually playing like Clapton would be no small feat. 
Back then, I had three methods of getting good at guitar — books, DVDs and private instruction. I could only afford two out of the three, and barely those. Mostly, then, I learned by watching the free discs that came with my monthly Guitar World subscription. To the magazine's credit, those discs were a veritable panoply of guitar heroes, and I had my favorites — the goofy yet sublimely gifted Paul Gilbert; the prog terminator known as John Petrucci; and Yngwie Malmsteen, the perfect caricature of what you'd imagine a Swedish guitar god from the 1980s to look like. 
These were dudes who rocked hard, grinding through speed metal riffs and 13-minute solos featuring a bucket list of advanced guitar techniques. They made Eddie Van Halen look pedestrian by comparison. And I couldn't get enough. 
In retrospect, I lost sight of something in the first five years of becoming proficient at guitar. Or maybe coming to that realization is just a part of getting older. I cringe now thinking about how desperate I was to play more notes, faster. Sure, I could mash through Metallica's "Master of Puppets" with ease. But chord theory? Phrasing? Tasteful playing? Not so much. 
These days, I worship at a very different altar for an unconventional guitar god. He sounds nothing like the shredders I used to mimic. He looks nothing like them on stage, either. He's not famous in the hard rock scene, and you won't see him headlining a G3 tour anytime soon. His name is Tomo Fujita, and he is a middle-aged Japanese man who teaches guitar at the prestigious Berklee College of Music. For more than a decade, he's been spreading the gospel of tasteful guitar playing online, posting tirelessly on forums and trading emails with fans. And now, thanks to the power of YouTube, Fujita is finally getting the attention he deserves for his inspiring blend of chops, knowledge and good grace, all delivered in an endless stream of free lessons. 
I'm not sure exactly when I became a card-carrying member of the Cult of Tomo, but I blame the moment when I stumbled across a viral video he posted some 11 years ago. In it, he's playing in a Berklee classroom with John Mayer, who unleashes a B.B. King-esque solo as Fujita accompanies him with chords. It's a masterful little jam session, just two minutes long, but it inspires so many questions, primarily: Who is this guy, and why is he dancing like a crab while playing rhythm guitar for John friggin' Mayer, one of the biggest rock stars in the world? 
Such is the deceptive nature of Fujita's greatness — and my eyes widened when I finally scrolled to the video description and realized he was John Mayer's guitar teacher. And as I began consuming his lessons and bits of guitar wisdom, it dawned on me that, after years of the doldrums on guitar, Fujita was the mentor I needed to reignite my love of the instrument.  
Maybe it's also that, for the first time, I saw my own family and heritage reflected in a musician I felt inspired by. As a young man, Fujita practiced guitar like crazy and dropped out of college in Kyoto in order to earn a scholarship to Berklee. He arrived in America in November 1986 with just a briefcase and his guitar. Despite speaking little English, he bugged the hell out of anyone he could, including legends like jazz guitarist Joe Pass, in order to get one-on-one instruction. After graduating, he played on stage with Phil Collins and in productions of the hit Broadway musical RENT, among many other shows. In 1993, he earned a faculty seat at his alma mater.  
Like my own parents, Fujita took a big risk to relocate to the U.S., and found a way to thrive. But it would still take 15 years and the internet boom to bring Fujita to mainstream attention. Fujita was a mentor to Mayer when they worked together in 1997, even encouraging the young musician to drop out of Berklee and focus on his nascent songwriting career, but nobody knew about Fujita while listening to "Your Body Is a Wonderland" for the tenth time on the radio. 
To see that he has more than 28 million YouTube views today is a testament to many things: his work ethic, his personality, the fact he gives away so much free content (in English and Japanese!). It's also immensely satisfying to see people give respect to Fujita as a singular musical talent. But I think the Cult of Tomo has grown thanks to his generosity, whether it's in how he replies to comments on decade-old videos or the energy he gives to people who sign up for private online instruction. 

"Tomo is literally the reason I turned my playing around, and without his inspiration and not to mention willingness to not only correspond with me via emails [to share] charts, but to share a video of me playing his tune 'Kyoto' on his Facebook page… I'm not so sure I'd be as far along as I am as both a player and musician," writes one user on the popular guitar forum TheGearPage. "I even got to thank him in person NAMM 2015 with literal tears in my eyes." 
It sounds dramatic, but when you're working in a medium as personal and emotional as music, that's the difference that a good teacher can make. 
You can find similar praise for Fujita on a lot of threads and from other former students like Michael Lemmo. Even without personal interaction, however, I can tell from his lesson videos that Fujita's greatest asset may be the way he thinks about music, not just guitar technique — I mean, the dude once stopped practicing because he thought it was messing up his blues playing, and another time just started playing in gospel churches to improve his "feel."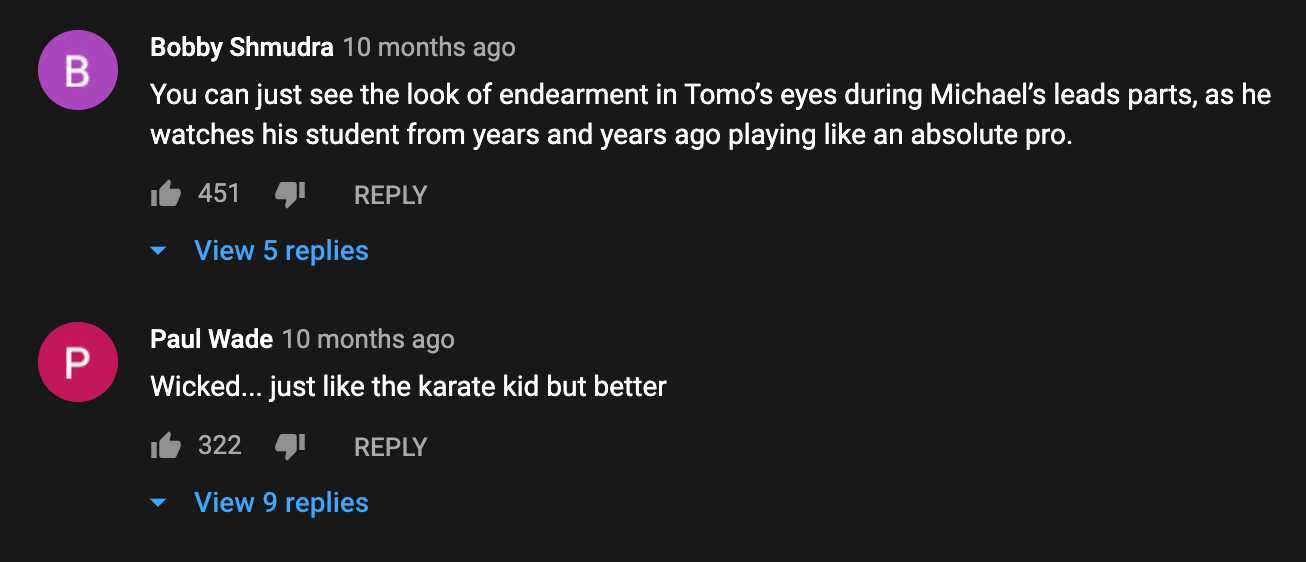 It's illustrative of the kind of curiosity, nuance and context he brings to each upload; one moment, you're learning about the use of ninth chords in melody, and the next you're absorbing ruminations on the nature of life, hardship and nostalgia. Teenage me could've never predicted that one day, I'd shed my youthful proclivity for speed over substance and break through my musical plateau thanks to a Japanese man who doesn't know I exist. Maybe the internet ain't so bad after all. 
By the way, I can't play "Master of Puppets" for shit now, but I don't mind. In a tough and dispiriting year, I'm thrilled the Cult of Tomo has shown me the righteous path to shredding on guitar.