Alex, a single software developer in his 20s, was browsing Tinder last October when a cute brunette popped up on his feed. He swiped right and so did she — a fine start to what he was sure would be a romantic digital exchange. "I broke up a few weeks ago," she told him after sliding into his DMs. "To be honest, I'd just like to enjoy some good time. I hope I'm not on the wrong app for that."
"I don't think you are," Alex replied with a winking emoji before offering to host. When she asked for his address, he sent it right over. 
She was only 25 miles away and seemed excited to see him, but after asking if he could verify his identity, things started to get weird. She told him she needed to enter his government ID into an external site he'd never heard of, a request she claimed was part of a "Tinder screening feature" he was unfamiliar with. That's when it hit him — the woman was a bot. 
It wasn't Alex's first bot rodeo, though. He estimates that around a quarter of the matches he gets on Tinder are bots; most of which are pretty fronts for phishing scams that attempt to trick him into revealing personal information like his driver's license or credit card number. But while their presence on dating apps is nothing new, Alex says he's seen far more of them on his feed during the pandemic. 
Countless app users have, actually. According to the Better Business Scam Tracker, dating app scams have jumped 20 percent over the last year, and the FBI's Internet Crime Complaint Center received the same number of fraud complaints in the first half of 2020 as it did throughout all of 2019. These scams can be especially costly for victims, who often shell out money to scammers posing as long-distance love interests — in 2019, dating scams cost Americans more than $475 million, second only to losses caused by compromised emails. 
According to Thomas Papageorge, head of the Consumer Protection Unit at the San Diego District Attorney's Office, the vast majority of these scams are frauds like catfishing, phishing and fake sugar daddies commenting on women's Venmo transactions with the promise of financial support. Dating apps like Tinder have become particular hotspots for these because of the boredom, isolation and horniness quarantine brings — as Papageorge explains, people are more isolated now than they've ever been, and they're turning to dating apps in droves to cope. 
To wit, Match.com saw a 40 percent jump in engagement since last March, while Bumble experienced a 70 percent rise in video calls. People are also searching for more meaningful, long-term connections to ride out the virus with, too — one woman told ABC that she spent months talking to a man she thought was overseas on a U.S. military base before realizing he was a mysterious person operating out of Nigeria. This heightened desire for lasting connections only benefits scammers, who often take advantage of the slow burn to appear more legitimate and trustworthy. The more time their victims spend interacting with them, the longer they can spend draining their resources. 
The pandemic also provides the perfect cover for scammers, who now have the perfect excuse for why they can't meet in person — as The Verge reported last year, it used to be rare for people to start relationships without ever meeting IRL. Now, online romance is "the only option." 
That said, some scammers, like the one who tried to play Alex, prefer a quick-and-dirty phish. Last October, Fred, another programmer, went on Tinder with his wife looking for a threesome partner. He says it took two hours of chatting with their first match until it became clear the woman on the other end of the line was a bot. "The original half of the conversation started on Tinder and felt more interactive," he tells me, explaining that the bot offered titillating replies like: "My roommate is away until Monday. I could pick you up, but you would owe me a big massage."  
Things started to break down once they moved the conversation to text. The bot began to mix seemingly legitimate statements like, "I use the Tinder safe feature, I hope you don't mind," with strange-looking links to an external ID collection website, tipping Fred off that his threesome partner wasn't who he thought she was. "Their replies were a mix of automation and human input," he says. "It was insanely convincing." 
After a few attempts at other apps, Fred and his wife decided it was too hard to wade through the online dating bots, which appeared to infest their feed at every turn. "Honestly, if something more transactional were a legal option, we'd be open to that experience," he continues. "Unicorns are already hard enough to find. So with the pandemic limiting serendipitous encounters, and dating apps infested with data-stealing bots, it's just something we decided to put on the backburner." 
As such, neither he nor Alex use Tinder much anymore. Still, the app insists it's bot-proof. While a Tinder spokesperson declined to specify how many reports of phishing it received in 2020, they tell me they "encourage members to report any individual who has requested financial information," and offer an in-app photo verification feature that lets people know they're chatting with a real person. Of course, fraudsters often mimic the feature with external sites, a common theme in dating scams and a big red flag — you should never enter personal information into a third-party app or website after being directed there by someone you don't know. 
It's not just dating apps that are being flooded with scam impersonations during the pandemic, either. One anonymous cryptocurrency fan says his social accounts routinely receive up to 20 messages from prospective scammers a week across LinkedIn, Twitter, Facebook, Instagram and Telegram. Sometimes it's "girls asking for money," he says. Other times, it's people "asking to help fix [crypto] wallets." These types of scam requests were routine before coronavirus, he says, but like Alex, Fred and Jay, he's also noticed that their frequency has ramped up since the pandemic began. 
Meanwhile, Alice, a twenty-something in New York, says she's had to make her Venmo transactions and Instagram accounts private because of how many scam messages she receives. Many of these involve fake sugar daddies who claim to offer thousands of dollars a month for nothing more than online conversations. Sometimes, the fraudsters use generic names like "Williams Peter." Other times, they impersonate real people the victim may know.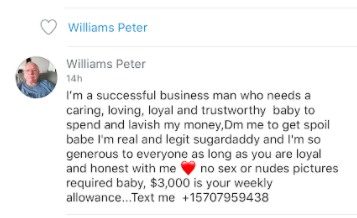 Along those lines, in May, Jay, a 28-year-old Instagram user in Baltimore with a pearly white smile and a penchant for tailored suits, was dismayed to discover that a scammer was impersonating him on Tinder, Hinge, Bumble and SoulSwipe. It happened after one of his friends became an Instagram influencer — all of their friends, who were featured in their popular posts, were impersonated in a coordinated catfishing scam (though it's unclear whether it was for phishing or just to mess with people). But the scam finally broke down when the impersonator matched with Jay's real ex. 
"They used our personal info, pictures, facts they gained about our lives through our profiles," Jay explains. "It was wild. The person pretending to be me had no understanding of why [my ex-girlfriend] was offended at the match. She then took screenshots and showed me full-blown conversations she was having with the account, even arguments back and forth."
His whole group of friends reported these accounts, which were eventually removed. But it left a bad taste in his mouth. "I don't trust dating apps, honestly," he says. "And nah, we never found out who they [scammers] were."
Scammers often impersonate the rich and famous, too. As an anonymous sugar baby told Refinery29, one scammer on Venmo, Telegram and Instagram recently pretended to be millionaire Bill Pulte, preying on victims with messages from seemingly legitimate social media accounts that claimed, in bizarrely long messages, that they'd won a "Pulte sweepstake."
When it comes to avoiding scams like these, Papageorge says consumers should be suspicious of deals that seem too good to be true. There's a strong chance they're not; unfortunately, though, it's rare for scams to end in prosecution and restitution, especially when the crime involves fake accounts or just a few hundred dollars. "Get-rich-quick schemes are often deceptive," he continues, adding that with the uptick in scams during the pandemic, it's especially important to "find out who you're dealing with." Live video calls, switching your social accounts to private and having COVID-safe in-person meetings are a few low-tech solutions to these scams. Tech-savvy people also often use digital keys with "Pretty Good Privacy" (PGP) encryption to verify identities remotely. 
Obviously, you could pull an Alex and delete Tinder entirely, but it's probably not necessary — as long as you're not entering your social security number or driver's license into a Geocities-looking website that a suspiciously hot match directed you to, you should be able to swipe in peace.