After more than 25 years as a stripper, I know that sex work is as complex as desire itself. For some people, purchasing a sex act is a shady impulse from a guilty place. For others, it's a bold act of kindness and a feminist manifesto where the naked truth runs wild in the lap of an untethered stranger. For a financial dominatrix, or "findom," it's a hefty tribute from a devoted client who hopes to earn the title of "cash pig."
The financial domination racket has been around for several years now, flourishing on fetish social media sites like Fetlife and being among the top-searched terms on the tube sites. In fact, as the lines between real human being and cyborg become blurrier, findoms have made the swipe-right mediascape of transactional sex their bitch because they capitalize on the hottest currency around: Power and the fear of losing it. And a man has to have a lot of power to squander it away on the findom playground: an appendage of BDSM that caters to educated, successful guys who yearn to be coerced into parting with their cash by a draconian mean-girl they will likely never have sex with or even meet in person. It's an emotionally complicated erotic transaction with real financial consequences — a guilt hangover in the form of blood-curdling debt.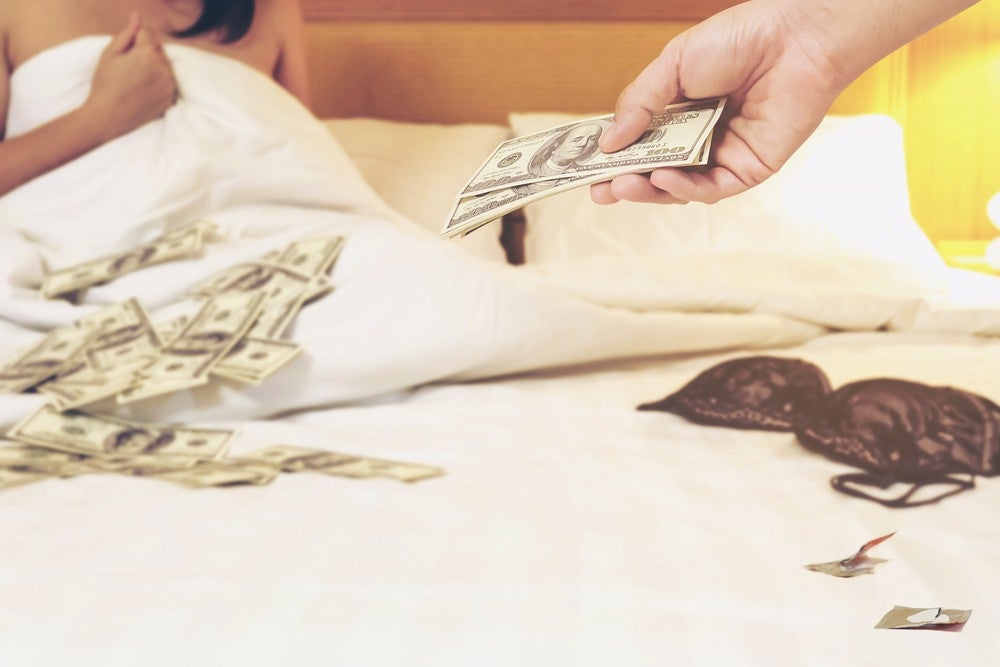 But is the shame high worth it?
I recently spoke to three findoms I know — Mistress Jaded Halo, Goddess Lady Petite and Dallas Starr — to find out.

Dallas Starr
I'm a niche girl: punk and blonde with facial piercings who's been doing findom for a couple years. One client called me up and said he'd been up for three days on meth. "I've got $2,000 in cash with me, and I can take out $200 more. I have a $1,000 limit on a credit card right now. I want you to buy whatever you want." Then he gave me his credit card info. I tried to use it on Amazon, but it didn't go through. When I called him to tell him his credit card had been declined, he sounded like he was in visible pain and said, "Oh really? Fuck! Fuck!" I tried it again, and it went through.
After I spent that $1,000, he paid for an Uber to his hotel. When I got there, he was sweating, jittery and high. But he had the $2,000, as promised, and I made him give it to me in increments between various oral sex acts. He loved it. For him, the boner was about the extreme rush. He seemed to be jonesing. His eyeballs rattled, and he delighted in telling me he didn't have the money. I said, "Yes you do," and grabbed it off the table.
Another client who was a long-term sub wasn't reckless or negative in any way. He wanted me to help him manage his money and be bossy and demanding, like a sexy accountant. I got a fee up front. What was arousing to him was my harsh, punitive attitude—like he needed to be inspired and turned on by that in order to gain control over his finances.

Jaded Halo
I've been doing findom in L.A. since 2004. Clients come to me and complain that their former mistress was too nice, too caring or too maternal. So I give them an unappreciative, haughty cold bitch to take advantage of them. Their boner is their veiled expectations wrapped in manipulation, and that manipulation is a desire to make it not feel like a transaction at all. It all stems from their deep-seated self-loathing. Their erection is directly linked to that dark self-loathing, and this is their way to explore that. Recently, one drive-by client (a one-off client) gave me a lot of cash only to quickly regret it. The next day, he contacted me and complained about it. I could tell he really got off on that cycle: self-loathing, acting out impulsively, and finally, deep remorse.

Mistress Lady Petite
I'm Latina. Short, but fierce. I have the deceptive "sweet" face of your girl next door—if your girl next door liked leather pants, boots, ever-changing hair and the nails of Morticia Addams. I work in New York and have been a findom for the last three years or so. For some of my closest "pets," I'm a thrill, a mentor, a counselor, a therapist, a health coach. Conversation with them begins normally as I get to know them. It's important for them to see me as a woman who demands full respect first; later, I become a goddess they must appease.
Early conversation is also financial. I need to know about their financial lives because if a sub is sloppy in their daily operations, they don't make good submissives for the long haul. For a drive-by, they have to make a minimum tribute in order to get to know me over Skype, Snapchat, Twitter and/or FaceTime. My minimum tribute (fee) is $25, but worthwhile subs will double that or pay up to $200 for a first tribute.
Once I know their exact kinks, we explore those which they will perform while serving me. For instance, one of my subs Skyped me while he bought ladies' underwear for himself, wore the panties and bra to work and wrote my name on his stomach in large letters and took a proud selfie at work to prove he followed through with this task. Another was required to build me an altar with candles and symbols of his devotion. He doesn't add anything to it without my approval. It's a meditation space where he worships me.
But for most men with a findom fetish, their kink is giving a beautiful domme his hard-earned money and watching her wear it, spend it and humiliate him by taking it out of his hands so easily. It's an addicting mind-fuck — and a complete rush.