"Before I would ever let my dog breed," a friend told Rev. Laurie Sue Brockway, "I'd like to give her a proper ceremony."
Brockway tells me that the friend was very protective of her tiny Italian Greyhound — as many pet owners are. "She mentioned another dog tried to sniff her precious little one by the elevator, and she picked up her pet and whisked her away, not wanting to take any chances because she hadn't been spayed."
The dog was sacred to Brockway's friend, and she wanted to honor it, so when the tiny greyhound was eventually ready to make a lifelong commitment, she asked Brockway if and how she could legitimize the relationship with the intended mate—another small Greyhound—in the eyes of the Lord.
"Pet breeding is completely out of my domain of expertise," says Brockway, a minister in New York City specializing in interfaith weddings and author of numerous books, including Your Interfaith Wedding, Your Perfect Wedding Vows and Pet Prayers and Blessings. "But I do feel a blessing makes anything more sacred. I thought it was sweet and that there were probably others who would consider ceremonies for dogs to be sacred rituals rather than goofy events."
Brockway says she was accustomed to unusual ceremony requests—one of her brides, for example, did a six-minute modern dance performance for her beloved in the middle of their ceremony—and was often asked to include pets in couples' weddings, so it made sense that some people would also want to have blessing ceremonies for their pets. This inspired her to draw up instructions on holding a pet wedding, which she published in Pet Prayers and Blessings and in a column for The Huffington Post. That way, she says, anyone sincerely interested in marrying their pets would have the materials to do so.
"Most ministers don't typically do pet weddings, and most people don't really want an officiant. They want to be able to do it themselves," says Brockway, who has nonetheless blessed numerous pet couples. Animals have short attention spans, she adds, so expecting them to stand like a human couple for any length of time is a big ask — they get distracted, they sniff, they eat grass, they pee.
"The idea was to make it sacred, sweet and a little humorous because, well, it's always cute and humorous when puppies are involved. But the words that are spoken keep things grounded. It's the animals that fill it with spirit and fun."
Some of the suggestions in her book:
How to prepare:
Get bridal outfits or accessories for the animals (cute, but optional).
Prepare a wedding altar by draping tulle or a white cloth over a table.
Place a loving cup or special chalice filled with fresh water for the couple on the altar.
Bring a camera — you must take photos!
Greeting
Welcome everyone. Puppy love gathers us here. Today, we celebrate the love between a couple that see each other as the cat's meow. Let us all offer our good wishes and blessings as they enter into sacred union.
Opening Prayer
Dear Creator of all life,
Look with favor upon the world you have made,
and especially upon these two dogs [or cats, pigs, rabbits, etc.]
May this union be blessed in all ways and
May this duo and
all who have come to witness their union
be uplifted and embraced by love.
"I really hate to be that person who says 'put your dog in a tux,' but I think we need as much joy as we can muster," Brockway explains. "While some people may roll their eyes, it can add a sense of occasion. When the family dog makes an entrance in a dress or suit in human weddings it gets more ooohs and ahhhhs than the precocious 2-year-old walking down the aisle like an angel. But a reminder: Dogs do not like clothes and do not require them. It's all for we humans."
All of it is, of course. Animals don't really need ceremonies, she clarifies. "They're natural wonders who have their own way in the world. They don't need us to tell them who to sniff, who to mate with or who to feel affection for."
In other words, wedding ceremonies for pets — like oil-painted portraits, designer haircuts and silly Halloween costumes — are purely for the pleasure of humans. Still, Brockway adds, "Many people experience their pets as spiritual allies, so a spiritual ceremony or ritual can help humans connect more with their beloved animals."
Needless to say, some humans have gone all-out in the pursuit of such a connection.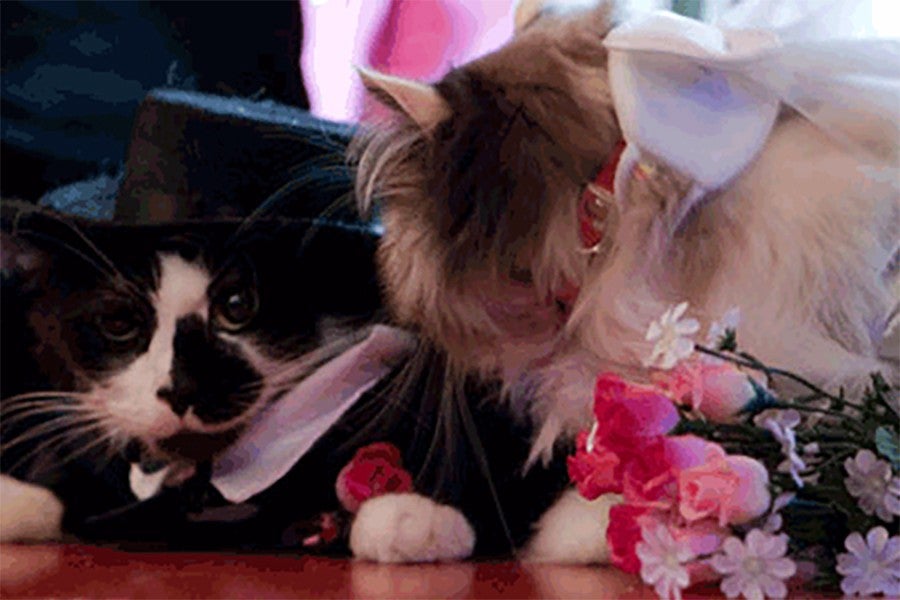 The most over-the-top examples: The 1996 wedding of cats Ploy and Pet (above), which featured more than 500 guests and cost the groom's owner more than $20,000.
The 2006 wedding of Timmy (a Bichon Frise) and Muffin (a Shih Tzu) at Harrods in London, where the animals were married before God in a church, exchanged kisses and ate wedding cake before being chauffeured away via horse-drawn carriage.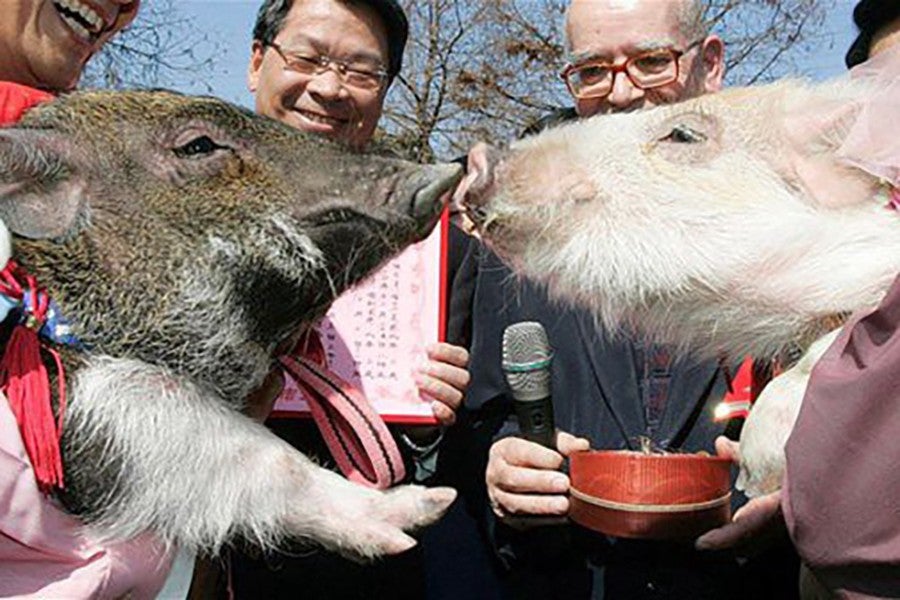 The 2007 marriage of musk hogs Huang Pu-pu and Shu Fu in Japan, an event that included a cake, photographer, wedding certificate and benediction from a Catholic priest.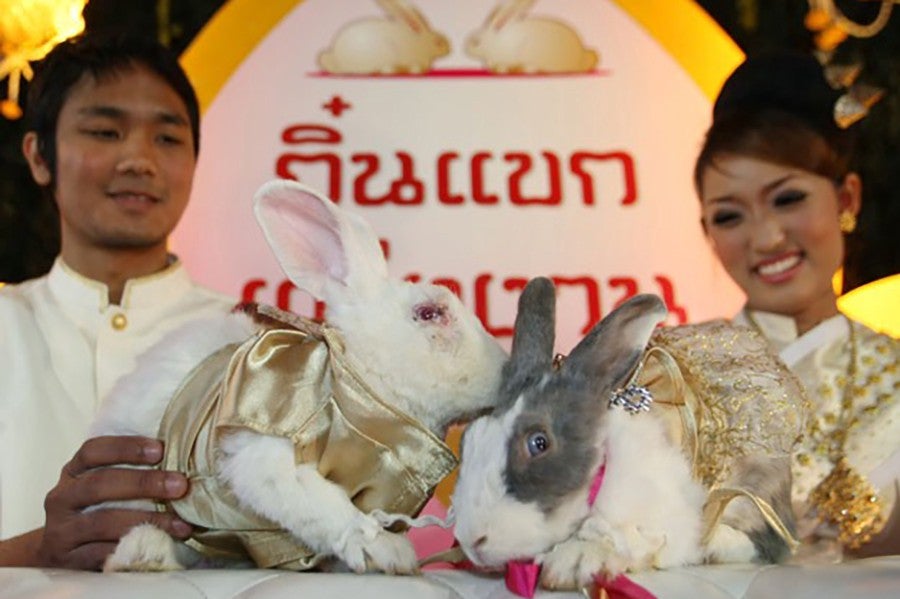 And finally, a 2010 rabbit wedding ceremony in Great Britain that was officiated by a priest and followed by a carrot-juice toast. Afterward, the bride and groom fucked like, well, you know.
During pet weddings, Brockway suggests staging a "Loving Cup Ceremony": "It's done with a big cup with a handle on either side, for each partner to hold, or with what's called a ceremonial Quaich, which is usually carved or formed in a bowl with two handles. That's what allows dogs to drink from it."
The words that accompany it:
(Hold the chalice filled with fresh water)
We now take a special moment for these two to toast their love, devotion and friendship. From the Celtic tradition, we use a "loving cup," from which these two will share their first sip/slurp as a married couple.
To the pets: Today you become a part of one another in sacred kinship. Now, please drink to the love you share.
(Place cup on the floor. They slurp.)
Brockway does say people should be careful who they promise their pet's love or virtue to. If families are looking at animals as a pair, the pets — and the families — should get along.
"Our dog Kismet, who we rescued after Hurricane Katrina and who we think is a Louisiana Leopard dog, had a wild crush on a Dalmatian from the dog park for a long time. She's an alpha female and totally dominated him, and he was good with her and let her lead their little pack. We loved him, and his family loved her. But human personality conflicts arose that prevented us from going to the dog park, and we had a sad parting of the ways with his owners. I was glad we didn't pledge those two in eternal love. Because… dog divorce. That would be awful."