As Craig Ferguson shared on Late Night With Seth Meyers earlier this year, many of the people who call into The Craig Ferguson Show, his new radio program on Sirius XM, are transgender truckers.
"I don't know what the numbers are for the transgender community at large," he told Meyers, "but amongst truckers it seems to be very high. It moved the dial for me in terms of my preconceived notions of truckers. I did not expect them to have a large, welcoming area of transgender life on the road."
Nor did I, so I asked the only trucker I know — Allie Knight, who we profiled in the first part of this series yesterday — if she could connect me with any. Her response was immediate: Ellie O'Daire.
O'Daire's entree into trucking was stereotypically millennial: In February 2016, the 28-year-old was playing a new video game called American Truck Simulator and was stumped by the weigh stations in the game. So she went online to do some research and ended up on Knight's YouTube channel. "I had some interest in doing this as a living," she tells me by phone while driving a 2016 Freightliner Cascadia Evolution, nicknamed "Maxwell," through the cherry farms of Washington State, "but learning about Allie's experience was the kick in the pants I needed to see that this was a job that I not only could do, but one that I was probably well-suited for."
"Traveling is something I've always wanted to do," she continues. "Plus, I've always been an independent individual, and I'm very good with maps. So it stands as the best decision I've ever made."
It also seemed to breed acceptance. "[Driving a truck] is a popular profession for trans people," O'Daire says. That's because you get a lot of privacy, she says, and as long as you can do the job well, people don't care what you look like. "It's a very live-and-let-live kind of profession."
O'Daire knows a number of trans people who have joined Jim Palmer Trucking, the company she and Knight both work for; in fact, she says it's the most trans-friendly employer she's ever had. She also has trans friends who drive for Swift, Schneider and Prime.
In a paper published in Transgender Studies Quarterly entitled "Sex and Surveillance on the Highway," Anne Balay — a former car mechanic, current assistant professor at Indiana University Northwest and author of Steel Closets: Voices of Gay, Lesbian and Transgender Steelworkers — explains that these women, many of whom call themselves "T-girls," are attracted to the autonomy and isolation associated with the open road. They especially identify with the cowboy ideal of trucking, born in the late 1940s in films like They Drive by Night, which portrayed the free spirit of the new American cowboy — unabashedly self-sufficient, unfettered by love and heroically transporting important goods from destination to destination safely and on schedule.
T-girls embraced the magic of that myth: that you can have control of your life, your day's schedule, your gender and your sex life all at once. "Christine," for example, observes that "you won't see any of these people again, so that makes you free to hook up. Sex on the road is what keeps you from dying of boredom, or getting too frustrated by all the company's impossible rules." Another T‐girl, "Leslie," explained to Balay that she used to make her sexual contacts online and then meet them when she was out driving. Now Leslie relies on chance encounters, which she says aren't hard to find: "If somebody's looking, you can tell."
Balay's subjects tell endless stories about sex. "Lana" describes a female four‐wheeler driver who drove by in the next lane, exposed her breasts, then cut in front of Lana's truck, clicked on the turn signal and exited. Lana followed her off the highway, and they had sex. "There is something about the flow of trucking — you do not know where you will be tomorrow, and that constant, uncontrollable motion, combined with the sense of bodily power derived from the truck itself and the expectations of unstoppable virility, makes sex seem inevitable and inconsequential," Balay writes.
She argues that some truckers use sex—like a renegade maverick—as a strategy of informal resistance to increased micro-management, oversight and an expansive web of regulations governing the interstate transportation industry.
There are no available statistics on transgender truckers, Balay says, and as we discussed yesterday, well under 10 percent of truckers identify as female. As a former trucker herself, Balay did extensive fieldwork in trucking spaces, and believes trans women are a large minority among truckers, perhaps as high as 3 percent. She suggests that blue-collar occupations discriminate against trans women and penalize them financially by not promoting them, which may explain why so many wind up driving trucks, where they can escape from work cultures of harassment by choosing isolation.
"I see a lot of T-girls out here," a trans woman with eight years of experience on the road told Balay. "It's a place where we can work — we're by ourselves, no one's going to harass us while we're in the truck. When I worked in the printing plant, I couldn't go to work a single day without being harassed. I had my tires sliced; I had nails put under my tires; I had hate messages put up. One day I walked into work and saw a sign [that read], 'All fags must die.' That was in my face every single day. When I'm in the truck I don't have to deal with that. The fact that people hate me because I'm trans, well then they'll hate me but say hello to my truck."
O'Daire says she can definitely relate to the solitude and autonomy, but hasn't pursued the sex life Balay speaks of. "I've seen weird stuff happen in truck stops, but I avoid that seedy underbelly of trucking. Hormone replacement therapy killed my sex drive, so there's no allure there for me."
"Everyone goes into trucking because something else didn't work out," wrote Robert Langellier in a 2015 Esquire essay entitled "The Long Haul: One Year of Solitude On America's Highways." "Layoffs, breakups and prison stints are popular notes of inspiration." This is likely also why T‐girls are disproportionately represented among truckers — because they have historically faced so many bars to more normative employment elsewhere and have been relegated to more isolated work environments.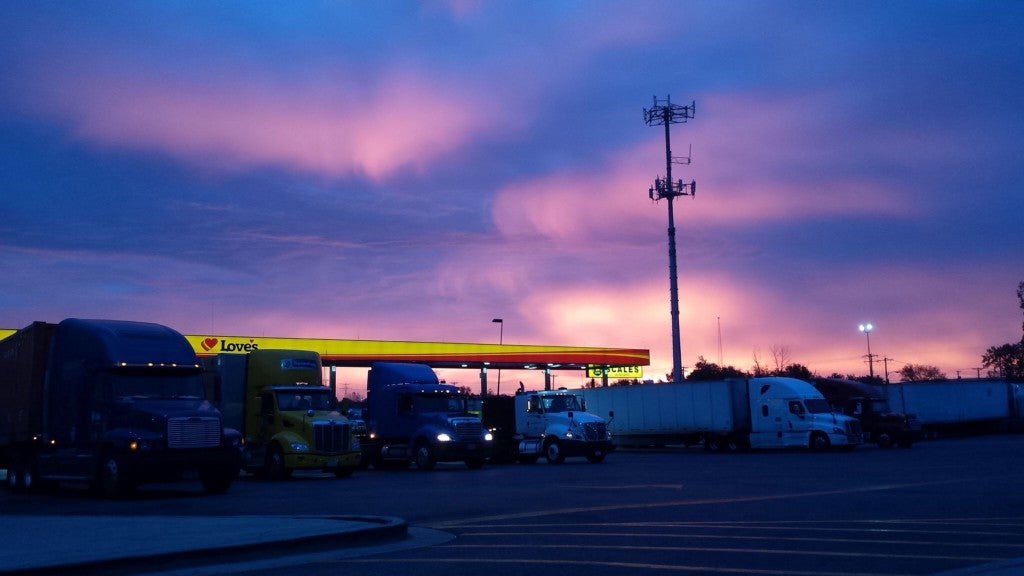 The internet is filled with transgender people wondering if trucking is right for them. Like O'Daire, Isabelle had recently transitioned and was drawn to trucking because of a belief that she excelled in jobs that allowed her to work independently. However, she wondered in the TruckingTruth.com forums, "Do you think a woman like me would have to be worried about facing discrimination when it comes to job placement? Do women have to be more careful in terms of physical safety (i.e. at truck stops, shipping offices etc.). Would you say there is more animosity towards LGBT folk in trucking as compared to other industries?"
The responses were unanimously supportive.
"Welcome, Isabelle," wrote Starcar, "around here, we don't care about your gender… and no one else should either. You will be treated by how you act. Truck stop safety is a little different with women… you need to walk like you are the baddest cat in the alley… never go in dark places, around the back of trailers, or buildings. Never let yourself be lured ANYPLACE. Since you can't carry a gun, carry mace… or a walking stick."
As for O'Daire, she hasn't encountered any discrimination from truckers on the road. "Occasionally from some of the places that I've been to, but for the most part, it's been pretty accepting," she says.
Given the prominence of the debate over exactly where and where not transgender people should be permitted in public bathrooms, I ask O'Daire about her experience managing this seemingly fraught matter nationwide.
"It's a unique struggle," she admits, but adds that a lot of states have gender-neutral restrooms in public rest areas because they were designed at a time when only men drove trucks — i.e., they only made one bathroom for everybody. As the field became more diverse, they simply took the men's sign off the doors and slapped on a gender-neutral one. "That said, I definitely try to avoid bathrooms in North Carolina."
And as for the image of a transgender renegade cowboy to live up to, O'Daire just rolls her eyes. "I fell into this not via film, but via video games. So instead of viewing things like a cowboy trucker, I see the country like a game map to be explored. I read the roadside placards for backstory. I collect all of the truck stops. I solve the 'how was a truck meant to navigate this neighborhood' puzzle.
"I don't think the lonely badass is much of a hero for my generation, and the truckers that act like that are often the assholes who will run you off the road for only doing three miles over the speed limit. No thanks."