October 10, 2016 was a particularly bad day for Nadine Hernandez. She took a Lorazepam, an anti-anxiety medication she'd been prescribed, and waited for it to kick in. It was in the evening, and Hernandez, a detective in the LAPD's elite Robbery Homicide Division, was finally home after being off and on the road for weeks. She hadn't been sleeping much, maybe two or three hours a night at best. The Lorazepam wasn't helping. So, she took another.
Hernandez had experienced anxiety at various points in her life before. The job probably didn't help — she worked in the Special Assault section, investigating complex, often high-profile sex crimes. Think: Olivia Benson, but for real. It was high stress and involved long, merciless hours and frequent travel all over the country to interview victims, suspects and witnesses who'd left L.A. after being on one side or another of a sex crime. At the time, she was investigating rape accusations against NBA player Derrick Rose. An ex-girlfriend had brought a $21 million lawsuit against him, saying he and two friends sexually assaulted her. During the civil case, Hernandez was gathering evidence in a criminal investigation. But while the Rose case was certainly high profile, it was just one of several sex crime investigations she was working simultaneously. Working multiple cases was common for the job.
From the outside, her life looked great. At 44, professionally, she was at the top of her game, and she'd recently remarried. Her husband, Tyler Fox, was a cop too, so he understood the demands of her job. Still, that night she could feel herself unraveling. Alone at home, she waited for the meds to calm her down. But they didn't — no matter how many she took. By the time Fox got home that night, Hernandez was spiraling. He tried to soothe her, asking how many pills she'd taken, but she'd lost track. Three? Six? Maybe 10?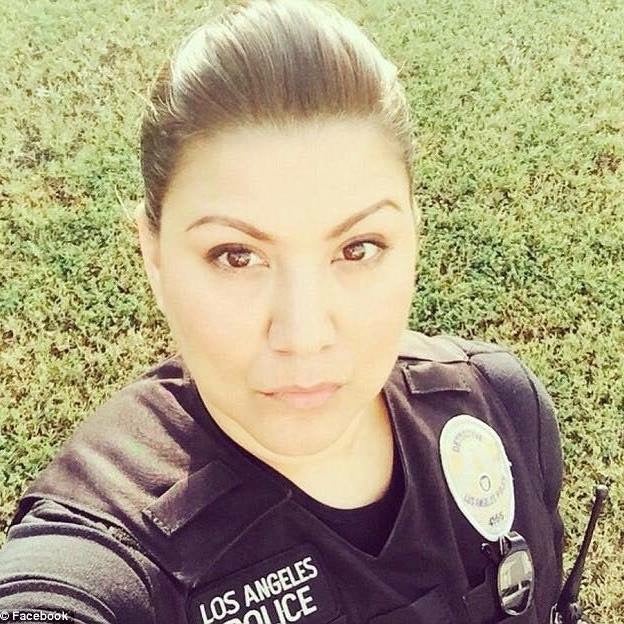 He took her to the emergency room in Whittier where they were living, about 20 miles outside of L.A. There, Hernandez told a social worker that no, she would "never kill herself," according to a subsequent police report; she was stressed and tired, and only wanted to sleep. The hospital kept her for a few hours, and then discharged her around midnight.  
The next morning, Hernandez was home, in bed, trying to rest. Fox was in the living room. At one point she came out to say she needed to visit her mom, who was having health problems of her own and in the hospital. She went to her purse for car keys, but Fox had already taken them, along with her bottle of Lorazepam. He gently walked her back to the bedroom to rest. Around 2:30 that afternoon, he later told detectives, he got a text from her, something like: I'm sorry. You don't deserve this. Tell my daughter I love her. He ran to the bedroom, opening the door as he heard the "pop" of the gun, according to his statement to police. 
He saw the gun immediately — it was his gun, an old service revolver he kept in a bedside table. Her phone was on the bed next to her, and while it's impossible to know what was going through her mind, he later told close friends he thought there was a look on her face — What have I done? one of her friends tells me, as if perhaps in a split second of a split second she realized the irreversible consequences. Fox rushed to her side, called 911 and started CPR. It was too late.
In the days and weeks following her death, family and friends replayed conversations they'd had with her, re-read texts and emails for possible clues. (Fox chose not to be interviewed for this story.) Her suicide was a mystery even to those closest to her. No one saw it coming. People who solved complex crimes for a living — the most seasoned detectives and officers in the LAPD combed through the past for any indication of what they might have missed. 
Hernandez worked sex crimes almost her entire career. Right before her suicide, her name had been in the papers, and she was dealing with media attention after officially confirming the Rose investigation and asking a judge to protect the alleged victim's identity from going public. (Hernandez died before the civil case was over. In the end, Rose prevailed in the civil trial and criminal charges were never filed.) There was a brief swirl of online conspiracy theories suggesting Hernandez's suicide might be related in some way to the Rose case. It's safe to say it wasn't. And while it's impossible to know exactly what she was thinking in those final moments, her friends turn to the events leading up to her death — and the complex cocktail of trauma and stress that's all too common for those in Hernandez's line of work.
* * * * *
"Nobody wants to work sex crimes," says Detective Craig Marquez, a 24-year LAPD veteran and Hernandez's partner for 10 years. "It's very detailed, very stressful." Marquez is a former Marine and looks it, with a solid build and cropped hair. But he also has a warm, welcoming smile that takes over his entire face. In conversation, he's funny and good-natured, and at first, it's difficult to imagine him wrestling a suspect to the ground or firing at an active shooter, both of which he's done in his career. Now that he's "on the other side of 40," as he puts it, he feels the job in his bones, the aches and pains, and he's slowing down. Though for him, "slowing down" means switching over to the Gangs & Narcotics Division. 
He and Hernandez became detectives (and partners) around the same time 15 years ago. "I remember first meeting her, and she was so charismatic, so intense," he says. "She was super-driven, and she had an ability to get you to like her almost automatically. Ten seconds, and I'm in love with this girl. It seemed like we knew each other for years. Nadine was the sister I never had."
They decided to work the "sex table," as it's called, in part because no one else wanted to and they liked the challenge. Plus, Marquez confides, "We're both missing a few screws — me and her," before adding that you need a bit of a twisted sense of humor to stay sane. They both had that. "We'd sit there in the morning," he tells me, "like before your coffee, 'Hey, what's a smoking dragon? Did you hear about this sex position? I have a case where a suspect did a smoking dragon on my victim…'"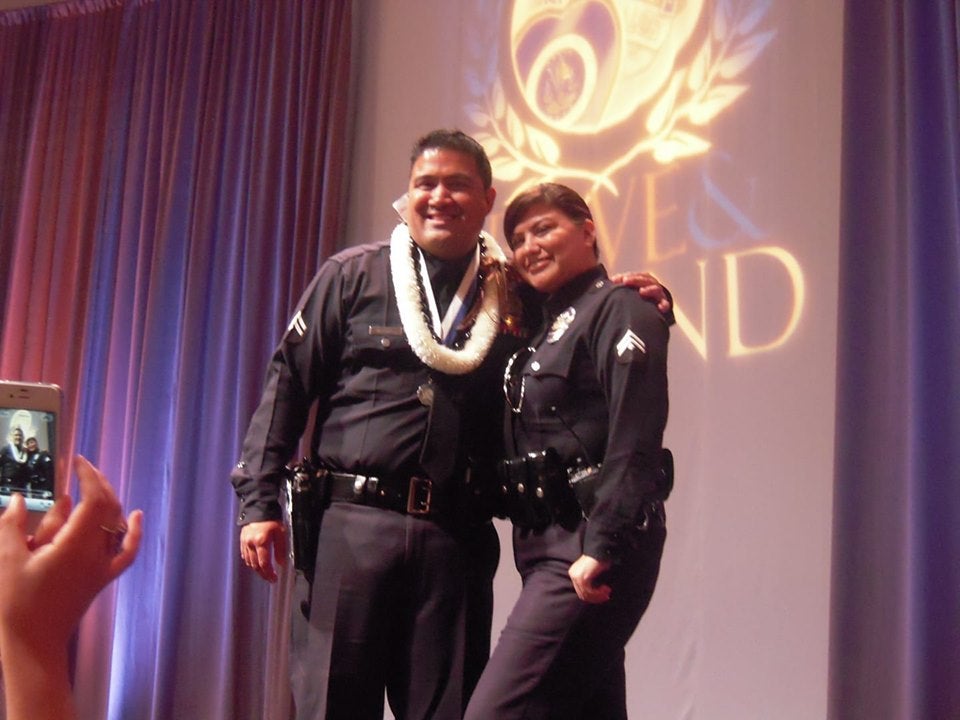 It countered the intensity of a job that he describes as the most all-consuming and gratifying of his career. "You have a bad day when someone steals your car. You get into a bar fight — that's a bad day. I get it. Somebody gets raped? That's a whole different level. That's going to be with them for the rest of their life." 
It's delicate work, and you have to be wired for it. Hernandez was. "She was an intense personality," Marquez says. "Everything was intense. Her relationships were intense; her friendships were intense. No half-measures." Which made her especially good at emotionally connecting with victims. "Working sex, you have to have what Nadine had. You have to have the victim like you, and you have a very short time to get this person's trust," he says. Not to mention, without judgment. "A lot of our victims are prostitutes," Marquez tells me. "The most savage rapes I've ever seen in my life are prostitutes. Hands down. So you need a prostitute to talk to you? You can't judge."
Sex cases also hinge on the most physically invasive procedures. "When you bring a victim out of the rape clinic, that person's a wreck," Marquez explains. "You have a victim that you've got to put back together so that they can survive the interview. Here's someone who's been raped, and then goes to a rape exam where people are poking and prodding. You have to convince them, 'We need to go inside of you to get this evidence because we can't have a case without it.'" The interview itself can last hours, reconstructing the assault moment by moment. Every additional detail could add a separate charge (e.g., if the victim was taken to a different location that could be kidnapping; a weapon present could add a weapons charge, etc.). So it's not as simple as merely getting the victim's story. Precision is imperative. 
It's not uncommon for detectives on the sex table to work days without sleep before going home: processing the scene, interviewing witnesses, waiting for lab results, tracking people down. "Then you go out, catch the suspect if you're lucky, and come back and talk to them for another six hours," Marquez explains.
Marquez and I are sitting in the lunchroom at the Hollywood police station, one of many stations he's worked throughout his career with the LAPD. Every so often, an officer comes in for a cup of coffee from a machine that's always on, or to heat up lunch in the microwave before a shift. Marquez knows most of them, and they'll spend a few minutes catching up. Once the room is empty again except for us, he explains that interviewing a suspect requires empathy, too. "You have to build up the suspect," he explains, to get them talking. He leans back in his chair, flipping to "suspect interview" mode to demonstrate. It's conspiratorial, cool, laid-back guy-bonding: "Man, she's making such a big deal out of this," he says to me as if I'm the suspect. "How was it? She was coming onto you, yeah? What else…?" 
He sits forward and shakes it off. "The thing is, you hate this person," he says, of the suspect. "There's no redeeming quality." But you have to bond with them the same way you did the victim. 
"By the time you get home you're like, Please nobody fuck with me. Nobody talk to me. We have this saying, 'I don't feel like people-ing anymore,'" he laughs. Yet, arriving home, you have to become a different person, to block out the wrenching, violent stories and images from work. "Everything slows down. Now all of a sudden you have to go on hay rides," he laughs. "Go trick or treating. Trick or treating is the worst! But that's what you have to do."
In his own life, after a decade, Marquez knew he needed to make a change. "By the time I left working as a sexual assault investigator, I got divorced and lost my house," he tells me. He needed to "get off the horse," as he describes it. He had full custody of his kids and wanted to be present for them. He wasn't exactly successful at slowing down at work at first; he went to the abused child unit, then cold case homicide. "We don't make good decisions," he laughs. The job is addictive, and sex crimes carry some of the largest sentences. "When you win for somebody," putting away a rapist or pedophile, "it's the biggest high that you've ever felt in your life. It's like winning the lottery." It's tough to walk away.
But along the way, it takes its toll. "It drained me," he says. "It drained Nadine." 
* * * * *
Around the station, other cops nicknamed Hernandez "The Public Defender," gently ribbing her for how nonjudgmental she was, not only with victims but with friends and colleagues as well. "You could tell her the most messed-up stuff and she wouldn't judge, no matter what you did wrong," Marquez laughs, softening and raising his voice to imitate her. "Nadine would be like, 'Oh, I know so-and-so, she had a rough life…'" 
It probably had something to do with her own background. Growing up, she spent her entire life in foster care, moving from family to family, according to friends, never permanently adopted, until she aged out of the system at 18. Her biological mother was an addict, in and out of her life. "I used to say to her, 'How did you not come out fucked up?'" says LAPD Sergeant Jenn Wong, one of Hernandez's closest friends. "She said, 'I just pushed through. I knew I wanted something different. I didn't want to end up like my mom.'" 
Hernandez's mother was, as Wong puts it, "no mother at all," but Hernandez still sought a relationship with her throughout her adult life, helping her mother with health problems, often related to her drug use. "As much as her mother put her through, she forgave her, took care of her. That's the heart she had."
Before joining the LAPD, Hernandez married and had two sons, both of whom are now in their 20s. Marquez says Hernandez referred to her ex-husband as her "was-band," and the two had a great relationship even after they split. "He watched the boys while she went to the police academy; they spent holidays together. I was like, 'Are you crazy? Me and my ex-wife fight like the Bloods and Crips! How do you get that?'" Years later, she had a daughter from another relationship, which ultimately ended, after which she became a single mom again. 
Wong met Hernandez in January 2015 when they both worked in the same station. Hernandez was still in sex crimes, Wong worked in Major Assault Crimes. They sat next to each other, helped each other out on a few cases and immediately bonded. "It was such a great friendship — overnight," she says. Wong's husband had just been diagnosed with cancer. "I was probably at the lowest time of my life," she says. "I'm usually not a vulnerable person, but at that time, Nadine became my champion."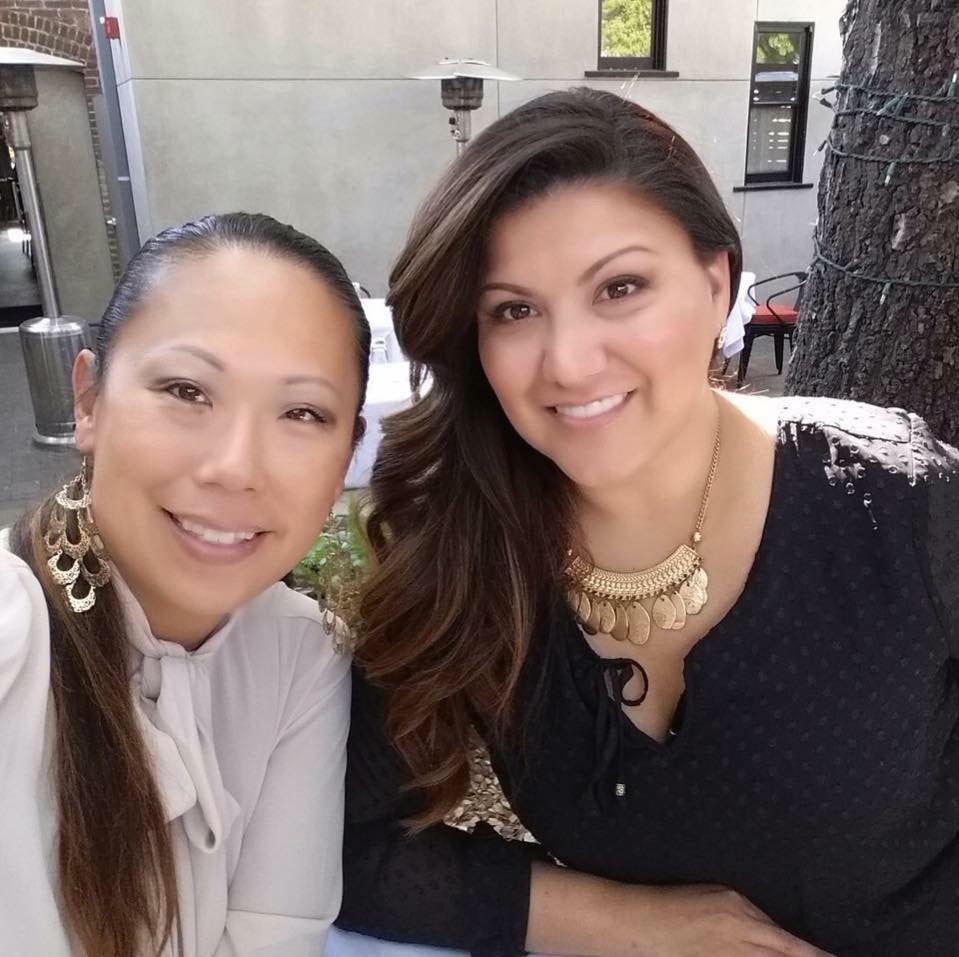 A few months later, a rare spot in the Robbery Homicide Division opened up. Until then, Hernandez had been working the sex table in various geographical divisions around the city. Robbery Homicide Special Assault is its own division, investigating high-profile sexual assault cases, stranger and serial rapes and cold cases. Still, Hernandez was hesitant to apply as she'd been recently promoted to a supervisor position. She didn't know if she had a real chance of getting the job and asked Wong's advice. "I said, 'Absolutely! This is your dream job. You've got to put in for it.'" She got it.
"I was so happy for her when she got there," Marquez says. "It's what you aspire to be."
Hernandez was in a new relationship too, dating Fox, and at the end of 2015, they married, just the two of them, in a courthouse, planning to have a "real wedding" later.  After they married, Wong threw her friend a surprise bridal shower. "It was awesome. Cake, presents. Because she deserved something like that. She's been through so much." 
Even though it's almost three years to the day since Hernandez killed herself, Wong still sometimes talks about her in the present tense.
* * * * *
According to a 2017 report by the Ruderman Family Foundation, a nonprofit philanthropy, police officers are more likely to die by suicide than in the line of duty. And while male police officers aren't statistically at a significantly higher risk for suicide than male civilians — suicide rates for the two groups are about the same according to the CDC's latest data — female police officers are about four times as likely to die by suicide as women in the general population, according to a 2002 study of New York City police officers. 
It's enough of a way of life that at the onsite gun shop at one of LAPD's three police academies, there are signs on the walls and behind the counter with the number for the National Suicide Prevention Hotline. Including Hernandez, Marquez has lost five friends to suicide. Four shot themselves, one overdosed. "There's more than that, but five that I knew and worked with personally," he says. In months spent talking with cops across the LAPD, I was unable to find one person who wasn't touched in some way by suicide. And on the day Marquez and I meet for our interview, we learn later that a police officer in Montebello, 30 miles away, took his own life in the station.
"How about the funeral I just went to two weeks ago?" Sergeant Mark Cohan volunteers. Cohan worked briefly with Hernandez and is now a supervisor at the LAPD's Hollywood Division. A couple of weeks before we meet, he attended the funeral of a classmate from his police academy days, an officer who, like Hernandez, he never would have expected to take their own life. "That guy had everything. Married. Kids. Great Job. Happy. Every photo at his funeral is him smiling with his arm around somebody. I'm that guy," he says. "But obviously there was something going on. Something dark. This shit is lurking."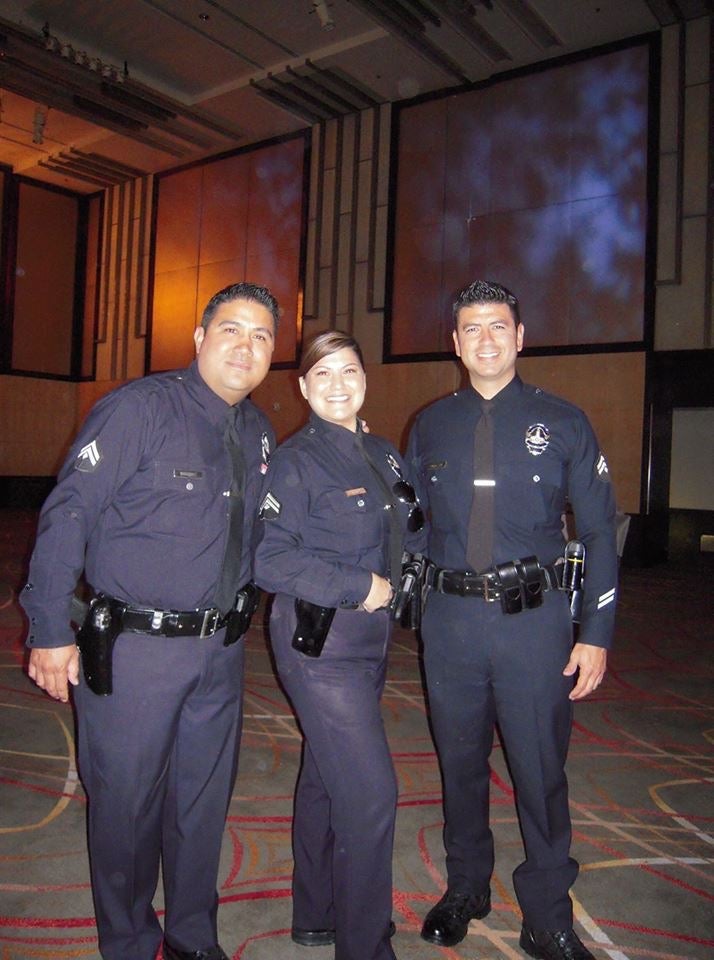 Cohan had invited me on a ride along, and we talked as he drove us around Hollywood in a black and white Crown Victoria, interrupted every so often by the police radio. Over the course of the morning, we went on a handful of calls: various homeless disturbances, one assault with a deadly weapon and a domestic violence incident, where, a shivering woman in a short silk bathrobe wept and tried to quiet her tiny, yapping dog while officers swept her apartment to confirm her boyfriend had left. As one officer attempted to calm her and evaluate her injuries, she kept asking what would happen to her boyfriend if she made an official report. Cohan gently encouraged her to leave the relationship, well-meaning words that felt futile.
"You go from this to a drug overdose to a stabbing to a shooting, and that's just Tuesday," Cohan says once we were back in the car. "How does an officer process that?"
When Cohan first became a cop, nobody talked about their feelings or the toll of the job. At 21, fresh from the academy, he rode around with a 50-year-old, chain-smoking patrol cop who drew a doodle of a face on a piece of paper and showed it to Cohan. The face was a circle with two eyes, two ears and a nose. "He'd say, 'What's missing from that picture? The mouth. Shut the fuck up. I don't want to hear a goddamn word out of your mouth.'" Cohan looked at that generation of cops — hard drinkers, smokers, divorced — and vowed to be nothing like them. "I didn't want to be that kind of cop," he tells me. "I don't want to be divorced." (He shakes his head at the optimism of his younger self, having just shared that he's now in the process of getting divorced.)
"The stigma is heavy in seeking any kind of mental health within law enforcement," says Jeff McGill, co-founder of Blue Help, a nonprofit that tracks police suicide data. "From Day One, officers are to always be in control in chaos. The problem is when you take that home. You've got to be able to ask for help." He explains that officers often don't want to admit they're depressed or having suicidal thoughts because after an admission, they'll get benched and their gun and badge are taken away, at least temporarily. "If I have to choose between feeding my family and getting mental health care, that's not a choice," McGill says. "How do you get officers to come forward and go, 'Hey, I need a break,'" if they risk losing work?
When McGill was a U.S. Marshal, he saw his partner get shot in the face while they were serving a warrant. He survived. But it was a long road back and McGill suffered deep and paralyzing guilt afterward, needing time to process his trauma. He notes that if his trauma had been physical, like if he'd been shot too, he would have had support — treatment at the scene, long-term disability, physical therapy, probably even a medal of valor. Mental health, however, isn't treated like a physical injury. "Mental trauma changes the brain," he says. "So why are agencies not providing for what's essentially a brain injury?"
He estimates that national statistics on police suicides aren't entirely accurate because so many aren't reported, meaning the real numbers might be significantly higher. After all, police know what suicide looks like and can cover up their own, and medical examiners also might sometimes look the other way, not classifying a death as suicide so that the family of the deceased can get benefits. "If it's a line-of-duty death, we get federal payouts, health insurance, life insurance. If it's a suicide? You lose all of it. The family is left with nothing," McGill says.
That said, the LAPD has one of the most comprehensive psychological care systems in the country. Its Behavioral Science Services Department is well-staffed with always-on-call mental health professionals, who are trained in police culture. Still, some LAPD officers I speak with suggest there would be more value in having psychologists embed with individual stations instead of centralized downtown. For his part, McGill advocates for psychologists going on ride alongs when possible and being part of the furniture, so an officer's first time seeing a psychologist isn't when they're in crisis. Some states also treat mental trauma as a workers' comp injury, which McGill would like to see happen nationally.
"If my partner hadn't survived, I don't know where I'd be," he says. "Because the guilt associated with not bringing your people home is tremendous. I'm not suggesting that the job is the only cause of suicide. There are mental health problems, substance abuse problems, financial strain, marital strain, all of these things play a role. But I can assure you, the job doesn't help."
Hernandez certainly didn't keep her struggles a secret. She spoke openly about them, and years earlier, she even checked herself into a mental health facility. "She placed herself on a 5150 hold because she was emotionally unstable," says Wong. "Stuff going on from childhood — a lot of the demons that Nadine was carrying were rooted from her mother. She's always been very vocal about it, like, 'Yeah, I put myself on hold because I knew I wasn't in the right mindset.' She recognized it and was able to come back to work, no problem." 
About a week before Hernandez killed herself, she and Marquez got together. They talked about the job, about money, about marriage, about stress. "I remember telling her, 'It's time to step off,'" he says. "To me, the wheels were coming off. And I get it — Robbery Homicide is the elite. If you're a detective in the LAPD, you want to be in Robbery Homicide. It's the top." But she'd been taking anti-anxiety meds and sleeping pills. "You just go and go and go, and all of a sudden, you reach that one point — I gotta tap out, I just can't do it anymore."
* * * * *
The Saturday before she died, Hernandez brought her 11-year old daughter into work, Wong tells me, posting pictures of them together on social media. Sunday, she got her hair done. She had plans to go to the Pink concert the following weekend. 
On Tuesday, October 11, 2016, Marquez was driving home with his kids in the car, when his phone started blowing up — all people from work calling. At the same time, across town, Wong was leaving work when she got a call from her supervisor, who asked her if she was driving (she wasn't) and then said, "You're good friends with Nadine Hernandez?"
"I was like, 'Oh fuck! What happened?'" 
The only information was that she was found dead with a gunshot wound. Wong's first thought was home invasion. She called Hernandez's first husband, her "was-band," the father of her two sons, to tell him. He couldn't believe it. Only a couple of hours earlier, he said he'd received a text from her, telling him what a good father he was. He didn't think anything of it. Hernandez was expressive — it was something she would do out of the blue from time to time.
Neither Wong nor Marquez could get in touch with Fox, who was being questioned by the Whittier Police. "That first night, all I knew was: She was shot, and Tyler was at the station being questioned," Marquez says. It wasn't until the following day that her death was named a suicide — a self-inflicted gunshot wound to the chest. It was difficult to believe. "She was such a naturally happy person," Marquez tells me. But he couldn't shake their conversation from the previous week. "Could I have seen it coming? Could I have done something?" he asks. "You're going to go down that road."
"I attribute her killing herself to just not being in a clear state of mind," Wong says. She thinks the anti-anxiety meds could have had something to do with it. At the time of her death, Hernandez had Lorazepam and Xanax in her system, according to the toxicology report. Both drugs are classified as benzodiazepines and have been correlated with self-injury and suicide risk according to some studies.
But later, when Hernandez's supervisor went to retrieve her personal effects from her locker, the locker was empty, Wong tells me. "What the fuck? We didn't know this until after she killed herself. Why is her locker empty? She took all her shit — it was in the car." Wong shakes her head, still in disbelief. "Why would you empty your locker? And then we backtrack — was she really thinking about killing herself? She loved her kids so much…" 
Which is why Wong shares what Fox told her about discovering his wife, even though it's an intimate detail. "I tell you the details only because I want people to know and to understand the mindset leading up," Wong says. "When Tyler told me she had that look on her face — I know Nadine regretted it. I'm not saying she didn't have mental health problems — she did. But she was aware of it." Plus, Wong adds, "She's been in darker places in her life. Do I think she's thought about it? Yeah. But she's been in worse places." 
In an interview with police after her death, Fox told investigators that his wife had been stressed and anxious over a heavy caseload at work, and not getting much sleep. "They were having financial problems," according to the report, and were also "in marital counseling due to 'communication problems' between them."
"It's never one thing," says Marquez. "It's a culmination of a lot of things coming together. We live an extreme life, and it goes out-of-control sometimes. She was one of the top sex investigators in the LAPD. I don't think one thing would crush her. I think she woke up that day and everything that was going on in her life just came to the front, and she made a decision in the moment that she wouldn't normally have."
"Nadine is that highly emotional person, in a highly emotional job. It's probably not the best mix," says Wong. "But she loved what she did. She loved investigating these crimes and bringing justice for these victims. She was damn good at it. That was her passion, so what are you going to do? At some point it obviously took a toll on her mental health."
Marquez and Wong are diligent about their own mental health since Hernandez's death. After our interview, Marquez heads to meet his fiancée for a pre-planned date night, even though he's been up since four that morning. "I don't care how tired I am," he laughs. "We're going out!" Shortly after Hernandez died, Wong's husband passed away as well. At first, she compartmentalized the tragedies, but recently, when her daughter started going to therapy, she did too, and finally began processing both losses.
Family and friends maintain a memorial page for Hernandez where they post photos, memories and memes she would have laughed at. Things like: "If you had to choose between eating tacos every day or being skinny, would you choose hard tacos or soft tacos?" They also repost posts of hers, like when she joked on social media about the added pressures of being a woman on the job. "Female detectives serve warrants too. But our eyebrows are always on fleek," she wrote, along with a selfie in uniform — and, of course, perfect brows.
But maybe the most striking way Hernandez's memory is preserved is in her casework — i.e., sex offenders she went after, but didn't live long enough to bringing to justice. "Our work paid off!" one friend posted, along with a news story about a suspect being apprehended a year after Hernandez's death. 
"Justice was served," another wrote about a different case. "He pled and will serve 2 years state prison and be a registered sex offender for the rest of his life."