The weekday strip-club scene is criminally underrated, and I'm not talking about for the reasons given to Quinn Myers in his profile of the club regulars who have figured out that the girls are nicer, the drinks are heavier and the lap dances are longer on a Monday versus a Saturday night. I'm referring to their midday lunch buffets, many of which are world class, and all of which are relatively cheap.
Bottomless eggs, mimosas and a dance to boot?
Go now before they figure out their mistake.
Must Read
"The World of Online Dating for Socialists"
In good or bad news — depending on your point-of-view — single Americans are now less willing to date those with what they consider to be "bad politics" than ever before. To wit: In a recent OKCupid survey, 42 percent of female users stated they'd choose political compatibility over great sex. So, where are people going nowadays to find politically like-minded fingerbang partners to ghost? Well, if you're a socialist, you might try Red Yenta, the newest and nicest socialist dating platform for hot, young millennial Marxists looking to fuck the capitalist patriarchy and each other — consensually, of course. READ MORE
Pork Link
As part of our special Father's Day series of men sharing the dish that most reminds them of dad, Michael Twitty, the James Beard Award-winning author of The Cooking Gene, provides us with his recipe for smoked pork shoulder, a cut of meat that's always taken him back to his dad's Southern past.
Like Father, Like Daughter
Often, when we think of business and entertainment moguls passing the torch to the next generation, we think of fathers handing the reins to their sons. But more and more, it's the daughters who are keeping the family name alive — and thriving. Citing famous father's daughters like Miley Cyrus and Charlotte Flair, Tracy Moore explores what's changed in the legacy game.
Mondays Are For the Strip Club
If you're the kind of person who gets their kicks hitting up the strip club (you know who you are), consider the "why" of it all: Are you there for the loud music, surly bouncers and crowds, or are you there for the girls and cheap booze? If it's the latter, then why the hell are you still going to the club on a Friday or Saturday, when Monday provides you easier access to both?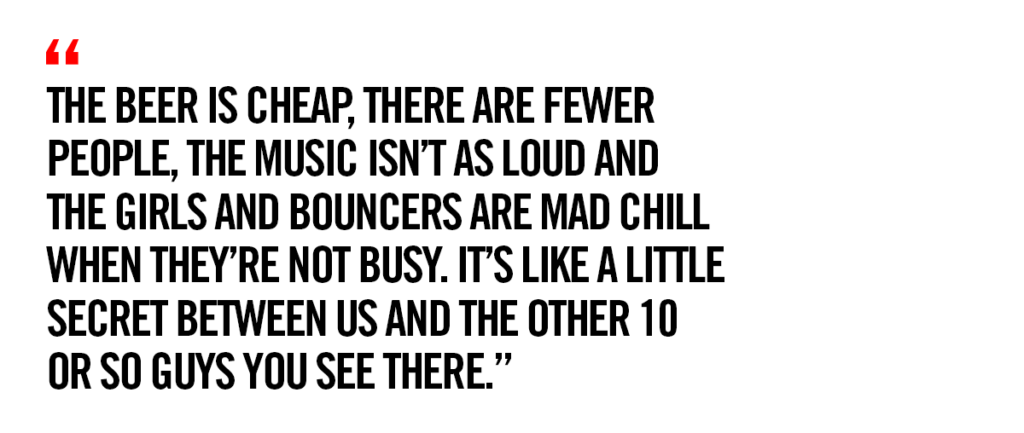 Don't Sweat It
Look — life can't be all peaches and cream. Often, in fact, it's the little things that are hardest to control, and the easiest to get under your skin. But sweating the small stuff can also poison how you feel about the good shit in your life, and dude, that ain't right. So, from having a tiny apartment to having a weeny peen, here's how to live with all of life's little shortcomings.
'Is It Hot in Here?' <Pulls at Collar>
It's 5 p.m., and your boss' name lights up on Slack: "I need to see you in, first thing in the morning." Fuuuuuuuuck.
The fact is, nothing can make you perspire uncontrollably like an unexpected Slack, email or text from the person who signs your paychecks — even when it feels like 10-degrees below zero in the office. Here's the clammy science behind these "cold sweats."
Lost Dog
So you're driving down the road and you see a dog wandering all by its lonesome — whaddyado? Well, for starters, you should:
Act quickly (you might be the difference between the doggo finding its owners or not).
Approach carefully (Lil' guy might be scared, hurt or worse).
Do all these things the professionals suggest (you didn't think I'd give all the advice away for free, did you?).
We Stan Keanu Reeves, Hover Hander
The "hover hand" has never gotten much respect. Internet bros have long seen the "embrace without actually touching" move as classic beta behavior, reserved for cucks too scared to actually connect with the opposite sex. But interestingly, when photographic evidence surfaced this weekend of Keanu Reeves employing the hover hand, many came to his defense:
The positive response makes sense on multiple levels: First, Keanu Reeves is widely considered humanity's favorite son, and thus, can do no wrong. Second, and more importantly, many correctly recognized that there's a vast difference between "avoiding #MeToo" and a chill dude with a healthy respect for boundaries.
Clown Check
Clowns: What are they up to? Thanks to the convergence of two great universes — Juggalo-dom and Teen America — they're sloughing off their historical creepiness and making a reputational comeback on TikTok. Magdalene Taylor checks in on the controversial #ClownCheck scene (see what I did there?) taking over the extremely popular social video app.