Tucked away in the mountains above Malibu, the Illusion is rustling around his garden to pick me a strawberry. The good news is that he's found a ripe one. The bad news is that another being, likely an insect of some sort, has found it before us—there's a pocket of berry missing on one side. The Illusion may say the world is a projection of our subjective minds, but the berry's clearly been compromised.
"I don't mind," I blurt out, grabbing the berry and biting into it. I grin, and he laughs.
"Radical, man. Yes," he adds, nodding. "We just gotta roll with the punches."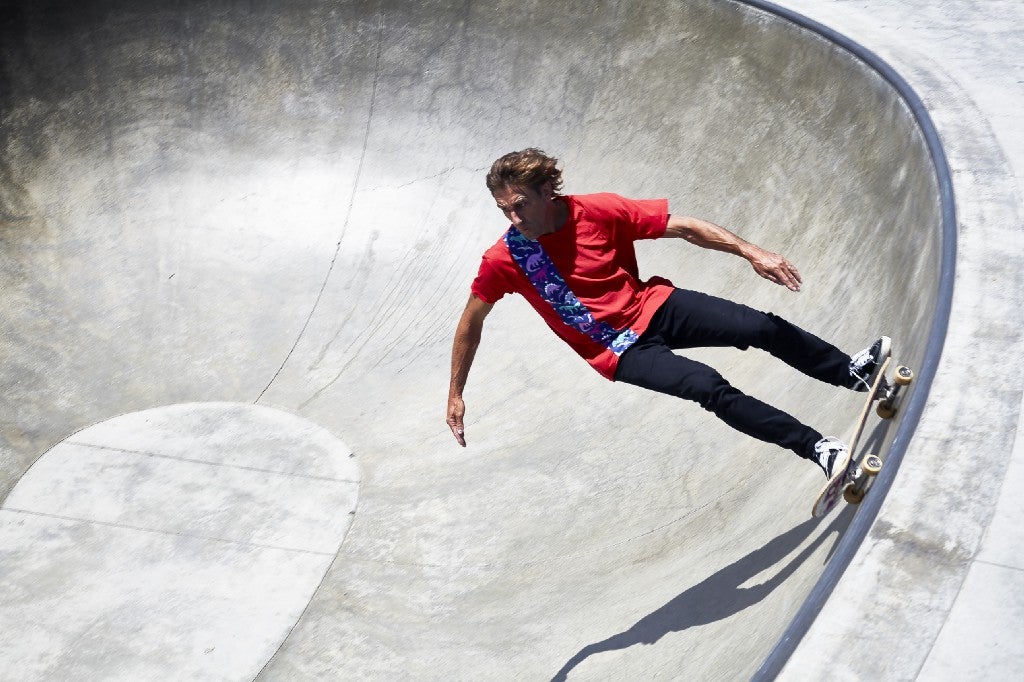 The long dimples on his face are flashing, as they often do when the Illusion, a.k.a. Hamish Patterson, gets excited — and he's frequently excited about something. Tan and lean, with a head of golden sand-blond hair and big blue-grey eyes, Patterson cuts the figure of a California surfer and has the vocal cadence to match, full of "man" and "wicked" and a drawling yeaaaa. He may be 48, but you'd swear there was a twentysomething possessing his body.
This physicality is a reason why Patterson went viral about eight years ago, with a goofy video about him trimming a crisp bowl cut in his bathroom. The absurdist, sweetly funny video earned him a full 15 minutes of fame, but he's since moved on to create a life that eludes easy labels.
Allow me to try, though: Patterson is a Southern California Renaissance man, a skater and surfer and tree-loving activist hippie, artist and carpenter who once grappled with alcoholism and was runner-up for a seat on the Malibu City Council. His most wide-reaching achievement, though, is his life on YouTube. Each video begins in the same way: Patterson looks into the camera, sometimes with a smile, sometimes not, and declares, "Whoa-hoa. This is the Illusion, reporting live from somewhere on Spaceship Earth." And whether this blond beach bum talks about bad plumbing, the Venice skatepark, homeschooling, his stepdaughter or traffic, whether it's for five minutes or 25, some kind of Zen wisdom always flows forth.
Patterson has no clue why, but YouTube's algorithm recently tossed the bowl cut video into my lap and others', leading viewers to his newer material. His subscriber count has rocketed from 30,000 to 50,000 in a few months — loose change for big YouTube stars, but surprising for a guy who doesn't edit a stitch of video or have many promotional aims. Still, his talks seem to touch people who need some guidance—the comments from viewers on his videos are often deeply gracious, thanking him for lending them positivity to get through another day. And after a few weeks of absorbing his vlogs, I myself was hooked on the idea of meeting the man behind the Illusion.
So here I am, in his garden, on a Malibu ridgeline that overlooks the wide, gorgeous valley of Deer Creek Canyon Park. He and his wife Blythe, teen stepdaughter Georgie and three-year-old son Owl live up here, at the end of a long, winding drive, in a converted trailer home with a priceless view. Patterson grew up in Malibu, but also learned his harshest lessons in these mountains. "It's a trip, man, to think about everything that's led me to this point, to a family," he says, digging around for another ripe strawberry and failing. "I had to pull my head outta my ass to get here. And that bowl cut video was really something."
On its face, there's little about the seven-minute-long video titled "bowl cut maintenance.wmv" that would suggest it could propel Patterson to viral fame. In the lo-fi clip from 2011, Patterson is sitting in the bathroom, trimming the edges of his bowl cut to a tinny soundtrack of punk rock. There's a ridiculousness to the whole task that Patterson leans into (how many people are maintaining their bowl cuts in 2011, after all?) but also an earnest, infectious charm.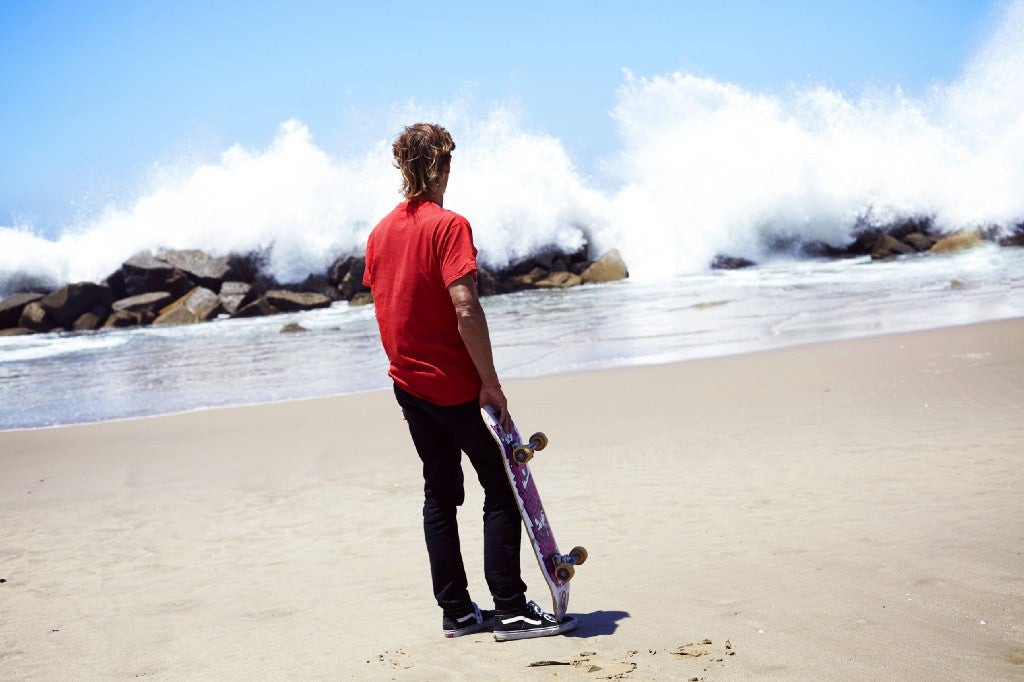 "The secret to a bowl cut is not to fuckin' sweat it being straight, man. It is what it is. … You can see, I kinda farmed it right there. And it's pretty radical, but we're not going to sweat it, dude," Patterson observes in the clip. "'Cuz it's a bowl cut, and imperfection is the secret to perfection."
In riding the line between unintentionally funny and tongue-in-cheek, the video notched a solid 1.7 million views and launched Patterson onto a national stage, most notably via comedian Daniel Tosh's Comedy Central show Tosh.0. But to see the birth of the Illusion, you have to travel back about 70 videos earlier, to his very first post. Patterson's Spicoli-like face and surfer drawl are the same, but drooping eyes and slowed speech ("I have to not listen to the voice inside my miiind," he drones) cut a much lonelier figure.
In the years that followed, none of his videos took off quite like the bowl-cut clip, but Patterson developed and drilled a certain ethos, and the vocabulary to go along with it. Bad days are described as being "low frequency," and he urges viewers to be a part of the "high frequency tribe." Projecting expectations too far ahead in time and stressing out about them is "future-tripping." If the world is indeed a subjective illusion, well, we should "manifest reality" to fit our wants and needs.
Other self-labeled life coaches and gurus lean into similar ideas, but Patterson's blunt verve, as well as his openness to his growing fandom, make him a different sort of figure altogether. Many of his lessons, too, have been tried and tested in Patterson's own life. He struggled with alcoholism as a younger man, and by his mid-30s, he was alternating between living in his car and squatting in empty Malibu mountain homes. But no matter where he spent the night, liquor was nearby. "Sometimes I'd look out at the mountains, a million dollar view, and feel like a king, man," Patterson muses. "Other times I'd see the same thing and just cry."
One night, Patterson descended the hills to the Pacific Coast Highway to pick up a 12-pack of beer and cigarettes at his usual liquor store. Walking out, he saw a car parked sideways in the small lot, and it triggered an internal rage. Already drunk, he stepped up to a man leaning on the car and began berating him. "I used to pick fights while drunk, just hoping someone would knock me the fuck out," Patterson recalls, chuckling awkwardly. "But this guy just sat there, calm. And I settled down."
He doesn't remember their exact conversation, but Patterson asked the stranger for a light. As he leaned over with his cigarette, he saw… something. God? A destined premonition? Whatever it was, it compelled Patterson to ask this man for help. As it turned out, the stranger had fought for sobriety himself. His name was Joe Shawnessey, and he was an old ex-hockey player from Boston — the same city Patterson was born.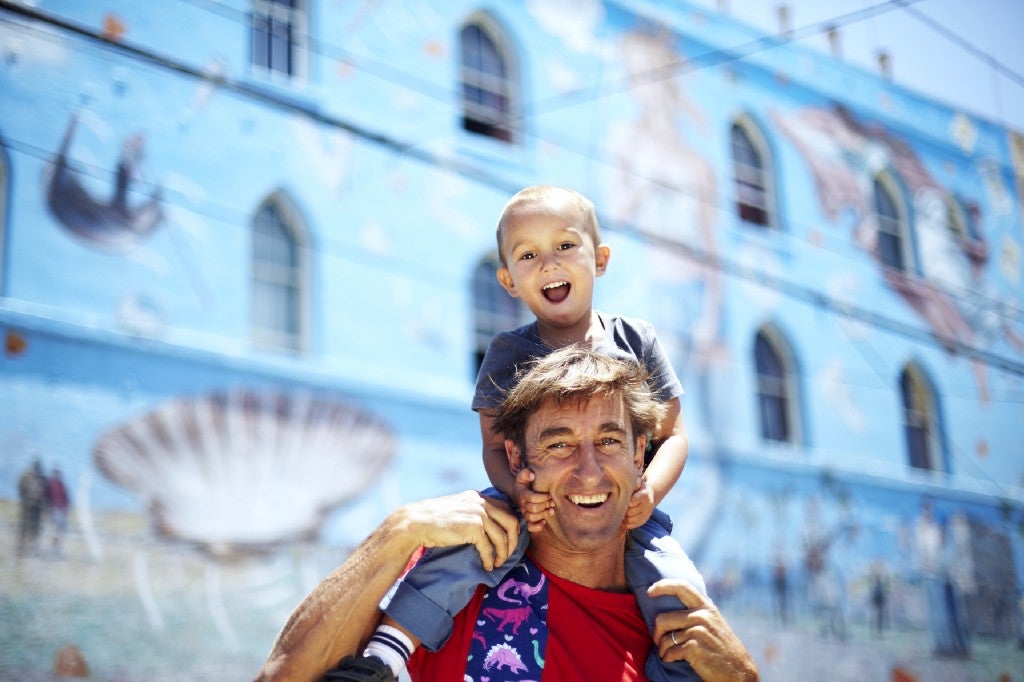 That chance encounter was the force that dragged Patterson out of his jam, and for the next decade, until Shawnessey's passing in 2016, Patterson learned not just how to be sober, but how to see the world. He remembers one moment when the two passed a homeless man digging in the trash for food. "Wow, I pity that poor fucker," Patterson said aloud.
"And Joe, he just told me, 'Why is your judgment that he is any less enlightened than you are? He's on his journey, and it's only you judging him that suggests his journey is imperfect. Think of your own journey,'" Patterson recalls. "And he taught me that, in the spiritual sense, you need those lows to define your journey."
Patterson has worked countless different jobs, but he seems to find the most joy in preaching a common-sense approach to finding satisfaction in life. He takes gigs as a sobriety companion for people who need a partner for accountability and support, and he also offers one-on-one phone calls with those who want it. Otherwise, he just sort of brings his wisdom along with him wherever he goes. "I remember some years ago, these kids on the street recognized him. Hamish is kind of an underground celebrity to skater kids," says Skylar Peak, the former mayor of Malibu and one of Patterson's best friends. "He just took to those kids, and said, 'Hey, let's skate together,' and hung out for the rest of the day and had a good time. Most of us don't have that freedom in our lives. And a lot of people won't give a stranger the time of day. He does because he cares about people's stories."
As a child, Patterson moved from Boston to the Santa Cruz Mountains near San Francisco, and later went down the coast to Malibu, where the 16-year-old fell in love with the salty, working-class feel of the community. He attended Santa Monica High School, then Santa Monica College, took a break to skate back in Santa Cruz and later pursued environmental chemistry at Northern Arizona University, before dropping out to promote a sci-fi novel he'd written with a friend. His environmental activism started shortly thereafter when he moved to Portland, Ore., and took a job with Toshiba, where he delivered copy machines in between trips to the mountains to protest logging, fight for public access, and on occasion, drop acid and talk with the pines.
A few years later, Patterson felt pulled back to Malibu, and returned to surf, skate and dabble in a number of day jobs, usually in carpentry and construction. He developed tight bonds with familiar local faces, including Peak, whom he met while surfing but leaned on as a pillar of support when Patterson decided to take on sobriety. Later, when Peak was sent to a psychiatric hospital for evaluation after an incident at a local shopping center, it was Patterson who shelved his cross-country plans and moved in with Peak to look out for him.
"We have our ups and downs in life, but Hamish is a very real person, positive and funny but blunt. He'll call you on your shit. I honestly consider him a mentor, even. A mentor on the human condition," Peak says. "I mean, when I was going through a hard time, who was there to spend all his time with me? Hamish."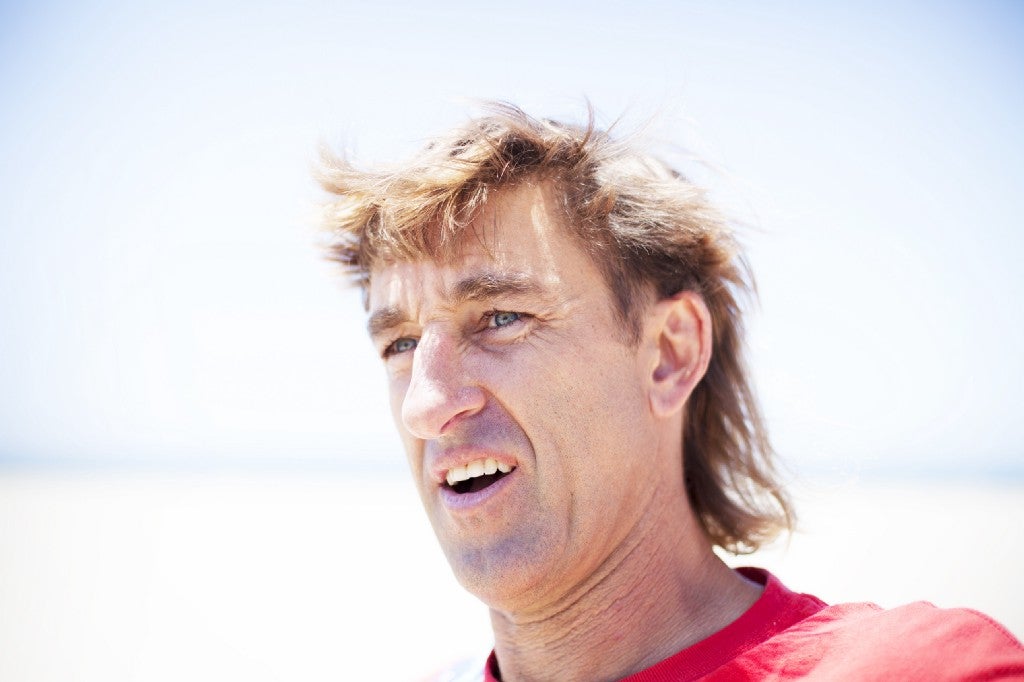 Patterson's laid-back mannerisms, however, belie a fierce intellect and curiosity about the world around him. In the early 2010s, he took his activism to Malibu's City Hall, running for a city council seat in both 2012 and 2014. He lost each time, but surprised a lot of residents with his knowledge of local politics, pushing back hard on things like luxury housing developments, a proposed sewer expansion and a renovation of the Malibu lagoon. "I made all this noise about building a new city hall with plexiglass walls, to ensure citizens know who's meeting with who, because there's shady shit that goes down in small towns, man," Patterson says. "It was my own weird spin, but I knew my politics. I used to rip my bong and watch city council meetings just to make fun of it. They thought I was a doped-out surfer, but they got a wonk."
His appetite for small-town politics can seem odd given that Patterson is a vocal critic of authority, whether it's government or private institutions. He's also a nerd for history, with books like Rebel Yell (on Stonewall Jackson and the Civil War) and Nazi Germany and the Jews crowded onto shelves alongside Annie Proulx, Kurt Vonnegut and the AA Handbook. That dichotomy caught Chris Garcia's attention when he met Patterson through Peak. Garcia, a businessman, son of Mexican immigrants and a "Latinos for Trump" leader who worked for the Commerce Department, was so impressed by Patterson's worldview that he volunteered to be his campaign manager.
"Hamish has a different spirit than anyone I've met," Garcia says. "There's a certain pure authenticity, a vulnerability where he's genuine about wanting to get to know you and wanting to help everyone who crosses his path. He's gained a real reputation for mentoring Malibu youth, especially."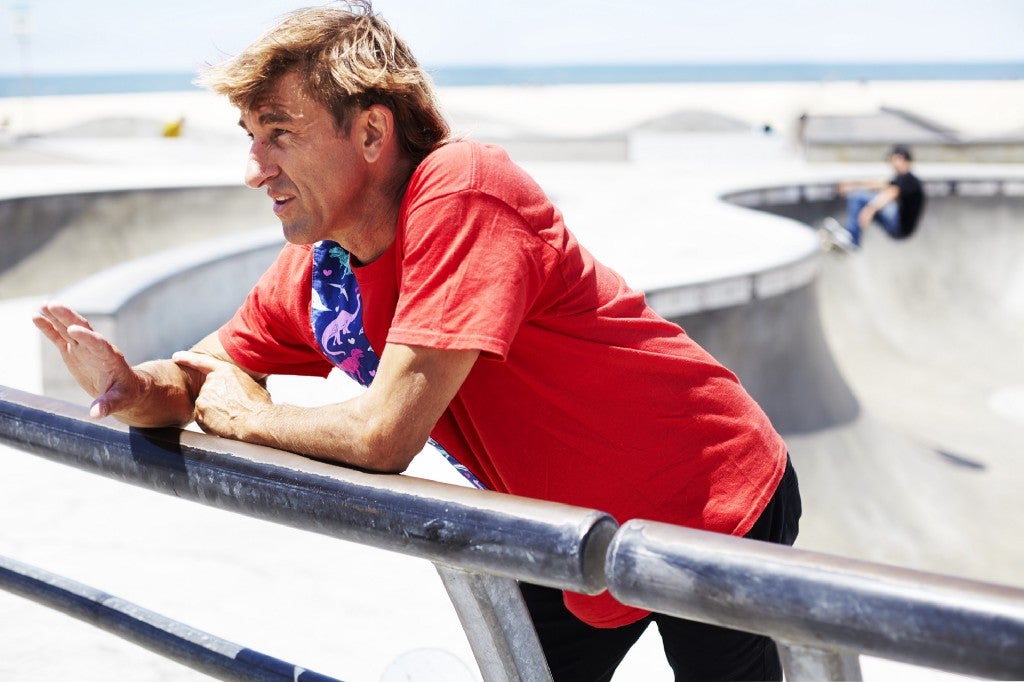 These days, he's spending a lot of time mentoring Georgie and Owl, and acclimating to life as a stay-at-home dad. Last year, Patterson struggled with the role, feeling "too much of that pent-up male aggression" at home while watching Blythe's career in sobriety work take off. It's one of many raw, imperfect admissions he's made in his YouTube vlogs, which are the antithesis of the polished, brand-friendly personalities that dominate the platform. Instead, they serve as a philosophical diary of sorts, bringing viewers into Patterson's head — and to the solutions he seeks for his own relatable issues.
Blythe is familiar with Patterson's emotional downturns, having dated him for more than five years. Their history, in fact, stretches back to Patterson's drinking days, when the duo were holed up in a dark, scummy party house in nearby Topanga. Blythe's manic swings drove Patterson crazy back then ("She was a liability, dude," he states flatly), but over the years they kept on running into each other at meetings for addicts. Blythe, slender and Hollywood-gorgeous with dark chestnut hair, found in Patterson a perfect complement. In videos, he calls her "the Hologram" to his Illusion.
"I grew up in the entertainment industry, where everything is about fluff and two-faced talk. But Hamish is 100 percent who he is, and that was true even when he was a total alcoholic. He's a dick," she says, smiling. "But that's what's great about him. It's genuine. He cannot be phony."
Blythe, Patterson and I are standing in the garden now, and looking into the valley as they both recall how they ended up here, renting a converted trailer home on the corner of a horse ranch. A little later, Patterson takes me on a mile-long walk down to a quiet pocket of green away from the main road. It's the walk he takes when he hits, in his terminology, a low-frequency vibe.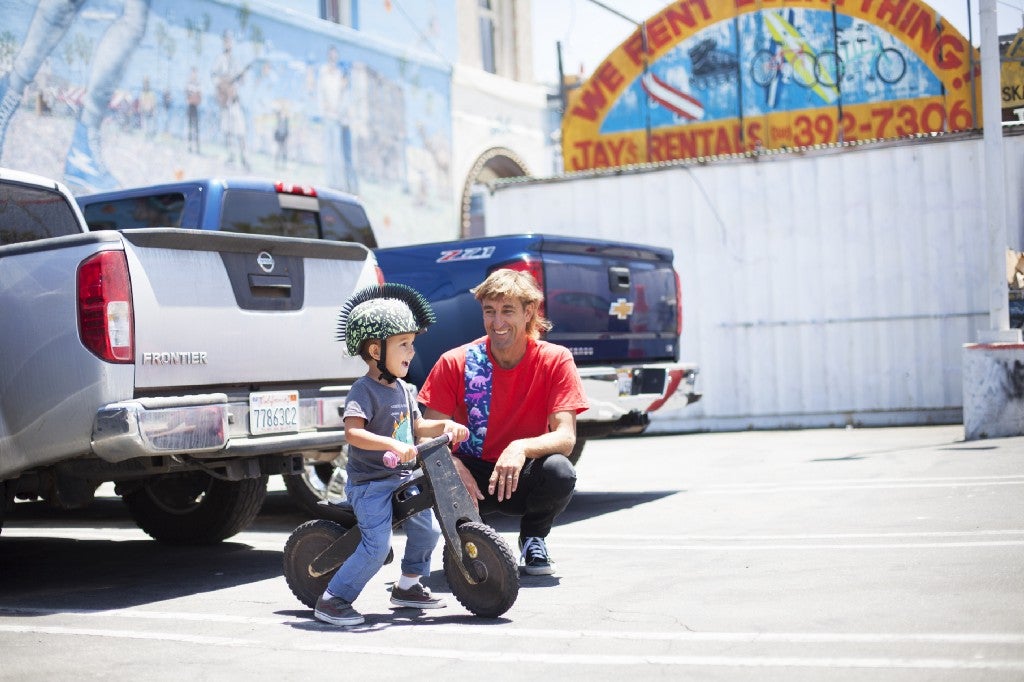 "I came out of this depression recently," he says. "I was laying in bed, staring at the ceiling at four in the morning, and I finally said, 'I'm going for a walk.' Sometimes you have too many choices in life. It's paralyzing. So what's the first thing you can literally do as a bipedal being? It's walking. We don't just atrophy muscles while we sit. I think we atrophy our spirit, too."
A decade ago, when he was squatting in homes and tumbling from one day to the next, he would sit at the end of this trail, hearing nothing but the wind, the crickets and his breath, and look toward the ridge. He wanted to live on top of the hill, but couldn't.
Now, by the fortunes of this thing he calls Spaceship Earth, the Illusion has reached a peak.