Life can be exasperating in this simulated hellscape of ours, but occasionally, we're treated to a delightful little respite — such as Wednesday's news that Scott Pruitt, head of the Environmental Protection Agency, spent $2,749.62 on "tactical pants" and "tactical polos."
The disclosure comes via The Intercept, whose article details the EPA's runaway spending under Pruitt's stewardship. For instance, Pruitt has spent $4.6 million of taxpayer money on various security items — $24,115 of which went toward tactical gear and body armor, including a $1,500 pair of tactical pants.
The disclosure conjures hilarious images of Pruitt playing make-believe war games in his backyard with oil tycoons, complete with barrel rolls for dramatic effect. Of course, it also raises a litany of follow-up questions, such as: What kind of pants cost $1,500? And what makes them "tactical" to begin with?
Buddy, we're here to help you the best we can?
What the hell are tactical pants, anyway?
Cargo pants. They're fucking cargo pants.
I mean, if you want to be generous, "tactical" is a fancy way to describe sartorial items designed for military operations, and thus, are more durable and functional. They have a lightweight design and are built with stretchy fabric to allow for a full range of motion. They have double stitching to prevent tearing. And they're outfitted with an abundance of pockets for carrying all kinds of weaponry.
This pair of Vertx Delta Stretch Pants — you know something is badass and tactical when it has "delta," "echo," "foxtrot" and other words from the phonetic alphabet in its description — includes a pocket for concealed carry of a handgun, as well as a "gusseted crotch."
But ultimately they're still just cargo pants.
Yes, but they're $1,500?!?!?!?
The good lads at TacticalGear.com sell a wide range of tactical pants, but even their highest-end tactical pant, the Arc'teryx LEAF Alpha Pants (Gen 2), "only" costs $535 (marked down from their usual price of $669 (nice)). These are made from Gore-Tex and designed to protect their owner from the elements during "covert operations. Pruitt bought approximately three of these kinds of pants for his rugged adventures.
And the polos?
Look, you never know what kind of danger is going to break out when you're on the golf course, scheming ways to undo decades of environmental progress. If you want some, just Google "tactical polo," and you'll get a handy ad from TacticalGear.com, which is using news of Pruitt's overspending as a way to advertise such garments.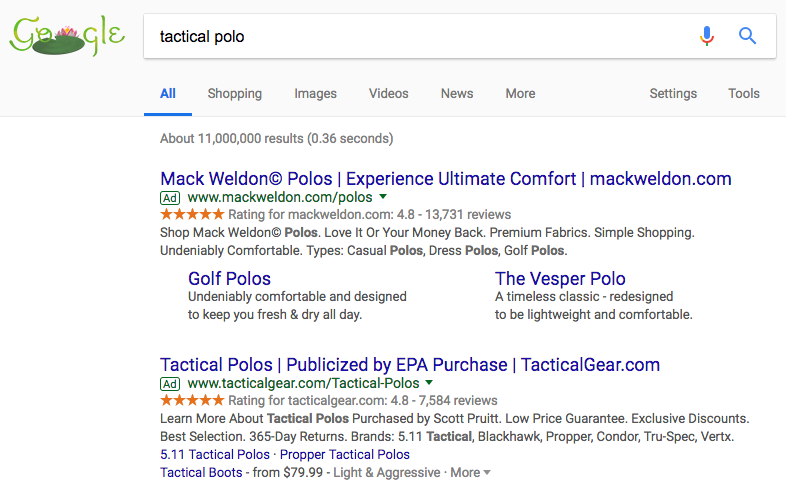 American capitalism at its finest.