When it comes to fantasizing about a dream wedding, you can't judge a book by its gendered cover. For instance, there's me. The one time I was "engaged," I was 17 and perfectly happy when my boyfriend gave me a skateboard bearing as a ring. (The wedding planning essentially stopped there, as the relationship quickly fizzled.) The only other time I felt close to a proposal, I warned the guy not to buy me an engagement ring because I preferred a new laptop. 
We're each romantic in our own way!
All of which is to say that there are men out there who also go against the grain. On their wedding days, they don't want to just show up on time with clean underwear and their shirts tucked in. They want to be involved in every last fucking detail, dammit! Like this redditor, Dovah2600: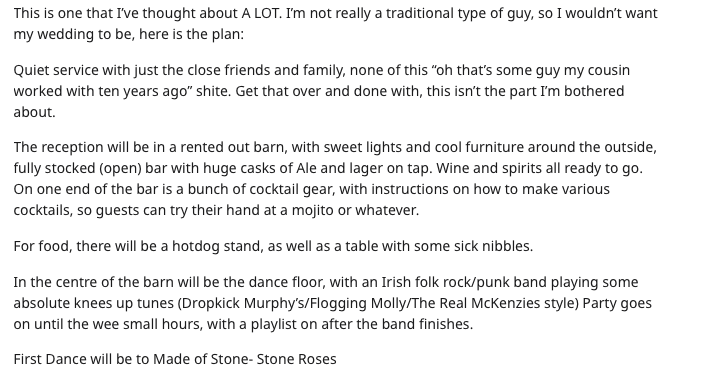 He had me at a hot-dog stand, but lost me with Dropkick Murphys.
I found several Reddit posts devoted to men outlining their dream weddings, and shit gets specific. You'll find everything from destination weddings on the beach, to one at Disneyland. Case in point:

Ben, a 45-year-old in Ohio, grew up in a big family and was constantly going to weddings as a child, which kick-started his obsession with planning his own. "I wanted a wedding in a church that was photogenic but not ornate," he tells me. "I wanted to wear a morning suit like from the British movies of the late 1980s. I wanted a DJ, not a band, unless it was a big band. I wanted appetizers that people couldn't resist. I wanted the dancing to go on all night. I wanted an afterparty at a hotel."
Luckily for him, his future bride-to-be was more than happy to let him take charge. He worked with a wedding planner and got married in a church surrounded by pine trees with big windows that had a gorgeous view of the forest. He wore the morning suit he'd dreamt about, and the caterer added poutine to the menu at his request.
Jon, a 43-year-old minister's son in the U.K., was also greatly influenced by all the weddings he attended as a kid (as well as his religious upbringing). A self-described "picky motherfucker," once he got engaged, Jon made it clear that he wanted in on the planning. "I chose the venue for the reception — it was the restaurant where we had our first real date — the food, the music/DJ and the attire. I also designed the layout and wrote the content for the website that we put up for people to go to for information. The invites and save the date cards were also my handiwork."
It did end up being a memorable experience, but not in the way Jon had expected: His fiancée eventually cancelled the wedding. And because Jon had been so involved in the day itself, it fell to him to do all the canceling. Shit!
A decidedly less sad story comes courtesy of Ethan, a 17-year-old in Oklahoma. He first became obsessed with the idea of a dream wedding after watching movies like Mamma Mia! and My Big Fat Greek Wedding, but the royal nuptials between Kate Middleton and Prince William were what really hooked him. He started wedding Pinterest boards and scoured wedding magazines with his sister to get ideas — especially for weddings in greenhouses.
An unintended side effect of his wedding obsession? Confidence in his sexuality. "Without me initially realizing it, it helped my parents become more comfortable with the fact that I'm gay," he tells me. "I'd always say I couldn't wait to marry the man of my dreams, which I think made it not an 'abnormal' idea to them." 
Of course, no article about men getting married is complete without the Wife Guy take. Not surprisingly, their dream weddings consist of lots of crying. "Crying as I see my beautiful bride walk down the aisle and the thought that she truly loves me and bared with me through thick and thin is something I fantasize about," redditor marcusara weeps. 
Meanwhile, Xcalibrated sobs (in fairness, controllably), "I fantasize about making my wife the happiest woman on her wedding day, turning her wedding fantasies into reality. Details about the day, those are hers, but what I fantasize about is seeing her happiest. I imagine tears rolling down her eyes because of how happy she is."
But you know what they say about best-laid plans… That is, Jon wasn't the only fella who had more of a nightmare than a dream, as Ben and his wife eventually divorced. That said, they did agree that they wouldn't have changed a thing about their special day. "My perspective these days is a little different, in that the commitment and the effort in the marriage is way more important than anything you do on the wedding day," he tells me, with hindsight now in his favor.
Very good point.
It also reminds me of my other wedding fantasy, truly the best thing about getting married: fulfilling my lifelong dream of being a divorcee. I'm starting my divorce party Pinterest board right now.