When I moved to L.A. in 2006 I was welcomed into an extended family of writers, comics, misfits, magicians and Harry Dean Stanton.
The patriarch of this family was veteran sitcom writer Jimmy Vallely, whose wife Maggie Rowe produced Sit 'n Spin at the Comedy Central Stage in Hollywood where I became a regular performer.
At the afterparty for one of those shows, I noticed a group of comics huddled around a man who appeared to be dead — sunken eyes, ashen face and a lit cigarette stuck between his lips.
The dad from Pretty in Pink hasn't aged well, I thought.
Also known as Travis Henderson from Paris, Texas, Carl Rodd from Twin Peaksand Roman Grant from Big Love, Harry Dean Stanton first met Jim at the Hollywood Improv in 1988. "He liked me because he knew I could set him up," Jimmy remembers.
Harry always looked like the oldest guy in the room — by a lot. One night Jimmy introduced him to the rest of us as "The Oldest Man in the World," and Harry didn't miss a beat.
Jimmy (holding fake microphone): "So, what about George Washington… Nice guy?"
Harry: Wonderful, wonderful. Horrible breath.
Uproarious laughter.
Jimmy: What did you think of Caesar?
Harry: Snotty.
Jimmy: How about Plato?
Harry: Overrated.
"Harry Dean Stanton was who you wanted that guy to be: Harry Dean Stanton," Jimmy says. "He was Hollywood royalty, but he didn't give a shit. He was offered work every single day of his life; he could've been much richer. But work was just something to supply money for cigarettes and alcohol."
Harry liked Jimmy's parties because he could sing and smoke cigarettes at the same time, which I also considered a top skill of mine. So we often found ourselves alone, just out of earshot of the party. Harry loved harmonizing and liked that I could take the high part. "I'm a top," I'd joke.
He'd never laugh.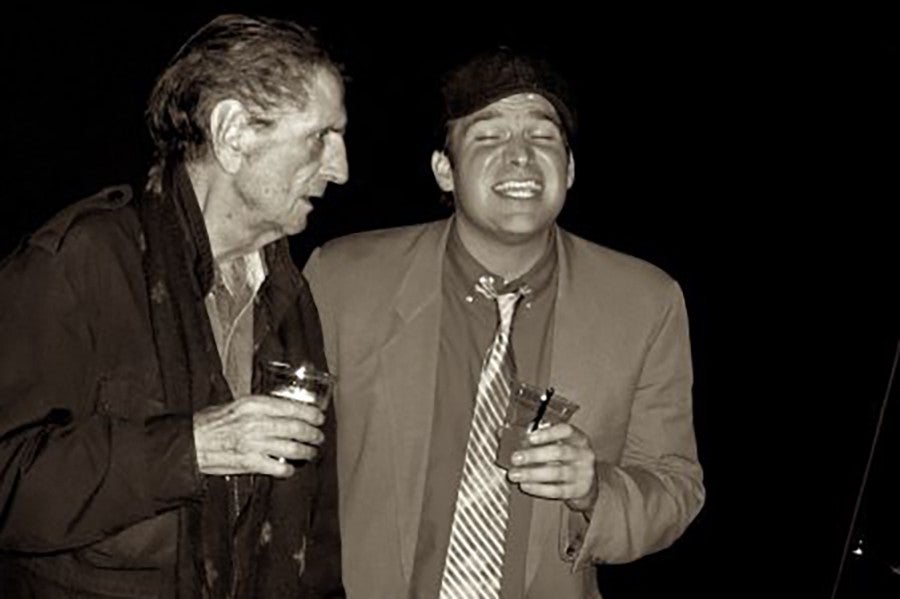 Instead, Harry taught me traditional Mexican country songs between drags.
"He was most comfortable when singing those songs," Jimmy says.
Presumably Harry only knew one song on the guitar, Harry Nilsson's "Everybody's Talkin'."
"I remember the night at Jimmy and Maggie's when Harry Dean sang this song and then explained what it was really about," says Jonathan Schmock, Jimmy's former comedy partner.
"This is a heroin song by the way," Harry would say between verses. "It was written about heroin, written on heroin… and probably performed on heroin, too!"
"Harry Dean Stanton never should've been an actor, and that's why he was such a good actor," Jimmy says. "When I look at actors now, I think, Where are the men? These are actors pretending to be men. Sean Penn thought Harry was a god. All the actors did. Because they were all trying to be cool. Harry didn't have to try."