György Szűcs wants you to draw your dick for him — and anyone else you'd typically send a picture of it to.
The 28-year-old Hungarian is the CEO and founder of CREATIVE ROBOT, an international digital studio made up of designers from all over the world working together to build next-level shit online — from 3D designs to Android games to sophisticated automated scripts to help organizations gain Instagram followers.
But all Szűcs really wants to talk about this week is his new Dick Code.
It's essentially a deconstructed artist's rendering of your cock and balls, created by selecting a dozen or so illustrations that most accurately represent what you're working with. The inspiration came from György's apprehension about sending pictures of his own dick to strangers online as well as his frustration that the photos and descriptions he received in return — (i.e., 6", thick, cut) — weren't telling him what he really wanted to know about their dicks (i.e., Were they adequately hairy? How many times did they cum? For how long?)

Within 48 hours of his telling the world that they could create a Dick Code earlier this week, 190,000 people had done so. "There are 1,000 people making Dick Codes as we speak!" he tells me via Skype. "It's super fucking exciting."
I — and the other gay men on the MEL staff — showed up to work Thursday talking about Dick Code, having learned about it from friends on Facebook. So I tracked György down to share some illustrations, explain why he felt the need to reinvent the dick pic in the first place and give me a sense of what a Vagina Code might look like.

What's wrong with the regular ol' dick pic?
I'm a shy person and don't like to ask about these things. When I send a dick pic to a stranger, I always worry if it's going to end up on Tumblr. Dick Code is free, anonymous and way more descriptive.
What "kinky" stuff do you want to know that you can't learn from a dick pic?
I'm interested in the cumming part — how it shoots, how many times, the duration — I like it when someone has abilities in this way. I also really like if someone is hairy down there. It's something most people consider weird, but I go crazy for it.
Explain your slogan: "Size is not everything"
Size is important, of course. But there is so much more to a dick than size.
Like what?
Like how the skin looks on the dick when it's fully erect, because it varies greatly from guy to guy. I intentionally didn't give a description because I want people to use their minds and select the image that most resembled their dick.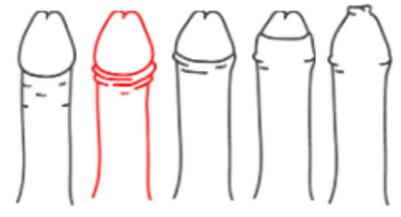 What are some of the other categories you ask about?
The shape of the shaft; the horizontal and vertical curve when erect and the severity of the curve; how veiny the dick is; the size and shape of the head and how it compares to the shaft — is it something you can hold onto or hardly even notice?; size of the balls; the power, intensity and speed of the ejaculation; how many times you squirt when cumming; the duration of time from the first squirt to the last squirt; the thickness of the squirt; and the shooting style — one long rope, or multiple small squirts.
What are some consistent findings from the first 200,000 Dick Codes?Fifteen centimeters (6 inches) is most common length measurement and, when divided by pi, also the most common diameter measurement. All Brazilians shave their dicks while guys from the U.S. do not. People don't have circumcised penises in Latin America; in the U.S., most do.

After you've made all your selections, what happens?
A code is created that you can send to someone. When they click on the code, a page opens that says: "This is my dick." All of your selections are marked in red.
What's the feedback been like?
I never thought it could be so awesome. Lots of people are asking for a version for boobs and vaginas. I think I may have issues with that, but I'll ask for help. The feedback I've gotten from so many people in 48 hours makes me believe this could be a great tool for people who are dating and don't want to share intimate photos of their genitalia but are still into being a little kinky.
What's next for the Dick Code?
I would hope that maybe Tinder, Grindr and Manhunt would look at this and realize the value it could bring to their users, and maybe add a field on their platforms where you can link to your dick code.
What will Dick Code 2.0 look like?
I will definitely do Vagina Code and Boob Code. I just used my mind and experience to come up with these selections — people have complained that there aren't enough size options and they aren't specific enough. So I will expand Dick Code to include more specs. Personally, I'm not satisfied with the number of options of hairiness at the moment.
I count 13 hairiness options.
Exactly, there need to be many more. There are so many different types of body and pubic hair, from length to how scattered it is, to thickness, and color. As I said, I go crazy for it because it's my thing — and it might be someone else's.
What about the rest of the body?
Yes. I can include legs and abs — maybe call it "Body Code." But this can be used to describe anything that involves communicating with pictures to describe things that are difficult to talk about. Like emotions. I'm pretty sure 2.0 will also include sexual games and positions which people are normally shy about it. For example one would be definitely about cumming on someone's face. I'm blushing talking about this, which is why I created Dick Code in the first place.