Jonathan Kramer is a video editor who's worked on The Eric Andre Show and a bevy of other TV programs, but he also moonlights as a committed sandwich connoisseur in the City of Angels, biting into subs across the county in a relentless search for modestly priced deliciousness. 
Last month, Kramer published the preliminary findings for a critical hypothesis: Is it possible to find truly sensational sandwiches under $10 in L.A., a city stereotyped as vain, expensive and clout-obsessed? Was a supposed haven for $20 avocado toast and flavor-of-the-day Instagram desserts actually a sanctuary for good sandwich deals? 
The answer, apparently, is a resounding yes, which leads us to Kramer's conclusion for the study: "Fuck a $15 sandwich." The report seemed to touch a nerve, racking up more than 125,000 likes on Twitter. "I mean, there are definitely sandwiches out there that are worth $15," Kramer says. "Langer's pastrami sandwich has, like, a pound of beef on it. That should cost around $20. It would be absurd and suspect otherwise. But I've always liked the humble deli sandwich, just cold cuts in bread. I wish there were sandwich shops on every corner. I guess it's my jealousy of the New York bodega." 
Trendy-looking sandwich shops with upscale ingredients and hefty price tags have cropped up across L.A. in recent years ("you know, like a place with a $15 egg sandwich"), but Kramer's list affirms that the soul of this vast city's dining culture is rooted in proud small businesses, often with familial ties to their communities.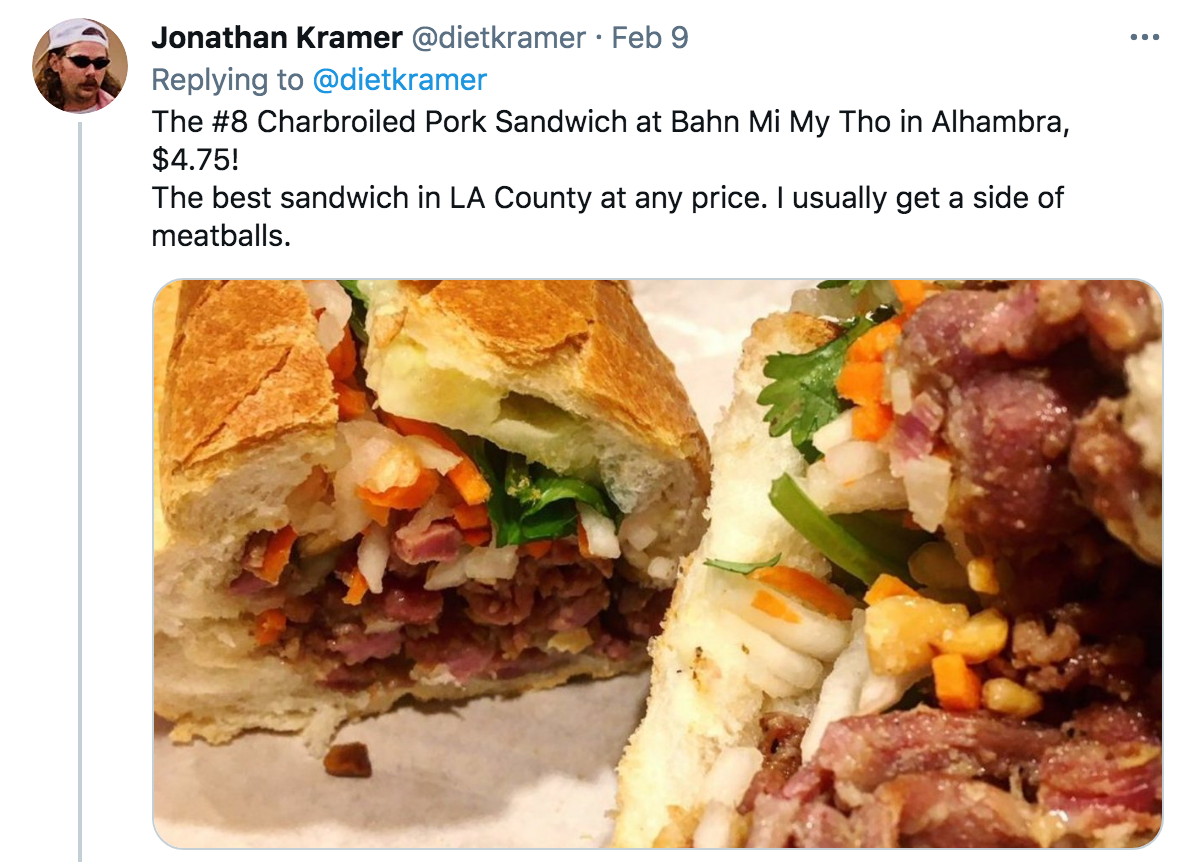 I recently reached out to Kramer to dissect his observations and clarify some of the ground rules for great sandwich-hunting, regardless of which major city you call home. What we discerned were five key points… 
1) Look Beyond the Buzzy City Center 
In 2021, you can find sensational sandwiches pretty much anywhere, and L.A. is no exception. Even tourist-jammed destinations like Hollywood and Beverly Hills have good deals if you have the patience to investigate. But generally speaking, Kramer has had his best luck on the outskirts of L.A. proper, in the suburbs of the San Fernando and San Gabriel valleys, where cheaper real estate often means more affordable places to eat. "There are great places everywhere. Sometimes, it's just that they're in nooks and crannies," Kramer notes.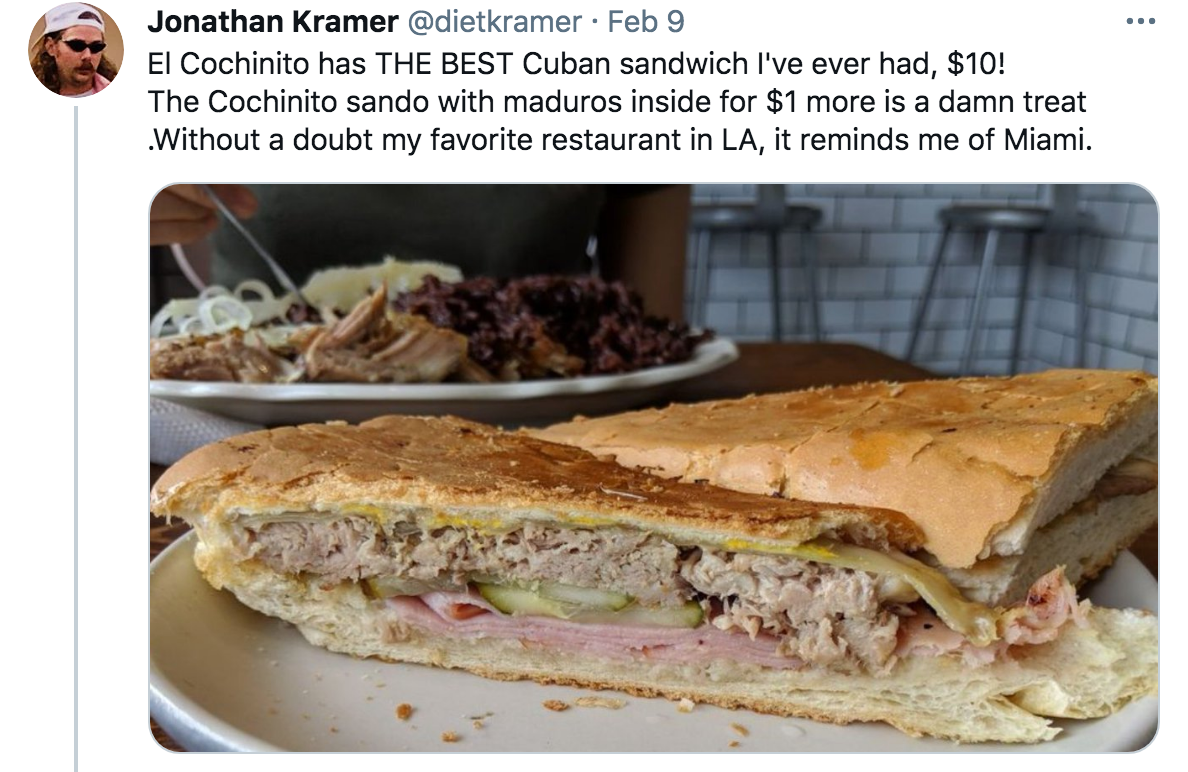 2) Screw Yelp — Just Explore 
By design, Yelp and other food-rating apps use algorithms that boost trending, popular options while obscuring hidden gems that receive fewer comments. That's why Kramer's list is almost entirely composed of places he found through word-of-mouth or just by wandering around. "I remember there was a long line at Roma Market, which makes great sandwiches, after it got written up in the L.A. Times," he tells me. "I didn't want to wait in line, so I decided to drive around until I spotted something else in Pasadena. And that's how I found Connal's, which is also on my list." 
3) Supermarket Subs Are Underrated 
I had a bit of a sandwich revelation myself during summer last year, when my car broke down and I vowed to not use exploitative delivery apps amid a rapidly escalating pandemic. I just ended up buying subs at my local supermarket, and lo and behold — they were some of the best sandwiches I could get at that price in that neighborhood. I had no clue why I had slept on the $5 supermarket sub. I vow to never do so again. 
"I'm from Miami, where the Publix sub is incredibly popular. And it makes sense, given that it's a grocery store with wholesale buying power to get prices on ingredients down," he notes. "In my experience, they're usually the simplest little perfect sandwich. Nothing crazy. Nothing innovative. Just the sub you want."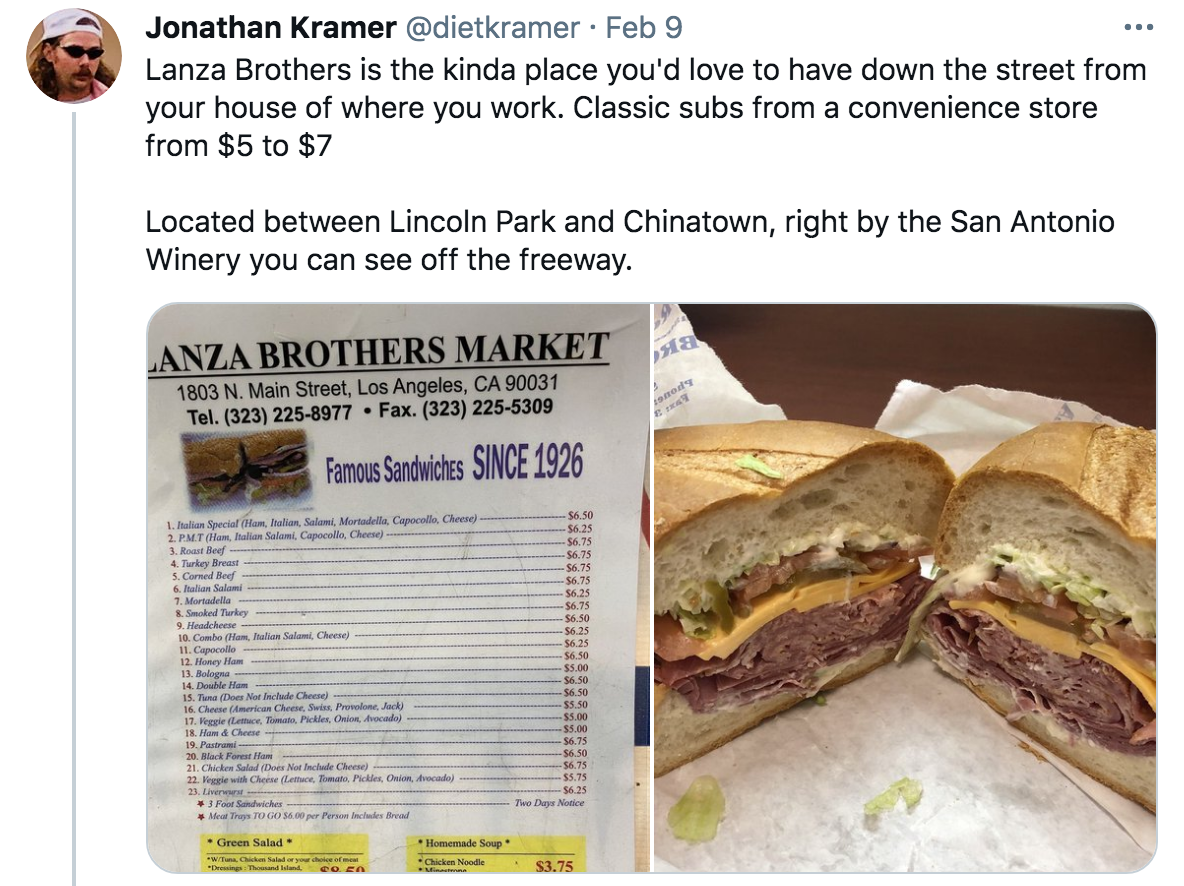 4) It's True: Sandwiches Always Taste Better When They're Made by Someone Else 
"I eat a lot of sandwiches at home, and this is actually a thought that prompted my list," Kramer says. "You can recreate the best sandwich you've ever had, and it won't be as good as if someone else made it for you. It's automatic. So my girlfriend and I make them for each other. I also have another friend, we basically make each other sandwiches regularly. Which is cute, I guess, but also just a good decision." 
5) Humble Vibes Often Mean a Hidden Gem
As someone who grew up in a family that owned and ran restaurants, I feel strongly that establishments with a hole-in-the-wall, almost quaint feel can be the most pleasantly surprising. The common thread between all Kramer's favorite sandwiches, he says, is that they're made by people who have maintained a presence in their neighborhoods and stay humble for it. 
"Most of these places don't seem to be trying to chase trends or find the fastest way to expand locations or anything like that," he says. "I'd be willing to bet that most are just trying to provide something positive and delicious for the community around them. And that's a beautiful thing."