Welcome to Misleading Men, a regular feature where we look back at the actors who ruled Hollywood for one brief shining moment.
Dear god, he still looks like a kid. 
If you watched any of Josh Gad's recent Ferris Bueller's Day Off reunion, that might have been your main takeaway after looking at Matthew Broderick. At 58, he's no longer the whippersnapper who played the main character in that beloved 1980s comedy. (Although, it's funny to think about the fact that he was actually 24 when the film came out — fairly old to be a teenager.) But the boyishness he had then he still possesses. A lot goes into a successful acting career — talent, determination, a willingness to evolve — but luck's pretty important, too. And for Broderick, the element of luck has been his eternal babyface. Watching him, and the characters he plays, get older has been fascinating and poignant. What happens when Ferris Bueller grows up? 
Broderick was born to be an actor. His parents were actors. (His mom, Patricia, was also a writer and painter.) And he had success young, landing on Broadway just as he turned 21. When he won the Tony in 1983 for Best Featured Actor in a Play for Brighton Beach Memoirs, he was the youngest man to ever take home the prize. Thirty-seven years later, he still is.
Outside of Michael J. Fox, Broderick was maybe the 1980s' best young male movie actor — and by that, I mean able to believably play young men. In a world of Porky's, Revenge of the Nerds and Real Genius, there were plenty of films starring (and geared to) immature dudes. But Broderick had a presence and depth many of his peers didn't, which served him well when he made the move from theater to Hollywood. In his first big hit, 1983's WarGames, he was a very 1980s-ish smart-ass teen hacker who unwittingly breaks into America's national defense system while playing what he thinks is a computer game called Global Thermonuclear War. Like a high-octane Dr. Strangelove with high school kids, WarGames is a very silly Cold War thriller, but Broderick's fresh-faced enthusiasm made it awfully appealing.
Between WarGames and Brighton Beach Memoirs, he had a pretty amazing 1983, and yet when he talked to The Washington Post around that time, he was the furthest thing from feeling himself. "All this time, you keep thinking, 'If I could just get that job, things would be fine,'" he said. "And then you get the job and it's still not fine. I used to wonder what it would be like to see my name on a billboard. I couldn't even imagine something like that. Then you see it and well, it just makes billboards not as special as they used to be. It's weird."
His nonchalance about fame was probably partly because his father James had died in 1982, which he acknowledged in his Tony speech. But it also fed into the babyface innocence he's always projected — an unassuming, no-big-deal sweetness that made him seem adorable, as opposed to an arrogant up-and-comer. He was a kid you wanted to take care of. In that same Washington Post interview, Broderick mentioned how strange some of his fan mail was: "I've begun to get letters from girls 18 or so, who think I'm 15, and want to know if they and their mothers can take me out to lunch."
But even at that age, Broderick understood the importance of pushing against audience expectations. How else to explain Ferris Bueller's Day Off and its enduring appeal more than 30 years after its release? Unlike a Rebel Without a Cause, it's a suburban teen-rebel comedy with no obvious grand generational statement — no deeper societal psychic scar it's trying to examine. Broderick, however, understood that the movie wasn't fluff, either. While the story concerns Ferris playing hooky with his girlfriend and best buddy, he plays him as a teen who already has figured out that life is going to be filled with crushing disappointment, so you might as well enjoy it when you can.
In that sense, Ferris Bueller is actually fairly existential — it's about the buoyancy of youth recognizing that those carefree days can't last. Broderick's co-star Jeffrey Jones summed up the movie's appeal as well as anyone, saying in 1998, "What's amazing about Ferris Bueller is that we're asked to, and do, sympathize with a kid whose only complaint in life is that his sister got a car for her birthday and he got a computer." Ferris is terribly entitled — like a lot of 1980s movie teens, he really should check his privilege — but Broderick brought innocence, charm and just a touch of melancholy to the character's scheming and snarkiness. (Plus, thanks to Brighton Beach Memoirs and Biloxi Blues, another Neil Simon play he did right afterward, Broderick had gotten used to playing characters who directly address the audience, building a conspiratorial rapport with the viewer.) You'd probably hate Ferris if he were your kid, but you also sorta understood him.
Being deep into his 20s probably helped Broderick, too: He had the maturity to give Ferris layers, yet looked young enough that you could buy him in the role. (It's worth pointing out that Fox was also 24 when his signature teen film, Back to the Future, opened.) And the success of Ferris Bueller cemented Broderick's position as a rising young talent — which made the next chapter of his life all the more upsetting.
In August 1987, he and his Ferris Bueller co-star Jennifer Grey were driving in Enniskillen, Ireland, when Broderick hit another car, killing both occupants, Margaret Doherty and Anna Gallagher, a mother and daughter. The AP story rather tactlessly ran with the headline "Matthew Broderick Injured in Car Crash," not even bothering to mention the two fatalities. Broderick had to go to the hospital because of a broken right leg, although according to a member of the local fire brigade that pulled him from the wreckage, "His main concern was for the people in the other car. He kept saying 'Did I hurt them? Did I hurt them?'"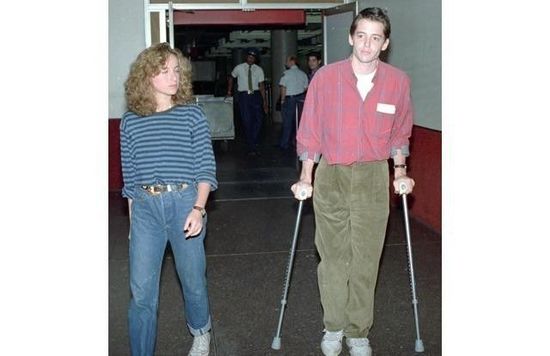 Broderick always claimed he couldn't remember what had happened. "I don't remember the day," he said in 1987. "I don't remember even getting up in the morning. I don't remember making my bed. What I first remember is waking up in the hospital, with a very strange feeling going on in my leg." The actor hadn't been drinking, but he had veered onto the wrong side of the road, causing the crash. Ultimately, he got off with a $175 fine, a paltry sum that angered the victims' family. (Martin Doherty, brother to Anna and son of Margaret, said in 2003 that he'd forgiven the actor, although they've never spoken, adding, "Of course you wonder if he got off lightly because of who he was. He got the same punishment he would have got if he'd run over cattle.")
It was hard to square the image of the squeaky-clean kid with this tragedy, which made him look like just another callow, entitled Hollywood brat. At the time, Broderick's attorney simply said in court, "It is a tragic situation and no one will ever know exactly what happened. I am instructed to indicate that Broderick will always feel extremely upset." Fatal accidents happen all the time, even to the very famous, but you have to imagine that if a young star did something similar today, it would be much bigger news. And yet, in the late 1980s, Broderick mostly just moved forward, although the crash haunted him. "It was extremely difficult coming to grips with what happened," he said in 2002, "but in time I felt better about that terrible experience. Therapy helped."
I wouldn't presume to know how an unimaginable tragedy like killing two people would affect a person — and it would be gross to suggest any theories of how it fed into his acting. But in the years after, Broderick entered that awkward phase in which he tried to transition from teen to adult, not always successfully. Slapping on facial hair for the Oscar-winning Civil War film Glory did nothing to give him the proper heft to portray a Union general leading a Black regiment. He mostly looked like Ferris Bueller playing dress-up, although, ironically, Glory wouldn't have been made if not for Broderick's star power. (As much as critics often rightly rip on white-savior films like Glory, the fact is white main characters, played by white stars, are often what get those stories bankrolled in the first place.)
From there, the 1990s were a period in which Broderick's babyface largely hurt him. He was often ostensibly the main character, but his co-stars (whether it was Marlon Brando in The Freshman or Jim Carrey in The Cable Guy) got the better roles. He resorted to playing hapless or put-upon straight men, never more disastrously than in 1998's Godzilla. As vibrant as he was onscreen as a young guy, in his 30s he risked becoming a staid regular dude — normcore before the term existed. Indicative of this awkward period — still sorta young, not quite grownup — he voiced the adult Simba in The Lion King and during the promotion of the film he looked like this:
Thankfully, Broderick started doing better work once he stopped pursuing star vehicles. (The last time he tried was 1999's Inspector Gadget, which was so abysmal that it's just as well if you don't remember it.) Instead, he weaponized his boyishness, playing well-meaning putzes whose potential had come to nothing. Best of these was the defeated Jim McAllister of Election, who wants to think of himself as a great teacher and role model to his high school students. But his desire to sabotage Tracy Flick's (Reese Witherspoon) chances at becoming student body president reveals what a bitter, petty man he really is.
Upon Election's release, many noted that it was ironic that Broderick, still probably best known for Ferris Bueller, was cast as a middle-aged teacher — the sort of foil Ferris would have tormented. But when I asked Election director Alexander Payne about that last year, he said he cast Broderick for other reasons. "He just had the right qualities, the ones I had wanted in the first place, and he was game for anything," Payne remarked. "The studio had actually forced me to approach Tom Hanks and Tom Cruise first, but I was fairly sure they would pass, and they did. Plus, he's lovely to work with, shares a large degree of [cowriter] Jim [Taylor] and my sense of humor, and gave, I thought, a very convincing performance — realistic but comic." Boyish promise ground down by life and disappointment — Jim McAllister was Ferris Bueller as a disillusioned, sad-sack adult, and Broderick was definitely in on the wry joke, his every hangdog expression accented by a sly wink. 
Election was the actor's final major starring role in a film, which by that point had taken a backseat to his first love, Broadway. In the mid-1990s, he'd won his second Tony for How to Succeed in Business Without Really Trying, and in the early 2000s, he was part of his biggest theater success alongside Nathan Lane in The Producers. Broderick was Leo Bloom, another straight man, desperately trying to keep up with Lane's volcanic Max Bialystock. When Lane won the Tony, beating out Broderick, he insisted on Broderick joining him on stage — although Lane had a great quip, handing the award to his co-star and saying with faux parental patronizing, "You can hold this, and later, if you're good, we'll get ice cream." The crowd roared: Broderick was 39, and he still looked just like a kid.
From there, Broderick seemed content to be one of those actors who everybody likes — the good-sport straight man both on and off screen. He was pleased to let his wife, Sarah Jessica Parker, be the more famous one in their marriage. (This was the height of Sex and the City: "People are consistently telling me how much they like my wife," he told The Guardian. "That's my cross to bear. You get, 'Hey, Ferris, I love your wife.' At least they remember something.") On film, he was quite good in supporting roles in two Kenneth Lonergan films, You Can Count on Me and Margaret, playing miserable, past-their-prime nobodies. And these days, when he shows up in things — like taking on a small role in, say, Better Things — we're just happy to have him around. His very presence is cheering.
Partly, it's because of that babyface he still has. The rest of us are being wizened by time, especially during this damn pandemic, but his boyish features convey an enduringly sunny optimism about the world. The characters he's played since Ferris are often losers, but we don't associate their bitterness with the man who plays them. During that Josh Gad reunion, it was comforting to see Matthew Broderick still young and vibrant. He's got the easy smile of a guy quite comfortable with his legacy. He's Ferris, but he's more than that. 
"I've been famous for almost more of my life than I haven't been," he said way back in 2001 about his celebrity. "It's part of my nature, which is eerie. Luckily, I've never been crazy big, where people can't go out and need bodyguards. It's a complicated thing and I enjoy a lot of it." 
No wonder he looks so good.