Before everyone with even a passing interest in pro football started whining about referees and blown pass-interference calls, the prevailing concern for last weekend's conference championship games was weather. In particular, the temperature for the AFC Championship Game between the Kansas City Chiefs and the New England Patriots was at one point forecast for "10 degrees to well below zero, potentially making it the coldest game in Arrowhead Stadium [the Chiefs home field] history." As a proud, longtime resident of L.A., this sounded obscene to me and immediately made me picture quarterbacks dropping back to pass and various limbs falling off from frostbite.
In fairness, it wasn't that crazy of a thought. Numerous pundits wondered how well second-year Chiefs quarterback Patrick Mahomes II would hold up in inclement weather, especially under the considerable pressure of playing in a conference championship game against the Patriots and Tom Brady, who no one doubted could handle himself in the cold, as he's done it numerous times in his legendary career.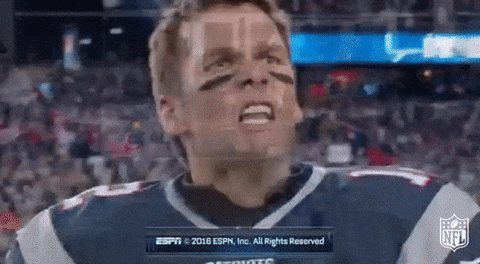 Standing up to the elements is a badge of honor for athletes in a very peculiar way. Fans and journalists alike treat those who perform in below-zero conditions (primarily the men who don helmets and shoulder pads) like they're rugged survivalists in a Hemingway novel, or worse yet, contestants on Naked and Afraid. Nevermind the heavy coats, hand-warmers and other creature comforts NFL players enjoy. BECAUSE BY GOD — IT'S COLD/WINDY/SNOWING/SLEETING/HAILING.
The coldest game in NFL history is colloquially referred to as the "Ice Bowl" — the 1967 NFL Championship Game between the Dallas Cowboys and Green Bay Packers at Lambeau Field in Wisconsin. The official attendance for the game was 50,861. That means 50,861 human beings willingly paid money to sit outside when the temperature at kickoff was minus 13 degrees, with a windchill of minus 36 degrees. I'm not being hyperbolic when I say that I can't even begin to fathom what that must feel like other than to compare it to living inside Frosty the Snowman's rectum.
Making matters worse (and much, much, much more frigid), the heating system at Lambeau Field malfunctioned that day and moisture that had accumulated underneath the tarp covering the grass turned to ice. Some members of the marching band that was scheduled to perform caught hypothermia and had to go to the hospital. Others saw their instruments freeze. And yet, the two teams had to play a game of football — one that ended up being considered among the greatest of all-time, a 21-17 Packers victory that added to the legends of Packers quarterback Bart Starr and coach Vince Lombardi.
The most recent example of an extreme weather game was the January 2016 Wild Card matchup between the Seattle Seahawks and Minnesota Vikings. The temperature at game time was minus 6 degrees. Seattle won 10-9, with Vikings placekicker Blair Walsh missing a 27-yard field goal with 22 seconds remaining that would have won the game for Minnesota. A similar disaster recently befell Chicago Bears kicker Cody Parkey when he missed a game-winning 43-yard field goal in 39-degree weather against the Eagles in this year's playoffs. Obviously there's a difference between 39 degrees and minus 6, but regardless, wintery weather, wind and other factors can complicate even the simplest athletic feat.
That's part of what makes shitty weather games so compelling from a viewership standpoint. They render the contest in front of you far more unpredictable — and therefore, more compelling. Anything and everything could go wrong. When it doesn't, and the quality of play is as high as it was during the Ice Bowl, it's a miracle. The players have tamed the untamable Mother Nature; they've somehow survived a frigid mini-apocalypse, while still beating the crap out of each other.
Even a single great moment suffices. Basically, when Brady, Mahomes or Starr throws a perfect spiral in temperatures that would make the average human being swell up like a full diaper and turn as red as tomato soup, it's a legitimate feat of athleticism and toughness. (If only a football player could horse-collar tackle climate change the same way they seem to persevere in the face of unlivable conditions.)
Similarly, baseball is a sport where players are at the whim of the elements. Maybe that's why the NBA has, until recently, been seen more as a niche sport than the forefront of the public's imagination. There are no elements. No gambler is checking the 10-day forecast before placing a bet on a Golden State Warriors game. Every NBA team plays indoors, in identical conditions. There's no communing with nature or suffering the heat or the cold.
Not to mention, as live spectators, we can say we experienced the weather with the players. I know I can remember Dodgers playoff games based on the temperature. Game One of the 2017 World Series in L.A., for example, was the hottest on record. On the flip side, I also know the exact inning I started getting cold (though admittedly, not Ice Bowl cold) during the marathon 18 innings that made up Game Three of last year's World Series (the 8th). We might not actually all be in it together, but it definitely feels like it.
Then there's the fate we cannot control. Who knows if Greg Zuerlein would have made the 57-yard field goal that won the NFC Championship for the Rams if the game had been played outside instead of inside the Superdome in New Orleans. And maybe Parkey would have converted his field goal if the Bears played indoors. The sheer randomness is intriguing and maddening at the same time.
At its core, though, manhood is what's really at stake. Any time I wear a heavy coat in the winter in L.A., I get sideyed glances: "What's his problem? It's not that cold." But it is for me, and maybe that's what makes me weak; I'd prefer to be warm rather than cold. Then again, that's why athletes exist in the first place. We pay them to be tough for us. I don't have the time or inclination to pull myself up by my bootstraps and shovel snow (if I'd ever seen enough of it in the first place), but dammit, if I don't get a thrill from seeing someone else suffer on my behalf. Because we live vicariously through our favorite athletes anyway, why not revel in our avatars grinding it out in hellish conditions?
Which brings me to the Super Bowl. That the biggest game of the year is almost always held in either a warm weather climate or a dome robs the viewer of the thrill of seeing their heroes suffer before their greatest triumph. I propose then that an upcoming Super Bowl be played on an ice shelf in Antarctica. Make our boys really struggle for once, while simultaneously drawing attention to our ever-worsening climate crisis. If a running back like Todd Gurley falls through an ice crack, maybe we'd start to look at changing our environmental policy.
Or at the very least, we'd applaud his bravery.