When the internet became the presumptive choice for wasting time at work, a portal opened between the rule-bound realm of the office and the sheer anarchy of the collective digital id. We had to set up some guardrails if anyone wanted a shot at holding onto their job while checking their favorite message boards and blogs. And so developed the initialism "NSFW," which stands for "not safe for work," an instantly recognizable warning to not read or click on something until you're off the clock. Of course, some people can never be dissuaded from downloading porn to their company laptop, but the rest of us tended to rely on this etiquette, to good effect.
The letters of the moment, however, are not NSFW but "WFH," for "working from home." As in, what many white-collar employees have started doing in hopes of limiting the transmission of Covid-19. MEL is no exception: I'm writing this at my own dining table, having put pants on just to convince myself that it's a weekday. (I still don't quite believe it.) Previously, I wrote about how horny we'd all become under quarantine conditions, but even I, in my rank depravity, had not foreseen the collision of work life and sex life that's the natural result of bringing the old 9-to-5 to the couch where you regularly masturbate.
Chaos!
You hardly need to be shacked up with a partner to sense the titillation — in fact, you're probably more turned on if you've been on your own. You might even be ready to make a play for that celebrity crush.
What's the harm, right?
There's a terrifying plague outside, and the world may never be the same. Better to have Emily Ratajkowski know how you feel than sulk around the apartment. There will never be a better time to shoot your shot. The exes have already slid in with "thinking about you" and apologies and some nostalgia for the dead relationship; now you can focus on the next romance. It makes no difference if your pandemic booty call goes unanswered — it's not like they could come over anyway.
You're allowed to be randy on main as well, as I've long advocated, simply because everyone else is already there: We've entered a kind of permanent "after dark," a time and place outside the boundaries that ordinarily separate the professional self from the private one. At any given moment in the past decade, many Americans were earning a paycheck from the comfort of their home while idly playing with their junk, but never have this many gotten the same and simultaneous opportunity to keep porn tabs open alongside the spreadsheet they need to file after lunch. "NSFW" as a concept is just… over.        
Pornhub, a frighteningly reliable barometer of the cultural weather and diligent data collector besides, has confirmed our newfound freedoms: Worldwide, their traffic was up 11.6 percent over the daily average on March 17th, just a couple days into widespread shutdowns in the U.S. Each localized outbreak, from Australia to France, has corresponded with a spike in activity on the site from users in the affected region. When you get tired of watching your favorite clips, it's time to turn to the cam models and OnlyFans accounts, an entire galaxy of sex workers who ply the trade at a distance from their customers.
If you can't afford this indulgence, maybe your friends are slutty enough to make isolation more interesting. For the past few years, I've made it a tradition to ask my Twitter followers for nudes on the occasion of my birthday, and I usually get half a dozen photos. This week, I tried it again and received my greatest haul to date, perhaps four times the usual offerings. All this from daring to thirst in every direction at 10 a.m.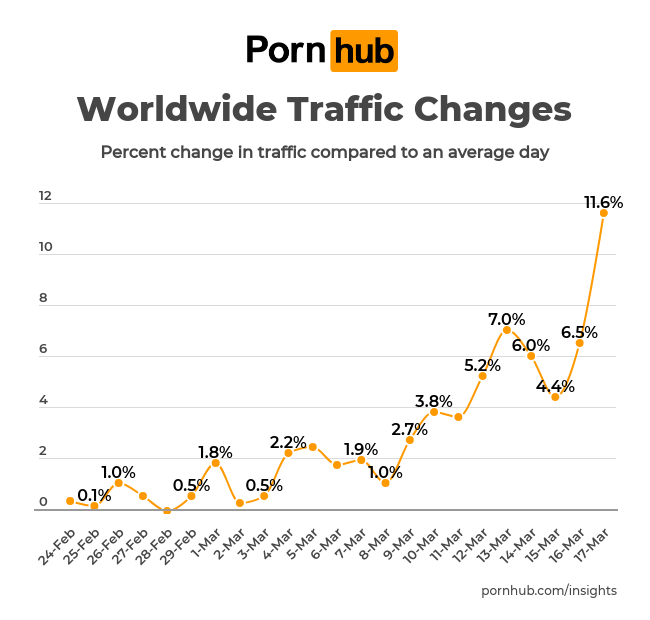 The question, as always, is how much further this might go. If crowded commutes, face-to-face interaction at work and ritualized social gatherings are what instill the norm of politely muted lust, could a long separation dissolve those barriers? It's difficult to imagine what the other side of this phenomenon looks like, but it's possible that we'll meet each other again after months of brazenly filthy exchange, with no way of rewinding to the platonic state. At the very least, we may find that our career mindset no longer registers the difference between "SFW" and "NSFW" content, which form a unified plane when the only officemate spying on your screen is your cat.
I guess what I'm saying is, if you're in human resources, it could be a rough reentry indeed.