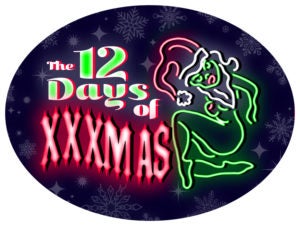 This year, we're swapping out the typical 12 days of Christmas for something even better: 12 days of sex workers who should absolutely be on your radar. Whether they're breaking new ground on OnlyFans, using their platform to call attention to issues like racism and immigration or shattering our ideas of who's "allowed" to make porn, sex workers are both reimagining what sex work can be and changing the world — one swingin', phalloplastic dick at a time.
Over the past couple of weeks, we've introduced you to a handful of talented, creative and ground-breaking sex workers through our festive holiday series, 12 Days of XXXMas. We started off by meeting Roshaante Anderson, a trans, intersex model whose revealing and educational OnlyFans channel is pioneering representation for trans guys in the adult world. From there, we took a swing around the pole with Instagram's most absurd, Cronenberg-esque strip club NAOMIDROME before cozying up to The Cock Destroyers, hosts of the first-ever SFW program about sex workers on TV. Saint Nick was nowhere in sight, but Patron Saint of male bisexuality Wolf Hudson was, and mercifully, there was neither a partridge nor a pear tree in sight. 
But instead of stopping there, we thought we'd keep the spotlight shining by doing the most Christmas-y thing of all: paying it forward. We asked some of the sex workers featured in the series to recommend some of their favorite OnlyFans creators, amateur pornographers and activists, and we compiled the results below for your viewing/paying/subscribing pleasure. 
Merry XXXMas to all, and here's to making the holiday season more naughty than nice!
Emily Whittemore, Mastermind Behind the Digital Bikini Bar NAOMIDROME
Daphne Von Rey: Von Rey is a trans sex worker of color who founded OtherWomxn, a performance collective of trans and cis ally dancers, and Jolene, L.A.'s first and only trans-inclusive strip club night. She also volunteers for the L.A. chapter of the Sex Worker's Outreach Project and other organizations that help sex workers. 
OnyxBlack: Onyx is a dancer who runs the Onyx420Show, a Black-owned virtual weed DJ and dancing show where she smokes weed, talks, plays sexy games and dances. She has also organized charity drives for the city of Compton during a water shortage this year.
Scarlett Kapella: When the pandemic first hit, dancers and strippers were left with nowhere to perform. Kapella was one of the first to take things online with the Dirty Dayshift Revival show, a hybrid dance and variety show that's exceptionally fun. She takes pretty cool photos, too. 
Nicky Monet: Monet is a self-described "transgender mind-bender" who does burlesque, drag and has a highly entertaining OnlyFans page where she treats her audience to revealing photos and videos. Her work centers around raising awareness around trans rights and individuals, but when she takes off her activist hat, she also "loves long walks on the beach, world peace and loads and loads of CUM!"
Tyreece Nye: A Black non-binary dancer and sex worker from London, Nye recently won the coveted title of "Next Destroyer" on Slag Wars. During the show, they talked at length about overcoming fetishization and tokenism and are using their platform to call attention to the issues trans and non-binary sex workers of color face. They've also got an OnlyFans — and know how to use it. 
Cameron Smith and Levi Jed Murphy: Two-for-one special here — Smith and Murphy are boyfriends and OnlyFans sensations who make videos together (and with others) for an adoring audience. Made of nearly 100 percent silicone and tattoos, they use their bodies as canvases for creative expression and to play with the concepts of gender and relationships. 
Courtney Kocak, Comedian, Writer and OnlyFans model
Selena The Stripper: Selena is a non-binary sex worker who is the president of the stripper labor coalition Soldiers of Pole. They're an insanely talented dancer, but they also actively challenge consumers, civilians and the industry at large to do better by educating them about both sex and sex work. They're one of those rare people who you actually want to learn from (they're quite nice to look at, too). 
Antonia Crane: Crane is a writer and stripper who's been in the industry for decades and is also one of the leaders of Soldiers of Pole. Not only is she sexy, funny and talented (read her memoir Spent and her work on MEL), but she's always advocating for other dancers and sex workers by educating them about their rights and helping them tell their own stories.
Bree Essrig: Essrig is one of the funniest people on OnlyFans, and her content is playful and witty while still being really hot. She offers free access to her profile, and while you have to pay to unlock posts with nudity, it's a great way to get to know her and her humorous brand of content. 
Bubba Burls, Pornhub-Sweetheart-Turned-Fitness-King 
Caramelove: A BBW amateur pornstar who often makes hot lesbian videos with her friend MidnightEve. She's new to the industry but definitely worth a follow. 
Divine Sacrifice: Nonbinary pornstar with a definite vibe — they make videos of them doing all sorts of unconventional things such as humping pillows, fucking okra and pissing in their own jeans (with a whole lot of masturbation and dildo videos thrown in there, too). Expect the unexpected. 
Shitfuck69696969: They make 3D Skyrim porn with a lot of troll fucking. Need we say more?
John Lovely, OnlyFans model who makes porn with his str8 friends (and twin brother)
RobinIsGood: Robin makes really funny, low-fi and bro-y videos on OnlyFans with his other dubiously straight guy friends. In one video, he does squats while touching his balls to the ground. In another, he jumps around on a checkered carpet with a friend and shakes his ass. Come for the levity, stay for the weirdly hot sexual tension he has with his bros. 
Isla Summer: One of the most popular amateur pornstars on Pornhub, Summer and her boyfriend make authentic content that feels like you have a secret view into a real couple's relationship. There are romantic videos of them kissing, exhibitionistic outdoor romps and a truly admirable amount of deep-throat moments. Both Summer and her partner are super down-to-earth, which makes their porn feel approachable in a really refreshing way. 
Quinn Finite, OnlyFans model and object of the U.S. military's affection 
Jo Munroe: Otherwise known as @_tallassgirl on Twitter, Jo is, indeed, quite tall (5-foot-11, to be exact). But she's also adorably nerdy — catch her playing Cyberpunk on Twitch — and the erotic stories she offers on OnlyFans set her apart. Cheeky and creative, she feels like someone you'd actually want to get a beer with. 
Elise Kennedy: "Life isn't that serious," Kennedy writes in her OnlyFans bio, an apt foreshadowing of what subscribers are in for. Tattooed, brunette and Scottish, she peppers her nude content with the errant comedy sketch, because life is about more than jacking off — it's about jacking off while audibly chortling.