Pizza Hut has a dumb-looking roof as its trademark image. The Papa John's design barely exists — it's just the name of a racist guy who doesn't work there anymore. The Little Caesars mascot is okay… wait, no, he's terrifying. California Pizza Kitchen? I'm sorry, but nothing about a palm tree says "we serve up a superior pepperoni slice."
No, if you want pizza that comes with a decent logo, there's just one option: Domino's.
Look at that thing. Bold. American. Elegant. Absolutely nothing to do with pizza, but somehow that only makes it more magnetic. As they did back in the 1960s, when the chain first started out in Washtenaw County in Michigan, the domino's three dots represent the store's three original locations. Co-founder Tom Monaghan thought he could add another dot for each new pizzeria he opened, but by the late 1970s, there were more than 200, and today there are nearly 14,000. And so, over the course of the brand's history, the domino has come to speak for itself, with other elements (and even the word "pizza") falling off the logo.
We all know what it means: the best kind of shitty pizza.
But if you want to know what the logo would look like with thousands of dots, the superfans, franchisees and employees at r/dominos have got you covered.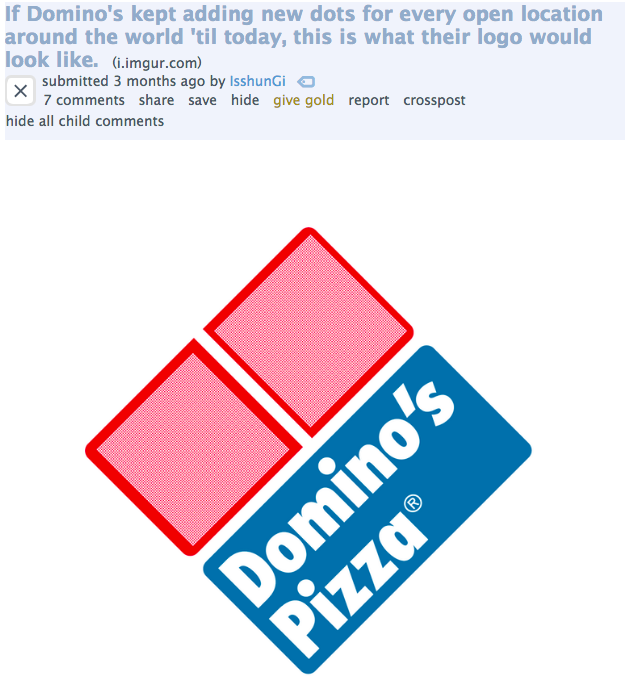 It's as if pizza-eaters have developed an affection for the pictograph itself, apart from the product. They see the sigil repeated in other, unlikely places. They get annoyed when the squares are slightly misaligned on the box. And they paint the Domino's emblem on silos for intercontinental ballistic missiles, underscoring an ability to deliver nuclear hellfire as easily and speedily as a stoner brings you a large pie, extra cheese.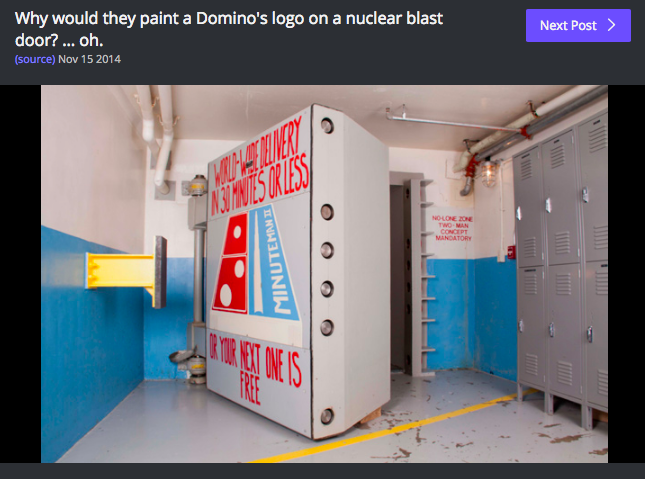 That "30 minutes or it's free" guarantee didn't last — lawsuits stemming from car accidents allegedly caused by employees driving recklessly put an end to that. For a few years in the late 1980s, this promotion was hyped by a gross claymation character known as "The Noid," who ruined pizzas by delaying their delivery — he didn't seem to survive the end of the 30-minutes campaign. (The mascot's disappearance is also attributed by some to an incident in 1989 where a mentally ill young man named Kenneth Lamar Noid, armed with a .357 magnum and convinced the character was a personal attack on him, walked into an Atlanta Domino's and held two employees hostage for several hours.)
Through all this advertising tumult, however, the logo didn't waver. It remained a beacon that made a humble promise: You can stuff your face here.
At this point, not even Domino's recognizes the power of their symbology. In Russia, the pizza purveyor was forced to cut a marketing campaign short after underestimating their customers' dedication: Having originally promised free pizza for life — actually, 100 free pizzas for the next 100 years — to anyone who got the logo tattooed on their body, they faced a barrage of social media posts from Russians who had done so without a second thought. Realizing their mistake, Domino's capped the giveaways to 350 participants.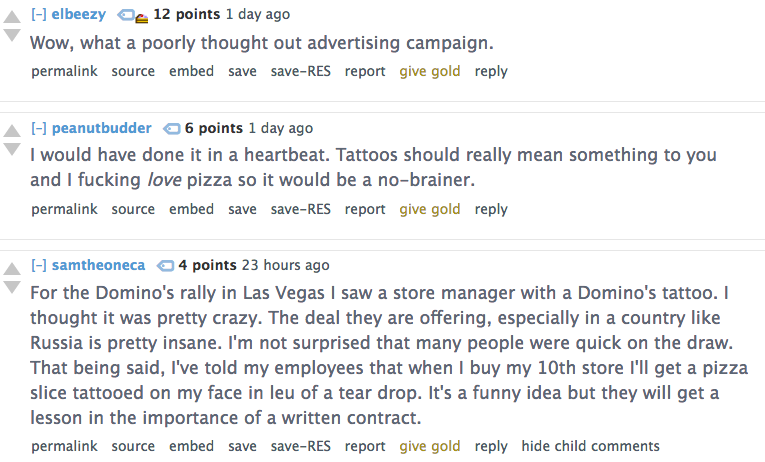 Among corporate signifiers, one would think only Monster Energy's scraggly green "M" has as many tattooed cultists.
Why such a strong connection? It may have to do with the Domino's executives' insistence on keeping the logo in play: Apparently employees have to wear both a shirt and a hat that bear the domino while working. The rule is so ironclad that even if you're just whipping up a Photoshop for a fantasy basketball team called "LeBromino's Pizza," it's has to feature LeBron in full domino garb. No excuses.
Three dominos altogether!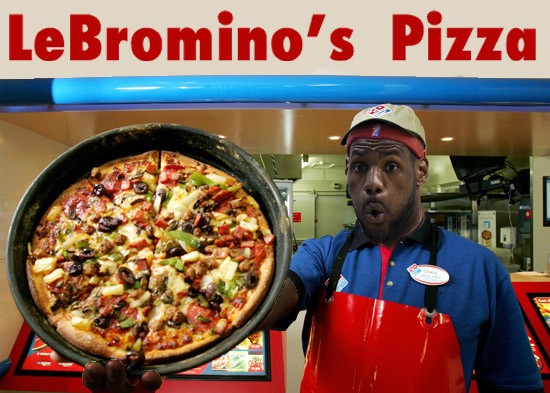 The chain also didn't pass up the opportunity to spray their dominoes on city streets when spearheading an anti-pothole initiative. And who doesn't love a filled pothole?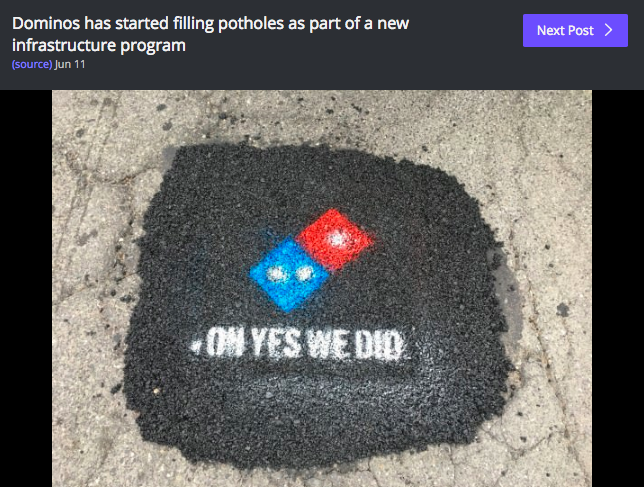 And then, for the Domino's elite, there's a higher echelon — the pinnacle — of logo loyalty: the Domino's Air-King Rolex. Until the early aughts, they were given as gifts to managers whose stores hit a specific sales number for several consecutive weeks. Now they occasionally turn up at auction, where they can fetch thousands more than the watch model itself is worth. Moreover, exactly how Domino's finagled the distinction of this partnership with the luxury brand is still a mystery, lending it further prestige.
So yeah, Domino's could have been more careful daring people to get this minimalist arrangement of circles and squares permanently inked on their body. It's not as high a threshold to clear as, say, a Noid face tat or McDonald's tramp stamp. But if corporate does honor the lifetime-of-pizza deal, this'll just be another notch in the logo's climb to global ascendancy.
In fact, I wouldn't be surprised if it's the first insignia elected president. You think people won't get out to vote for cheap pizza? It's probably our best-case scenario.