I'll be honest, it wasn't the smoothest of meetings. My Lyft got lost, which made me late. That wouldn't have been a huge deal, except I only had three hours before I needed to leave for LAX to catch my red-eye, and I was carrying my suitcase plus a backpack plus a Forever 21 bag filled with extraneous items. So by the time Armand Chase — a tall dark-and-handsome man in his early 40s whose side gig is going on dates with women for money — greeted me a few steps from a luxury high-rise in Hollywood with his two fluffy white maltipoos in tow, I was flustered beyond belief.
Immediately we commenced an unwieldy odyssey through the gargantuan building, equipped with various elevators and lounge areas and nooks. Meanwhile, my luggage was falling everywhere. The dogs were peeing and yelping. Once we finally sat on a rooftop couch next to a firepit that automatically re-ignites every five minutes, we settled into a nice back-and-forth. I could admire the burnished L.A. sunset, and I could also get a better sense of the calm, friendly, soft-spoken guy who'd just held about 15 doors for me as I struggled to cart around my crap.
Armand (not his real name, of course) works 9-to-5 as a web developer for an international company you've definitely heard of. He's also been an escort for nearly a decade, a lucrative source of income he calls his "hobby." His inauguration into sex work was with a couple who hired him for a sensual massage. Now he advertises for a full range of services including a "cocktail play date" (one hour, $500), a "night of bliss" (a sleepover, $2,700) or a "weekend of extravagance" (two days, $7,000). He offers the full "boyfriend experience," which consists of not just sex but companionship and "tenderness." He sees clients about once a month, some of whom are regulars he's seen for six or seven years. He's been married for more than a decade; his wife isn't possessive and "thinks it's really cool that I do it." But most people in his life don't know he's a sex worker. He prefers to keep it a "private affair."
The more we talked, the more I noticed Armand's asymmetrical mouth and his black hair, his long-sleeved black shirt and his ripped jeans, the type that look like they come already frayed in the store. I realized that he's a dead ringer for Dermot Mulroney, and not just because the actor starred in a mid-aughts romantic comedy featuring a male escort with Debra Messing. I told him so, and he namechecked the movie (The Wedding Date!) then told me he thinks the HBO show Hung did a much better job of getting it right.
Halfway through our chat, it started to feel intimate, as if Armand was giving me a taste of what his clients get when they shell out thousands of dollars to spend time with him. He's always connected better with women, he tells me: his closest friends are female. He assures me he's just an introverted homebody who likes to hang with his dogs, and I believe him. Then he makes me an offer I wasn't prepared for, or else I probably wouldn't have shown up in leggings and glasses and the type of Eileen Fisher-esque sweater one would wear if she were about to pass out on a plane for six hours: "I would see you just for your interview if you wanted," he said casually.
A freebie. If we had time.
This wasn't the first time a source had suggested we have sex, and usually I shut it down right away, but in Armand's case it wasn't an altogether ridiculous proposition. Especially since, a few minutes earlier, I'd told him that this story originated with a question I've perennially asked myself: How would I go about giving a man money in exchange for sex?

It was two winters ago, amid the fallout of two soul-crushing breakups, when I first started to think seriously about paying a man to fuck me. I was sick of bingeing Mad Men on a couch strewn with tear-stained tissues, and I knew the emotional and chemical elation of boning someone cute would make me feel better. Even though I was no stranger to casual sex and I'd had my share of skillful sex buddies, the prospect of going on Tinder or to my local bar and having lackluster sex made me shudder. It seemed worse than having no sex at all.
I'm wary even in a best-case scenario, and that's because sex can often be trash. People who endorse the adage that "sex is like pizza: even when it's bad it's still pretty good" have never had to deal with consent-breaching, selfish lovers, fragile egos, jackrabbit sex, stubble during cunnilingus, untrimmed fingernails, sloppy kisses or resentful drunken rants. (This tone-deaf phrase was almost certainly coined by a straight dude.)
I've dealt with all of those things, and so have most women I know. There are countless variables that render sex actively bad — particularly for people with vaginas, which are objectively more complicated than penises — to say nothing of the emotional minefields that can accompany sexual encounters. The orgasm gap stubbornly remains after all these years: In a 2015 Cosmopolitan survey of more than 2,300 women, 72 percent have had a partner who climaxed but didn't attempt to make them come. And even though women can explore sexually with fewer physical and social consequences than before, researchers and reporters consistently find that a lot of casual sex is deeply unsatisfying.
Which is why, during times like that heartbroken January, I longed for some quality control. My first Google search yielded what you'd expect: a goofy undercover date with a "prosti-dude" (that was never consummated), an as-told-to interview with an escort who bragged about his nine-and-a-half-inch dick and a handful of articles about Cowboys 4 Angels, the male escort agency with a Magic Mike aesthetic featured on Showtime's cheesy reality show Gigolos. Over the last decade, there's been a few TV segments featuring male escorts on Dr. Phil, The Tyra Banks Show and Nightline. All of this didn't exactly disabuse me of the cartoonish portrayals in pop culture, like the hunky hustlers in Midnight Cowboy and American Gigolo or the hapless newbie in Deuce Bigalow, Male Gigolo. These dudes didn't seem like people I'd want to fuck, and I couldn't afford it, anyway. (Most Cowboys 4 Angels escorts in New York, for example, start at $350 an hour.)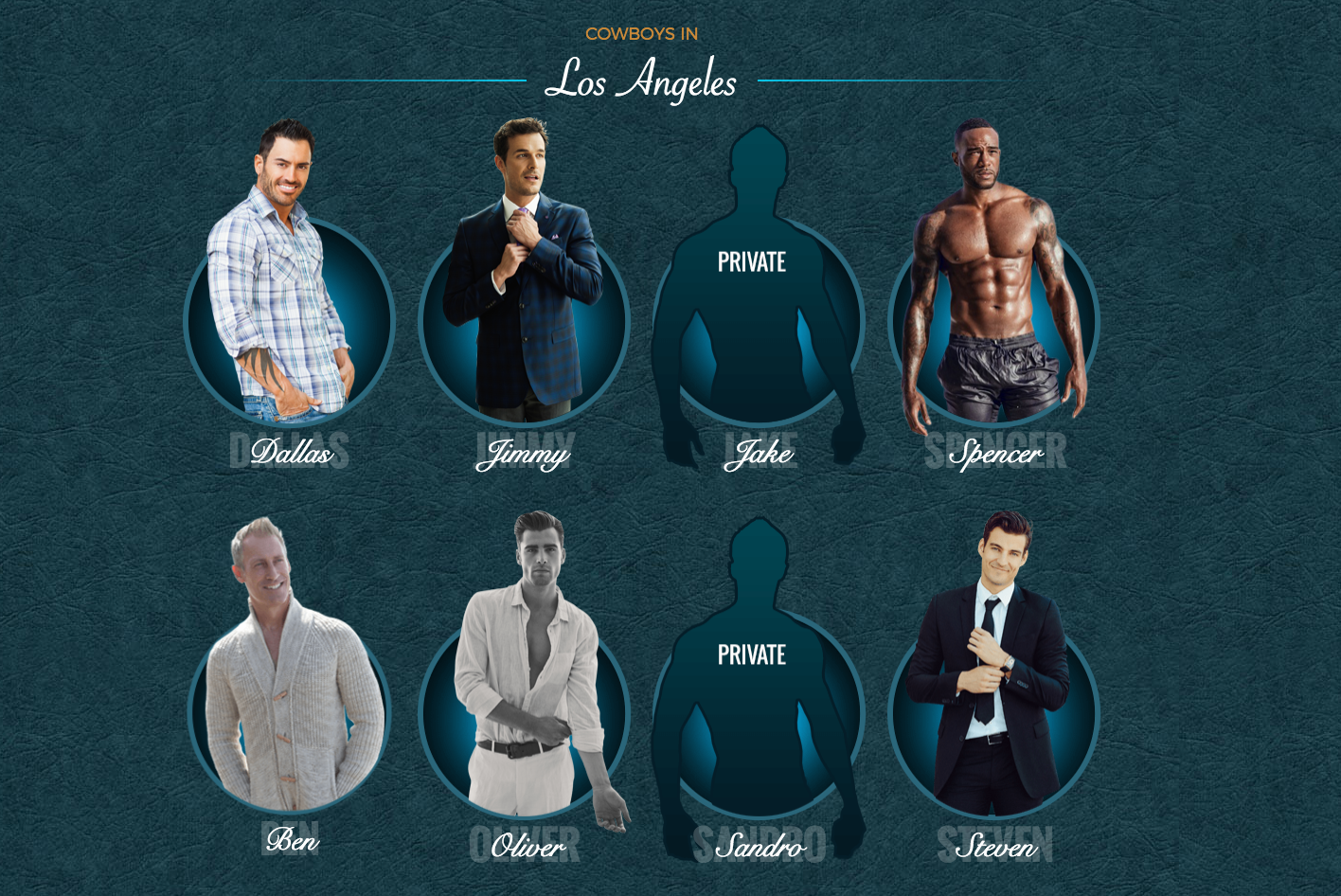 Years later, when I decided to investigate properly, I managed to discover all kinds of lovely men who sell pleasure and companionship. But I'd be forgiven for thinking those paltry Google results were all there was. Data on sex workers is meager and unreliable, but the Male Escort Global Survey, conducted in 2017 by researchers at the Queensland University of Technology, found that out of 324,852 profiles of male sex workers online, only about 10 percent of them advertise to women and couples. Although men who see women are on the rise, they're still a teensy portion of the estimated 42 million sex workers worldwide.
The online landscape for male escorts who see women is especially bleak and furtive in the U.S., particularly after President Trump signed the FOSTA/SESTA laws, which made websites liable for what users say and do on their platforms and therefore hobbled sex workers' abilities to advertise on Craigslist or Backpage. Technically, as Cowboys 4 Angels founder Garren James loves to point out, certain escort services are legal in the U.S., if there's no guarantee of sex. But sex workers who advertise any kind of service keep being kicked off of platforms that once afforded them independence and safety.
After a Twitter crackdown, sex workers flocked to Switter (which got shut down, too), then Tryst, a database with almost 2,000 listings of sex workers selling their wares. Filter Tryst by men only and suddenly that number is down to 84 on the entire Planet Earth, and only some of those men cater to female clients. There's also Concierge du Monde, a janky-looking site that advertises "the finest male companions, for ladies only" and has a forum both for escorts and their clients. The site boasts a grand total of 13 profiles from across the globe, many of which navigate to dead links. And since FOSTA/SESTA, registration has been shut down for the site.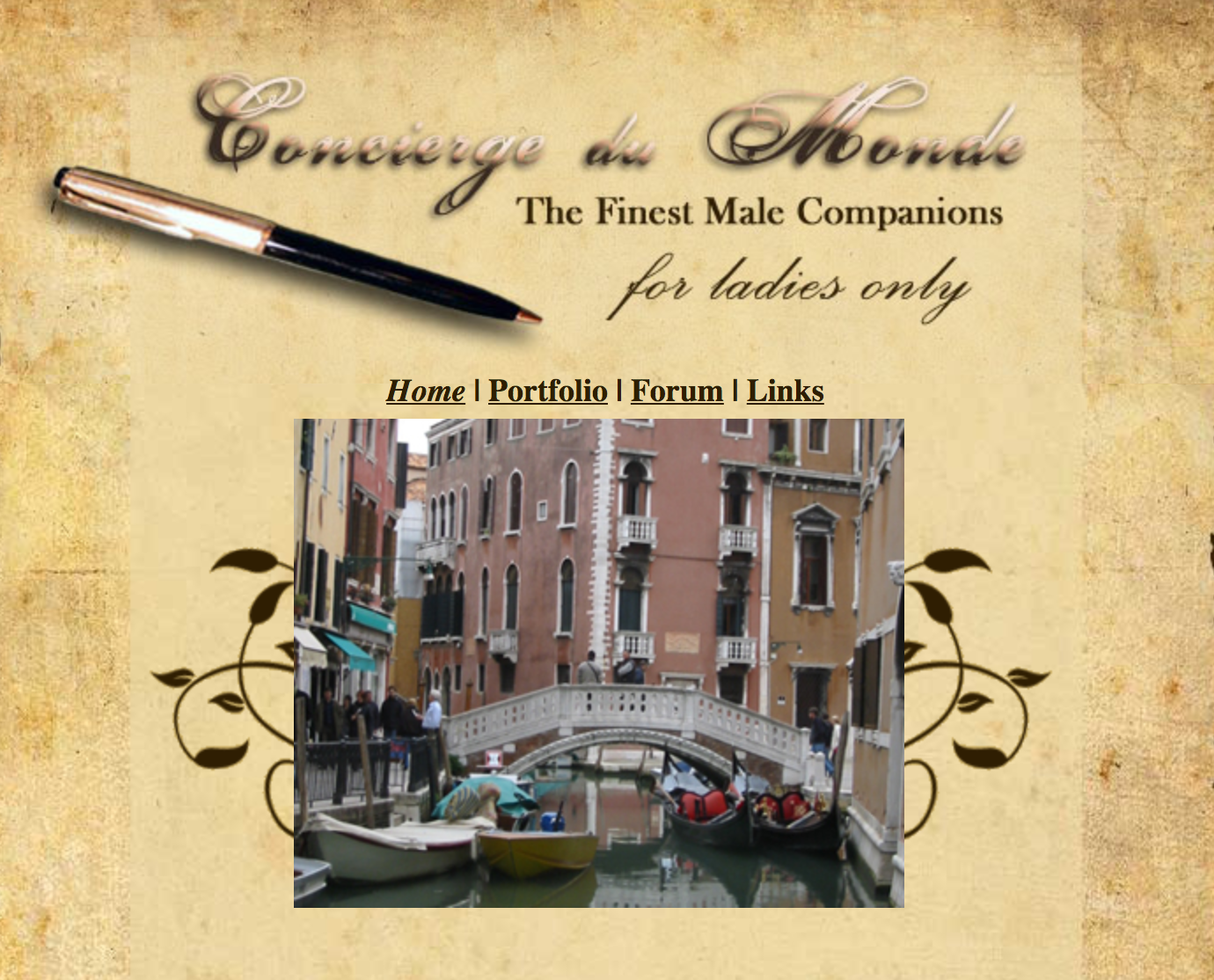 Men who service men have been around forever — male prostitutes in Ancient Rome were so integrated into society that there are records of them paying taxes — but men with female clients are virtually non-existent in the history books. When I went searching for scholars and experts on the emotional and social dynamics of these men and their female clients, researchers kept passing me off to their colleagues, who would in turn throw up their hands. "I'm drawing a blank," wrote Wendy Chapkis, author of Live Sex Acts: Women Performing Erotic Labor, in a typical email responding to my queries. "That in itself is very telling!" Victor Minichiello, a professor at the School of Justice at the Queensland University of Technology, pointed me to the massive 2014 anthology he edited, Male Sex Work and Society, which only had a few sentences, literally, about men who see women. In one of the book's academic essays, "Clients of Male Sex Workers," the authors write that women who solicit sex from men are "nearly invisible in the existing literature." Then they cite a few fluffy pieces about male escorts online that are shorter than the article you're reading right now.
In other words, as Minichiello told me: "Much more qualitative studies are needed" on men who sell sex to women. "Best to ask male escorts."
So that's what I did.

Scouring the internet eventually led me to Armand and a dozen more male sex workers around the world who see female clients. Some have full-time jobs and book clients sparingly; others rely on sex work for their entire incomes. Some have been married for years; others have sworn off relationships. Some were barely in their 20s; other have graying beards and rocked the weathered look. The range of price points, dealbreakers, styles and typical clientele varied wildly.
Despite the variety I encountered, many of them bumped up against the same assumptions about their profession: that it's easy money (you're just having sex for a living, after all!), that you're a moronic beefcake, that you're "not a real contributing person in society" or that you fancy yourself some kind of sex god. "People think you show up, you have sex, you get paid," says Dante, a 24-year-old escort in Vancouver who sees both men and women. "Men think it's admirable, but also [that you should] kind of be shunned 'cause it's dirty." Other men are envious, but they'll also say, "I would never do that, that's degrading yourself."
Dante started to do sex work four years ago to make ends meet while going to school. He has a part-time office job three times a week and supplements that income with clients, about a third of which are women. He saw a straight couple first, and then a few months later his first solo female client, a "divorced professional" woman, found him through an ad on Backpage; he was "nervous as all heck" but relaxed when she told him "step-by-step exactly what she was looking for."
He seems to genuinely love his work, yet he's mostly secretive about what he does. His close friends know, but his parents and his employer don't. It's also put a crimp in his love life (Dante dates women on his own time). The one partner he told about his side hustle seemed supportive, but once they broke up, it was clear "we fell short of a complete understanding and acceptance." He says simplifying his dating life would be the one reason why he'd leave sex work.
Most guys I spoke to were like Armand and Dante, who essentially live double lives working a "straight" job and moonlighting as an escort. But occasionally I got glimpses of a more utopian parallel, like when I spoke to Dakota, a rather erudite escort and porn actor in his early 30s. Dakota asked me for a pseudonym — different than even his stage name — because he moved to L.A. last month to be with his partner, and unsurprisingly, U.S. immigration officials aren't kind to visa-seeking sex workers. But until he moved to the States, he could be completely open about his job. That's because he was living and working in the U.K. and Germany, where the sex industry is less marginal both legislatively and culturally. (Sex work has long been legal in Germany, though recent attempts to regulate it have sparked controversy; in the U.K. it's legal to buy and sell sex, but not to "provide supporting services" to sex workers.) It's also because he had chosen to ensconce himself in a radically sex-positive community.
A fixture in indie porn who specializes in BDSM, Dakota started doing erotic modeling when he was in his 20s and most of his friends were "prostitutes, models and performers." A few years later, he had a quarter-life crisis familiar to many of us. He was "just kind of in this floating bubble," he says, doing random website and graphic design jobs but nothing for which he had any real passion. The one longtime interest he'd always had was sex: "I'd always been attracted to sex in the way that people are interested in music." So, in 2015, he tried fucking for money. His first porn shoot was a one-on-one with a woman for a queer-friendly company; shortly after that, he got some "client-facing work."
Up until his website went dark, his clients (who are all genders) mostly came to him through his porn. People would check him out on social media, navigate to his website and then notice a sentence on the bottom of the page offering "private sessions." Or else women would recommend him to their BDSM-curious friends: "Hey, I saw this person Dakota, he's really kind and gentle, he'll take you through it." He can't remember the last time he dated someone outside the industry. His daily life and his escort life have been harmonized.
Still, even the more incognito sex workers I spoke to admitted the stigma is nothing compared to the kind their female colleagues endure. The services these men offer seemed to have a purity to them, as if they could exist in a space free from the cultural baggage of the male john/female prostitute archetype. The men reported feeling virtually no threat of violence or exploitation, and more often than not, there was a vibe of mutual respect. After Dante and I spoke on the phone he sent me a long, thoughtful, unbelievably sweet email about the pleasures of his part-time job:
"I think hiring a sex worker is, for a lot of clients, especially women, a chance to simply be fully 'seen' by someone without any relational conditions being placed on it. Sharing that moment with people, and being seen by them in return, is a great privilege of doing this work. At its best, it feels a bit like we (sex workers and clients) are part of a secret club where we affirm each other as people, and also have sex!"
In Julian Marlowe's 1998 essay "It's Different For Boys," published in the influential anthology Whores and Other Feminists, he argues that male prostitution makes clear that patriarchy, not something intrinsic to the profession, is what taints sex work. "If prostitution were patently destructive, then presumably male whores would find themselves as stigmatized as their female counterparts," he says. Not only does this lack of stigma show that there's "nothing inherently exploitative about two adults engaging in consensual paid sex," it recasts sex work as an ego boost: "Why would a man have low self-esteem," Marlowe wonders, "if he's being sought out and given money for his body?"
But like any industry, the supply of male sex workers for women responds to demand, which is miniscule compared to female or gay male escorts. Most men I spoke with did not have many — if any — male colleagues in whom they could confide. "I've never met a single other male escort who sees women. It's kind of isolating," Dante says. Even for an escort like Maxime Durocher, who lives in Montreal and describes his libertine city as "I'm gonna do my thing and fuck off" if you don't like it, it's tough to maintain a constant flow of clientele. He suspects he's the only male sex worker who sees women in Montreal. He does sex work full-time, but makes very little money: last year he made less than 20,000 Canadian dollars. It's a good week when he has one appointment.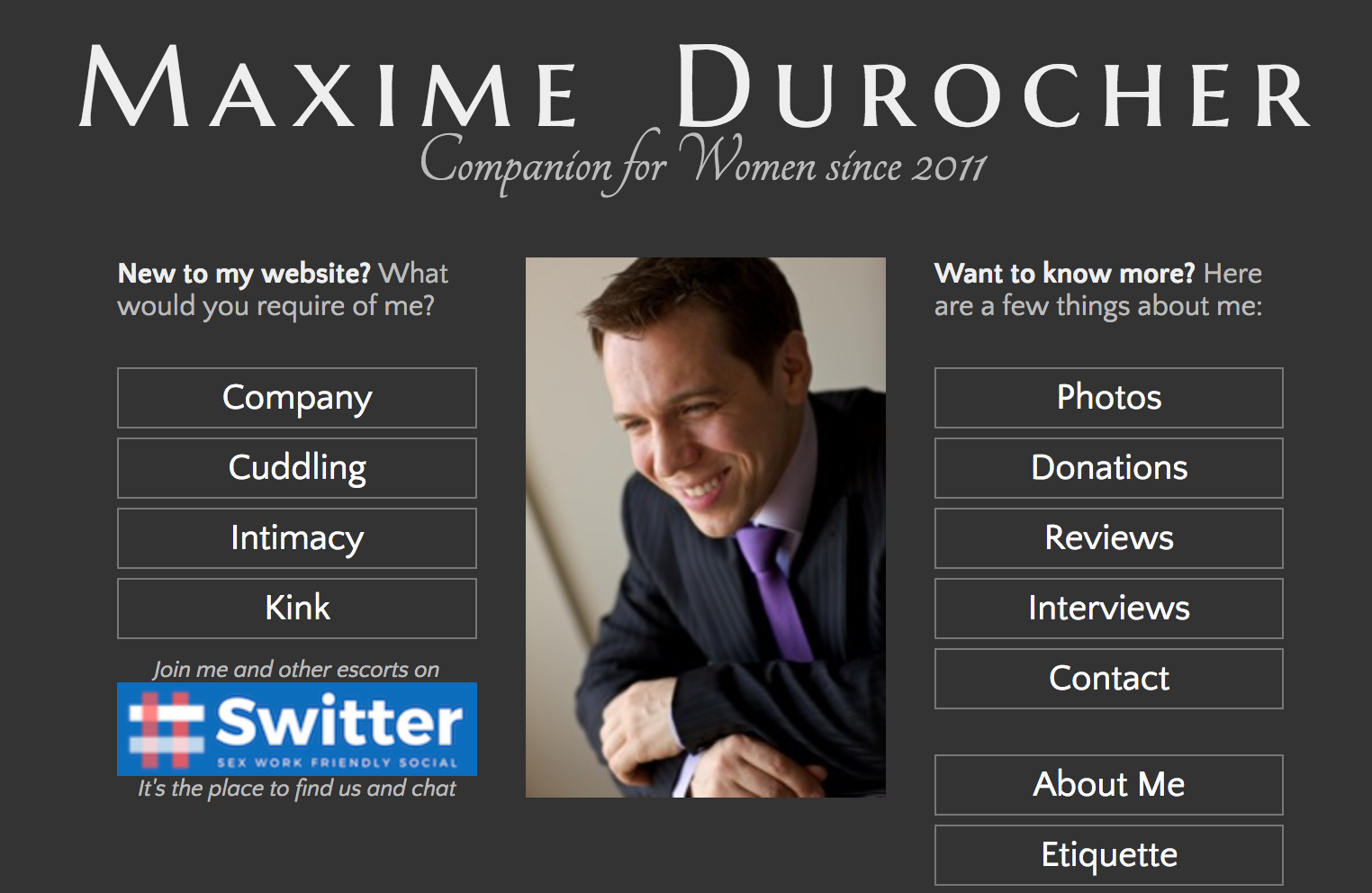 Social isolation and secrecy are well-known drawbacks of being a sex worker; regardless of one's gender, having a criminalized and societally scorned job puts you on the margins. But in this case, these male escorts' isolation might have a lot to do with their low numbers, too. And that might have to do more with women's cultural dilemmas than men's.

Before "slut-shaming," there was a concept in feminist theory meant to nullify the moral wedge artificially put between women who sell sex and women who don't: "whore stigma." If women break from what sex work scholar Jill Nagle calls "compulsory virtue," they risk being marginalized. It doesn't just apply to women whose sexual services are literally for sale; any woman who steps outside the bounds of the "good girl" role can be punished for it.
Ironically, "whore stigma" is what stopped me from seriously looking into hiring a male escort during that double-breakup winter, even though I'd be the customer. What would my friends think? I wondered. Isn't this kind of… desperate? Slutty? Do I really need sex that bad? Somehow I felt simultaneously undesired and also like a nymphomaniac. Aside from actual fucking, it's socially acceptable to pay strangers to touch us — massage therapists caress us naked, manicurists interlace their fingers with ours, stylists run their hands through our manes while we sit back and enjoy. Yet buying straight-up sex, at least in the U.S., is still considered depraved and taboo, partly because of the law's built-in deterrent. And for a heterosexual woman living in a society that assumes she's the gatekeeper of sex, there's an added feeling of shame. For me, it felt like women's desire to pay for sex was, as Dakota puts it, "a failure in their sexuality."
I quickly learned from female clients that my hesitance is far from unusual. It took almost a year for "Paula," an Australian divorcee now in her late 40s, to dredge up the courage to call a male sex worker after she found out her husband had an affair. "I've never been more nervous in my entire life," she tells me. People like her — a "respectable woman in a nice part of town with a good job and a child" — didn't hire sex workers. It took another six months after that nerve-wracking call for her to book a date.
Women I spoke to often agonized over the decision for weeks or months. Emails, phone calls and even non-sexual meetings happen before any actual sex. "Before I even meet these women, I usually talk to them on the phone for hours," Armand tells me. He'll text them photos of him with his dogs. He'll talk to them about their problems."This work can be therapeutic."
Of course, any sex worker will likely end up absorbing and managing their clients' joy or pain. Scholars have applied feminist sociologist Arlie Hochschild's concept of women's "emotional labor" to sex workers who, like flight attendants and waitresses, are expected to project happiness even under duress. Male sex workers perform emotional labor, too, but it seems to manifest differently. The experience can be more high stakes for their clients. Dakota, for instance, has lots of female clients who save up for months to see him, and he feels an enormous responsibility to provide a "life-changing, earth-shattering experience" for them, while the men he sees are like, "'I'm in the city for a weekend, I'm a bit bored, BDSM is a thing I haven't done.' … Guys come in, and they're a bit more casual, splashing cash around."
The men I spoke to said some of their female clients are just there for the fun of it, particularly the ones who see male escorts with their partners — this appears to be the demographic that agencies like Cowboys 4 Angels attract. But many are at the tail end of a vulnerable life experience. They might be coming out of an abusive relationship, or they might have never had sex. "The lack of normalization, the personal insecurity they feel about their bodies — there's so many things pushing back against women seeing sex workers" says John Oh, a male escort and sex work advocate in Sydney. John, who sees an average of three clients a week, says most of his clients take between two and six months to decide whether to book him. So by the time they actually do it, "it's a big deal. They've made an enormous emotional investment already. They want someone to validate them."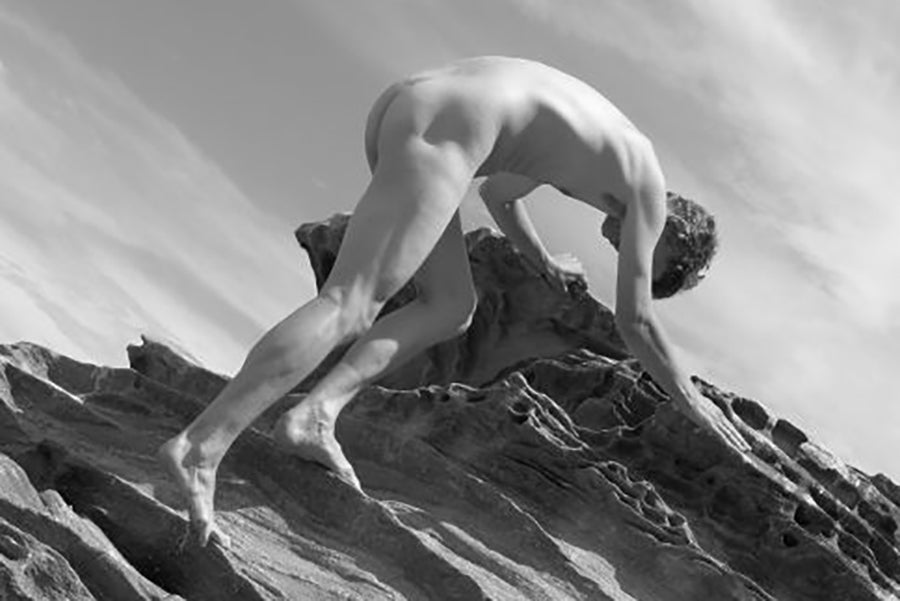 One of John's clients is 39-year-old Ange, a woman whose cerebral palsy is so severe that she needs a caretaker to dress her, wash her and bring her to the bathroom. Until about 13 years ago, she was engaged to her high school sweetheart, who was also physically disabled. Every Saturday they'd kiss and touch in bed together — the only place they could fool around without being strapped into their chairs. One day her fiancé fell into an empty creek while in his wheelchair and hit his head on the rocks. He died instantly from the impact.
For more than a decade, Ange felt sexual desire but didn't know where to put it. Finally she asked a friend to call up Touching Base, an organization that connects people with disabilities to escorts, and they put her in touch with John.
"Having sex with John for the first time was awesome," Ange writes me in one of several emails, which she composed through eye-gaze technology that enables her to type by training her eyes on specific symbols. "I was so happy and excited that he had made me a proper woman." He was the first man to penetrate her and perform oral sex on her, the first man to give her an orgasm, the first man since her fiancé died who had touched her sexually. Before she started seeing John, she was against sex workers because she didn't "know what they really do." Now she tries to see him at least once a month.
I heard story after story of women who'd hired sex workers during their personal rock-bottom moments. Jo, Maxime's client in Montreal, had a joyless, sporadic sex life with her husband, had "problems with confidence" and had never had an orgasm until she hired him. "Jenna" had remained a virgin into her 50s partly because of a traumatic, unsettling BDSM experience decades earlier; she now banks extra online consulting hours so she can afford sessions with Armand, who she's been seeing for 10 years. "Ashley" wasn't ready for "emotional strings" two years after her husband's battle with brain cancer, but wanted to reclaim her sexual confidence.
When Ashley contacted Armand, she felt "a very empathetic, nonjudgmental vibe from him." After talking and texting for a while, she flew him out to her house, a suburb on the East Coast. "It was strange for me because physically I was so ready and emotionally I was further behind," she tells me. But "he made it really fun and playful, and we had such a great night. The pressure that you sometimes feel when you're with someone new and you feel all their expectations — none of that was there."
It was a chance, several women said, to indulge their own fantasies without having to cater to anyone else's. As one put it: "It actually felt pretty good to feel selfish."
For many of these women, being "selfish" means intercourse, but for others it means having a more one-sided session receiving oral or digital sex. Some prefer to be fingered during a massage; others hope to get fucked all night. And some, especially if they're hesitant, just wanted to be stroked and appreciated — at least at first. Armand says the exact sex acts vary, but most of them want "someone who is going to be a gentleman" and "to share parts of their lives they don't usually share and be open with a stranger."
After hearing about all these pleasurable and transformative encounters, I couldn't imagine a sane person not understanding the value of sex work. Yet these women's stories — especially the ones that involved unimaginable pain, years of agonizing, layers of secrecy with family and friends — were undeniably weighed down by the impossible, contradictory expectations we put on women. I kept thinking of how many sexual spaces are still so threatening or isolating for us, how the urge to purchase erotic agency grows from feeling out-of-control during non-paid sex. I thought about my perpetual, at times exhausting effort to understand my own sexuality, and to my original motivations for wanting to hire a male sex worker. On the surface I sought simple enjoyment, but it was really about avoiding the letdown of empty one-night stands.
Even when the men I spoke to told me about confident, powerful clients, I got a sense that these women had invested years in their self-actualization. Whereas the men he sees are "engaging in sexual norms" when they buy sex, Dakota says, his female clients "are almost always more discursive and insightful into their own sexual desires. They tend to come from a world where they're trying to explore their sexuality," from places like queer-friendly, fetish and BDSM scenes "where the cultural circuits around sex haven't been so gendered."
In fact, the one woman I spoke to whose decision to hire a male escort involved little ambivalence was a former sex worker herself. "Kim" is in her mid-50s and happily married to a former client on the West Coast, but lately she hasn't been able to have sex with her husband because of his health issues. So, with his blessing, she's seen five or six male sex workers over the last few months. "It's an elegant solution because it's a very boundaried experience," she says. "I'm attracted to the emotional hygiene of it."
But even Kim, who talks about these sessions like they're the most normal things in the world, bumps up against internalized ideas of how a woman should be during sex. "I really want to be very present," she says. "I don't want to feel rushed, fake anything, feel forced." I find myself telling Kim about the time I saw a certain masseur in New York City who's well-known for giving happy endings — only for it to be ruined by the tremendous pressure I felt to orgasm in front of him. Much to my chagrin, the moment I felt most turned on was when I noticed his erection.
She totally understood. Women's "own arousal is often so plugged into feeling desired, not just desiring." Because of a combination of biology and cultural dynamics, she says, it could really hurt a woman's feelings if a male escort isn't visibly turned on (it's impossible, after all, to fake a hard-on). That's why, if a man is going to do this work with female clients, "you have to like women, you have to like women's bodies, and see the humanity of every person that you see," Kim says.
She has worried, for instance, whether all of these extremely hot and quite a bit younger men would find her attractive. So far, they've all had erections. "Totally hire a guy who's 10 times out of your league," she suggests. "Have him be a panty dropper." Though she was nervous her first time — she hadn't been with anyone but her husband in 10 years — her session with a young, gorgeous "Greek god" turned out to be "passionate, sexual and wonderful."
Still, even Kim has had to peel back "layers upon layers of programming" and do away with "all these 10,000 little ways I try to make a man feel comfortable." It's been hard, in other words, to learn how to have sex "just for me" — which is ostensibly what hiring an escort should be all about.

As our time together comes to a close, I tell Armand I need to think more about his proposition. I already kind of know I can't take him up on it; accepting a free sample from a sex worker would be a journalistically unethical gift, akin to accepting on-the-house shots from a restaurateur I was profiling. But I also wondered if my fear of "whore stigma" was once again causing me to clutch my pearls. Was I still, after all this time, swallowing cultural messages about how women who hire escorts are sexual failures?
It might have been that, a little bit. But it was also about the fact that Armand's offer was free. Sex usually involves some sort of transaction, but it's more rare for it to involve an explicit monetary exchange. And unlike a free shot, I wasn't used to non-paid sex being at the expense of someone else's finances. This whole time I'd been thinking about the money as the most awkward part of sex work, when really it was the opposite. It breaks the ice. It clarifies the terms. Armand later acknowledged this himself: "The gift" — his classy word for "fee" — "makes it so that there's a boundary. We understand it's an arrangement. I'm enjoying time with [a woman], but I'm also there to fill a service. The gift part is actually an honest exchange."
As we wrapped up, Armand walked me to the Flyaway heading to LAX and I told him I'd have to check with my editor about his generous offer. On the bus, hyper-aware of my sweater, glasses and makeup-free face, I began to obsess: If a beautiful, professional sex-haver like Armand would offer me a free session, does that mean he'd want to fuck if we met casually at a bar? Do I want someone to sleep with me, or even take me out on a date, just because I pay them and not because they organically desire me?
Then I remembered the mutual affirmations Dante described, how Armand told me that agreeing to see a client was similar to going on a regular date. "There has to be chemistry," he said, "or else there's no point in hanging out." Even though there are some sex workers who do it just for the money, it was clear to me that catering to female clients wasn't easy cash, so a man who succeeds at it must be at least partly driven by something else.
Still, I couldn't figure out if a paid sex session "just for me" made sense. Perhaps it would, in an ideal world where sex work was normalized and women's decisions about their own bodies and finances weren't scrutinized. In this world, though, it was nothing less than a de facto announcement of economic autonomy and full-on sexual rebellion. That night on the plane, I looked out the window at the lights below, imagining female clients as the bravest skydivers, and myself as all harnessed up but not quite ready to jump. I put on my face-mask, took a Xanax and fell into a fitful sleep.