On a cold February day on the New York subway, a 6-year-old boy looks forward to enjoying a memorable summer. The boy nestles next to his mother on one of the last available seats; he pays little attention to the moody adults made short-tempered by the harsh winter air in the subway station. The boy's just happy to have a seat where he can zone out and look at all the graffiti in the car and on the walls of each station stop. He does this often whenever he and his mother head home to Brooklyn. The graffiti that decorates the subway cars and station walls is still an urgent new way to make art. Both street art and the hip-hop culture it comes from are just a few years older than the boy. The year is 1983.
The graffiti the boy loves to look at has just begun to spread out from New York's subways to London, Tokyo and Sydney. But everyone knows that New York is still where it's the illest. As hip-hop seizes the imagination of the city, the downtown punk scene has gone New Wave. Things are changing, yet staying defiantly, vibrantly alive. It will be an incredibly memorable summer for America. In March, Michael Jackson will release the music video for Beat It. And then, in May, the King of Pop will prove himself to be a global superstar when he first performs the Moonwalk at Motown 25. This will also be the same summer that America first meets Madonna, who releases her debut album in July.
It's a great summer to be a boy in America.
But not for this little boy. He will miss all of it. Instead, a few weeks after that subway ride, on March 3, he somehow survives a fire that burns 90 percent of his body. He must spend the entire year receiving numerous life-saving surgeries. He fights so bravely that he lives up to his nickname: The Miracle Kid.
The fire is set and lit by his father. The boy is left to die in a Travelodge that sits in a strip of tourist lodgings in the long shadow of Disneyland. His father brought him to the Happiest Place on Earth to kill him. But somehow the Miracle Kid (given name: David Rothenberg) manages to defy his father's murderous will.

David's parents, Charles and Marie Rothenberg, divorced when he was a toddler. In all, they were only together for three years. They'd married in 1975, but it didn't take long before his mother called it quits. By 1978, Charles had already cheated on Marie and been locked up for check forgery. With a two-year old baby boy to consider, 25-year-old Marie chose to focus on her son. She also chose to shield her child from his father's criminal ways. For instance: She never took David to visit his father while he was in prison.
When Charles got out of prison, he found work doing odd jobs. He continued to do so for the next five years. He was working as a waiter just before he abducted his son that February and fled with him across the country. It had been billed as a weeklong trip with his dad, first at his house, just down the block from his mother's place in Brooklyn, and then the weekend together at the Catskills. Father-son time. The abduction was such a surprise because as many co-workers and friends pointed out to investigators, Charles was such a loving father. He walked his son David to school every morning. That's why he lived so close to his ex-wife. So he could be near his son. And when he worked as a taxi driver, he was known by other cabbies to wear a big "I Love David" pin on his lapel. Even David recalled for journalists how he once thought of his dad as "the best father in the world."
The reason many assumed Charles was such a doting father was that he'd been raised in an orphanage — he often told people his mother was a prostitute who'd given him up for adoption. This obvious psychic wound was made worse by the fact his mother would visit him at the orphanage, which "was more painful than not having a mother at all, because it left no question for the other children and himself that he was unwanted."
This, of course, was as much a warning sign as an explanation for the extra strong bond he shared with his son. There were other warning signs, too. But they were missed, or dismissed, waved away as peculiarities, not seen as unmistakable red flags of the danger that lay ahead. Besides, a man's jittery behavior can mean so many things. And so, here's how Marie remembers those last days of innocence in February 1983:
"The day Charles came to pick up David was particularly strange. Charles acted jittery and was in a rush. He said he was taking David to a resort in the Catskills. I always felt if I let Charles have David whenever he wanted, kidnapping would be out of the question. So I always said yes. And to be honest, I was relieved that Charles was taking David for a week so I could have some time to myself. David ran out of the house so happy to see his father. That was the last time I saw David the way he used to be."
A few days later, Marie had a feeling. Something wasn't right. A mother's intuition. She called her ex-husband. He wasn't home. She tried again and again, for days. No one ever answered. She grew worried. She called the mother of one of David's classmates and asked if David had been in school that week. The boy reported that David hadn't been there that Friday, and he couldn't remember him being there the day before either. Marie called her boyfriend, a New York City cop. He suggested she contact the restaurant where Charles was working. The restaurant informed her that Charles had been fired. He'd been stealing, and apparently in an angry and violent fit, he'd vandalized the restaurant. They were also looking for Charles.
Marie edged into panic mode after her boyfriend pointed out that the Catskills resorts were usually closed during February. Her fears motivated her to action. Marie went over to her ex-husband's apartment. Neither Charles nor David were there. She convinced the landlord to let her into the apartment. The walls were empty. The space vacant. A neighbor told Marie that before they left she often heard Charles yelling at David, and she told Maire that she'd found pictures of David in the trash. The photos had been ripped to pieces. Now fully panicked, Marie contacted the police. She told the detectives her ex-husband had abducted her son and that she "had a hunch he was in California, maybe near Disneyland, since David always wanted to go there."
Marie was dead right. Charles had taken David to Southern California to visit Disneyland. But that's not what he told her when he called her from Buena Park, an area bordering the Magic Kingdom. Instead, he lied and said they were still in the Catskills, and that they just wanted to spend more time together. She demanded that Charles bring her son back to her. She threatened that he would never see his son again if he didn't. Charles didn't respond well to this potential outcome: That same afternoon, he took David to a hardware store and bought kerosene.
The next day, as he checked out, Charles spoke with a desk clerk at the Holiday Inn, where he and David had been staying. The clerk recalls Charles saying that his son was doomed with a terminal disease, "and that he didn't have long to live." Later that same day, the father and son checked into a new motel, the Travelodge on Beach Boulevard. Room 139. The room came with a waterbed, because that's what David wanted. The Travelodge clerk described Charles and David as being a loving pair, remarkably similar in appearance. Clearly devoted.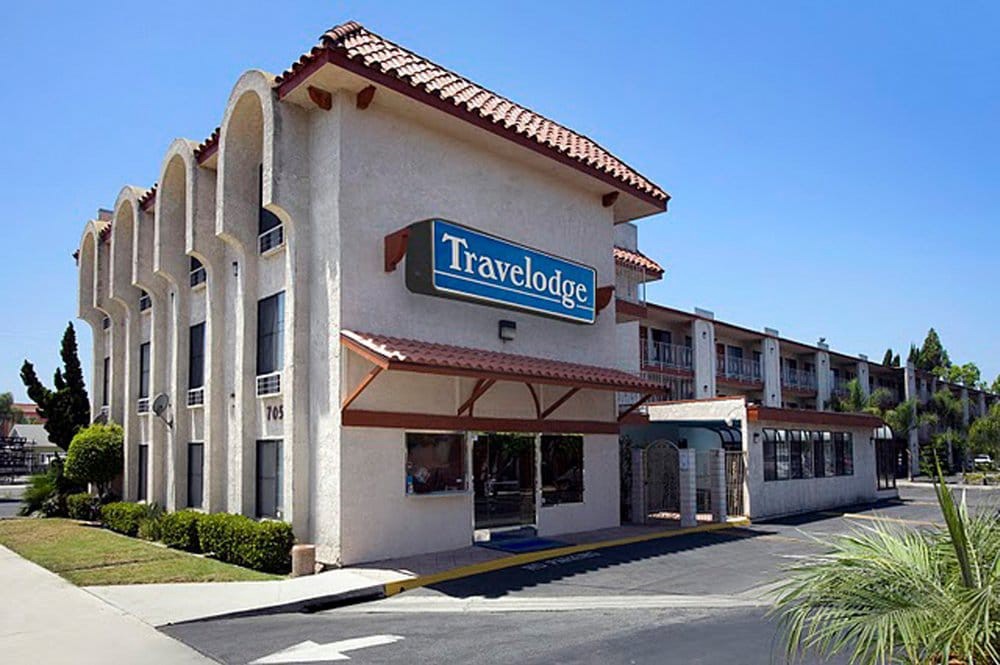 That night, March 2, Charles gave David a pill that he said was a pain reliever. It was a sleeping pill. David soon fell asleep. The boy lay on the waterbed in just a T-shirt and underwear — a warm California night in March.
What was Charles thinking as he stood over his son and poured two-and-half gallons of kerosene around the bed and the bedspread where he slept? After the fact, he reported to authorities, he intended for it to be a murder-suicide, but he chickened out. Or more likely, it was bullshit: He'd backed up his white sedan into a parking space at his motel room. He'd left it running, with the front door open. He clearly always intended to run, after he'd killed his son — after he lit the match.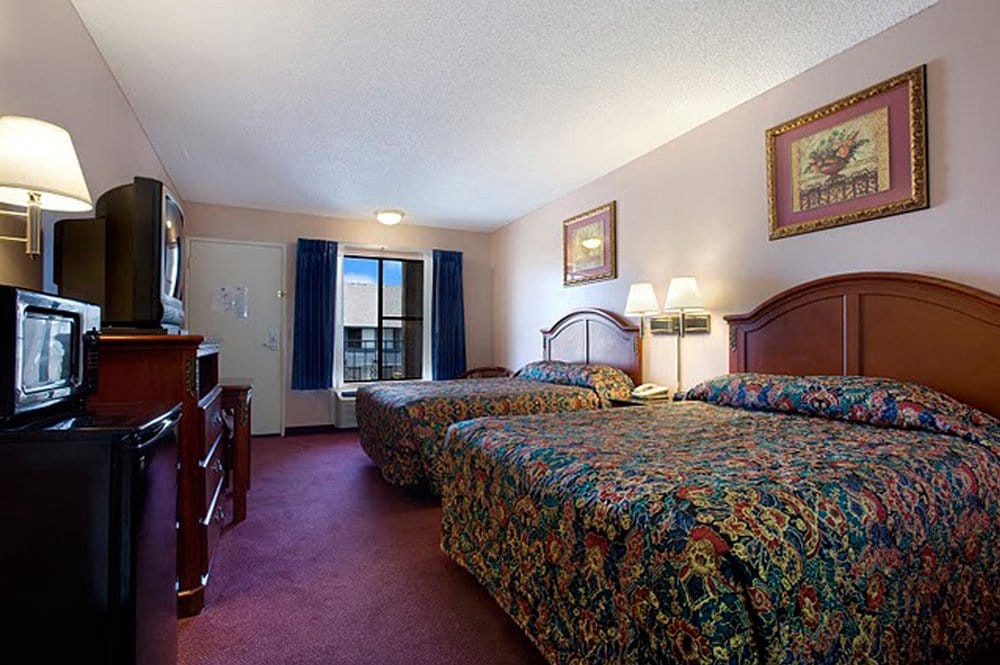 A witness, who was in a second-floor room, reported to police that she saw a man bend at the knee in the open motel room doorway. He stooped down like he was picking something up, or perhaps tying his shoe. The man stood back up. He closed the door to the motel room. He bent down again to get into his white car, the one in the parking spot for an easy exit, the one still running, the one with its driver's side door open. The man shut his car door and sped off.
Before the white car reached the parking lot exit, the motel room exploded. A fireball lit up the night sky. Glass shattered. A wall of flames vented out of the blown-open door and windows. Red-orange flames erupted from the motel room. Inside the fire, David screamed in agony. He was in the center of it — burning and shrieking. Motel guests braved the fire. They ran into the room and pulled the six-year old boy up from where he lay near the doorway, half-conscious and screaming, writhing in unimaginable pain, his small body covered in flames.
His father was across the street. He'd parked his car, and stood in a payphone booth watching the motel room burn. He phoned the police. He called hospitals. Then he drove off and booked a new hotel room not even two blocks away.

Paramedics rushed David to UC Irvine Medical Center in nearby Orange. Emergency room surgeons performed the first round of what would be a near-endless series of operations. Extensive surgery was required just to put the six-year-old's face back together so he was the least bit recognizably human. Meanwhile, his father fled Southern California. He periodically checked in with police, phoning them to ask, "How is my boy?" A joint law enforcement dragnet was launched. News headlines announced a nationwide manhunt to find and arrest Charles Rothenberg — the divorced father who had abducted his own child and then set fire to him.
The next morning, driving north, on his way to the Bay area, Charles stopped to telegraph Marie. He wanted to tell her what he'd done and where she could find her son. She received the call from Western Union at work. As the operator read the telegram, the operator started to cry. "When I saw my boss, I screamed, 'My baby's going to die!'" Marie remembers. Her boss bought her two airlines tickets — one for Marie and one for her boyfriend, the New York City cop. They took the first plane to L.A.
Thirty-six thousand feet above the Earth, Marie only had one thought: "I didn't think I'd make it in time to see David alive. That was my main goal — to see him once more before he died." Yet when Marie finally reached her child, when she walked into the UC Irvine Medical Center and saw what David's father had done to him, all she could hope was that he would die. Here's how she put it to People magazine:
"When I went into the hospital room, I didn't think it was David because he was so badly swollen. He was three times his normal size; his head was like a huge balloon. I thought it was a teenager in the bed. He was bandaged from head to toe and smeared all over with creams. His eyes were so badly burned they popped out of his head. His fingers were black and bloody, and his lips were gone. He was conscious but couldn't see or talk.
I had never seen anybody suffering to that extent. I felt that he should die. I couldn't imagine a human body being able to repair itself from so critical a condition. I couldn't imagine him living. I felt that the quicker he went, the faster he would be in heaven. 'Let him die,' I thought. 'Leave him in peace.'"
Like many mothers, she blamed herself for the sins of the boy's father: "Charles had done it because he didn't want me to have David. He would have rather seen his son dead than have him returned to me." For his part, Charles never claimed otherwise. When he was arrested at a YMCA in San Francisco roughly a week later, he confessed to police, "If I can't have him, nobody can."
At his trial, Charles opted not to use an insanity plea, instead he was found guilty of attempted murder and arson. The judge sentenced him to the maximum allowable punishment at the time — 13 years in prison. After rendering the verdict and sentencing, the judge retired to his chambers and wept. "It's a case that you don't forget," Judge Franks told the L.A. Times years later. "I mean, I thought to myself at the time [of sentencing], he's going to be out in less than seven years! I mean, why can't I even offer protection to this boy and the security of knowing his father could never hurt him again?"
Asked about what he would have preferred to do, Franks told the Times, "If you're asking me would I give him life in prison, you bet I would've. You bet I would've. He would have died in prison if I had anything to say about it. No question. No question."

Six months after his father set him on fire, David returned home to Brooklyn. He arrived in a black limousine. A banner greeted him, it was stretched across his mom's brownstone walkup and read, "You're one special kid, David. We're glad to have you home." Two hundred of his friends, neighbors and supporters were there to welcome him. To cover his head, David wore a Yankees hat — a gift from Reggie Jackson. As his mother explained, "He was a little afraid to see what his friends would think of him."
Due to his celebrity as a survivor of a horrific tragedy, David was celebrated by the media of the day. He went on Donahue. He was on the cover of People magazine. He became friends with famous athletes like Jackson and politicians like Ted Kennedy. (Meanwhile, his father was sharing a prison block with Sirhan Sirhan, the man who killed Bobby Kennedy.)
But of all the famous people who were drawn to David, there was one celebrity whose friendship was real and enduring — that of Michael Jackson. Their stories were actually remarkably similar. Both of them had abusive fathers. Both of them had famously caught fire. Both of them knew the pain of plastic surgery. Both of them were child stars in a world that feeds on innocence. In fact, Jackson remained quietly devoted to David throughout the countless surgeries and skin grafts David constantly needed — and would continue to need — until he reached adulthood. "He's been my friend throughout everything I've been through," David explained when he was a guest on the daytime talk show Leeza. "And he's my only friend that I can say has been there for me, always."
Later in life, David gave an interview to Larry King and recalled the exact moment he met Jackson for the first time.
"I entered an arcade, and there were all of these Paul McCartney records, 'The Girl Is Mine,' and this and that. And I remember sitting down, and at the time, my favorite video game was Pole Position. And I was playing Pole Position, and I felt a little tap on my shoulder. I turned around, and there was Michael. And you know what, Larry? At that moment, we embraced, and that embrace never ended throughout our whole entire friendship."
It was also Jackson who helped David liberate his soul through artwork. After taking up the typical hobbies and pastimes of a boy living in California, like skateboarding, David discovered as a teen that he had a passion for art. He began to draw and paint. Like everything else in his life, it wasn't easy. His art supplies had to be altered for his hands. His fingertips had been amputated over the course of his many surgeries. Still — and again, like everything else — he persevered. One day, when David was at Neverland Ranch, working on a painting, Jackson came over and checked out his work. David recalled the moment for the Las Vegas Review-Journal: "He saw me painting near the lake at his home. He told me I was the greatest artist in the world."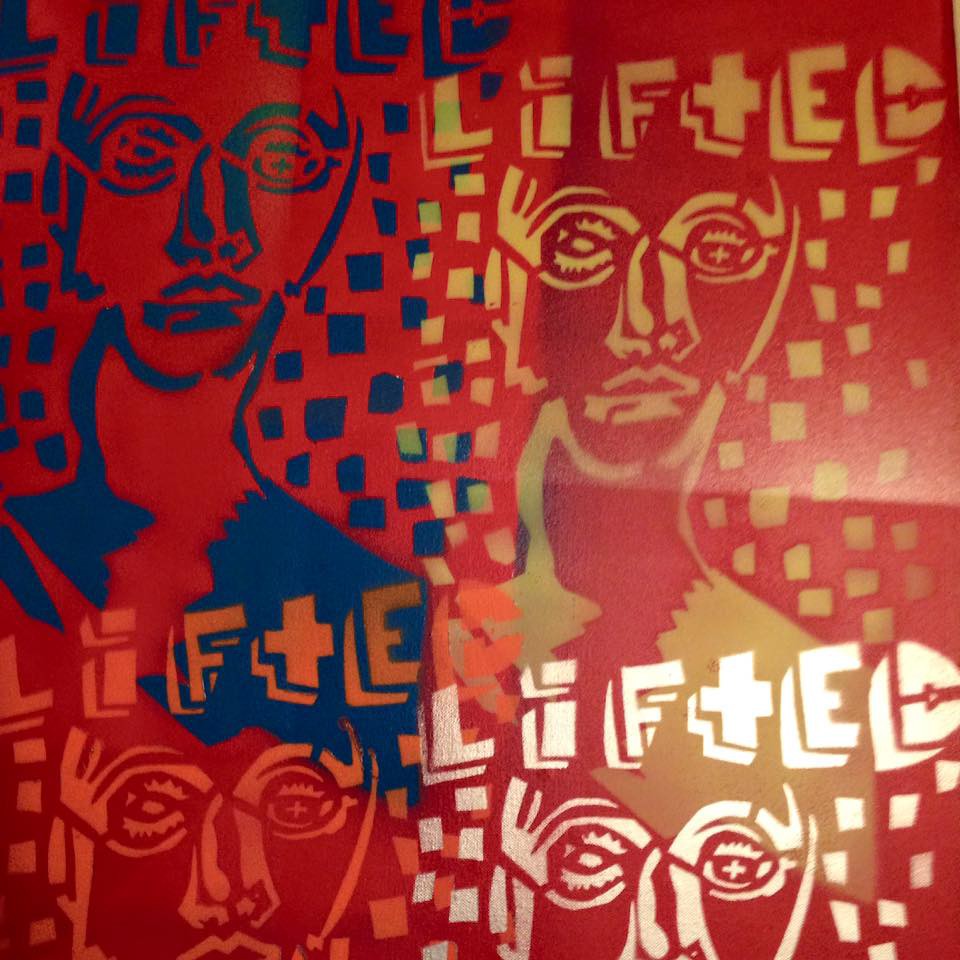 On his Twitter account, David's third-to-last tweet ever was about Jackson. He shared a photo of a full-face mask that Jackson had professionally made for him by an anaplastologist.
They were once both traumatized boys who became tragic men, two resilient souls trapped in bodies that bore the scars of their father's abuse. The symbolic implications of such a gift is a metaphor so powerful, so bittersweet, it's best for the rest of us to focus on the joyful fact they found each other.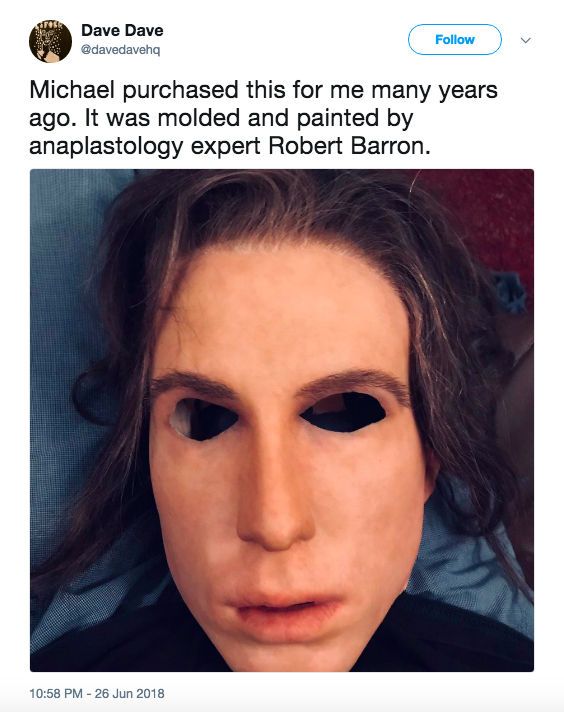 In that same interview with Larry King, David also spoke about how, as he grew from a boy to a man, he made efforts to separate himself from his father. To divorce himself wholly and completely from his father's psychic hold. One of the ways David intuited was to reinvent himself in his own image by changing his last name — to rid himself of his father's name, and the sound of those syllables that trailed after him like a curse. In his typical blunt style, King asked, "Why Dave Dave?"
"To liberate myself from the confines of my father's criminality," Dave Dave replied. "He is a criminal, and he caused all of this. To free myself of his name and his legacy, I decided to become my own person through changing my name."
He couldn't truly escape his father, though. In 1990, when Dave Dave was 13, Charles was released from prison after serving seven years of his maximum 13-year sentence. At the time of his father's release, Dave Dave told a reporter from the L.A. Times, "I'd shoot his eye out if he ever came over. I'd blind him. He will be out there, free. He probably has people out there right now looking for me. I will have to live the rest of my life on the line… always looking behind me.''
The article went on to note that Dave Dave "has practiced self-defense and all the best ways to flee his Orange County, Calif., home. He knows the fastest routes on his bicycle from his junior high school. He has learned to use the BB gun he got for Christmas, sometimes sleeping with it propped beside his bed."
By the time Dave Dave was 19, however, he wanted closure. He wanted to be able to move on with his life — to feel free from the constant threat and lingering effect of his father. He finally got his chance when Charles was arrested and accused of shooting a man in the head. While he was in being held by the Alameda County Sheriff's Department pending his trial, Dave Dave requested to see his father.
Recognizing the newsworthiness of such a face-to-face meeting, a reporter from the L.A. ABC affiliate flew up to Oakland with Dave Dave. With his father once again behind bars — and his son safe from any violent potential — Dave Dave worked up the courage to confront his father. According to KABC-TV, Dave Dave walked into Alameda County holding and read Charles this prepared statement: "Charles, you are not my father. You are an impostor. Parents don't hinder their children from experiencing a normal childhood. I wish that you could experience the trauma and pain that I have gone through."
In response, Charles told his son that he loved him.
Dave Dave looked his father dead in the eye and said, "No you don't."
A few years later, in 1998, seeking his own sense of transformation, Charles Rothenberg also changed his name. He'd ruined his own family name. Anyone who recognized it, shunned him for it. So he too hoped a new identity would erase his past. His new name: Charley Charles.

As an adult, Dave Dave became an artist of some international renown, selling his works in shows around the world. He moved to Las Vegas, where he concentrated on abstract self-portraiture and colorful graffiti-inspired paintings. "Something happens in my brain that makes me want to get up and put a paintbrush in my hand and go at it with a canvas," Dave Dave told the Las Vegas Review-Journal back in 2016. "It is like a messenger within me guiding me to paint." Technically, though, Dave Dave's art career started long before he had gallery shows. When he was around 9, Jackson asked him to co-create visuals for his short film Captain Eo. Why Dave Dave wasn't credited for his work on the film is simple. When Jackson asked him if he wanted a credit, the boy said, "No thanks, you are my friend."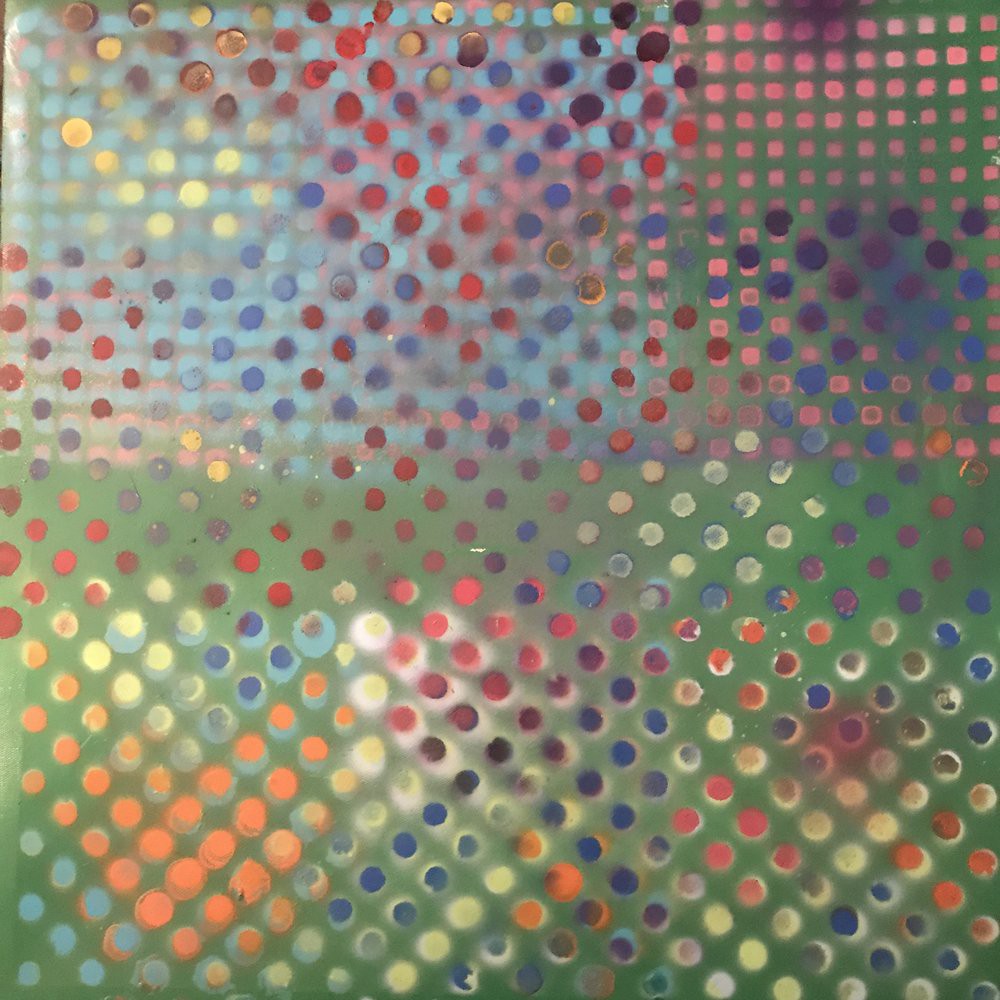 That kind of focus on the genuine more or less became the hallmark of his life. Again, from Dave Dave's mom, per People:
"When we go out in the world there are a lot of people who are very cruel to him. People will say, 'Oh, my God, did you see that?' or 'What an ugly kid.' David doesn't care. It's hard to believe, but he has never once felt sorry for himself. He says, 'Mom, God gave me three chances to live. The first one was in your belly. The second was when I was saved and the third will be up in Heaven. And I have to make these the best I can.' This child has more character and strength than I ever will. I admire and respect him more than any other human being."
Similarly, on his artist's website, he stated his artistic purpose as the following:
"DAVE DAVE CREATES CONCEPTUAL WORKS THAT REPRESENTS HOPE IN AN URBAN ENVIRONMENT, WHERE OFTENTIMES THE STRUGGLES OF LIFE CAN BE SURPASSED BY THE EXPERIENCE OF LIVING. DAVE UTILIZES THE BELIEF IN THE CONCEPT OF POSITIVITY IN ORDER TO PROMOTE WORLD PEACE."
All the while, Dave Dave also considered himself something of a sociologist: "I've been studying society for some time — not by choice, but by nature. I see the world crumbling in front of me in the past four years, and I wanted to inspire people to lift themselves up. By so doing, they lift everybody else up, so it's a collective."
Dave Dave died on July 15. He passed away in the last hospital he would ever visit — Sunrise Hospital in Las Vegas. He was 42. (As the L.A. Times reported, "The cause of death is pending and could take another month to be disclosed.")
When he was asked to eulogize his best friend, Dave Dave spoke glowingly of Michael Jackson, but ultimately, he could have been eulogizing himself, too. "Well, I believe what people fail to realize is that Michael was a human being. Throughout the years, I think he was kinda stigmatized by the media, and I believe that was — that wasn't really helpful to him, or to anybody around him. I believe that Michael was a great person. He's never hurt a soul. And I'm happy to have been his friend for all these years and been a dedicated friend."