From The Bitch That Stole Christmas to The Tits That Saved XXX-mas, the anniversary of Jesus' birth is also the most wonderful time of the year to make all your pornographic fantasies come true. The lore around the Christmas holiday is, in fact, so ripe for pornification that it's almost as if the stories were deliberately conjured up so they could be very, very easy to jerk off to.
Sitting on Santa's lap?
Tiny, adorable creatures who unquestioningly do your every bidding??
Unwrapping packages???
If PornHub's 2016 holiday statistics are to be believed, fans are diving crotch-first into the holiday spirit, as search terms like "Santa," "Christmas present" and "Mrs. Claus" skyrocket by hundreds of percentage points toward the middle and end of December.
As far as what makes nice, traditional Christmas adult content? Some storylines are so rote as to be formulaic. But others are taking the genre into new, unexpected territory. Here, then, is the anatomy of a holiday porn scene — with expert commentary from those who attempt to arouse with Santa hats, elf costumes and an occasional menorah. The history of such scenes doesn't necessarily go back to the little town of Bethlehem, but it spans at least a few recent decades.
Peter Warren, Senior Editor, Adult Video News: Parodies are nothing new in adult. As long as there's been porn, there have been parodies. So [holiday parodies] are just something you'd expect to happen. To a degree, it's almost like a badge of honor for people in the mainstream to have whatever they made turned into a porn parody. For the general population, I think everybody's always curious to see what the porn industry is going to do with their favorite TV show or movie — or their favorite holiday. You get something like Wonder Woman in the zeitgeist, for instance, and of course people are going to be scrambling to see the porn version of it. That's just a natural reaction.
Originally, though, Christmas-themed porn depended more on traditional holiday folklore than parody. In Santa Comes Twice (1984), Santa (Milton Ingley) makes sweet love to his ever-faithful wife, Mrs. Claus (Susan Hart), before getting it on with a number of his elves. Merry X-Miss (1986) found Santa's daughter (Samantha Strong) causing sexual mayhem and mischief along with her trusty (and sexy!) sidekick, a renegade elf. It wasn't until the 1990s that the spoofed holiday favorites arrived en masse. These included Miracle on 69th Street ("Mrs. Claus and the elves have quit, leaving Santa alone on Christmas Eve, so he recruits some hot ladies to help fill the stockings"); and Tits a Wonderful Life ("A nude guardian angel helps a despairing mobster by showing him what life would have been like if he never existed").
This onslaught of holiday film parodies culminated in the early aughts with one of the most popular ever: This Isn't Christmas Vacation (2010), a spoof of, yes, National Lampoon's Christmas Vacation. Per its online synopsis: "This year the Grizwalds are gonna celebrate Christmas like never before. With more presents, more lights and more sex than ever. Crazy cousin Eddy parks his bedroom on wheels in the front of the house and proceeds to have sex for all the neighbors to see. Rusty finally gets a taste of some sweet, sweet pussy and quickly learns where to stick his yule log. Audrey spreads some cheer and her tight pussy for the boy down the street. And when Elen gets caught with her new purple vibrator, Clark shows her a toy of his own."
Today, in the So-Many-Options-For-Everything-It's-Almost-Paralyzing Age, both folklore-based Christmas pornos and porn parodies of modern Christmas classics abound. That's largely because there's so much porn produced these days (amateur and otherwise) that performers are more inclined to slap a Santa hat on a regular old sex scene than to go to the trouble of wrangling costumes, sets and plots. Contemporary audiences have a short attention span — be honest, how quickly does your itchy trigger finger fast-forward? — and competition on the adult playing field is high. If your video doesn't get to the sex quickly, it'll likely be passed over for a swifter fix.
Kayden Kross, Adult Performer and Director and Owner of Trenchcoatx: I do a Christmas-themed photo shoot every year. When I first began doing so, it just seemed like the thing to do — like everyone kind of does it. I don't know why I thought that; I had this member base, and I wanted them to log in that day and be happy with what they came across. I think people are almost expecting a holiday theme, especially on the solo sites where you're constantly coming up with new looks. I've never done a full holiday scene where other actors are involved, though. The reason is there's such a short window of time — maybe four to six weeks at most — to make your money back. Then everyone throws away Christmas stuff until the next year.
Joanna Angel, Adult Performer and Director and Owner of BurningAngel.Com: Look, every industry does it. You go to Sephora, and they have the same lipstick you buy all year, but during the holidays it's packaged a little differently. It's the same with porn; we're doing what we usually do, we're just packaging it a little differently. You put different wrapping on it. Everybody who sells anything finds a way to make the holidays their own. For us, it's just a way to get special attention to our porn site.
Like Kross, Angel has done a number of what she calls "generic Santa scenes."
Angel: As far as standard themes, there's always one where you have a Christmas tree, and someone gets a vibrator as a present and then they use it. That's a pretty common one. Then there's one where someone is sitting on Santa's lap, and he gets a boner — maybe it's like at a Christmas party or an average Christmas at a house, because all porn must happen at a house. Mistletoe stuff kind of speaks for itself. Then there's just the fantasy ones, where it's like, the sexy Santa girl. Someone is having a lonely Christmas, and all these sexy Santa girls come to the door and give him a sexy Christmas.
Kross: There's also the idea of a Santa whose present is a dick in a box, or "I Saw Mommy Kissing Santa Claus" — anything where popular imagination is right there with you.
Personally, as a viewer, I like stuff that's a little more witty and less trope-y. I'm tired of seeing actors with their hands over their cheeks and their eyes bugging out in surprise over something. I like when there's a little more thought put into the storyline. It doesn't have to be a big story, just a little more. The holidays are also an easy time to really pop with color. If you don't cut corners, you can get a cool-looking set because there's so much going on visually. Nothing pops like red.
To set herself apart, Angel has produced and starred in three high-production specialty films for the holidays, all of which she released on Burning Angel: Festival of Cocks (2011), her Chanukah gangbang; How the Grinch Gaped Christmas (2015); and The Nightmare Before XXXMas (2015). Her costume as the gaping Grinch featured head-to-toe green body paint and a tight-fitting, red-sequin cocktail minidress that hugged her figure and a plotline that mimics the Grinch's evil tendencies. That said, there was one major difference: In the original movie, the Grinch ruins Christmas by stealing all the presents; in Angel's version, she ruins Christmas by storming houses and terrorizing their inhabitants… sexually.
Angel: The summertime is when I start thinking about what I'm going to do for Halloween. Once that's out of the way, I think of what we should do for Christmas. I've always tried to top myself. After my first Christmas-themed porn, I was like, "Everyone does Santa porn. What can I do to make mine unique?" And it just came to me. I really don't have a method for how I come up with any ideas, which is my blessing and curse. How the Grinch Gaped Christmas is probably among my most famous ones, because I mixed a fairy tale with a really dirty word for the title. I was pretty proud of that. It's also very obviously an anal movie.
It was nominated for best parody at the AVN Awards, which I wasn't expecting at all. Similarly, I was just at a trade show in New Jersey, and I found out it's turned into this gag gift people use during Secret Santa and as a stocking stuffer.
Filming The Nightmare Before XXXMas was more work. Starring Angel and her real-life husband, Aaron Thompson, as Jack and Sally, the film features the couple in bespoke costumes — Angel in a patchwork dress, red wig and white body paint with stitches down her breastbone, and Thompson dressed in Jack's signature black-and-white pinstriped suit, as well as skeletal face makeup and long, bony prosthetic hands. The film is shot against a sleek, stunning backdrop that mimics the look and feel of the Tim Burton original, and features Angel singing a porn parody of "Sally's Song" and Thompson performing a porn parody of "What's This?"
Then, breaking from the original, they bone.
Angel: People loved the the Nightmare Before XXXMas video we made for YouTube, and that was PG-rated. I think people liked it because it was just so disgustingly romantic. Me and my husband are so much like Jack and Sally. Actually, it was adorable; someone gave us a huge picture of us as Jack and Sally for our wedding. Overall, for The Nightmare Before XXXMas, I didn't want to make an entire three-hour film. It would've been too long, and I couldn't afford it. That's why I boiled it down to one romantic sex scene.
Festival of Cocks holds a unique place in the world of adult entertainment, as it's one of the few holiday-themed porn scenes that isn't about Christmas. A search of PornHub and RedTube brings up astonishingly few results for searches related to other December holidays (e.g., "Kwanzaa" even "Festivus"). The paltry "Hanukkah" pickings include an amateur blow job that witnesses the female blow-er pausing to pick a hair off her tongue, and another whose only connection to Hanukkah appears to be the star of David necklace the woman wears. Being Jewish herself, Angel had always wanted to remedy that.
Angel: People always tell me, "You're Jewish, why don't you do a Hanukkah porn?" Well, with Christmas, come on — Santa is a big man, you sit on his lap and you tell him your dreams. It's so easy to pornify. But there's not much sexy about Hanukkah.
It used to bother me when people said that — just because I'm Jewish doesn't mean I want to make crappy porno. Sheesh. But after I'd done my first gangbang for porn, I needed a reason to do another. People have already seen me get gangbanged, so I put everyone in blue and white, and I wore blue and white lingerie. The plot was, "I forgot to get you a gift. Oh look, there's eight dicks downstairs!" It definitely went over really well.
Hanukkah, however, doesn't make PornHub's list of "Popular Christmas Related Searches":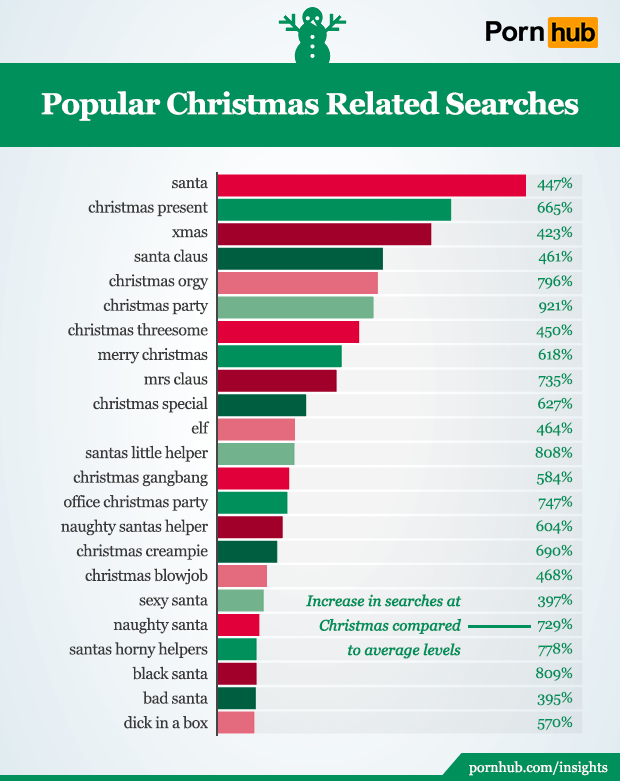 Another interesting tidbit from the tube site's data dump on seasonal searches is that such a time for family also inspires men to search for sexual scenarios involving said family (or at least those involving MILFs and/or stepmoms). Women, on the other hand, are searching for an even older version of Santa Claus (if legend is to be believed, he's already more than 17,000 years old) and/or a holiday gangbang (a la Angel).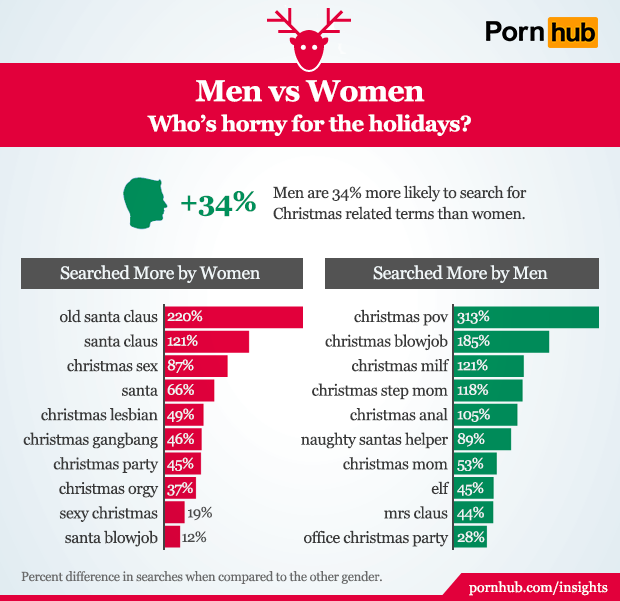 The only thing that seemingly trumps porn on Christmas? Presents. "[PornHub] traffic is down -40 percent below normal levels at 6 a.m. [on Christmas morning], when people are waking up to unwrap their presents," the PornHub Insights team reports.
After all, the holidays have merely made us horny, not any less giving.