It does not seem like it should have to be said out loud, but here goes: Yes, teenage girls are horny, and yes, they are distracted by thoughts of sex, and yes, they are curious about sex, and yes, they are curious about sexual self-discovery both on their own and with other boys and/or girls. Even if you already know or assume this is true, watching the short film Yes, God, Yes from writer and director Karen Maine, who co-wrote Obvious Child, is still revelatory, for no other reason than that it's clear there are still so few honest or accurate depictions of teen girl sexual curiosity from a female perspective.
Featuring the excellent actress Natalia Dyer from Stranger Things, who plays Alice here with equal parts desire and innocence, the roughly 11-minute short takes us through a Catholic girl's frustration exploring her sexual curiosity. Only, that curiosity keeps hitting against repressive sex education classes where a hip young priest advises her that the only purpose for sex is for a married man and woman to make babies. It's also set in the AOL chat era, which opened up unprecedented avenues for sexual exploration with hidden strangers.
If all that seems straightforward enough, it's worth noting that the short plays all this for comedy. We meet Alice playing a game on AOL when she's chatted up by a guy who sends her pictures of he and his wife having sex, then asks for pics back. She scans in a picture of her more seemingly sexy friend. Impressed, he asks if she wants to "cyber." Game to try but clearly unaware of exactly what to do, she attempts a back and forth. When he writes, "I take ur panties off with my teeth… ur soaking wet. What are u doing to me?" she responds, "I take off your boxers. You're wet too."
From there, Alice tentatively confronts her burgeoning sexual desire, mostly through mildly embarrassed, horny longing. She stares at her classmate's arm hair, and fights the impulse to gawk openly at boys' legs and crotches and a teacher's breasts. The friend she cribbed a picture of has no trouble internalizing the message that sex is only for procreation, so Alice is left entirely isolated to revisit the make-out session in Titanic and get to the bottom of her own desire. No spoilers, but the big finish is both innocent and novel for its honest, funny look at what sexuality looks like from a woman's point of view, and also how resourceful women have to be to get off before they've figured out how to masturbate, much less get their hands on a vibrator.
Speaking with The Guardian, Maine said she deliberately wanted to tackle topics that we usually see in male-dominated settings. Masturbation jokes are rampant in movies about and/or for men, such as There's Something About Mary. "These are stories that happen to lots of women, and they can be realistic and funny, and they don't have to be serious and gross and, like, gasp-worthy," Maine said.
Superbad comes to mind, too. For all its warmhearted approach to boys who are eager to get laid before high school ends, female viewers might wonder why it's so hard to see female sexuality and virginity loss as something to be sweetly, even crassly, nostalgic about. As something more than a cautionary tale where sexually curious girls are often still punished. Real girls too, are often relieved to have sexual experiences, to resolve their sexual frustration and to do things that just feel good.
More films are taking on this subject matter, including the coming-of-age film Diary of a Teenage Girl, whose lead actress, Bel Powley, has spoken openly about the movie's message that a girl's virginity is hers to lose when she wants. "It's not going to damage you," Powley said in an interview. "You're not going to be tainted." Women, she continued, are still made to feel "like a freak for having sexual feelings."
With Yes, God, Yes, Maine also wanted to show something else typically ignored about female sexuality — that girls tend to be sexually awoken long before they do anything with a partner. She calls the film a "love story between one woman and her vagina," and told The Guardian that as a teen, "I wasn't doing things with boys yet. And if I was, it wasn't really sexual; it might be kissing, or I might get butterflies in my stomach. But anything sexual I did that age was just by myself."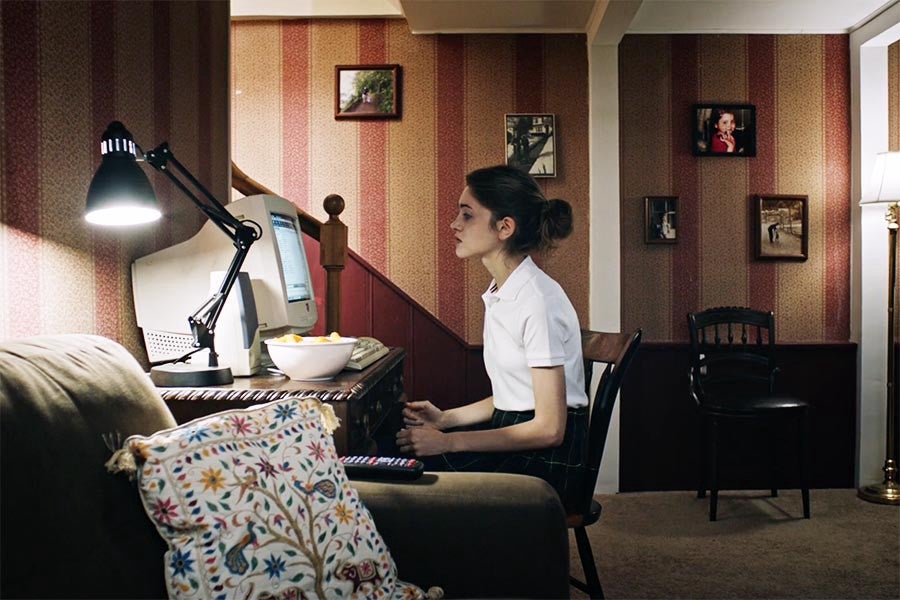 Teenage boys' masturbation is portrayed as an inevitable, hilarious, well-earned compulsion, so it's telling that Yes, God, Yes feels truly novel for tackling what the experience is like for girls. Tips about masturbating for teenage boys are entirely about how to do it better, and seem largely lacking in reassurance that it's "okay." Googling for how girls learn to masturbate, by contrast, produces pages and pages of porn results.
Eventually, you get to actual articles talking about how much of female-driven sexuality is kept from girls, and how rarely young girls are even taught about their own body parts—much less what to do with them other than avoid getting knocked up. And then you find things like a piece in Seventeen, written in the modern year 2016, insisting to their readers that it's actually okay for teen girls to masturbate.
In the piece "15 Things Every Girl Needs to Know About Masturbation," girls are reassured that it's "not just for gross teen boys," and that "more than half of teen girls do it!" Tip number 5: "It doesn't make you a bad/weird/gross person." Number 14: "It won't make you looser down there."
Author Caitlin Moran, who has a teenage daughter, has written frequently about how we continue to terrify girls about sex, and fail to show female sexuality as normal and healthy. "If you can't be what you can't see," she writes, then how can teenage girls "wear their sexuality comfortably" when porn continues to present an unrealistic, often painful and humiliating version of sex to men and women?
They can't. Moran writes:
So, well done, us. We've managed to raise yet another generation of teenage girls terrified of sex. They used to be scared of it because it would make them pregnant or unmarriageable. Now they're scared of it because they don't know if they can handle a gang-bang or not.
All this makes Yes, God, Yes (1.6 million views strong and already set to be turned into a full-length film) radically refreshing because it does neither. It doesn't treat girl sexuality as something so delicate that it must be stifled and guarded, nor does it treat it as something that will upend and destroy a girl's whole life. Instead, it gives us the masturbation in the middle — not too hot, and not too cold, but just right. The one Goldilocks herself might've chosen, if she had just been told it was okay to masturbate.