Editor's Note: This story was first published on April 9, 2018.
A large bald man is eating lunch at a food truck on the north shore of Oahu, Hawaii. He has a tan complexion and tribal tattoos. His muscles have muscles. He looks familiar.
It's an overcast day during the rainy season on the lush, mountainous, windward side of the island, about an hour's drive northeast from the bright lights and container stores of Honolulu. The main road hugs the shoreline, one lane in each direction. The housing ranges from makeshift to comfortable — louvered windows, stucco, cinder-block stilts. Hand-painted signs decry further development. Junked cars rot in the salt air; some appear to be lived-in. Like the back side of a big resort, this is where the locals live.
The large bald man is sitting at a picnic table. Before him is a plate of Thai food. In his hand, the plastic fork he's using looks like a child's toy. Sitting next to him is an attractive woman. Like the man, she's wearing workout clothes and appears to be in a peak state of physical fitness. The man is speaking in an appropriately private voice — about his football days, his work in Hollywood, his life growing up hereabouts with his grandma, who called him Stupid, one of the few English words she used with regularity.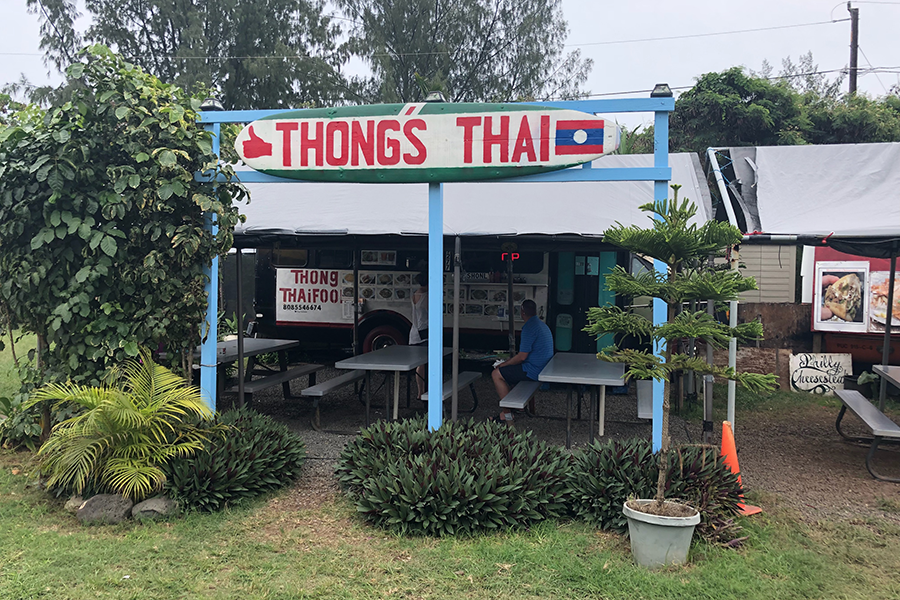 Being the off-season, this modest enclave of semi-permanent restaurants, set like a tropical food court between the weathered asphalt and the pounding surf, is only moderately busy at lunchtime, a mix of tourists and locals. Some of the customers throw side-eyes at the large bald man; a guy ordering at the counter does a theatrical double-take. Others, seemingly more familiar, throw him shaka signs — hang loose, bra. He shakas them back.
Shuttles and busses wheel past, day trips around the island. Nearby are popular roadside stands that serve all-you-can eat garlic shrimp. A few miles north and west is the chain of epic surf spots known as the Seven Mile Miracle — among them Banzai Pipeline, Rock Pile and Monster Munch. The nearest town is called Laie, pronounced La-ee-ay.
Back in more simple times of kapa-fiber loincloths and fishing spears, Laie was a sanctuary for fugitives, the literal and figurative end of the island. Since 1865, however, it's been a bastion of the Church of the Latter Day Saints, who pioneered the wearing of muumuus for modesty. Laie also boasts Hawaii's most popular paid attraction, the Polynesian Cultural Center, a "theme park and living museum" built by the Mormon church to celebrate the Polynesian cultures that contributed converts to build the gleaming white temple in Laie. Much later, an extension campus of Brigham Young University was constructed here, too.
The large bald man is just about finished eating when a guy with a sunburn appears beside the table. "Can I ask you a question?" he says meekly.
"Yeah, sure," the large bald man responds. His smile tightens against his Hollywood-white teeth. He has an idea of what's coming next. It can go one of several ways.
"Has anyone ever said you look a lot like The Rock?"
* * * * *
At 6-foot-3 and 250 pounds — and with a 50-inch chest, 20-inch biceps and 31-inch thighs — Tanoai Reed does, indeed, look a lot like Dwayne "The Rock" Johnson, the half-Samoan former college football player and pro wrestler who has lately become the world's biggest action movie hero.
The resemblance, in fact, is how he makes his living: For 16 years, Reed has been Johnson's stunt double, a constant fixture on Team Rock, beginning in 2001, with Johnson's first starring role in The Scorpion King.
The 44-year-old Hawaiian — born of Samoan, Norwegian, Swedish and Irish ancestors — is two years younger than Johnson. The two met for the first time when Reed, who was working on a movie set as a teamster, was serendipitously drafted for a stunt job. That's also when Johnson learned something Reed had known for years: The two men are related — Reed's and Johnson's great-grandfathers were cousins.
Since then, as Johnson has risen to superstardom, Reed has been right there with him — jumping off buildings, getting hit by cars, crashing trucks into walls, falling down mountainsides, riding camels and engaging in epic hand-to-hand combat. To date, the duo has worked together on 24 movies. The most recent, Jumanji: Welcome to the Jungle — with Kevin Hart — became a sleeper hit, pushing $1 billion in worldwide box office sales. Hitting theatres this week: Rampage. Then Skyscraper in July. Reed broke major bones in two of the three.
"DJ gives me credit more than any other actor gives his stunt man," says Reed. "He's always been like, 'When it comes to the gnarly stuff, things where I can get hurt, my cousin Tanoai does it all.' I'll be reading a random article about a movie and bang — my name's in there. He's that kind of guy."
According to his resume, Reed's specialties are chariot driving, car work (notably in the Fast & Furious series), air ramps, flying wire work, swords, fights, mixed martial arts, scuba and so forth. A 10-time World Stunt Award nominee — he's on the 2018 ballot for best high work for Jumanji — Reed has won three, the most recent for an epic fight in 2011's Fast Five, between Johnson and Vin Diesel; it was shared with Diesel's stunt man. In 2004 and 2005 Reed won Best High Work for serious falls in The Rundown and Walking Tall. More recently, he was nominated for best stunt ensemble in Transformers: Dark of the Moon, Furious 6 and Furious 7.
In addition to stunting for Johnson, Reed's resume lists more than 40 other credits, including a music video with the Black Eyed Peas ("Pump It") and appearances on the TV shows Hawaii Five-O, Baywatch Nights and American Gladiator. On the latter, his character was named Toa, a fierce Polynesian warrior whose signature was an abbreviated Ka Mate, the Maori haka dance.
It might be said, though, that his most astounding stunt to date has been surviving the life he was born into — a difficult upbringing in rural Hawaii with his Samoan grandmother and bipolar uncle; an aborted college football career; a few misguided years working as muscle for Hawaiian crime figures.
"When we first met, Tanoai wasn't into the best stuff," says Suzanne Reed, his wife of 21 years (and also a stunt double — in Jurassic World and Iron Man and for Rosario Dawson and Olivia Munn). "He was always looking around for a score. He kept telling me, 'Wait and you'll see: I'm gonna win the lottery.'"
Looking back, she says, "I guess you can say that getting the job with Dwayne was his lottery."
* * * * *
Reed was assigned to Universal Studios — driving a truck, working on a crew moving heavy set pieces — when a stunt man he knew spied him across the lot and made a b-line in his direction. It had been seven years since Reed quit the football team at the University of Hawaii, hoping to pursue a career as a stunt man. As it happened, he'd become a teamster. His soul felt a little dead but he had a wife and a baby boy, and at least he was collecting union wages and benefits.
"Dude, we're doing this movie called The Scorpion King. The Rock's in it. We need a stunt double. Can you come to the office real quick?"
It was the summer of 2001. Reed was 27 years old. The previous year, Johnson had nailed his first co-starring role in a movie, The Mummy Returns, starring Brendan Fraser and Rachel Weisz. In that film, Johnson had done his own stunts. The Scorpion King was a spin-off of the Mummy series. As the principal star, Johnson was now entitled to a stunt double.
Initially, the studio signed a white guy for the job, Khristian Lupo. Lupo's father, Tom, is perhaps best known as Tom Selleck's stunt double on Magnum, P.I. Khristian is also well regarded, with a long list of TV and movie credits. The fact that he was smaller than Johnson, only 6-foot-1 and 206 pounds, wasn't too much of an issue. The problem was his complexion. Each day, the makeup department had to color Lupo to make his skin tone match Johnson's. Somewhere along the line, it became a problem.
The very next day, Reed was rehearsing sword fights and other stunt scenes for the movie.
One result of the diaspora of Samoans — there are more Samoans living around the world than there are on the chain of islands that make up Western Samoa and American Samoa — is the rigorous effort made by families to remain in touch. So ever since Johnson's name began appearing in the news as a professional wrestler, Reed and the rest of his immediate family were well aware of their blood relation to the rising superstar.
Just three weeks earlier, in fact, while Reed had been working across town on the Paramount lot, he'd gotten word that Johnson was working there as well, doing a guest shot on an episode of Star Trek: Voyager. Reed made an effort to go meet his cousin, but Johnson had already left by the time he'd arrived. For the first two weeks of Reed's work on The Scorpion King, there had been no Rock sighting either.
Then one day Reed was in the makeup trailer, being fitted with a wig — his head freshly shaved to match Johnson's — when Johnson entered. Perhaps unaware that Lupo had been replaced, Johnson seemed surprised: "Are you my new stunt double?" he asked. Their resemblance was immediately evident.
Johnson took the next chair, and the two began to chat. "Inside, I wanted to scream out, We're related! We're related!" Reed remembers. "But I didn't want to say nothing, right? I wanted to be super cool."
At some point, Johnson asked the standard small-talk question: "So where are you from?"
"Hawaii."
"Oh?" said Johnson. His mother is from a famous family of Samoan pro wrestlers. His father, Rocky Johnson, who was African-American, was also a well-known professional wrestler. Growing up, Johnson had lived all over the world, including New Zealand and Hawaii. "What part of Hawaii are you from?" he asked.
"Laie," Reed said.
"Laie," exclaimed Johnson. "I have family there."
"I know," Reed said. He began reeling off names: "Uncle Salesa, Uncle Neff — "
"Wait! How do you know them?" Johnson asked.
"That's my Grandma Vaitai's cousins."
Johnson raised his trademark rubber eyebrow: "What's your family name?"
* * * * *
Reed's great grandfather was named Tautua Tuala Tanoai. Tanoai was his chief's name, which he received when he was 20. It means life's purpose.
Tanoai's village was located on the western end of the island of Upolu, one of the two main islands that make up an independent nation that shares an island group with the several islands comprising the U.S. protectorate of American Samoa. (Natives from both nations pronounce Samoa with the accent on the first syllable, SA-moah.)
Reed's ancestors were converted by Mormon missionaries around the time of World War I. "My family and others took to the religion very strong," Reed says, telling the story as it was told to him. Before the church arrived, Samoans and other Polynesians had a strong oral tradition, but no form of writing. Missionaries are credited with transcribing the various Polynesian dialects phonetically with Latin letters. Telling about his family's past, Reed switches back and forth between dialects — from the enunciated English of the West to the musical, dipthong- and glottal-stop-filled pidgeon of Hawaiian-bred Samoans.
"The missionaries said, 'Believe in this religion and be sealed in a ceremony, and you'll be together with your family forever in the afterlife.' It was a very powerful selling point because in Samoa, family is everything," Reed says.
In 1920, after a brief relocation to American Samoa, Tanoai, his wife and their three children — one of whom would become Reed's Grandma Vaitai — traveled by boat to Laie. "It was all the uncles and aunties, too," Reed says. "The whole family came. The whole village came." Included were relatives who would beget Johnson's maternal grandfather.
Vaitai grew up and married a military man stationed in Hawaii, a Caucasian from Louisiana named Leo Reed. The couple had four boys and one girl: Leo, Leroy, Harland, Dewey and Darlene. At some point, the marriage dissolved and the senior Reed moved back to the States, settling in Mississippi.
The boys, meanwhile, were part of an early wave of Samoans who found some measure of opportunity and success through American football. Leo went to the University of Colorado on a football scholarship and played one year (1961) for the Denver Broncos and the Houston Oilers. Harland Reed went to Mississippi State and was drafted in the ninth round by the Green Bay Packers in 1967. Dewey, the smallest, played quarterback — all the other brothers were over 6 feet and were linemen or tight ends. Leroy — Tanoai Reed's father — attended Mississippi Southern University. Eventually, all of the brothers sustained career-ending injuries and returned to Oahu.
With the increasing ease of air travel, Honolulu in the 1960s and 1970s was booming, a sort of Las Vegas in the Pacific. The Reed brothers and their cousins and extended family were fixtures on the island. Leo became a police officer and competed for a spot on the U.S. Olympic judo team. Harland and Dewey owned two night clubs — the Lemon Tree and the Red Noodle. Leroy also worked in the nightclub business, eventually becoming the personal manager of Hawaii's homegrown sensation Don Ho, the singer and TV host who was best known for his song "Tiny Bubbles."
"When people in Honolulu hear I'm related to my dad and my uncles, they're always like 'Oh my god! Let me tell you this story,'" Reed says. "I've heard so many stories about them, it's crazy."
It was in one of the clubs where Reed's dad met his mom, Denise Warde, a schoolteacher on vacation with some friends. Warde eventually left her job to move to Hawaii. Soon, the couple married. Tanoai Reed, named for his great grandfather, was born in 1974.
About the same time, the hotel where Ho performed was sold, and Leroy Reed found himself out of work. Through his father-in-law, he got a job in L.A. for Panavision, driving film to and from movie sets. With the gig came a Teamster's card, guaranteeing union pay and benefits. The family left the island for the San Fernando Valley.
Besides his size and good looks, Reed says, his dad has always been "the type of guy who gets to the top, even if he starts by sweeping the floors." But Leroy Reed also could be loud and frightening. "I don't remember much. But I remember my parents used to argue a lot. They had troubles, you know, but I knew they loved each other, and he was a good provider. But with his job, he was gone a lot on locations. She couldn't handle that. And when he was home, she was scared of him, basically."
One time, while Leroy was on location, Reed's mom packed up her son and her belongings and left. "I was about four. He got this aloha letter from her saying, 'I'm out of here.' It was a tough time for me as a kid. I couldn't understand," Reed says.
During his grade school years, Reed shuttled back and forth between his parents. His dad had been married twice more. His mom was gone a lot, he says. "I was a latchkey kid. I rode to school on a bus, and then I'd be home alone from three o'clock on. I fed myself, did my homework. I hated it. My mother would come home at 8:30 or 9, stumbling in.
"We used to get into arguments all the time. I'd be like, 'Mom, why you coming home so late?' I'd take her wine and pour it out, or pour water in her open wine. She'd get so upset and be like, 'I'm calling your dad!' I broke so many phones because I was terrified she'd call him. She used him as the bad guy, to discipline me, because I wasn't scared of her."
A big kid who matured early, Reed began hanging out with older kids. It was the mid-1980s. Crack was beginning its rise. The Valley was rife with gangs. "I wasn't doing too good," says Reed. "I was drinking and messing around."
In the spring when Reed was 11, his dad asked, "Hey, you want to go to Hawaii to visit your grandmother?"
Reed's cousin, Dewey, happened to be staying with her; over the years a number of other young relations would come and go as well. "Dewey was only six months younger than me, and we were like best friends — Tweedledee and Tweedledum," says Reed. "It sounded like a great time. So, I'm like, 'Yeah! Imma go Hawaii!'"
His dad put him on the plane. "Everybody in the family but me knew it was a one-way ticket," Reed says.
* * * * *
"As soon as I land, grandma's speaking Samoan to me. And I don't understand a word she's saying," Reed says.
"The first thing she taught me was 'Take the trash outside.' She would yell at me. 'Hey, Stupid!' That was my nickname. She was like: 'Ave le lapisi i le fafo!' And of course I didn't understand. So I was like, 'What?' and she slapped my face and repeated herself, Ave le lapisi i le fafo, and pointed out the door.
"Basically that's how she taught me Samoan. I had a couple of those black-and-white composition books with me, and I started to keep a list of words. I didn't even know how to spell anything. I just sounded out phonetically what I thought it was."
Grandma rented a tiny house on the ocean side of the dual lane, about 800 square feet. It's still there, painted turquoise by the new owners, across from the Longs Drugs, behind the liquor store and Korean BBQ place. There was a carport with a couch and a carpet, the local version of an indoor-outdoor room. Inside the house were three bedrooms, one of which Reed shared with Dewey. Another was occupied by his uncle, Rocky Mataalii Tanoai, a former All-American nose guard at Arizona State University. "Uncle Rocky was bipolar, and he was on lithium," Reed says. "He was very old school Samoan, you know? He yelled a lot. He was kind of violent. A lot of verbal abuse. You just never knew how he was going to act."
Money was tight. Grandma Vaitai and Uncle Rocky received government cheese and peanut butter and food stamps. They shopped for clothes at the CYO. For $1 you got a plastic bag and you'd fill it up with used clothes from a 40-foot container. As the summer wore on, Reed wondered when he was going home to start school. Finally, he asked his parents. They told him he was staying.
The Sunday before school started, Reed remembers, Grandma proudly gave him a colorful shirt to wear to the first day of classes. "I hold it up, and it's a bowling shirt. And it's got a girl's name over the breast pocket. On the back it says, 'Kaneohe Wahine Bowling'" — wahine means woman in Polynesian.
When he objected, Grandma Vaitai got a Sharpie and scratched out the girl's name. "There," she said, proud of herself, "you can't see now."
* * * * *
The shelves in Grandma Vaitai's tiny living room were crammed with scrapbooks full of family photos and newspaper clippings. The walls were hung with framed portraits. She used to call it the "family museum." Many of his uncles were depicted in their football uniforms, each hung somewhat high up on the wall and adorned with a dried flower lei, as is tradition.
When it was clear he was staying on the North Shore, Grandma Vaitai insisted that Reed play football. He attended the same school as his father and uncles, Kahuku High School, which included the middle school as well. His freshman year, even before football started, he had surgery on his knee — a torn meniscus suffered during an over-zealous wrestling lesson with Uncle Rocky. But by his senior year, after a summer spent training daily with a friend of his father's — a known member of the Hawaiian syndicate who lived several hours away by bus from Grandma Vaitai's house — Reed was up to 6-foot-2 and 270 pounds. Still, in the way of many Samoan players (no matter their size), he was agile and had good footwork. "I was recruited by a lot of colleges. The coaches would come visit us in our house, and they would trip out. They'd be like, 'Oh, man. You live here?'"
He wanted to go to the University of Southern California in L.A. But Grandma Vaitai objected. "For two reasons," she told him.
"What's the first reason?" By now, he spoke perfect Samoan.
"If you go, I'm gonna die. Uncle Rocky is in and out of the hospital, I'm not gonna have anybody here. I need you to help me."
"What's the other reason?"
"If you go, you're gonna get AIDs," she said. "I see the news. All the girls have AIDs. I don't want you to get AIDs." She began to cry. "Just stay here, okay?"
He relented, and joined the University of Hawaii Rainbow Warriors football program as a 17-year-old. He redshirted his freshman season. The next year, as an offensive tackle, he played on the 1992 team that finished first in the Western Athletic Conference and won the Holiday Bowl.
The summer between his junior and senior years, Reed's dad — who had steadily moved up in the Teamster ranks — got him a well-paying job as a laborer on the Kevin Costner movie Waterworld, a lone-rider dystopian flick, kind of like Mad Max on water. The shoot was in Hawaii. Not long after he began working on set, Reed's impressive size and skin pigmentation drew notice. Before he knew it, he was given a job as a stunt man/character, playing one of the outlaw Smokers on jet skis. The prospects of a 10-month gig at union scale seemed like a fortune to Reed. And so, two months into filming, when it was time to go back to college for summer football practice, Reed decided to stay with the film instead.
His father was furious. "He disowned me," Reed says. It would be years before the two would again communicate.
The Waterworld gig concluded with two months of shooting on sound stages in L.A. Reed lived it up with his friends from the crew and bought himself a Chevy S10 lowrider pickup. But then: "I was waiting for somebody to call and offer me more work. In Hawaii I was a big fish in a small pond, but in L.A., I'm a small nobody. I didn't know how to hustle as a stunt man. I didn't even have a headshot. They didn't tell me that part of the business."
For the next five months or so, Reed lived in his truck and worked shifts as a bouncer at various nightclubs in and around L.A. For a time, he "slept like a puzzle piece" on the floor of an apartment occupied by eight other Samoans, most of them also bouncers.
Feeling "kind of lost," Reed drifted back home to Hawaii in 1996. He was only 22, but it seemed like a lifetime had passed since he'd left Grandma Vaitai's. Not knowing where to turn, he appealed to an old friend of his dad's, another crime figure. The man set him up detailing cars at a used car lot. Reed lived in an old Westfalia camper van on the premises. He had a hose for showers. As time passed, he started doing a lot more than just cleaning, most of it dangerous and illegal.
"Long story short," Reed says, "I had a guy put a hit on me. I had to get off the island."
News of the troubles reached Leroy Reed, who softened his heart and took his son's phone call. The elder Reed was working in San Francisco on the TV show Nash Bridges, with Don Johnson. "Get your butt over here, I'm gonna hire you," he said.
Reed went to work as the personal driver for the other star of the series, Cheech Marin. From there, Reed was sent to the island of Kauai as a driver for David Schwimmer on the Harrison Ford/Anne Heche vehicle Six Days, Seven Nights.
On location one night, out with a group of friends from the set, Reed met Suzanne Turbeville, a senior at the University of Hawaii, who had come to the island to camp with her friends.
After the movie was over, they got an apartment together in Honolulu. Reed wanted to be with Sue, as he calls her, but there was little union work in Hawaii. And so, unbeknownst to her, he fell back in with the criminal element. "I was collecting money and doing this and that. And she found out about it. I'd go out and come back with money and she's like, 'What are you doing?' I'd tell her, 'Oh, I'm doing stunt work. I'm doing this and that.' And she was like, 'Nah, this is B.S.'"
Sue was born of Hawaiian/Japanese/Italian ancestry. She grew up in Makaha, on the western side of the island, which has a reputation for being a rough area. Her dad was a teacher. When told by doctors to take up a less stressful profession, he went to law school and became a prosecutor. (Some of the defendants were former students.) He also taught judo and ran a dojo. At the time, her sister was a TV news reporter in Honolulu. She had a lot friends who were police. Reed had never been arrested, but he and his compatriots were well known to her sources.
"I told him I couldn't be with him if he was going to do those things," Sue says. "It was choose me or choose that."
"She saved my life," Reed says.
* * * * *
Friday afternoon in Laie.
We're in the parking lot of the Cackle Fresh Egg Outlet Store, on the mountain side of the dual lane, at a sort of pop-up restaurant nobody hereabouts would ever think to call a pop-up restaurant: Ken's Fresh Fish.
The bill of fare is written on a piece of cardboard. Teenagers run the grills and the deep fryers. Ken takes your order. By the salty look and sound of him, he threw his first hook into waters off the Atlantic Coast. The rain has stopped, the sun is out. The air is damp and palpable, carrying the smells of brine, earth and flowers. The panko-crusted Ahi Katsu — fried to a golden brown and topped with alternating striations of wasabi bay aioli sauce and sweet brown Unagi sauce — could well be the best piece of fish I've ever eaten.
Tanoai and Suzanne Reed are eating from Styrofoam to-go boxes resting on the tailgate of his truck. Another box awaits Samson, their son. He attends the same school as did his dad, who remains a huge booster of the Kahuku High School Red Raiders; recently Tanoai helped lead a community effort to refurbish the school's weight room and other athletic facilities. Samson is a 6-foot-3, 252-pound defensive end. Next fall, he'll attend the University of Virginia on a football scholarship.
The family moved here from the San Fernando Valley when Samson was 11. Their house is only minutes from Grandma Vaitai's old place. When I mention the coincidence of Samson starting his life on the North Shore at the same age as his dad, Reed's face assumes a thoughtful pose. "I never thought of that," he says. Likewise when I observe that he makes his living in very much the same way as his dad once did with Ho — a planet in orbit around a star. After many years of discord, Reed and his dad are now close. Leroy Reed is married to his fourth wife and has mellowed, Reed says. "The first three wives were Caucasian, and the last one was local," Reed says, meaning Hawaiian. "I think it took a local girl to handle a local guy. She wasn't scared of him. I think she turned his volume down a little bit, kind of controlled him a little bit. It's good."
When he's not traveling for work, Reed drives the short distance to school every day to deliver a hot lunch to Samson. Reed remembers being very young and asking his mom for a Cabbage Patch Kid. "Why you want a baby doll for?" his father asked, angrily. "I want to be able to take care of something," the younger Reed answered.
After school most afternoons, the three Reeds will gather together to work out in the park across the street from their house. It's the same park where Reed and his cousins and friends played all those years ago. Samson is on a workout program he's supposed to follow prior to going to summer practice in Virginia, but his dad has supplemented it with drills of his own. During one such, Reed will act as a blocking dummy. Samson will pick him up and throw him with such force that the veteran stunt man nearly loses his balance.
Reed takes a forkful of his plain grilled opah. No fried foods for him. Because his number one job is to be in shape, he's perpetually on a diet and workout program. "I don't ever let myself go," he says.
When there's a new movie coming up, Johnson calls him up and gives him the rundown. "Like, when we did Hercules, my shirt was off the whole movie, so he told me a couple of months ahead of time: 'We gotta get lean.'"
And as the shoot gets close, "He'll send me pictures of how he looks, and I try to get into the exact same shape," Reed says.
Though the Reeds have suffered at times due to long separations, they're close. It helps that they have the same strange profession. "This is my best friend if you couldn't tell. We're buddies," he says.
Sue's first job was on The Scorpion King. Reed hooked it up; she was one of the warrior women. With her athleticism and lifelong judo and MMA training, she was a natural and continues to get frequent work. Just yesterday, she worked an episode of Hawaii Five-O. It was a kidnapping scene. She doubled for the mother of the kid who was being kidnapped. When she tries to rescue her child from the kidnapper's car, they knock her down as they race off. "She takes a head-butt from the car door," Suzanne explains cheerfully. "Though of course it's not really a head-butt, it's acting."
The two begin bantering back-and-forth, talking trade, a domestic scene reminiscent of ones in a movie Suzanne worked on — Mr. & Mrs. Smith, about a married pair of contract assassins played by Brad Pitt and Angelina Jolie.
Mr. and Mrs. Reed reminisce fondly about a long romantic weekend — where they went to become certified as a stunt drivers. Or the time, when their son was small, and they were both working on The Rundown; the sitter fell through, and they had to bring Samson to the set. For one of the scenes that day, both of the Reeds had to swim in a cave that had been constructed on set. Samson wanted to come in the water with them. When he became insistent, Sue told him there were sharks in the water. But he was undeterred. "That's okay," he said. "I'll be with you guys."
Or the time that camel pissed on Reed's wig in The Scorpion King. Or the time the monkeys in The Rundown had to be put in diapers after they became excited and rubbed their erections in Dwayne Johnson's face. Or more recently, the broken heel Reed suffered on Rampage­ — and how Sue and Samson stood helplessly on the set as it happened, watching on the monitor as Reed's flying wires became tangled and he fell 30 feet to the ground­.
"As soon I saw him hit," she says, "I knew something was wrong. He didn't get up. He just laid there for a minute, and then the camera went black."
Reed's battle wounds are numerous, each one with a story and a long recovery attached. On Fast 7, a jagged piece of glass the size of an iPhone pierced Reed's arm, hit the bone and shattered it. "It severed everything — nerves, muscles, everything. It was open to the bone, like a shark bite. I couldn't move my fingers. I almost lost my arm." (Two other Rock-related injuries of note: A broken tibia on The Rundown and a broken wrist on Jumanji.)
"I had a concussion doing that one film," Sue says. "It's weird but I can never remember the name of it now."
"Pathology," Reed reminds her. "She had to do a full fire burn for that. The mask she wore made her look like Michael Myers from Halloween."
Sue was playing a body in a morgue. There's a leak in the embalming fluid, someone lights a cigarette and the whole room blows up. The stunt involved a gas bomb. When the director yelled cut, the crew had to yank her up and out.
"I had a little straw so I could breathe."
"It's like swimming," he says. "You have to turn your head so you don't breathe in the fire and burn your lungs."
"They had to fly me out."
"She was still on fire."
"That's when I hit my head."
"I was more nervous than she was."
"It's like when he did The Rundown, he literally had to fall off a mountain. I kept telling him, 'You don't have to do this.'"
"I had to drive a Jeep off a cliff and in mid-air jump and then land and start tumbling down," Reed says. "Over the course of four days we tumbled down this hill in different cuts, different locations, all day long. In the movie, it looks like one long hill. But in reality, we're in like 20 different locations. And we had to do it over and over again. Four takes here, 10 takes there, 15 takes there, just to make sure they got it right. The whole scene is like two minutes. If they took all the footage and put it together, it would've been two hours of tumbling."
Though he wasn't injured on that series of stunts, a few days later, he broke his leg on a stunt fall out of a tree due to a "small mechanical error" involving the winch that was supposed to be holding him.
"What goes through your mind when you get injured?" I ask.
"First, he's thinking, Do I have a run-of-the-show contract?" laughs Sue, meaning that if you get hurt, you still collect your contracted fees.
"You figure it will heal," says Reed. "When you get your paycheck, you rub it on where it hurts to make it feel better."
* * * * *
On another afternoon, we're visiting Grandma Vaitai and the other relatives at the family plot, a large grassy area on the mountain side of the road. Tanoai Reed is mowing; Sue is on her hands and knees pulling weeds.
It's not unusual for Samoan families to picnic with their deceased relatives at the cemetery. At home in Samoa, where families have lived in the same villages for centuries, the relatives are often buried in crypts in the front yard. As the Reeds groom their plot, a group of older men sits in a circle beneath a tree, swapping stories and drinking Kava, the roots of which contain a mix of stress-fighting compounds called kavalactones that have sedative and numbing affects, most noticeably on the lips and tongue. When Reed was 20, he was ordained chief in a kava ceremony in Grandma's carport. He was given the name Tasiaeafe, meaning "one in a thousand."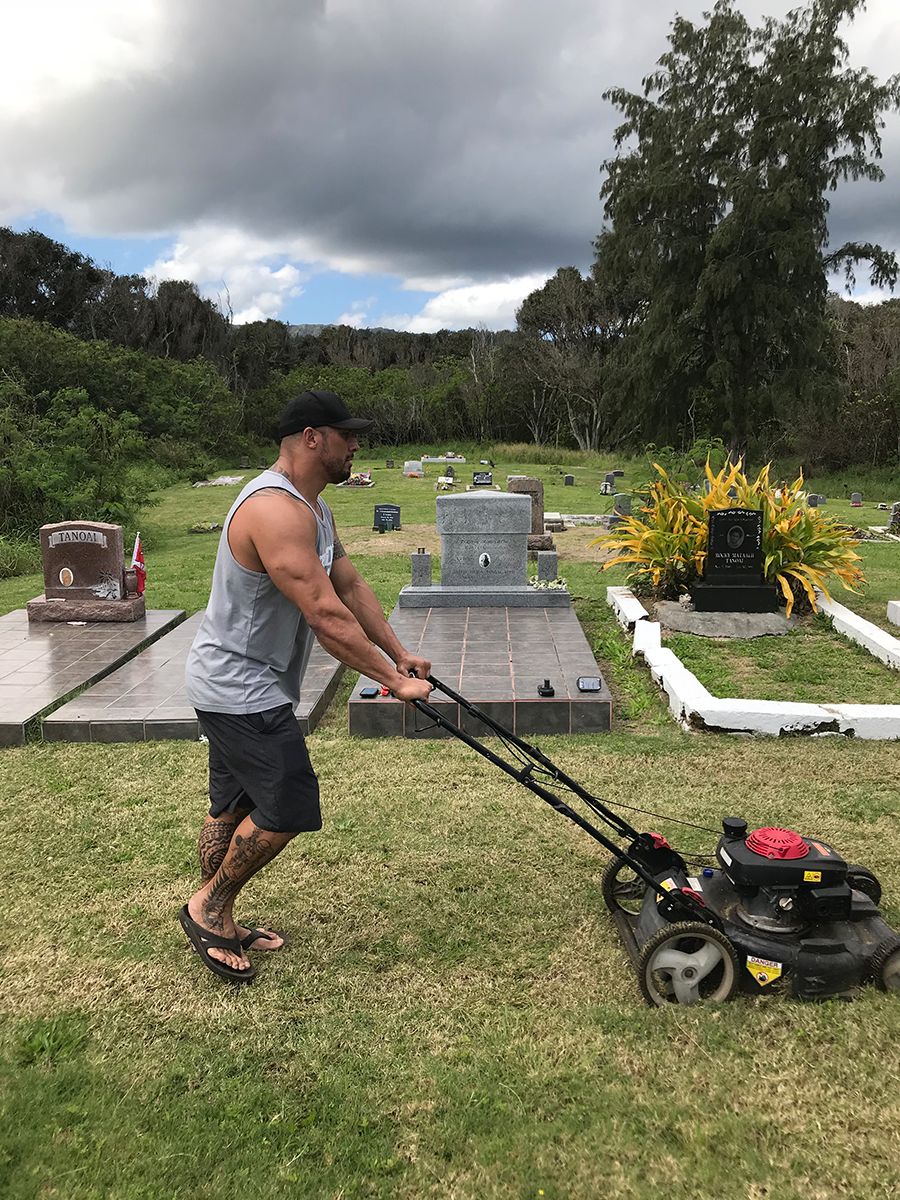 Reed pushes the mower past the headstone of his great grandfather, Tautua Tuala Tanoai (1895–1969); his great grandmother Freda (1893–1957); and his uncle Rocky, who died in 1993 at the age of 40 of complications due to the drugs he took to control his illness. The largest and most ornate of all of the headstones belongs to Grandma — Vaitai Tuala Tanoai Reed (1919–2009).
"For a long time, I had a lot of resentment in my heart," Reed says as he lifts the mower easily into the bed of his truck. "I was raised by a 70-year-old lady and an uncle who was on pills. My mom drank, and my dad disowned me for a while. I'm not saying I was a cry baby — everybody has their own cross — but it weighs on you."
As we all three climb into the four-door truck, I ask Reed — discounting the injuries he's suffered — if there's ever a downside to his life as a person who isn't quite the person he resembles.
"Sometimes, when I'm on location, I'll be at a bar with other people from a movie, enjoying myself, having a meal and whatever, when somebody has to be a wise guy. He'll come up to me and be like: 'Look at this guy. He thinks he's The Rock.'"