Take my hand, dear reader, and travel with me through time and space to witness the sexual awakening of Jeff, a 41-year-old living in West Virginia. It's the late '80s, and Jeff, a boy nearing his teen years, is home alone, bored, doing what bored boys did before the internet: rummaging through his parents' bedroom.
"I opened the drawer beneath their tube TV and found three VHS tapes belonging to a series called The Better Sex Video Series," he explains. "It was basically porn, but wrapped in the notion that they were sex instructional tapes."
Jeff inserted the tapes and thumbed the play button. It was the first time he saw sex actually being performed, he says, and the way the video focused on and explained the male orgasm struck a chord with the boy. "The video talked about the different things that you can do during the male orgasm. I was completely fascinated by it."
Smash-cut to teenage Jeff, who was then beginning to date a "very experienced" 19-year-old.
"My sexual coming-of-age ended up revolving around facials," he says. "She was very open about sex and she was especially thrilled with taking facials." The two took a roadtrip to a Hustler store in Cincinnati, where they bought a Peter North feature called Pleasureland.
"Peter North's claim to porn fame was the massive loads he would shoot. Me and my girlfriend loved watching it together. That porno is where I first started getting off at the same time as the dude onscreen. Sure, I was with an actual woman instead of masturbating, but that is still where it began."
Now, Jeff says he "[finishes] with the guy in the video every time. It's essential to the experience for me."
Synchronized Ejaculation 101
It takes some extra care and patience to do it right, Jeff explains, but he's not the only guy who feels the need to proverbially gas the Flux Capacitor and jizz in unison with the male actor.
According to Dr. Rob Weiss, a psychotherapist who specializes in sex addiction, this is actually totally understandable. In fact, it could be considered more normal than not.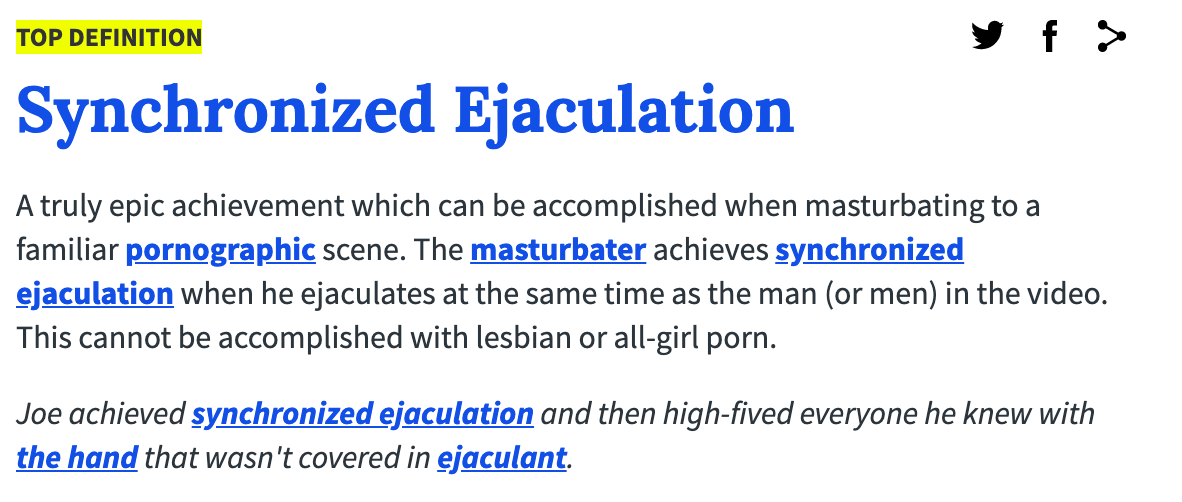 "Why continue after the action?" Weiss begins. "When we look at porn, we project ourselves into the experience. We feel ourselves to be in the situation even though we know intellectually that we are viewing it."
Weiss argues that "porn is made to keep us on a ride from beginning to end," and that porn viewers typically become more aroused as they see the actors get more aroused, too. So it's no wonder some guys get so ensnared in the porn they want to release at the same time as the dude onscreen.
But to better understand why guys do this, I spoke to a few men who love to finish hand in dick with their onscreen porn avatar.
'Finishing With the Guy Is Just Hot'
Sean, a 29-year-old Texan, tells me, "Finishing with the guy is just hot. There's something about the girl wanting it, and the look on her face when she gets it. It's dirty, and I dig it." He prefers compilation (or "cumpilation") videos, "so it's hard to miss the moment."
He thought it was "funny" when "all these guys on Reddit were like, 'Ew, no, that's gay.' I was legitimately surprised. Bro, cumshots are hot as fuck.
"If you're not into it, cool!" Sean says. "But if you think it's gay so you don't wanna admit you do it, you've got some soul-searching to do, dude! It has nothing to do with the guy in the video, lol. There's a reason it's called a money shot, and it's not because nobody likes that part."
'Pity We Men Have Such Hangups'
Jonathan, 55, guides me through his synchronization technique. "Depending on how turned on I've gotten, I jack until I know I'm close, then go to the finishing scene," he explains. "If I'm taking my time and edging, though, I'll skip around multiple videos and eventually land on what I know will make me blow, then skip to the end of that.
"I think most guys, myself included, first think of how it must feel. When you see a cock enter, or when you see a firm grip stroking, you imagine the sensation, how it makes you feel when you're doing the same thing. Eventually, you're invested enough to want to finish at the same time, because you're imagining how everything happening in the video would feel to you."
Don't knock it till you try it, he suggests. "The whole dynamic to me is fascinating. … Pity we men have such hangups."
'We Lost Countless Blissful Orgasms by Releasing Just Five Seconds Early'
Andy, a 43-year-old in Spain, tells me his habit came from the early days of masturbating to VHS tapes in the late '80s. "You only had three to four scenes in a movie that featured a guy blowing his load, and you had to make sure you get you timed it right to get your money's worth."
What if he failed to time it right? "The cameras back then always panned to the male actor's face," Andy laments. "It's a ruined orgasm, mate. It took years of practice, tons of lube and irritated skin to come at the same time as the guy in the flick. Me and millions of our brothers in wank, we lost countless, blissful orgasms by releasing just five seconds early and coming when the fucking cameraman panned on the actor's face… ah, the shame!"
Andy has a teenage son, and he's aware of how porn poorly prepares young people for sex. "Relationships aren't like porn," he says, "so I've tried to teach [him] that the shit he sees in porn isn't real, and sex is not only mechanics."
Jeff, our Peter North-loving hero, has evolved from the days when he actually wanted to be the actor, he says. He has enough exciting memories to call up in his mind, and he knows exactly how to pair them "with the onscreen visual" — often, a specific Stormy Daniels clip — when it's time to orgasm in sync with the actor. "It works great!"
To this day, he says, "I don't think I've ever mistimed it. Not that I can recall. I think it probably just wouldn't be as good an orgasm."