My parents partied with Prince on my 10th birthday while I ate cake in my cousin Rachel's living room. On February 4, 2007, the Chicago Bears faced the Indianapolis Colts at Super Bowl XLI in Miami, Florida. My dad, a die-hard Bears fan, somehow won the lottery for season-ticket holders and got to go to the Super Bowl. The Bears lost. Rain downpoured. Prince still put on a fantastic halftime show.
None of this registered with me at the time. All I knew was that my brothers, decked out in their Bears jerseys, were pissed they were stuck at home in chilly suburban Illinois while I hung with my extended family in sunny Fort Lauderdale. Mom and Dad must have felt guilty about missing their youngest son's birthday, but they sure had fun while I was out.
Sharing a birthday with the Super Bowl is a harrowing experience. Aside from Christmas (and possibly St. Patrick's Day), no other holiday requires the same rote, focused participation as Super Bowl Sunday. It's endless hours eating greasy foods, wearing gaudy team colors and getting drunk while staring at a TV screen and shouting at dudes to hit each other harder. The commercials are never as good as you think (except for Budweiser's "Whassup?").
Football and most sports are dismal and ruinous, and also I'm gay. When I have to share my birthday with the Super Bowl, as I did again in 2018, it is homophobic. I will not be elaborating.
But I did ask my fellow Super Bowl babies — birthdays that fall during the last week of January and the first week of February — what it's like to share their special day with America's most popular oppressively masculine sporting event. As I suspected, I'm not the only one upset about sharing the spotlight.
Others, though, actually enjoy sports and are looking forward to this Sunday when the San Francisco 49ers face off against the Kansas City Chiefs in Miami. They find their Super Bowl Birthday is a perfect representation of their personality. Bless their hearts.
January 31st
Julian Villarreal, turning 21: The day I was born was Broncos vs. Falcons on January 31st, 1999. My dad was nowhere to be found in the delivery room. He was attending a cookout for Super Bowl XXXIII. Now, as I turn 21 in a couple days, the Super Bowl is the Sunday after my birthday. [It's] win-win because I get to celebrate twice. Funny because 21 years ago my dad was drunk while I was being born.
February 2nd
Michaela Gerhard, turning 21: I'm not a big football fan, and I didn't grow up with a sports family. I was super worried that my birthday would be overshadowed. Then I thought about it. How cool is it to have my home state's NFL team make it exactly 50 years from their last appearance? How cool is it that Shakira [alongside Jennifer Lopez] is performing at the halftime show? We share a birthday. All this excitement has really made me excited for my 21st. My friends want to share this super amazing moment by watching the Super Bowl with me to celebrate not only the Chiefs but also me. Who else gets to say all this happened on their birthday?
Edgardo Lozoya, turning 25: They've all been bad. In 2014, I ended up spending the day with only my mom because the rest of my family was at a family friend's house watching the game. Then we ended up going and watching it too. I remember being so mad because I just wanted to do stuff, but nobody was up for it. You can't really make plans because people either already have plans to watch the game or the place you want to go to is packed because people are watching the game. Takes away your shine.
Desireè Doucet, turning 20: My dad is turning my birthday into a Super Bowl party, and our team isn't even playing. Why are we even focusing on the Super Bowl when the Cowboys aren't playing? Why isn't it about my birthday and strictly that? We have NO reason to host a Super Bowl party.
Zoë, turning 1 (reported by her owner, Gianluca Chica):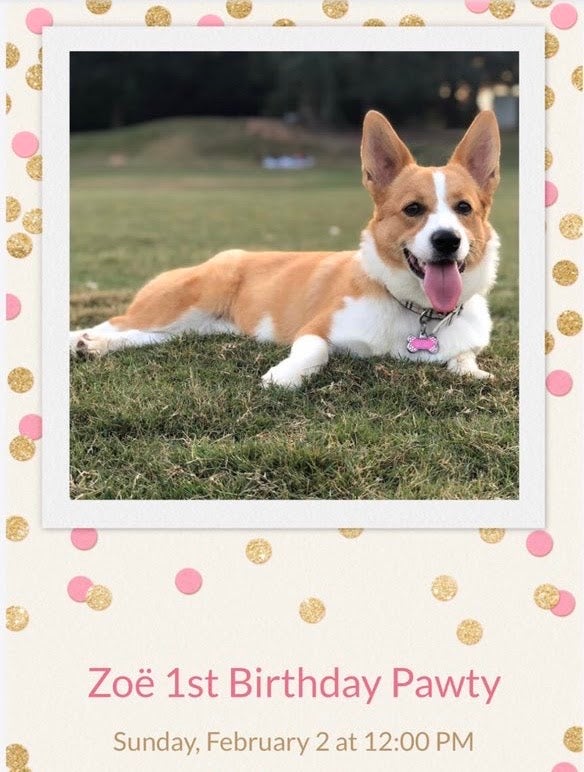 Zoë is like a bright-energy kind of dog, and our first year together has been rough. Zoë will run up and hug and kiss anyone. She loves people way too much, is extremely friendly and has such a personality. Zoë does like people dancing and she will nip at your feet. She's a little sick right now because she got her shots, but she's the biggest sweetheart. Zoë needs a birthday party because she deserves a celebration.
I was stoked to have my friends come to her party, but now I have limited guests. When it came to people's RSVPs, they told me they couldn't come because of the Super Bowl. Zoë is a puppy. She does love attention so limited attention equals not as happy a pup.
February 4th
Mary Numair, turning 34: It was kind of fun to watch the Philadelphia Eagles beat the New England Patriots a few years ago. That was on my actual birthday. I watched it from home by myself since I didn't want to be around a bunch of drinkers. As a recovering alcoholic, I prefer my birthday not fall on one of the biggest drinking days of the year. I'm not an Eagles fan, but it's always exciting to watch the Patriots lose. Also, I made totchos.
February 5th
Peter Skudlarek, turning 21: One year I went to a Super Bowl party with my family. A friend of ours is a great baker, so [there's] a ton of great food to eat. She's Czech, so [there are] all these European pastries with fresh fruit and cream. And then pulled pork probably. But I was also around a bunch of my dad's adult friends I don't exactly like. I was probably 14 and gay. I just didn't like being around adult straight men when I was younger. It made me uncomfortable.
My birthday is on the Super Bowl every few years, so, like, one in five birthdays is shot-blocked. This year my birthday is on a Wednesday, so that stinks, but it's also my 21st birthday! I did just realize that the Super Bowl is this Sunday. I probably won't celebrate. I don't care about football.