Every pair of pants I own gets a tear in the exact same spot — right in the taint. I've surrendered to the idea that my stubby little legs are to blame, or maybe it's just how I move my oddly shaped body. So I use duct tape to cover the embarrassing perineal holes, and I reluctantly shell out more than I should for a yearly rotation of new chinos.
But that all ends today.
Today, I learn to sew.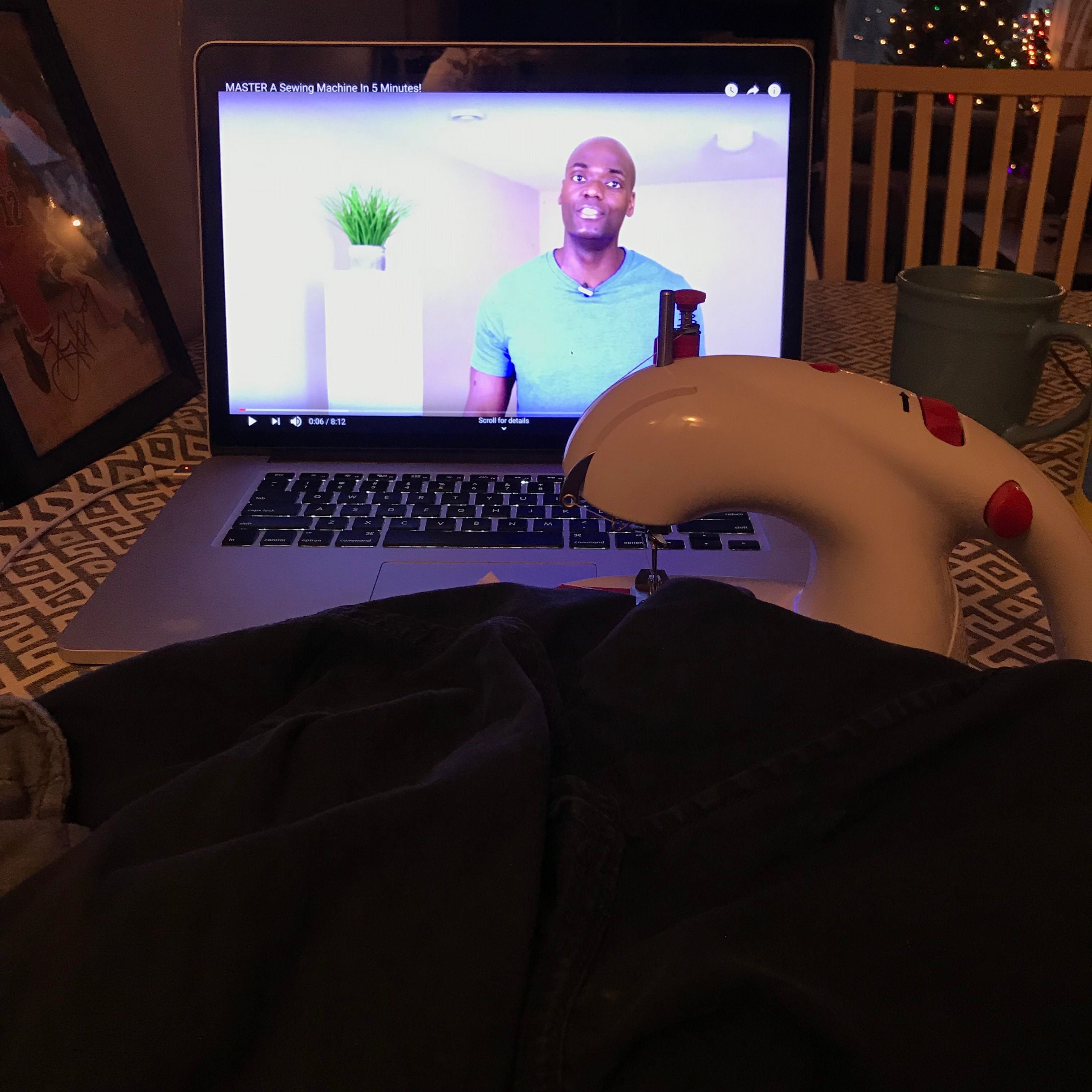 The dude in the video above is Carale Bowe, better known as Stylish Dad — a 34-year-old YouTuber in Minnesota who vlogs tutorials on tailoring and sewing men's clothing.
Occasionally, he talks about toxic masculinity as well, covering topics like the myth of the "alpha male."
Last week, he posted a few lessons on the menswear subreddit r/MaleFashionAdvice, and they took off; one reached over 17,000 points, making it the second-highest-rated MFA post of all time.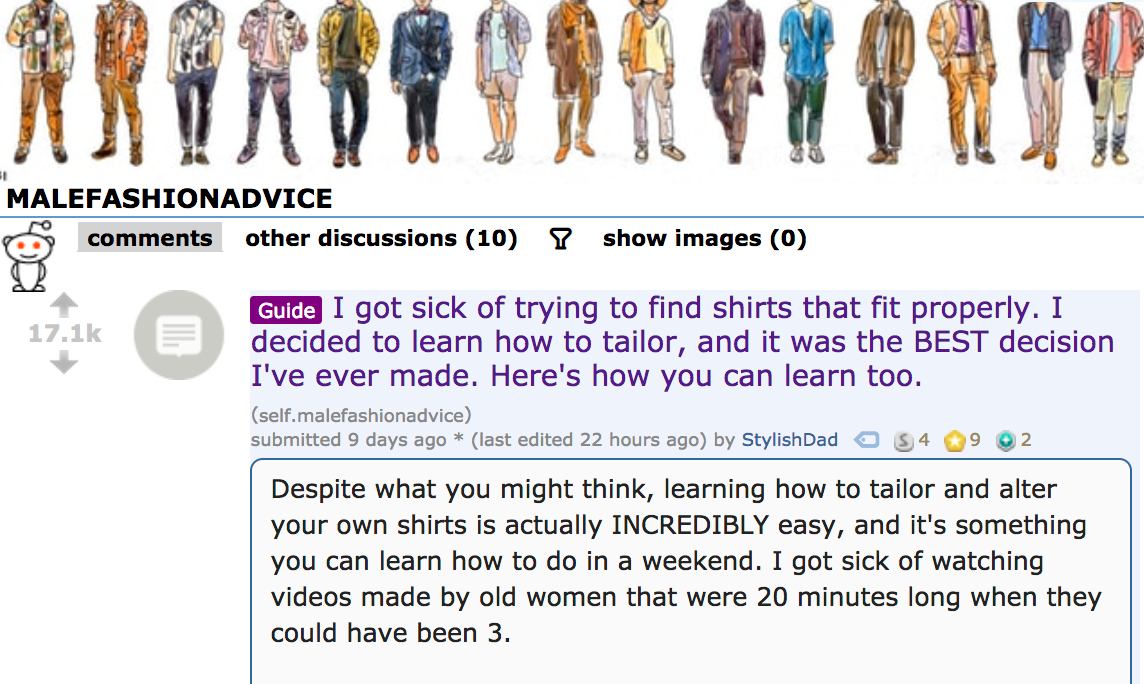 The response was staggering: Redditors praised his dedication to helping men learn to sew and the no-nonsense brevity of his videos. Some more experienced sew bros stepped in to offer further sewing advice and show off their own homemade clothes. And once I looked further, there seemed to be a thriving scene of YouTube sew bros, eagerly offering advice on tailoring dress shirts, hemming pants and even quilting.
There's a groundswell of men learning to stitch.
Bowe tells me he "actually has no background whatsoever" in tailoring. He got into it just a few years ago after getting his real estate license. "I had to start wearing nicer dress shirts," he says, but every nice shirt he put on "would fit pretty much like a potato sack. So I took a couple of them in to a tailor and realized all she was doing was just kind of putting some pins in the side there and then sewing along that line that those pins make."
Fifteen bucks for that? No way.
So, Bowe says, "I went home and I tested my skills on my mom's sewing machine, thinking, Literally, all I'm doing is just sewing along this line. I can figure this out. I had a couple of practice shirts and they did not go well in any way, shape or form. I remember my very first dress shirt that I did: I put it on and the chest was ridiculously tight and the waist was ridiculously loose."
But he got better. And along the way, he found his calling.
As Bowe was practicing sewing, he was also uploading real estate tutorials on YouTube. "Talking about how loans work and what's going on in the market — they were the most dry, monotonous videos ever because I had no passion at all. I didn't like talking about real estate, but I thought I kind of had to." Bowe's boredom forced to look inward: He enjoyed making videos but hated the subject matter.
Then came the eureka moment. Bowe would go to Kohl's and spend $22 on a dress shirt, then tailor it so it looked better than a $100 dress shirt, he says. This inspired his first sewing videos. "I knew that there were other guys out there like me," he says — guys who just can't live with the price tag on well-fitting clothing, guys who would love learning how to buy cheaper clothes and make them fit even better.
His first videos tanked. Worse yet, his friends roasted him for it. They laughed at his "awkward sewing videos," Bowe says.
Discouraged, he felt an existential crisis coming on. "I was thinking, I'm wasting my time, I dunno what I'm doing, I'm getting made fun of at weddings… but at that point, I just decided to keep doing it — hate me if you ain't me."
Then came the Reddit post. It was a "complete 100 percent shot in the dark," he says, especially given Reddit's strict rules on self-promotion. Bowe figured his post might garner a couple views, but it'd likely get deleted altogether.
Instead, Bowe woke up to 200 private messages.
The community was obsessed. They asked him questions like, "Hey, how do I shorten the length on my dress shirt?" or "Can I turn a T-shirt into a V-neck?" And Bowe had "100 more from people saying, 'Oh my gosh, you literally changed my life. I can't believe these videos didn't exist sooner.'"
The positivity, Bowe says, was a "really big breath of fresh air. I was like, 'Okay, nice. This is awesome.'"
Bowe knows his audience. He keeps his tutorials short and to the point — about three and a half minutes each. "A lot of guys aren't getting into tailoring to pick up a weekend hobby," he explains. "They're getting into tailoring so that they can look better in their clothes so that they can get the attention of women. I mean, it's just kind of how it works. … People don't want to watch a 13-minute video on how to make a zigzag stitch, or an incredibly long intro of me telling you to subscribe and click the bell notification."
It's for this reason Aaron, a 32-year-old in D.C. who recently took up more intensive tailoring, says he subscribes to Bowe's tutorials. "Like home repair or car maintenance, if it doesn't require a lot of specialized expertise, I like to do things myself," he explains. "So when it comes to basic tailoring, S.D. [Stylish Dad] breaks it down [so] anyone can watch his videos and be doing their own tailoring in no time. He's very no-nonsense, but he has fun doing it, which makes it fun for the viewer."
Bowe purposefully shows himself working at his own kitchen table, knocking out a stitch in a couple minutes. He eschews a fancy setup.
"Some of the sewing tutorials done by men on YouTube, you could tell that they have a sewing room, they have a sewing table with special lights for it, and they display all of their other tailoring tools in the background," Bowe tells MEL. "And I'm like, yo, the only thing that I have is literally just my sewing machine, and I put it on my kitchen table. … I'm trying to show that you guys don't need much. You can get a $50 sewing machine, clear all your kids' plates off the table and then have at it. That's it."
Bowe also says the stigma of sewing being "woman's work" prevents men from embracing their true potential. "I like to preach on my channel the fact that there is no such thing as a manly man," he says. "There is no such thing as … things that guys do … considered 'girly.' At the end of the day, in my opinion, the real man is someone who does the things that he wants to do without feeling like he has to fit into this certain mold of, Is it going to be considered girly? Are my friends gonna make fun of me for it?"
He adds, "I feel like my job is to show guys that the only thing you are doing with sewing is engineering something to make you look better and to make you feel better. That's where it starts and that's where it ends. That's it."
So, following Bowe's advice, I tried it.
After what felt like hours attempting to thread the needle on my new sewing machine, I went to work. I forgot to buy pins — one setback. I felt my impatience growing. But I sat down and attempted to follow Stylish Dad's lessons (sort of) to a T.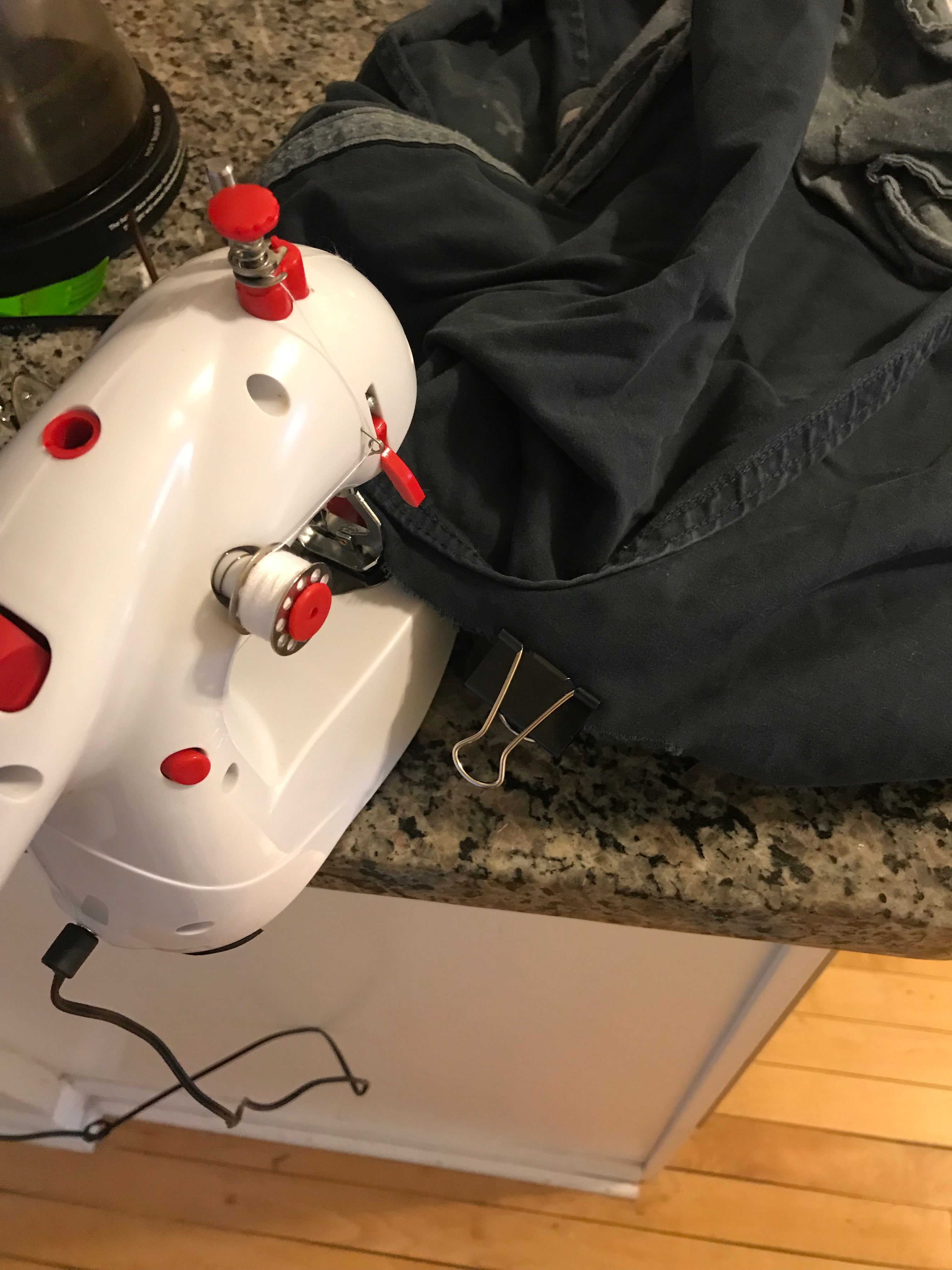 At first, it was a disaster, and I wanted so badly to quit and die.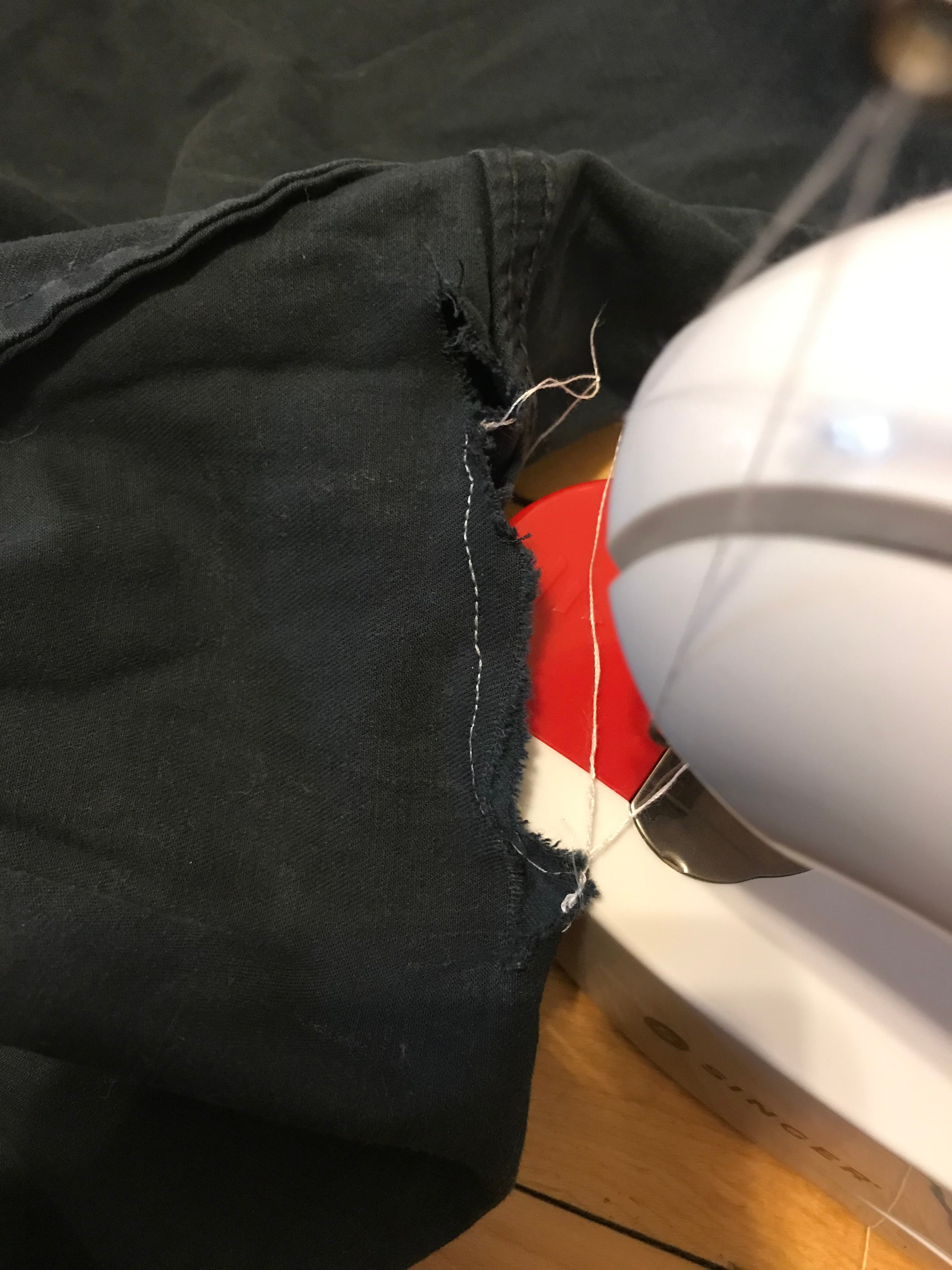 But as S.D. and my editor said, "practice makes perfect." I stuck with it. Finally, I sewed up the gaping hole in the ass of my pants.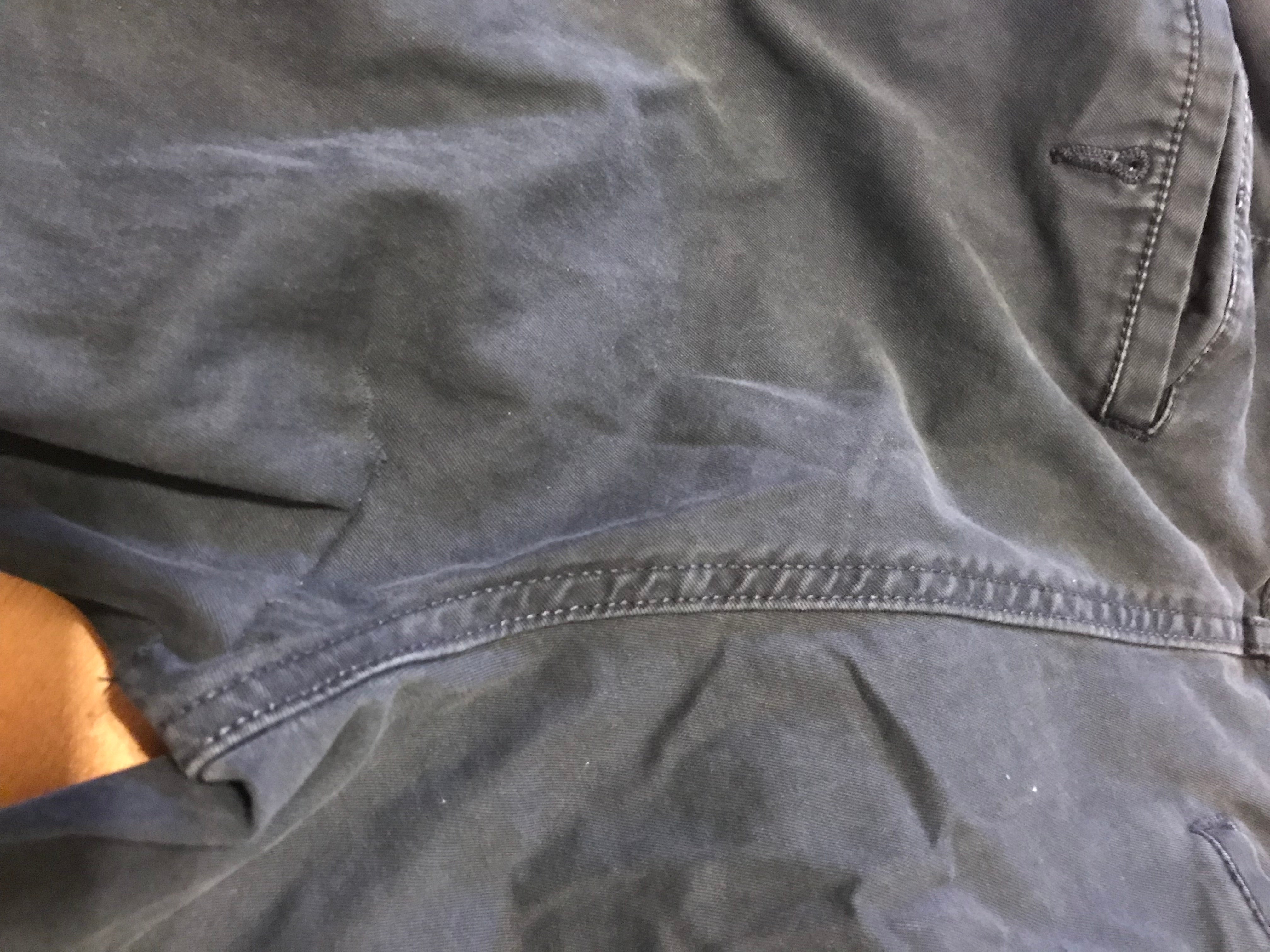 Voila. I just saved myself $50. Now to do it all over again.