I'm not going to argue that we should give dudes a pass for not being able to find the clit, but it's not like it's just there, hanging out, clear as day. First of all, it's generally pretty small. Second, it's shrouded by the "clitoral hood," which is basically the physical manifestation of God giving us the middle finger. Lastly, there's a lot of whose-it and whats-it galore down there, and when it's dark and you're also trying to make out all sexy-like and you're fumbling around with your fingers, excuse us if we're not clitoral William Tells, aight?
Must Read
"Heterosexual Men Are Using Grindr to Meet Trans Women"
There's a new trend taking place on Grindr, where straight guys are creating accounts on the famously gay hook-up app with a curious caveat in their profiles: "No men." No men, because these dudes are actually looking for no-strings-attached sex with trans women, and it's making gay men feel sidelined in a space designed for them. "To read 'no homos' or 'no men' on a gay male app is troubling," says one gay Grindr user. "To have trans women hitting on me — when it's clear I'm not into women — is openly homophobic. This is one consequence of the trans revolution: Gay male spaces and lesbian female spaces are being erased." READ MORE
Cro Magnon-Pattern Baldness
Peep any artist's recreation of a caveman and almost guaranteed, they're sporting a lusciously long and full head of hair. But given the fact that, these days, you can't throw a rock without hitting a Larry David-type, you've gotta wonder: Where all the bald-ass cavemen at?
Before There Was 4Chan There Was Bodybuilding.Com
As the "alt-right" has grown, many in the media have attempted to trace its genealogy, most pointing to the dark recesses of 4chan and 8chan. But one could make the argument that the real culprit is a far older, often far darker site you probably didn't see coming: Bodybuilding.com. Because besides being a place to share workout tips, guides on safe anabolic-steroid use and where users could interact with top pro and amateur strongmen, bodybuilding.com's forums have long been a troll farm.
Do Not Follow
In the grand tradition of demanding to speak to the manager, and because everyone in 2019 thinks they're a cop, there's a new tactic among Twitter users for whom simply "canceling" a person or brand they don't like is not enough: Follow shaming. What happens is, you identify a Bad Person — guilty of some cancellation-worthy offense, most likely — then inform anyone who follows both you and the Bad Person that said Person is Bad. And, like all terrible ideas on Twitter, it has a tendency to blow up right in your face.
Choke Me, Daddy
So your partner wants you to choke them, but the thought of putting your hands around her throat and potentially hurting her makes you uncomfortable? You wouldn't be the first, and it doesn't make you a bad partner. Where guys do get into trouble, however, is consciously or subconsciously judging, shaming or attempting to read into a fantasy that, at first glance, might fly in the face of her and your values.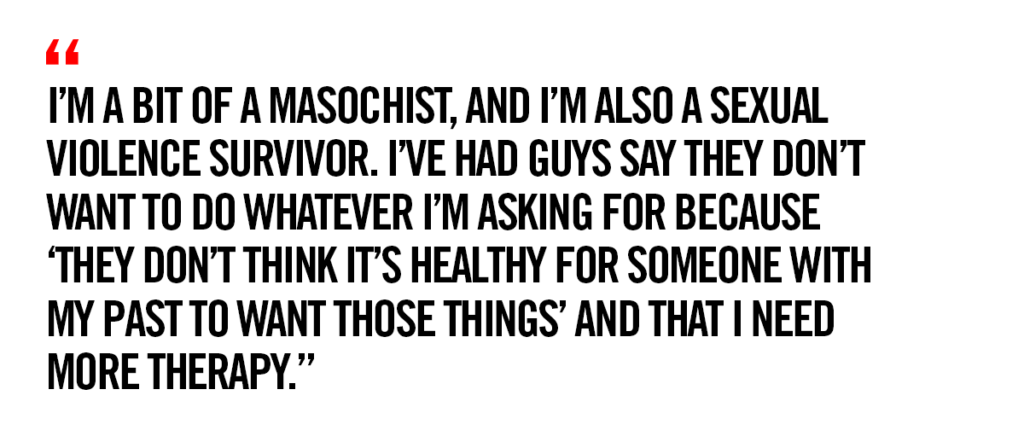 Madeleine Holden spoke with a number of sex educators about the best way to have an honest, open and shame-free conversation about rough stuff in the bedroom.
Off With The Diet
Kicking an otherwise successful diet is a surefire way to send your body into histrionics, and the stricter the diet, the greater the potential for negative side effects. A strong physiological reaction to ending a diet can occur for a number of reasons: Rapid changes in gut flora; fluctuations in metabolism; or simply overdoing it with bad stuff like carbs. Thankfully, there's a way to manage your side effects so they aren't a nightmarish tour of every bodily protest imaginable.
Bear Naked
What do bear costumes, mysterious Chinese boner pills and Gatorade have in common? They all play roles in how "Dan" ended up going from an extra on a porn set to the main attraction. After befriending a guy at his gym who worked in the adult industry, Dan was offered a job that paid a cool $150 just to "watch people fuck for the day." Of course, that's not what happened, because when Dan arrived on set, he ended up doing a whole lot more.
Dude, Where's the Clit?
It's thoroughly amazing that, for a species that put a man on the moon, we still cannot find nor adequately stimulate the clitoris. I'm sure you're reading this right now all like, "I know where the clit is, mraaaaah!" and that's all well and good. But according to a 2013 study, a whopping 44 percent of men can't "find" the magical pleasure button.
So how did it ever get so bad? Let's take a look back in time.