For almost 60 years, Who's Afraid of Virginia Woolf? has been one hell of a marriage deterrent. Edward Albee's Tony-winning play, which became an Oscar-winning movie, showed the institution to be rotten at its core, populated by people filled with so much bitterness that they recruit younger couples into their war games in order to destroy one another. If you're in a long-term relationship and you're still happy, Virginia Woolf argued, just give it time: That'll change.
Funny enough, though, Albee never thought of his play as that pessimistic. Sticking up for his caustically antagonistic Martha and George, the middle-aged monsters who lay waste to everything around them (in particular the young lovers Nick and Honey, who make the mistake of hanging out with them one night), he said, "My goodness, they've had a relationship of 22, 23 years, and they do love each other very much. It's just that there's an awful lot of extraneous baggage that's got to be gotten rid of." That's a healthier view of marriage's ups and downs than his masterwork necessarily espouses. In Virginia Woolf, marriage is a battlefield, and the casualties are everywhere.
I've always loved Virginia Woolf because of its nastiness — its astute depiction of a certain kind of relationship that's pickled in its own ire — which is why I'm also quite fond of Shirley, a new film that very much follows Albee's lead. It's probably accurate to classify Shirley as a domestic drama, but to my way of thinking, it's also a dark comedy that gets at the ugly truth of marriage, which is that it's often engaged in by desperately miserable people who have simply learned how to cope with their litany of grievances. (The ones of us lucky enough not to feel that way have enough smarts to know things can shift in a heartbeat if you're not careful.)
But for husbands in the audience, this icy indie gem might also serve as a warning. Like Virginia Woolf, the story revolves around two couples — one newlyweds, one in middle age — but the film is focused on the women and all the things they know about life, and about their spouses, that they're never going to tell you. In that way, Shirley is also a kind of psychological horror movie. It's a film about how wives are on to their husbands — and how they're just waiting for their moment to finally hit back.
The film is directed by Josephine Decker, who was responsible for the excitingly off-kilter Thou Wast Mild and Lovely and Madeline's Madeline. Her movies always vibrate at their own frequency, as if her characters (and their world) might rupture at any moment. (Madeline's Madeline chronicled a troubled young experimental theater actress who creates her latest character out of her own life, the work and the person fusing into one.) By Decker's standards, Shirley is a relatively straightforward story, based on Susan Scarf Merrell's novel, which is a fictionalized take on esteemed horror author Shirley Jackson (Elisabeth Moss). Even so, the movie pulsates with the threat of an imminent explosion.
Living in Vermont with her college-professor husband Stanley Hyman (Michael Stuhlbarg) in the early 1960s, Shirley may be a renowned writer, but those accolades do nothing to sweep away the debilitating depression that consumes her. Some days, it's a struggle for her to get out of bed, and so her mood isn't improved by the arrival of Fred (Logan Lerman) and Rose Nemser (Odessa Young), who just got married and will be staying with them for a few days. Shirley wants to write, but she's blocked — and having to entertain Rose, a gaga fan of her short story "The Lottery," doesn't seem like a strategy for getting her creatively unstuck.
But Shirley and Rose are going to end up bonding — Stanley convinces the newlyweds to stay on so that Rose can watch after Shirley — but not quite for the reasons you might expect. Their connection will be over mutual abandonment — they're both wives of so-called learned men — and they'll discover that they must turn to one another because there really isn't anyone else around. Not that anybody can ever feel entirely secure around the combative Shirley, who enjoys belittling the meek, polite Rose. Early on in the movie, Rose falls on the bed, telling Fred with utter exasperation, "She's a fucking monster." That never proves less true later in Shirley, no matter how close she and the author eventually become.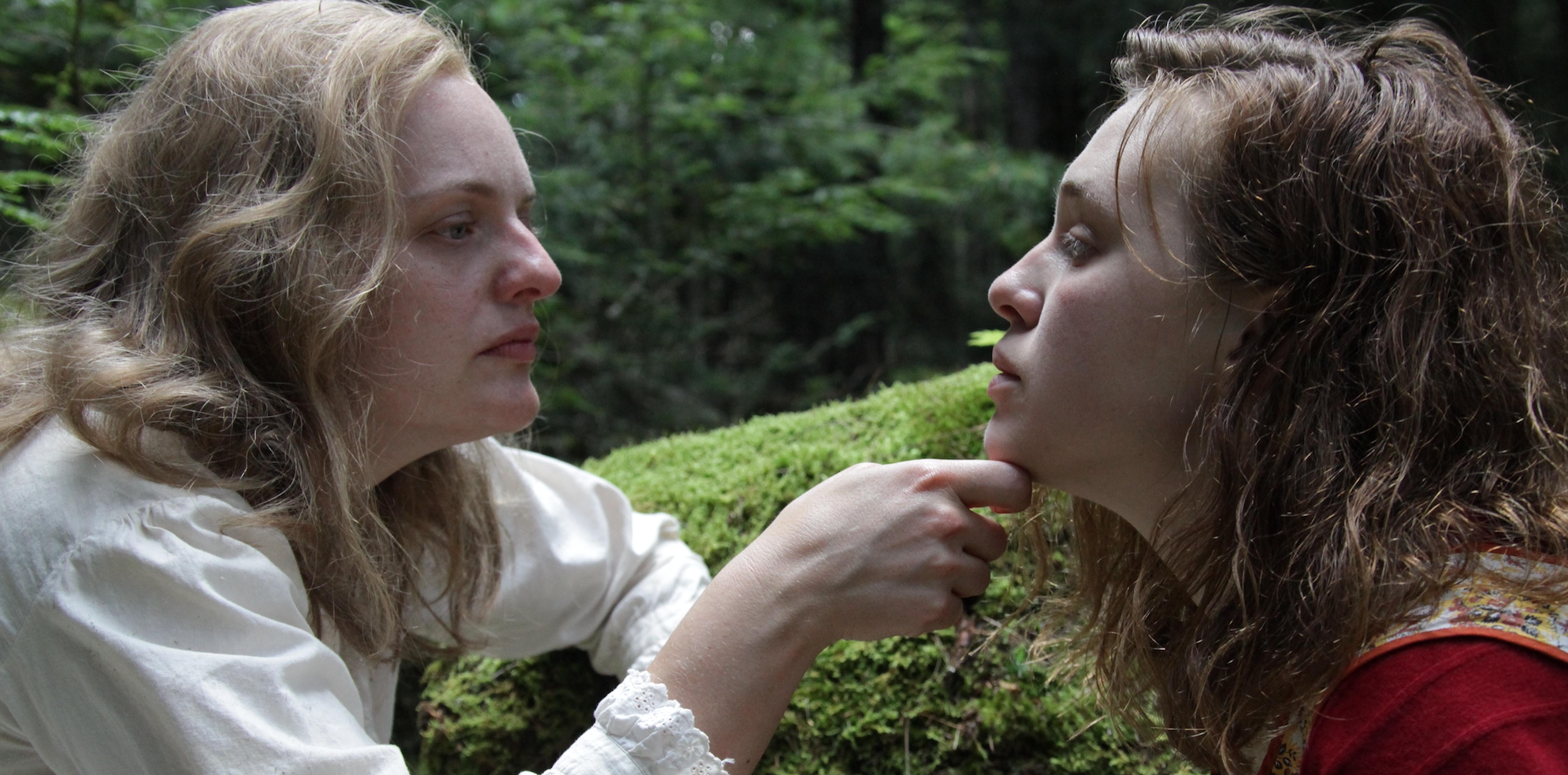 In Virginia Woolf, the drunken Martha and George aired their dirty laundry in front of the doe-eyed lovebirds Nick and Honey, who were pawns in the older couple's long-running marital chess match. Shirley, which acknowledges its debt to Albee, has a similar setup in that both men are professors. (Fred is hoping for a permanent position in Stanley's department, and although Stanley is outwardly supportive, he detests the young upstart and his banal ideas, viewing him as a threat.) And also like in Albee's play, Shirley's characters are awash in sexual tension. (Stanley is slimily inappropriate around Rose, a little too enthusiastic in his cheek kisses.) But what distinguishes this movie is its utterly unromantic view of married life — or, frankly, of human interactions in general. Whether it's between the married partners or any other combination of these four people, an invisible antagonism permeates the scenes. Everyone silently hates everyone else, and no one really wants to talk about it. As Albee said, the extraneous baggage is ruining everything.
So what exactly is that baggage? Insofar as Shirley has a plot, it concerns Shirley's attempts to work on a novel about a missing college student, Paula, who seems to be of only passing interest to this small bohemian community. (Decker makes us feel claustrophobic in this world of stuffy, self-impressed educated liberals.) Shirley alone seems actively worried about Paula's disappearance, although in some ways her unseen manuscript feels equally invested in expressing sympathy for the young girl's plight as it is in voicing Shirley's own sense of isolation. 
Despite her fog of depression and rancor, Shirley can see clearly that Stanley has affairs — she even knows one of the women involved. Where he's a charming, gregarious social butterfly — in other words, an affable prick — she's withdrawn and barbed, someone who isn't comfortable at parties and therefore avoids them when she can. To the world, she's primarily just Stanley's wife. At home, just the two of them, Shirley and Stanley passive-aggressively go after one another, neither of them raising their voice but their eyes suggesting a lifetime of pent-up murderous rage. Like Martha and George, they love each other, but it's the kind of love that feels like a hard-fought truce — a stalemate born out of exhaustion. Paula is missing, and to some degree Shirley is, too.
Rose is equally lost, as Shirley begins to glean. When we first meet Rose and Fred, they're on a train heading to Vermont, sneaking away to a quiet cabin for a quick screw. But as soon as the newlyweds get to this college town, Fred changes. With echoes of John Cassavetes' opportunistic husband from Rosemary's Baby, Fred morphs into a distant figure, coming in late at night with bourbon on his breath after fraternizing with coeds at the Shakespeare society. (Tellingly, we never actually see him at those events, only after. What's he really doing?) Could his sudden emotional disengagement have anything to do with the fact that Rose just found out she's pregnant — something Shirley could sense before Fred's wife had told anyone? As Rose's stomach gets bigger, the more Fred disappears from Shirley. No one other than Rose is upset or surprised about this. You know how married men are.
With her moving camera and jittery editing, Decker concocts an atmosphere of barely-held-together anxiety, of characters who hold their tongue but lash out at each other in subtler ways. In such an environment, Moss thrives. From Mad Men to The Handmaid's Tale to The Invisible Man, she's been superb at conveying intense emotions in characters on the precipice of cracking. For those who have seen her excellent work with indie filmmaker Alex Ross Perry in Queen of Earth and Her Smell, her knife's-edge anger in Shirley won't be a revelation: With her unblinking eyes and snarled smile, Moss gives us a resentful mid-century American wife whose artistic achievements are diminished by her second-class status. She smiles so she doesn't erupt.
Shirley is very much about the dawn of female liberation, and it's worth noting that the movie takes place at almost the exact time period as Who's Afraid of Virginia Woolf?, a play that illustrates in often brutally hilarious fashion what happens when spouses don't have equal status in the world. Decker's film doesn't have the dark twist that Albee's story did — there's no fabricated son that gets killed off — but that also means there's no comparable catharsis, either. Paula was probably murdered, probably by a man. Shirley and Rose are alive, but they're slowly being smothered in their marriages. So while the husbands in this movie think they're miserable, they have no idea what true misery is.