A quarter of Americans will tell you they haven't read a book — singular — in the past year. The crisis of literary indifference leads to continuous think pieces, and sometimes even sequels to those pieces: Behold the New Yorker's "Why We Don't Read, Revisited." The explanations for our cultural aversion are vast and complex, but from a public relations standpoint, it may be fair to say that reading often wants for a better public image. The American Library Association is aware of this, which is why since 1985 they've produced a series of celebrity "READ" posters.
If you grew up in the 1980s and 1990s, you probably remember the iconic "READ" design from your own school library and classrooms. Along with a familiar style of motivational poster, it formed the wallpaper of educational spaces. Whether it inspired you to read would depend, of course, on your own proclivities and, most likely, how familiar you were with the celebrity pictured. (I can't imagine myself swayed, as a fourth-grader, by Paul Newman in character as pool hustler "Fast" Eddie Felson.) For that reason, ALA is always getting new famous faces on board with the campaign, and in the mid-1990s, it struck gold with NBA superstar Shaquille O'Neal.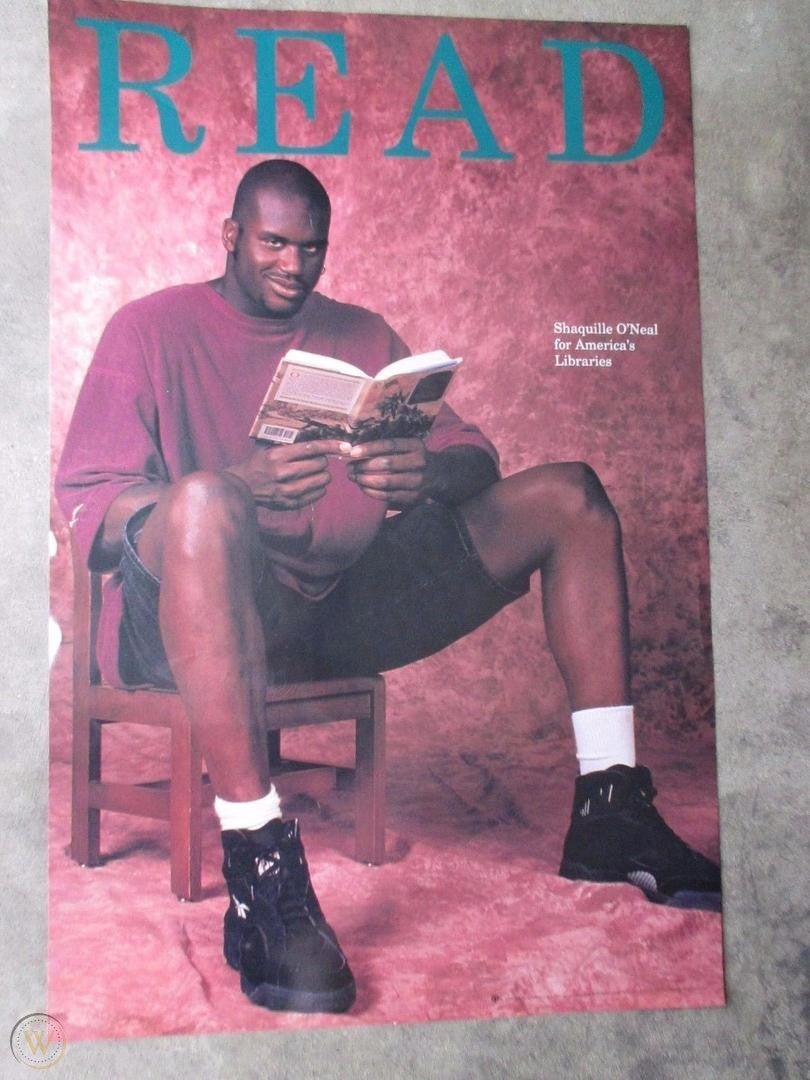 Shaq's poster stands out from the rest for any number of reasons. Unlike the others, it doesn't provide much in the way of context clues or setting — where rugged Harrison Ford got to pose on some boulders and Alec Baldwin stood next to a river with The Adventures of Huckleberry Finn, Shaq is in a liminal studio space fit for a yearbook portrait, which feels preposterously low-effort by comparison. The photographer seems to be playing with Shaq's Olympian dimensions: His 7-foot-1 frame dominates the image although he's seated. This impression is only enhanced by the chair, far too small for a giant of basketball, as if to suggest that Shaq is reading next to you in a children's library.
Most of all, however, one is struck by the knowing, devilish smile and look that he throws to the camera. Most of the READ ads are straightforward and wholesome — even Nic Cage exudes a fashion-catalog normality with his copy of Herman Hesse's Siddhartha. Shaq aims for seduction instead: Reading is like having a juicy secret.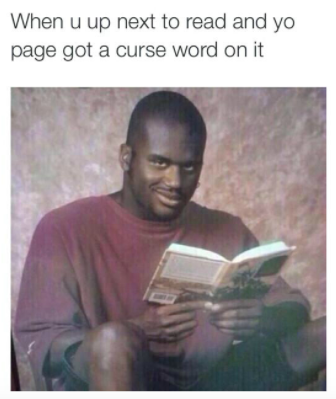 Shaq has inspired quite a few memes in his day, being quick to laughter, a charming goof and never self-serious. Whether he's yelling on Twitter because his ass won't fit on the rides at Knott's Berry Farm, wiggling like a cat or just falling hard on live TV, he's clearly a lot of fun. But his library poster — which predates a couple of commercials he shot as a spokesman for the nonprofit Reading Is Fundamental — may best capture his enduring influence.
He was a natural choice for this literacy campaign: a sports icon who was crossing into the entertainment mainstream with movies and rap albums. Decades later, it is his impact as a meme that renews the initial message. Was he really ever so bewitched by Undying Glory: The Story of the Massachusetts 54th Regiment, an account of the first Black regiment of the Union Army during the American Civil War? It doesn't matter. He doesn't need to convince us, and we didn't have to figure out what the book is. What we remember is the pleasure of seeing him project the sly thrills of reading.
Go on, tell me this joke doesn't make you want to check out the Quran: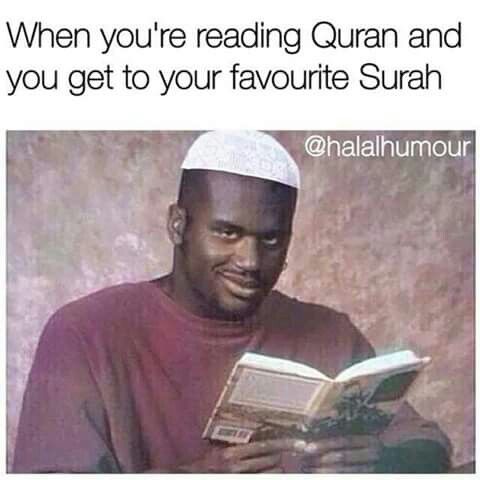 Shaq's mischievous approach to the concept made all the difference. Typical encouragement for kids to read foregrounds enlightenment and wonder: the wholesome, Reading Rainbow model of positive reinforcement. Shaq, by comparison, gives a hint of subversion, the hidden depths and unorthodoxies to be found in the right hardcover. He radiates the sense that by reading, he is getting away with something, or has gained an advantage over the unread viewer. Indeed, there is the streak of his athletic competition here: "I'm enjoying a book — are you?" We are practically dared to browse the shelves for anything as titillating as this volume evidently is. In short, it's hard to imagine a cooler ambassador to the world of printed matter. He crushed it.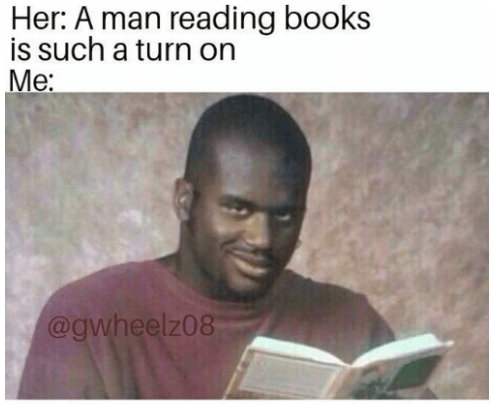 Credit to a legend for giving books the boost; we can only imagine how many lifelong readers he inspired. That a dude so big and powerful could be so absorbed in a little object — glancing up only to confirm his immense, almost naughty gratification — is a beautiful testament to the art of the written word. As long as we have Shaq holding a book, we'll keep turning the pages, too.