On January 6th, Joe Biggs stood amidst the mosh pit along one entrance to the Capitol Building, ready to burst through any crack in the armor. That crack arrived shortly after 2 p.m., when a middle-aged Proud Boy named Dominic Pezzola raised a plastic shield and thrust it into a glass window, over and over again. 
The breach was on. Men in Walmart tactical gear clambered through the window, unlocking doors so that their fellow patriots could flood in. Biggs was inside within 20 seconds, and all grins, too: "This is awesome!" he told a bystander who was recording, according to an FBI affidavit. 
It wasn't a coincidence that Biggs was one of the first inside the building. He is among the most recognizable Proud Boys in the country, having worked for years as a de-facto organizer of the far-right nationalist group. Biggs has led controversial protests from Oregon to Boston, and is a close confidant of the organization's top leaders. Now, federal authorities want him sentenced for helping execute the violent insurrection in D.C. They even found his boasts about how the Proud Boys would sabotage the efforts of any counter-protesting anti-fascists. 
"We are going to smell like you, move like you and look like you. The only thing we'll do that's us is think like us!" Biggs posted on Parler, according to the affidavit. "Jan 6th is gonna be epic."
You wouldn't know any of that, however, by reading the description of Biggs on the main page of his crowdfunding campaign. That Joe Biggs is simply a doting father and veteran who earned the Purple Heart three times while fighting in Afghanistan. That Biggs doesn't ever incite violence — he merely "fights for freedom and the American people's rights." That Biggs is a victim of the system, "totally cut off" from social media and payment apps, unable to support himself in any way.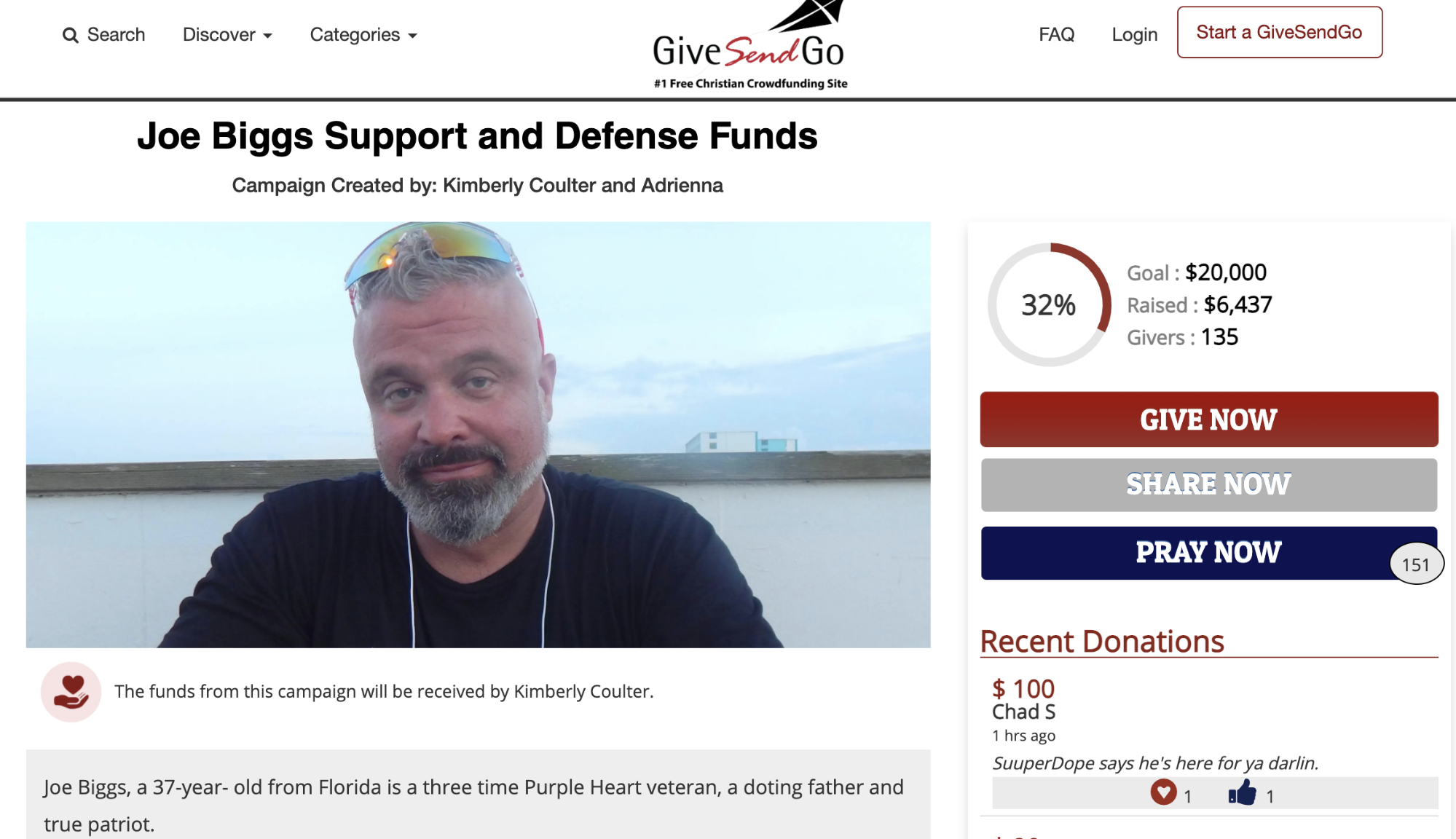 This is the Joe Biggs being shared on Facebook and Telegram, and the campaign is working. His fans have raised more than $6,300, with contributions averaging around just $40. "The 74 million of us who want American traditional values and the Constitution saved from the evil doers — we need to help each other out now more than ever," wrote one person who donated $20. 
Biggs' tale is just one piece in a sweeping tapestry of right-wing crowdfunding campaigns, all aiming to raise money and reignite, in one way or another, the smoldering remains of Donald Trump's mess of a coup. And the strategy isn't just a tool for leaders of the American fascism movement — there are campaigns from countless people who need strangers to pay for everything from insurrection legal fees to body armor to frivolous lawsuits against politicians. 
Naturally, the biggest name in crowdfunding, GoFundMe, received huge criticism for enabling fundraisers for the January 6th insurrection; in response, they rapidly revised policies and booted offending campaigns en masse. Much scrutiny has now fallen on GiveSendGo, the purportedly Christian-oriented platform that's now happily hosting a sea of MAGA stans and Proud Boys. 
A number of critics believe that these sites have a moral obligation to reject more extreme right-wing causes. It's basically inevitable that a dangerous incident in the future will be tied back to a crowdfunding campaign, says Brian Hughes, the associate director of the Polarization and Extremism Research and Innovation Lab (PERIL) at American University. 
"It's also inevitable that public outrage will lead to those people being kicked off a platform. So it's a game of cat-and-mouse, really. There's a constant process of extremist groups leaving one crowdfunding site to discover a new one," Hughes tells me. "Meanwhile, unscrupulous business people realize that they can create crowdfunding platforms with looser terms of service that can allow shady individuals to take advantage. It keeps going." 
The dispute between GiveSendGo and payment processors over this public outrage has led to some campaigns being locked out from new donations — but it hardly matters given the bigger picture. The crisis isn't merely about how grassroots funding is supporting things like the D.C. riot, QAnon and Kyle Rittenhouse. This is the dawn of a new kind of American fascism, organized in plain view via the power of misinformation and digital networking. 
You don't need to belong to a group or even speak to another person to feel agency from participation. Spending money on someone is more tangible, after all, than shooting a supportive tweet at them. That kind of interaction is a powerful force, and it amplifies the reach of far-right groups, says Carolyn Gallaher, an expert on the American militia movement and a professor at American University.
"So one, you're recruiting active participants and covering their expenses through crowdfunding sites. But two, it also creates a wider circle of spectators who support you," she says. "You're building a network of people, some of whom you will meet face-to-face thanks to crowdfunding. Before the internet, a lot of this recruiting was limited to a geographical region. Now, it's limitless."
There's also no limit to the kinds of campaigns you can find. GiveSendGo remains by far the most problematic hub when it comes to voices of the alt-right. Biggs' business partner and fellow Proud Boy leader Enrique Tarrio has raised a stunning $113,000 to fund his defense after being arrested in D.C. (not for the riot, but for allegedly stealing and burning a Black Lives Matter flag from a local church). The site is also continuing to host campaigns for agitator Philip Anderson, violent Patriot Prayer member Chandler Pappas, accused murderer Rittenhouse and Proud Boy Nick Ochs, all of whom have leveraged their fandoms to cry oppression.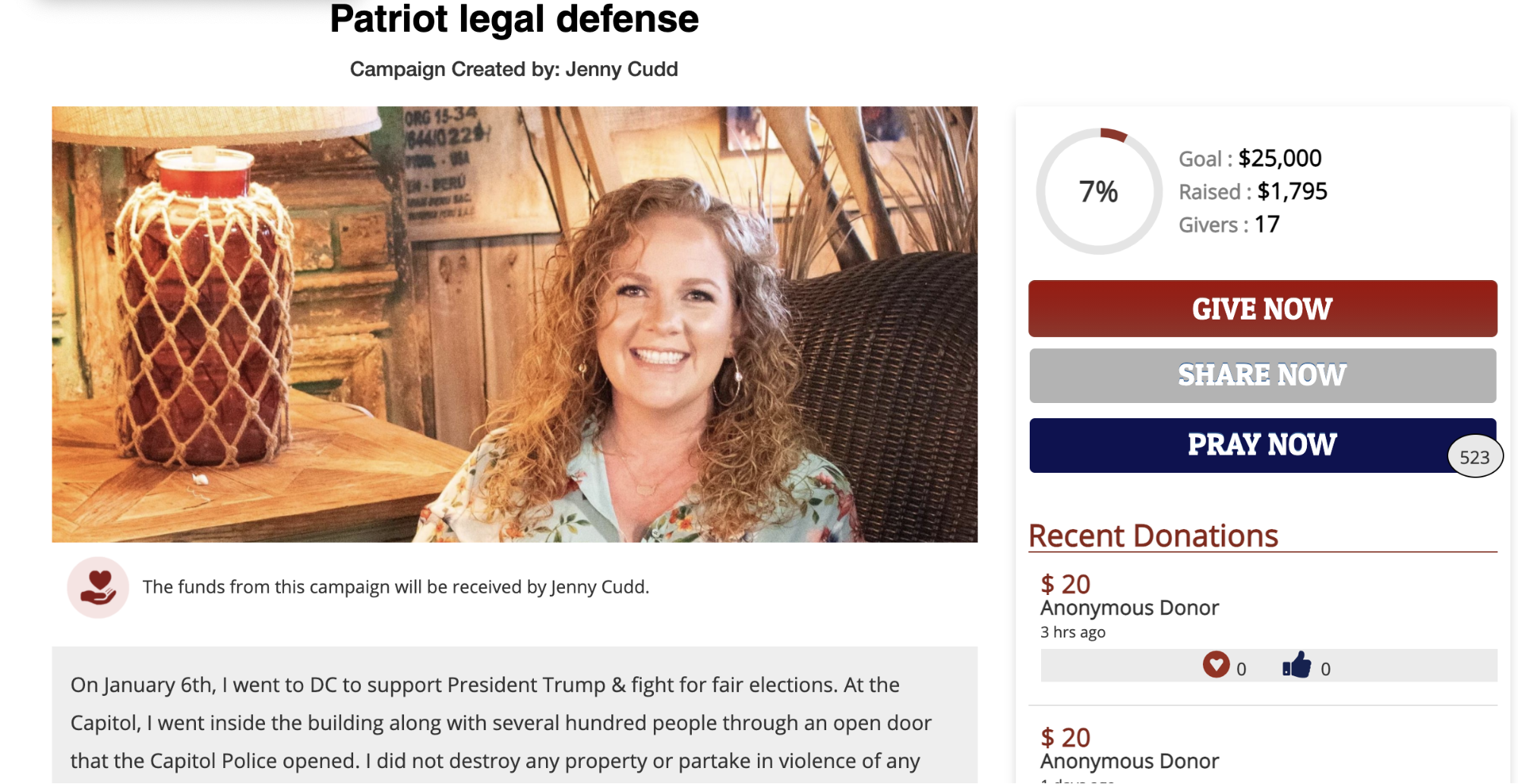 Then there are more niche characters like Jenny Cudd, the one-time Texas mayoral candidate who bragged on video about breaking down Nancy Pelosi's door at the Capitol. (She has raised $1,800 via her campaign, which references "cancel culture" three separate times.) It's obvious that she and others are seeking safety in numbers, despite effectively incriminating themselves by talking about their illegal actions and making pleas for financial aid. Then again, Cudd's one of the lucky ones given the sheer number of lost patriot souls on GiveSendGo, seeking a bit of cash from fellow fans of MAGA and getting none at all. 
Finally, there are the grifters who smell an opportunity to create long-term partners and revenue streams with their cries of oppression. As with the "Save the Children" QAnon grifters who monetized a conspiracy theory, the lines between genuine belief and con-man pay play start to blur heavily. Consider "Patriot Barbie," aka Lindsey Graham (not that one), who has raised 80k on GoFundMe to publicly levy a lawsuit against the state of Oregon for making her… close a hair salon during a pandemic. (She did have enough money to attend the D.C. riot., however.) Or the Ohio man who is doing the same thing. Or the two "tech whistleblowers" behind the campaigns yelling about how Facebook and Google are biased toward conservatives, and raising funds to… do the same thing. 
"Basically, the existence of these platforms means you can be a small business person whose business is being an extremist propagandist," Hughes says.
And while there are extremely obvious ways for crowdfunding sites to better regulate full blown neo-Nazis, the vast gray area between, say, a campaign for Biggs and a campaign for Patriot Barbie makes it impossible to simply stop the growth of far-right ideologies disguised in words like "liberty" and "freedom." We've already seen crowdfunding crackdowns after tragedies like the fatal 2017 "Unite the Right" rally in Charlottesville, and it didn't do much to stop January 6th. And although Gallaher and Hughes both believe deplatforming organizations like the Proud Boys actually does hamper their ability to recruit, they're also measured about whether a policy solution exists. 
"It's a situation that's built up for a long time," Gallaher says. "But whatever the crowdfunding sources are doing now, state attorneys general need to look very carefully into them, looking for fraud and whether the money raised is being collected for illegal personal gains." 
Grassroots crowdfunding remains a small piece of how the modern American fascist movement has been funded, and the influence of dark-money channels that funnel millions into right-wing organizations cannot be overshadowed. Still, it's crystal clear that these funding platforms will continue to be a flashpoint as the far right looks to level the playing field against "Big Tech" and the bogeyman of "cancel culture." You can hear it in the words of GiveSendGo founder Jacob Wells, who responded to news that PayPal had cut ties with his site by arguing he "broke up first" with PayPal over their demands to "censor" campaigns. 
Meanwhile, he's poised to have a record-breaking 2021, both in terms of traffic and dollars earned, thanks to the newfound popularity of the platform. As he told CNN: "We're not here to take sides."