On a cloudless day in the midst of L.A.'s hot vax summer, Renee Olstead, 32, hides herself away in a hotel room to make content for her OnlyFans. She's been working nonstop since her page launched late last year and it shows — even her FaceTime setup suggests a familiarity with the front of a camera, the warm lighting enhancing her glow through the phone screen that makes the rest of us look like a corpse. When we're done talking, she'll take a break, then shoot some more. "I'm gonna go take a shower and film it," she tells me casually. 
A decade ago, a sudsy shower scene would have been a risky move for a budding TV actress like Olstead. After her nudes were leaked alongside Scarlett Johansson's and Christina Aguilera's in the early days of the "Fappening" — a scandal in which celebrities' phones and emails were hacked and their private photos and videos disseminated — she bore the brunt of the public shaming and was forced to reconsider her acting career amidst the mental health crisis it triggered. She was just 21 then, a star on the ABC Family show The Secret Life of the American Teenager. 
At the height of the Fappening in the early 2010s, the leaked celebrity nude was a scandalous, salacious object, proof of the bad behavior of seemingly squeaky-clean famous women like Jennifer Lawrence and Lea Michele. If a female celebrity had her nudes stolen, it was often discussed as though it was entirely her fault: Why had she taken nudes in the first place? Why wasn't she more careful to protect them? What kind of woman allows this to happen? Nevermind the fact that hackers bypassed each celeb's security, privacy and consent to steal them — and went to prison for doing so — tabloids and social media often identified the women who were targeted as true sinners needing to be punished for their crimes. Some sites even guided readers on where to find the leaked content, detailing its contents and highlighting its theft. One even featured a photo of Olstead as a child as its cover image. 
Today, however, the script has flipped. Celebrities like Jordyn Woods and Trisha Paytas have started releasing adult content on their own terms — and to highly receptive, accepting audiences as opposed to national shame. Olstead knows this transformation better than anyone else. "The whole leaked-photos movement was a new thing back then, and a lot more newsworthy than it is now," she tells me. "That was my first real run-in with slut-shaming. These were private photos, and they were being sold on the internet by someone I'd never met before. It presented some complications for me being on an ABC Family show." 
"After [the Fappening], I wanted to find a more fulfilling career," she continues. "I've been moving away from entertainment in the sense of working for somebody and trying to fit the mold of what they want. For me, creativity is so much more exciting when it's my own vision."
Today, that vision manifests as two popular OnlyFans accounts where Olstead shares R-rated content while pursuing a Master's degree in psychology. On the free version, she posts sexy lingerie photos and censored teases of the racier content available on her premium version, which goes for $14.99 a month. While her content isn't pornographic per se — there's no detailed genitalia or boy/girl footage — she does do fully nude photos and videos, and often makes softcore content with other women.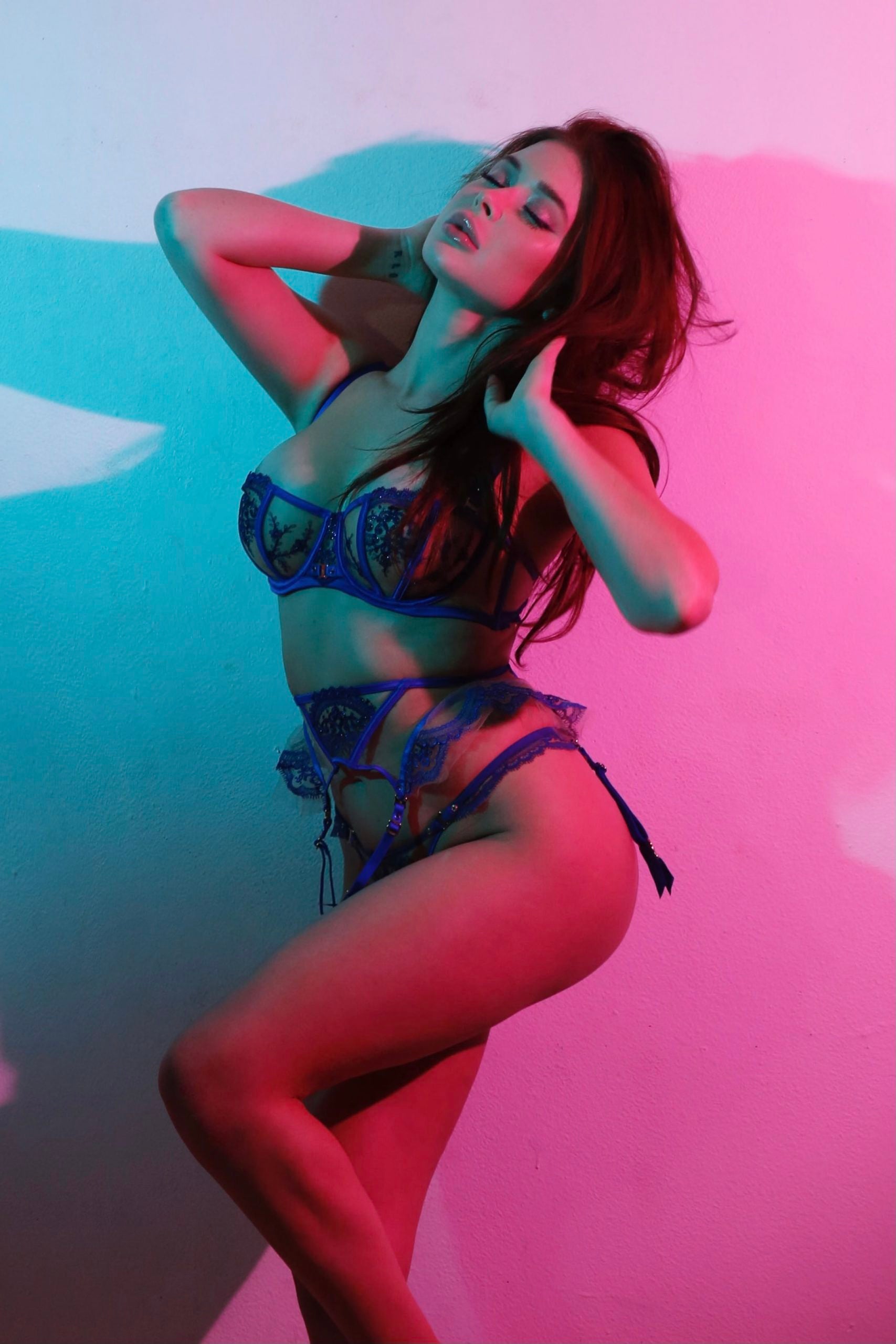 Having had her nudes leaked a decade ago, Olstead has witnessed firsthand how her presence on OnlyFans has changed the way those who consume her content and understand sex work and consent. The most telling signs come from her OnlyFans DMs, where people often write to apologize for looking at her stolen photos and atone by subscribing to her paid page. 
"I've gotten the same message a few times," she says. "It's something like, 'Hey, I'm really embarrassed to say that I looked at your leaked photos when they first came out. And looking back now, I realize how damaging that was, and how destructive it can be for people that have that happen to them. I feel really guilty about it, and I'm really happy that I can subscribe to you now and I can pay you for your content. I've learned a lot since then, and I feel really bad because I was ignorant.'"
Another hint that the landscape around celebrity nudes is changing comes from the deluge of other celebrities who have gone down the same path as Olstead. Her Secret Life of the American Teenager co-star Camille Winbush now has a page, as does Cardi B, Blac Chyna, Tyler Posey and, controversially, Bella Thorne (though the nature of their content varies). Some have been victims of leaks; some haven't — either way, it's rare for the pivot to ruin their careers or personal lives. 
Not that it comes without complications. As it becomes "normal" for celebrities and influencers to post to OnlyFans, online sex work runs the risk of becoming "gentrified." "We saw this exodus of predominantly white, conventionally attractive female Instagram models to OnlyFans," Olstead tells me. "This is a space that women of color have been persecuted for [being part of]. People who don't fit that sort of sleek social norm of what femininity is have been discriminated against for this reason."
Above all, it's this aspect of sex work that she's concerned with more than the possibility for slut-shaming. Rather than simply finding acceptance from her audience, she wants acceptance from other sex workers, too. "That's something that's gotten under my skin a little bit," she says. "I've gotten plenty of comments from Karens telling me that I don't respect myself, but the only ones that have resonated with me are the ones from sex workers saying, 'Hey, this is our platform, and you guys are pushing us out.' I've done my best to try to contact everybody who has said stuff like that. I wanted to tell them, 'Hey, I don't disagree with you. I want to talk to you.'"
This complex relationship between sex work, sexuality writ large and the shaming she experienced following the Fappening is something that Olstead works through not just in her OnlyFans, but in pursuit of a Master's degree in psychology as well. "My ultimate goal is to get my doctorate in human sexuality," she says. "I want to work with female-identifying populations. There's a lot to unpack about the shame that's put onto women when it comes to sexuality, and how accepted it is for men. Women are held to a different standard."
With a break in her academic schedule, she's been spending most of her time shooting in hopes of building up a backlog of OnlyFans content to post when she's busy with school. "I'm kind of into the groove a little bit," she says. "I had a lot of help. I put together a group text when I first started doing it with four or five girls and it quickly expanded, because everyone was like, 'I know a few girls that I'm sure would love to be a part of this conversation.' We have monthly Zoom meetups, and we talk about the challenges of social media right now because everyone's losing their accounts. We discuss how to promote, how to deal with complications and how to stay inspired. It's been a great network of women."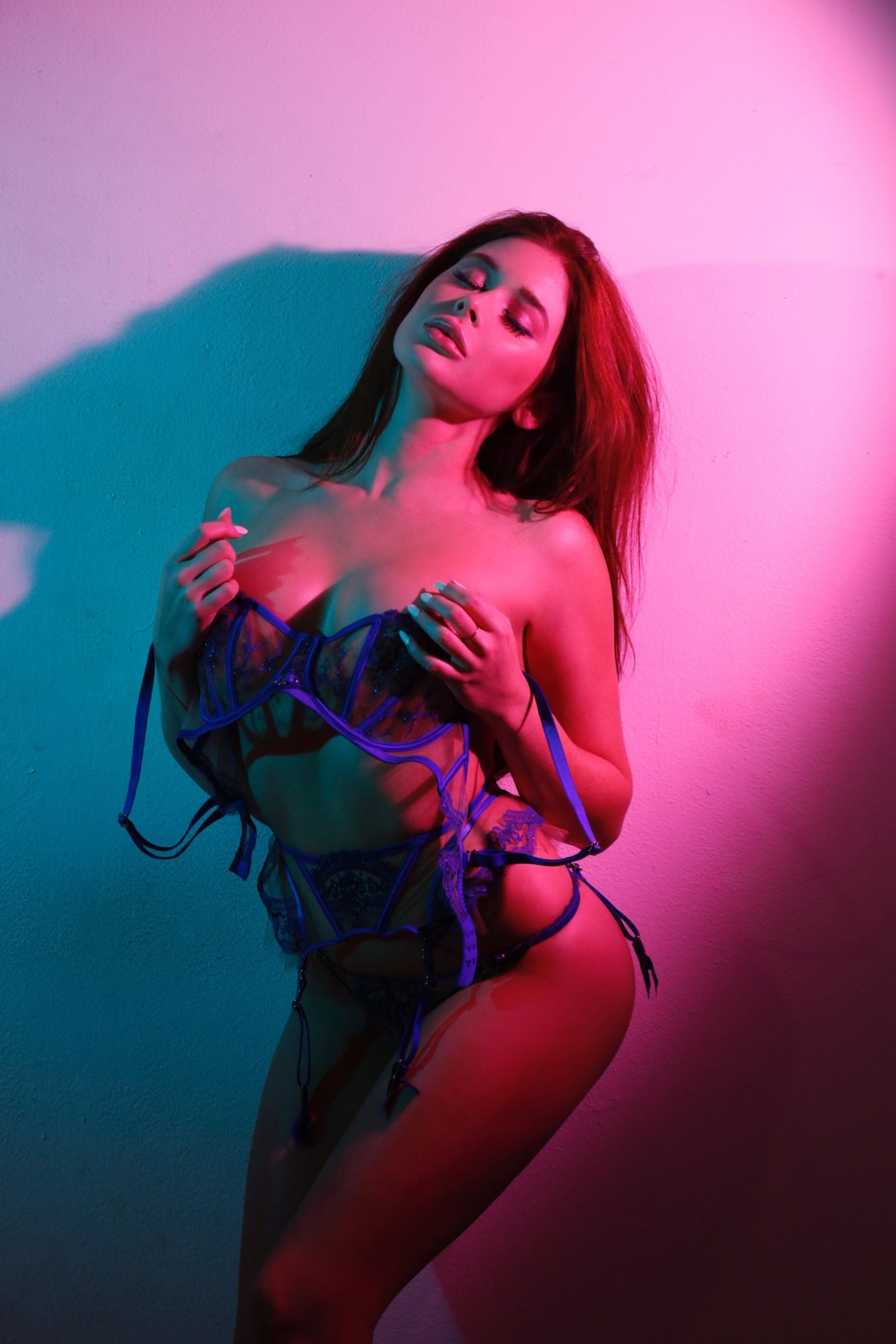 Having that network has long been one of Olstead's guiding forces, both in psychology and in making content. But in February 2020, her mentor, Dr. Amie Harwick, was murdered by an ex-boyfriend. "She was the definition of women supporting women," says Olstead. Harwick had been pivotal in Olstead's decision to pursue her studies in sexuality and psychology, helping her choose her courses, introducing her to other members of the industry and connecting her with Pineapple Support, a nonprofit organization offering low-cost or free mental health resources to those in the adult industry, where Harwick often volunteered. 
"She's just what I aspire to be — someone who connects other women and helps people. Sometimes there's a narrative that there's only so many spots in any given career for women and that we have to hold tight to our connections. Amie didn't fall prey to that myth. She was all about sharing." (With that in mind, in February, around the anniversary of Harwick's death, Olstead held a livestream on OnlyFans and raised $12,000 for Pineapple Support.)
Olstead is not quite the ABC Family gal she was at 21, but OnlyFans has allowed her to rewrite the story of her digital presence a decade later. Now, when people look at photos of her body, it's because she's the one who shared them. More than that, though, she's building a career where sexuality isn't something to hide, but rather, something that can be embraced and learned from. 
"I want to do everything I can to help dissolve stigma," she says. "That's one reason why I'm doing something publicly and attaching my name to it. I'm part of the problem, but I also feel like I'm part of the solution."