There are certain associations that come to mind when someone mentions A Christmas Story — the leg lamp, "Randy lay there like a slug. It was his only defense" and "I think that says fragile, honey." But the most obvious is the one I overheard two guys who work at my local grocery store discuss just last weekend. They were talking about Christmas movies.
"You know Christmas Story, right?"
"No, what's that?"
"You know, the one with the BB gun."
A Christmas Story is the one with the BB gun. It's a movie about a boy named Ralphie (Peter Billingsley) who only wants one gift this holiday season, the "official Red Ryder, carbine action, 200-shot, range model air rifle, with a compass in the stock and this thing that tells time." It's estimated that the gun is mentioned about 30 times in that 90-plus-minute film, and the object of his affection puts him in conflict with his mother (Melinda Dillon), who doesn't want him to have guns. Even when Ralphie visits his local Santa to ask for a Red Ryder, St. Nick isn't sympathetic. You know what he tells Ralphie because it's probably A Christmas Story's most famous line — in fact, it's practically a refrain throughout the movie. "You'll shoot your eye out."
But it's a good bet that most viewers who have turned that modest 1983 hit into a perennial holiday classic — indeed, a movie that plays literally 'round the clock during Christmastime — don't associate A Christmas Story with obsession. Sure, Ralphie is pretty fixated on acquiring that gun, but the man who wrote the original short story that inspired the film was after something darker.
"It was a movie … based on obsession," Jean Shepherd once explained to an audience. "Now, you probably didn't know that … you thought it was [about] nostalgia. … This was a kid who had an obsession on a dangerous thing." The crowd he was addressing laughed, but Shepherd, who died in 1999 at the age of 78, a writer known for his sometimes dim view of humanity, was deadly serious. The original short story, "Duel in the Snow, or Red Ryder Nails the Cleveland Street Kid," which appeared in Playboy in the mid-1960s, was meant to be a parable for the Vietnam War, humorously illustrating how a boy's desire to own a gun outweighs all other considerations, such as his own safety. "We are lured by weaponry," Shepherd told that crowd. "No matter what warnings are said, he will go ahead and do it anyway."
In his short story, the main character does shoot his eye out. But that doesn't stop him: "At the end, he never thought he was wrong," Shepherd said. "He went right back and proceeded to continue to enjoy having this weapon."
Is the Red Ryder BB gun a toy or a weapon? A Christmas Story's characters can't decide, and society hasn't either. But as we head into another holiday season with A Christmas Story already popping up on cable, it's worth focusing on a rifle that had been around for decades before the movie but did not, in fact, exist in the form we hear about from Ralphie. And like a lot of other famous film props, the Red Ryder is more than just a Red Ryder — it speaks to something deeper within us.
"I absolutely think Ralphie's Red Ryder BB gun is one of the most significant guns in movie history," Caseen Gaines, author of A Christmas Story: Behind the Scenes of a Holiday Classic, tells me while driving through New Jersey. "It's Ralphie's Rosebud. It's the thing that he is pining for, for the entire film. And because it's so important to Ralphie — and because he is constantly prevented from gaining access to this gun — it really makes for a great stand-in for everyone's Christmas hopes and dreams. Which sounds corny, but it's true."
The history of the Red Ryder BB gun could double as an exploration of a particular strain of rugged masculinity — as well as our growing concern about gun safety in this country. Shepherd was allergic to nostalgia, but fans' love of A Christmas Story is often wrapped up in the story's rosy perspective on the past — which is only heightened by older viewers' fond memories of watching the film every yuletide season, and now getting to experience it anew with their kids. But beyond its prominent placement in A Christmas Story, the Red Ryder seems to evoke something in Americans, stirring bygone childhood memories and, perhaps more specifically, conjuring up something innate about childhood itself. A BB gun is the first gun a lot of people ever owned, and you never forget your first time.
Before there was a Red Ryder BB gun, there was a cowboy. He was dreamed up by Fred Harman, an artist and illustrator who was born near the start of the 20th century, struggling in his 20s to support his family. He'd had some promising leads — including working alongside future Hollywood innovator Walt Disney in Kansas City as a teen and, later, staging an exhibition of his paintings in L.A. — but by the time he reached 30, he was trying to launch his own comic strip about a cowboy, finding few interested parties in California.
Harman drew on his memories of growing up in Colorado around ranchers for a strip he called Bronc Peeler, named after its main character. In her book Paint 'n Spurs: The Men Who Founded the Cowboy Artists of America, author Barbara Marriott described Bronc Peeler as "a blue-eyed, steel-jawed cowboy with red hair. He got the idea from the many characters he had met and worked with during his early cowboy days." Eventually selling the strip to the San Francisco Chronicle, Harman hooked up with a Wisconsin publisher, Whitman, which put him in touch with a New York agent, Stephen Slesinger, who found him work illustrating in the Big Apple. Then came an offer to retool Bronc Peeler, except the name had to change — as well as the main character's demeanor.
"Bronc Peeler had been a tough cowman who shot to kill when fighting the bad guys and animals," Marriott writes. "He used a lot of slang in his speech, and the storyline was usually thin." Slesinger suggested the new character should be billed as "America's famous fighting cowboy," hoping to make the hero, now dubbed Red Ryder, a little more accessible. "Red didn't shoot to kill," she writes, "not even if the villains were bad. Instead he saved the day and warned the bad guys. Maybe, if absolutely necessary, he wounded them. He rescued pioneers, including lots of women and children, and fought the good, fair fight."
In the late 1930s, Red Ryder (who was often accompanied by Native American sidekick Little Beaver, who frequently got him out of jams) became a cultural force. There was a strip and also comic books. There was a magazine. Soon, Red Ryder made the leap to radio, serials and feature-length films. Harman would make public appearances as Red Ryder, and during World War II, he helped raise war bonds. Indeed, Red Ryder was a symbol of American patriotism: As the late author and historian Ferenc M. Szasz put it, "Children of the era could join the Red Ryder 'Victory Patrol' and receive a 'secret decoder' to help foil local spies."
Slesinger extended Red Ryder's merchandising to include clothes and toys. And as part of those deals, he worked out an arrangement with Daisy, a gunmaking company that had started out in the 1880s producing iron windmills. During that time, air guns were for the first time being mass-produced, pioneered by one of Daisy's rivals, the Markham Air Rifle Company, which was the brainchild of William F. "Phil" Markham. "Rumors began circulating that Markham, who no one had ever known to be interested in firearms at all, simply took credit for one of his employee's inventions," Mark Russell Sanders wrote on the NRA Family blog in 2017, later adding that Markham's prototype, the Chicago, "hardly looked like a firearm at all. It was made almost entirely out of wood, barrel and all, and was heavy. Worse than that, it could hardly shoot straight. … One newspaper joked at the time that the Chicago would be more effective if it was used as a club, rather than as a BB gun."
Daisy, which previously had been known as the Plymouth Iron Windmill Company, decided to get into the business, developing an all-metal air gun. In 1912, Daisy bought the Markham Air Rifle Company, eventually dissolving the company. And starting in the 1930s, the Daisy brand of guns began courting high-profile celebrity endorsements, including beloved composer John Philip Sousa, whose likeness was used to sell rifles. (The ads said they were "A Message on Marksmanship From America's Greatest Bandmaster," with Sousa declaring, "Good marksmanship is possible to every wideawake boy.")
But when Daisy was developing a new air rifle, the company sought a fresh spokesperson. "Initially inclined to hire a sports figure, they pulled back after a contemporary sports hero became embroiled in a scandal involving women and alcohol," Szasz writes. And so, in 1940, Daisy produced its first Red Ryder BB gun, all thanks to Slesinger. "Steve was a merchandising genius," late 60 Minutes commentator Andy Rooney once wrote about his friend. "He went to the Daisy Air Rifle Company and sold them a deal to make a Red Ryder BB gun. In Hollywood, Republic Pictures agreed to pay Steve for the rights to make 10 B-movies based on Red Ryder. Fred Harman, meanwhile, was cranking out the strip in Steve's back room for $60 a week."
"For the first 40-some odd years, [the Red Ryder] was the prime BB gun for young boys to use," Lawrence Taylor, who works in public relations for Daisy, tells me from his office at the company's Rogers, Arkansas headquarters. "It was our base model, so it was affordable. It functioned great. And it was the one that Daisy put most of their advertising money behind."
Those early ads leaned hard on the Red Ryder association, and as Taylor acknowledges, the marketing very much was geared toward only one gender. "It focused only on boys," he admits. "It was non-inclusive in its advertising approach. Back then, boys looked up to the cowboys, and [Red Ryder] was a movie star and a comic book character. So it was something that they attached themselves to and dreamed about. It was the first step in shooting."
Daisy halted production during World War II, but when BB guns started being manufactured again in 1946, sales quickly reached $1 million on an annual basis. "It's just the perfect BB gun," Taylor says with pride. "It's lightweight, it's relatively accurate for a smoothbore gun and it's relatively easy to use." Toy guns were a popular item in the 20th century, with waves of (mostly) boys wanting to emulate the cowboys and gangsters they saw in the movies and on television. But the BB gun has an especially sacred place in American culture. As Daisy's early ads indicate, there was something wholesome about getting your first air rifle — it was a rite of passage for a young man. And BB guns have proved to be a good starter kit for kids who want to try their hand at shooting. "It's a great training tool for the beginner because it does just [shoot] 250 feet per second," says Taylor. "So it's something that you can train with, you can mentor a first-time shooter with. It's not intimidating — it's a lot safer."
That allure of encroaching maturity is lovingly dramatized in A Christmas Story, an episodic tale that keeps returning to a nine-year-old's wish for a Red Ryder BB gun. Ralphie is rebuked by his worried mother, who's part of the chorus of characters who warns him that he'll shoot his eye out. In Shepherd's original story, that concern over guns is just as pronounced. Early in the piece, the adult narrator encounters a woman with a pin that says "Disarm the Toy Industry." "It's an outrage the way the toymakers are forcing the implements of blasphemous War on the innocent children, the Pure in Spirit, the tiny babes who are helpless and know no better!" she loudly informs him. The narrator's response (to himself): "As if the Toy industry has any control over the insatiable desire of the human spawn to own Weaponry, armaments and the implements of Warfare."
The film — which is set in a small town in Indiana around 1940, right when the Red Ryder was making its debut — opened in November 1983 and was directed by Bob Clark, whose previous two pictures were Porky's and Porky's II: The Next Day. Call those movies puerile all you want, but the commercial success of Porky's, one of the biggest films of 1981, gave him the power to make A Christmas Story. "[I can] make studio films without having to sacrifice any of the freedom or control I had as an independent," he said around A Christmas Story's opening. "At an earlier stage, I would have been forced to make unacceptable creative compromises — but not now."
Clark was known for B-movies — in 1974, he'd helmed a seasonal slasher, Black Christmas — but A Christmas Story was a warm family film, albeit one with a smart-ass tone to it. (The characters don't outright curse, but they get awfully close.) And Shepherd, who co-wrote the screenplay with Clark (alongside Leigh Brown) and provided the narration, was a vocal collaborator. "[Clark] had a real specific vision. Jean was involved," Billingsley told Variety a few years ago. "This adaptation was a collaboration that had taken them over 10 years to get this movie made. It was such a challenge to get off the ground because it's an odd movie probably on paper." That partnership continued on set, although it sounds like it wasn't always harmonious. "Jean was often trying to give me notes," Billingsley said. "Bob would run up and say, 'Stop talking to my actor.'"
The film was only a modest success and, has often been pointed out, it was out of theaters before Christmas, when MGM no doubt had hoped it would receive a seasonal boost. But A Christmas Story eventually caught on when it came to VHS and cable — specifically, TNT, which in 1997 started airing the movie continuously on Christmas Eve and Christmas Day. In that 2018 Variety piece, Michael Quigley, an executive for TNT and TBS, noted, "[The movie is] now reaching over 40 million viewers. The marathon is staggering in terms of its performance and we're finding that constantly it is among the top-performing movies on our network year after year."
And once the film slowly became a yuletide staple, A Christmas Story also proved to be a boon for the Red Ryder BB gun. As Taylor explains, the timing couldn't have been better for Daisy. "Our sales have picked up on that particular gun quite a bit in the last seven to 10 years or so," he says. "We're so lucky: As infatuation with cowboys and the Wild West has waned, A Christmas Story came along and brought [the gun] to a whole new audience. To have that movie playing 24 hours a day around the biggest gift-giving holiday there is, it's pretty nice for us."
In fact, Daisy has done its best to capitalize on the film's cultural ubiquity. "In the last two years, we started mass-producing the gun that was featured in the movie, because the one that Jean Shepherd wrote about really didn't exist," Taylor tells me. "His memories blended a couple of guns together. We had never produced a Red Ryder that had a compass in the stock and a sundial — that was actually on a pump BB gun that we had. So we had to create a few of those for the movie, and we've been doing them in short runs, mostly for the Daisy Museum to sell to raise funds. But in the last couple years, you see Walmart will have huge aisle-stoppers full of — we can't say a Christmas Story gun, but it's a 'Christmas Wish' gun that has the sundial and the compass."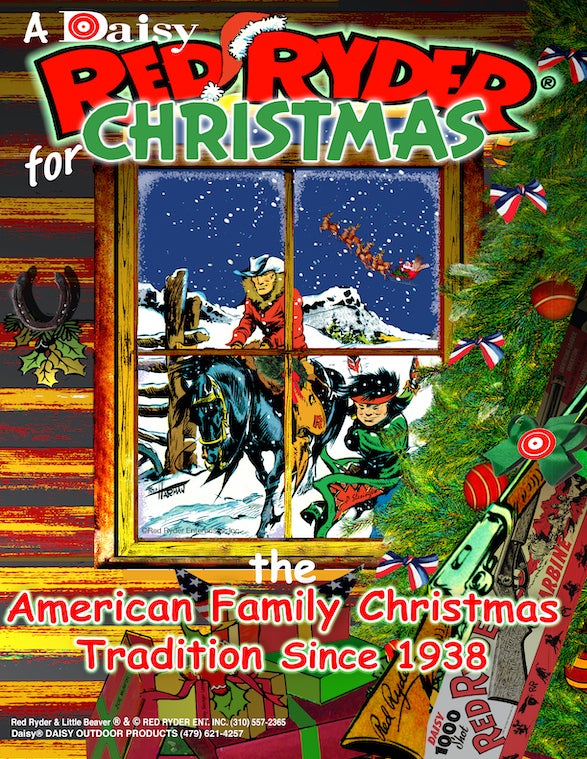 Of course, the Red Ryder BB gun had been a Christmas tradition long before A Christmas Story. Szasz writes, "As early as 1941, Red Ryder ads promised to help youngsters obtain the Daisy air rifle they wanted for Christmas. For only a stamp, Red would send them 'Daisy's copyrighted free Christmas reminder kit,' which instructed youngsters how to 'put "Reminders" under milk bottles, in the mail-box! On Dad's easy chair! Mail one to Dad where he works!'"
Today, Taylor estimates that there's an influx of orders for the gun "starting the second half of October." Walmart and Bass Pro Shops are places where the Red Ryder BB gun does very well — it's sold more as an outdoor activity than as a toy. (Indeed, during our conversation, Taylor never refers to the Red Ryder as a toy.) When I ask him just how much of a percentage of the gun's annual sales happen during the holiday season, he replies, "I don't have those numbers or anything, but my educated guess would be 60 percent."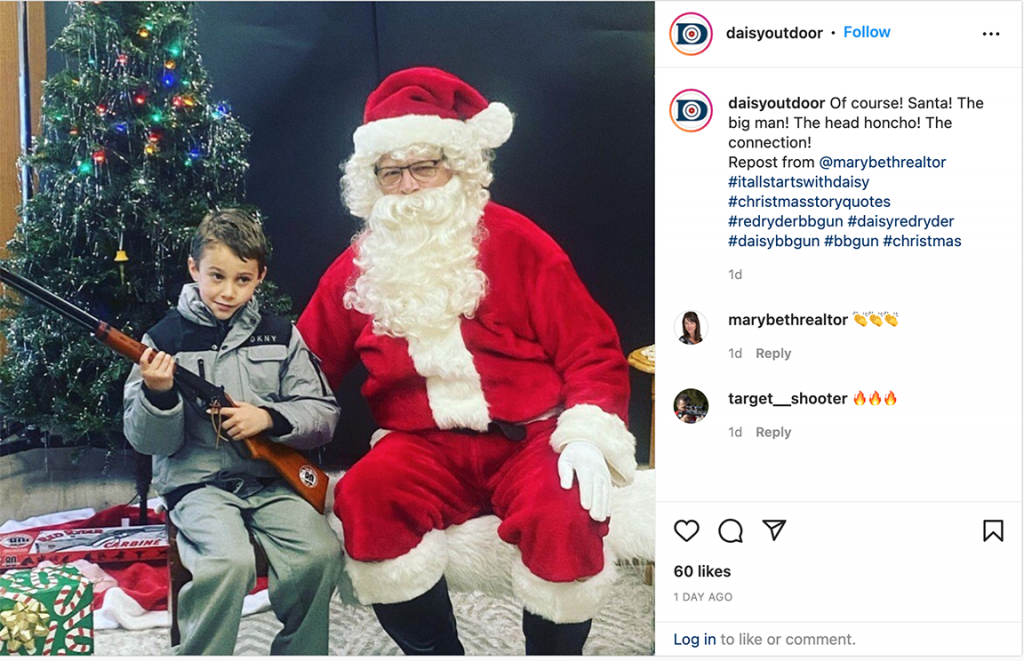 When you look at Daisy's current marketing, you don't see much in the way of cowboys outside of the image of Red Ryder on the box itself. And while the photography features a lot of what appears to be fathers and sons, there's also a decent amount of women and girls on the site. "It's a universal appeal," Taylor says, adding with a laugh, "You don't have to have a penis to want to shoot a BB gun when you're a kid. In fact, we do BB gun competitions — we do a national championship every year — and consistently girls will outperform boys."
Is it because the girls feel motivated to prove that they're just as good as the boys at shooting? Taylor suspects that may have something to do with it, "but it comes down to, in a lot of training lessons, girls just seem to listen — and they don't come with any preconceived notions. They'll train and listen the way the coaches tell them to — and the young, rambunctious boys will just not listen as much."
Still, there's no denying that a good portion of the Red Ryder promotional materials evoke a masculine ritual of one generation of men introducing the next to firearms. And in an age when boys can shoot guns in other ways — including through high-tech video games — a BB gun may seem terribly old-fashioned. (As a 2017 piece by the Pittsburgh Post-Gazette's John Hayes pointed out, "Modern air rifles can kill African big game and will easily drop deer at 100 yards," a far cry from the meager firepower of the Red Ryder, which is for sharpshooting, not hunting.) But that quaintness is also part of the charm. "There's a certain nostalgic quality to it," Taylor says. "But it is still the first real gun that most youth will fire. There are play guns, but you get to a Red Ryder — a real BB gun — it's your first real gun."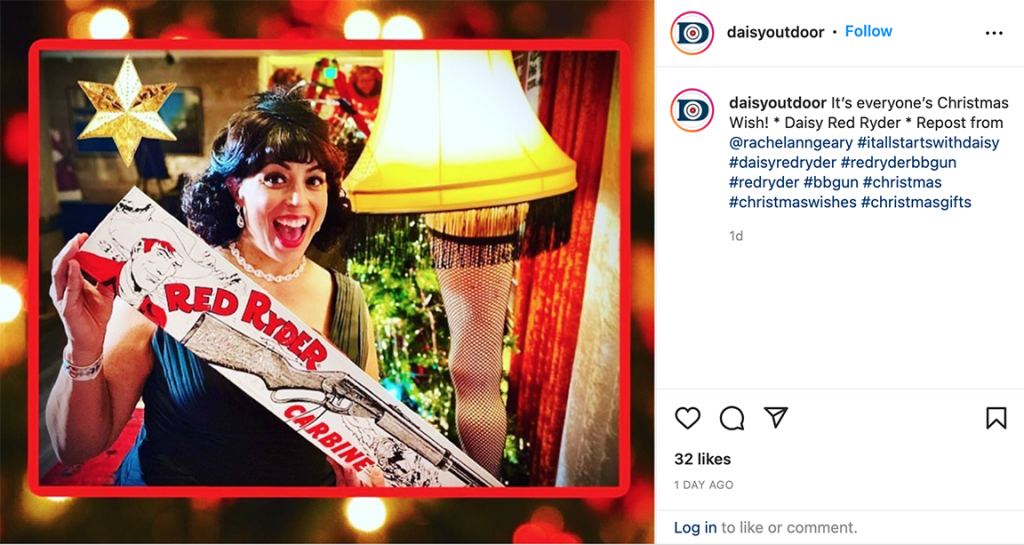 This, of course, is partly why Ralphie is so entranced by the idea of getting the gun for Christmas. And for Gaines, the boy's desire echoes something larger in our collective psyche. "What's specifically American [about A Christmas Story] is there are many families that have these debates about 'When is it okay to let my child grow up?' In a lot of families, the child who is allowed to have that rite of passage first is the son."
Gaines sees those discussions playing out for boys in different venues, "whether it's a gun, whether it's starting to date, whether it's [letting] a kid play a contact sport. They're all benchmarks. Whether it's owning a gun or at least learning how to handle a gun, all of those things are a really significant rite of passage in a lot of households. And A Christmas Story taps into that. I don't think it's lost on anyone who's seen the film that it's his father that's ultimately the one who unlocks that for his son. There's this generational passing of the torch." After all, as Ralphie's dad (Darren McGavin) explains to his wife, almost apologetically, "I had one when I was eight years old."
Even so, with hunting reportedly declining in popularity — although there was a rebound in 2020, probably due to the pandemic — there might be slightly less of a societal fascination with guns. But in a 2014 Washington Post piece about toy guns, Richard Gottlieb, the CEO of Global Toy Experts, which "provide[s] cutting-edge analysis and strategies to domestic toy manufacturers as well as to international providers who are looking to raise their profile in the United States and the world," suggested that there may always be a market for young people interested in weapons. "[A]ll kids have basic needs to act out their fears of adulthood," he said. "For girls, it's sexuality and social interaction. For boys, it's death and dying. These are essential play patterns. They're going to be acted out somewhere because the thought of going to war and getting killed is scary. A lot of this has moved to first-person shooter video games because toy guns have become taboo and play has moved indoors. But as a culture, we still want to shoot."
That hasn't stopped state governments from putting in ordinances that restrict the use of weapons like BB guns. In California, for instance, it's illegal for someone under 18 to own a BB gun without parental permission, and it's illegal to display one in public. A few years ago, conservatives got angry at New Jersey's Graves Act, which required individuals to register their BB guns — commentators went so far as to evoke Ralphie's innocent quest for his Red Ryder as a way to illustrate how preposterous the law was. And, of course, there are horror stories of police officers killing people carrying BB guns, mistaking them for far more lethal weapons.
Taylor encounters anxious parents who didn't grow up in families that owned guns who now have kids interested in a weapon. "There's always going to be a section of people who will not and will never have a BB gun or a gun of any kind," he tells me. "And that's fine. The ones that I can persuade, [it's that] this is a tool for teaching gun safety. You don't have to have a swimming pool to want your youth to know how to swim. So if you can train and teach and show what to do around a gun, I think the more information that you have, the better."
Indeed, Daisy heavily emphasizes safety in its packaging and on its website. "We have warnings everywhere that you've got to know your targets and what's beyond your targets," Taylor says. "And we do, gosh, half a million dollars' worth of safety promotion a year. We go through organizations, like the 4-H, that have shooting sports programs. American Legion has shooting sports programs that we support. We fund a lot of that stuff."
But as he also points out, while a BB gun like the Red Ryder can certainly be harmful, it's a low-impact weapon mostly used for target practice. Plus, kids who get BB guns don't necessarily become gun owners as adults. "Either their interest in shooting in general wanes and they put it in the closet and don't ever shoot again, or they do graduate up to a pellet gun, on up to a .22 and things like that," Taylor says.
But what Daisy discovered is that, although the Red Ryder has such a strong association with kids, adults started pining for it, too. "We have an adult size now that we came out with so that you can get one for the mentor and one for the youth," Taylor says. (The Daisy website advertises it by declaring, "With the Adult Red Ryder, you can relive the joys of childhood right alongside your own son, daughter or grandchildren. For memories that span generations — and last a lifetime — it all starts with Daisy.") "People had always been saying, 'I wish you had a full-size one that I could shoot more comfortably,'" Taylor continues. "And so we finally listened and brought it out, and it's been pretty popular."
None of this probably sits well with gun-control advocates, the most vocal taking to social media to accuse A Christmas Story of pushing a pro-gun agenda.
I reached out to the National Rifle Association for comment — as well as Everytown — and while neither responded, the gun-rights group has certainly intervened to ensure that guns are still at least partly the reason for the season. Last year, after four-year-old Michael DeCarlo was rebuffed by a mall Santa, who told him he wouldn't be delivering a Nerf gun to him for Christmas, the organization made a big show of sending him one, consciously echoing the similar plot point from A Christmas Story when Kris Kringle kicks Ralphie down the chute.
That same holiday season, the NRA advocated a three-point plan to get your gun-fearing spouse to go along with your desire to have weapons as gifts by essentially playing the Santa card. Intentionally or not, the campaign mimicked the exact same strategy Ralphie's dad implements: Your wife won't complain if you tell your boy that the weapon's from Jolly Ol' St. Nick.
And that's to say nothing of Kentucky Republican Congressman Thomas Massie, who just last week posted his family Christmas photo on Twitter, the whole clan grinning while clutching automatic weapons next to a caption that read, "Santa, please bring ammo."
Even if one wants to dismiss all that as snide right-wing trolling of uptight liberals, there's no doubt that A Christmas Story now serves as an annual yuletide reminder of the connection between firearms and the spirit of the giving. When I bring this up to Gaines, he admits, "In the eight years since my book has come out, the conversation around A Christmas Story and whether or not we should be celebrating this film has shifted so much. When the book came out, I don't think I ever got questions like this, ever. And now when I talk about A Christmas Story, this is the general line of questioning."
He himself has wrestled with this topic. In 2018, he wrote a piece for Fatherly in which he argued that A Christmas Story wasn't pro-gun propaganda, although he says that the headline "A Christmas Story Doesn't Actually Want You to Buy a Gun" — which he didn't write — provoked a lot of hate mail. "Of everything that I've ever written — and I've written some things that have been more overtly political — I got the strongest response to that piece from people that I'm just certain did not click it."
What was the overall tenor of the responses he got? "A Christmas Story is a film that celebrates a boy's relationship with his gun, and any attempt to zoom out from that really literal interpretation is somehow rewriting the narrative of the film," he summarizes. "It's interesting to me that A Christmas Story has become this political football for some segment of the population. But I do think that most people who watch it just enjoy it as family entertainment."
In the past, Daisy has associated with the NRA overtly — notably through bygone ads in which Red Ryder encourages young shooters "to join the NRA as a junior member an' learn to shoot your Christmas Daisy safely under adult supervision." "We don't do that anymore," Taylor tells me. "In the 1950s, we developed a curriculum that coaches people — it's a 10-hour course — whenever they're forming BB gun teams. They go through that 10 hours of training before they ever touch a BB gun. We were based in Michigan at the time, and there were a lot of physical education classes that used it in schools. Hard to imagine now."
On the Daisy website, you can buy a National Rifle Association 5 Meter BB Gun Target, which prompted me to ask Taylor if the company advertises its connection to the controversial organization. "We support the NRA," he tells me matter-of-factly. "We're a gun company."
Of course, gun violence is everywhere, including last week, tragically, at a Detroit high school. And while Gaines argues that A Christmas Story isn't just about a boy's desire to get a Red Ryder, he can't completely step outside the real-world implications of gun ownership. "I'm a high school teacher in addition to being a writer," he says. "So I see kids every day, and obviously kids and guns and school shootings are something that I'm incredibly attuned to." Since writing that Fatherly piece, he finds himself still evolving in his thoughts about how guns are depicted in our culture, and how we should view A Christmas Story.
"I'll say this: There is something almost comforting about watching a film where a child can handle a gun and it's not news footage," he tells me, "and there's no threat of there being significant damage being done to anyone. In fact, the only person who sort of gets damaged in A Christmas Story is Ralphie, who almost shoots his eye out. I do think part of what resonates with people [with] A Christmas Story — even people who aren't fans of the idea of children handling guns — is that it's an antique piece. It's like you're watching a family frozen in amber."
But despite Shepherd's anti-nostalgic tendencies and his wish to make his original short story an anti-war parable, Gaines can see how A Christmas Story's beloved status might run counter to its author's intentions. "There is certainly a nostalgia," he says, "but I think there's also a sort of prideful defiance sometimes when adults are buying Red Ryder BB guns — like, 'I am going to vote with my dollars in support of this film, and in support of kids being able to have BB guns if they want them, and parents being able to buy BB guns and stores being [able] to carry them.' I really do feel like there are people that know there's growing discourse around this film and its celebrated status. I'm personally hesitant to paint it as solely people wanting to celebrate their childhood — I think some of it is also 'No, I'm going to go out and get my kid a gun because I can.'"
A Christmas Story isn't just a standalone movie. There was a 1994 sequel, also directed by Bob Clark, who died in 2007 at the age of 67. The straight-to-DVD A Christmas Story 2 came out in 2012. That same year, A Christmas Story: The Musical came to Broadway, almost exactly 29 years after the original film premiered, closing at the end of December. Peter Billingsley was one of the producers, and the music and lyrics were written by Benj Pasek and Justin Paul, who'd won the Oscar for La La Land. Naturally, one of the signature songs was called "You'll Shoot Your Eye Out."
There's even a Christmas Story museum in Cleveland where you can visit the original house where the film was shot and also check out props and artifacts — not to mention buy some souvenirs, including plenty of Red Ryder-themed stuff. The extent to which A Christmas Story is so beloved — while simultaneously being caught in the political crosshairs — is apparent by the fact that, in 2018, there was an internet rumor that TBS wouldn't air the movie anymore because of its depiction of school bullying, which prompted widespread protests. TBS had to go to the trouble of releasing a statement saying that, no, A Christmas Story wasn't being pulled. But if the network ever decided to stop airing the movie — if the ratings suddenly started plummeting — how much would it affect Daisy's bottom line?
"It's certainly a concern," Taylor says. "It would be a loss of great marketing. So we're hopeful it doesn't die out in the next 10 years. But things change." I was curious if Daisy does any sort of coordinated promotion with TBS during the holidays. "No, not really," he answers. "In fact, not so much TBS, but the production company, their opinion is it's not a movie about a BB gun — it's about a young boy's struggle to get a Christmas gift. They don't want to acknowledge that that movie is really about the Daisy Red Ryder."
In Taylor's line of work, he communicates with lots of people who grew up with the Red Ryder gun. And while most of Daisy's business comes from America, "We are worldwide. There's a Red Ryder group out of Australia. There's one in the U.K. that I communicate with sometimes." He reckons that those overseas customers are a combination of expats and those who have a fascination with a very specific piece of Americana. Taylor understands: He's one of those boys who got a BB gun at a formative age. "It was an honor to get it," he tells me. "I came home from school, and my dad had one for me. It was exciting — I had my first real BB gun and went out and shot tin cans with it, just like millions of other people have done."
Gaines didn't grow up with a BB gun. ("I'm in New Jersey, there are certainly kids with BB guns, but it's not a thing," he says. "I have family in Pennsylvania and Virginia, and I'm positive that they either had BB guns or certainly went to a range when they were kids. I'm 10 miles outside of Manhattan — there may be a little bit of a difference.") But even so, he can understand what the mythic allure of the Red Ryder is, and it may not simply be having a firearm in your hands. "I think A Christmas Story is about a kid who wants," he says. "I think every kid wants something — whether it's to be loved by their parents, or to be seen by their parents. Everyone wants something. And when you're a kid, those feelings are so compounded, especially around Christmas."
In that way, Ralphie's quest speaks to a universal desire that children have for seeking out the thing they don't have — to taste some part of life that's been denied them because they're kids. The more Ralphie's want is dismissed, the more powerful it becomes. To this day, a lot of us can still remember that one gift we so desperately craved — the anxiety was in knowing that we had no control over procuring it. That was up to our parents, or Santa, and so we were stuck in an unbearable adolescent purgatory. All we could do was hope. And for a lot of kids, that wish was a gun — and what getting a gun would mean in terms of our maturity. Getting a gun meant we were old enough to have earned the right to get a gun. We wanted to know we'd graduated to the next level on the way to adulthood.
For the Daisy Red Ryder BB gun, that history stretches back decades. Lawrence Taylor likes that his job allows him to go back through the marketing archives and spend time with that cowboy Fred Harman dreamed up nearly a century ago. "Anymore, it's tough to find anyone under the age of 40 or so who knows who Red Ryder was," he says. "I use it a lot on social marketing, on Instagram and Facebook, just mostly for the nostalgia. I think the generations that associated [with] the Red Ryder character are pretty well faded. Now people know it from A Christmas Story."
He's never met Peter Billingsley, although they've talked on the phone. "I have a Red Ryder I'm looking at right now that is a Peter Billingsley autographed Red Ryder," Taylor tells me. This is Daisy's busiest time of the year, right before Christmas. Taylor sounds like he's holding up pretty well. Just one thing, though: "I'm going to tell you, if I ever go crazy, it will be about December 20th," he says with a laugh. "It's whenever I've heard 'You'll shoot your eye out' for the one trillionth time."