What is the makeup of an evil prep? That villainous archetype who tormented the good-natured, ramshackle protagonists in millions of high school dramas throughout the 1980s and 1990s? A disconcerting toothy grin? Absolutely. Caramel-brown boat shoes paired with khaki shorts cut just above the knee? No question. A heavy aura of vengeful generational wealth? Naturally. 
But for my money, there is no greater signifier of a Wasp Gone Wrong than a periwinkle sweater tied into a knot across their neck, gracefully drooping down over their shoulders.
You know it when you see it. Functionally, there should be no threat; nothing about that look is inherently toxic: "The weather changed, and I simply must dispose of my sweater with an appealingly chic method." But for some reason, through the chaos of pop-culture semantics, the universe determined that there's nothing more terrifyingly douchey — no greater sign of a man who will wield his old-money influence to humiliate you — than a thermal pullover hanging around their neck. 
Pete Campbell from Mad Men, the ur-figure for this entire Type of Guy, was a noted perpetrator, as was Rick Martel, who wrestled in the WWE in the early 1990s equipped with an avaricious, male-model "narcissistic" gimmick. Carlton Banks, the Reagan-loving cousin of Will Smith on The Fresh Prince of Bel-Air, was in his most naturally preppy form with a white wool drape around his shoulders.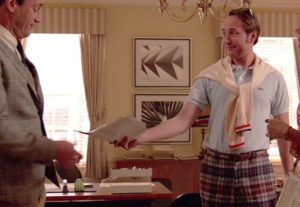 In 2010, Urban Dictionary codified the aesthetic under the term "Sweaterdouche." The sweater-around-shoulders statement is supposed to evoke a casual breeziness — picnics in the early spring, the liberation from suit-and-tie events — and yet, nothing in male fashion carries more distasteful baggage. 
"You're wearing a sweater, but not really wearing it. It's on your shoulders because you can't be bothered to truly put it on," explains Ethan Wong, a fashion blogger, photographer and perhaps the only person who has ever dedicated a significant amount of his brain power to untangling the curious case of the neck-sweater. "It's a power move for sure. It's not like a tie, which has typically been worn by everyone, from businessmen and pastors to kids taking their picture; the tied sweater is a conscious choice. Put that on top of typical Ivy-prep items like chinos and OCBDs and you get a weird vibe that isn't exactly what a 'normal' guy would wear."
I'm willing to take his thesis a little bit further. For as long as I've been alive, the general public has reserved a particular disdain for any fashion accessory — especially when worn by those who are rich and powerful — that imitate a utilitarian facsimile. Specifically, I'm thinking of that weird period in the early 2010s when movie stars and NBA players started wearing glasses with empty frames, a grievous insult to those of us who are effectively blind when we wake up in the morning. 
To me, the neatly tied sweater spawns out of the same general tradition — these boarding school scions brutalizing the cashmere pullover, a proud and admirable clothing mainstay, into this weird, unnecessary half-scarf. The silhouette is so fussy, so clearly self-obsessive about replicating the vibes of a 1988 GQ spread, that the very idea of a Cape Cod dork pleating his outerwear with just the right angles before leaving the house makes us feel sick. Perhaps that's why the trend first surfaced in the 1980s — a decade where our collective imagination was subsumed by limp, facile gestures of blase affluence.
And yet, despite all of those aspersions, Wong admits that he does kinda like the look. He tells me that he enjoys mixing a little stately, blue-blood schmaltz into his wardrobe, and doesn't mind emulating the dirtbag echoes associated with the fey bullies in prep-school comedies. He absolutely understands the impression it leaves on his friends, neighbors and family members when he ventures out in his sweaterdouche ensemble, but as is so often true with menswear, overcoming self-consciousness is the first step to success. "Subversion and a healthy dose of confidence, or thick skin, is how you'll be able to wear it," he says. "However, that won't stop a few stares or snarky comments on social media."
Rainier John, another men's fashion guru who runs The Dressed Chest Instagram account, agrees with Wong, but also believes that the look only succeeds if it escapes the confines of its imprisoning douchiness. That sounds like a tall task, but John believes it can be accomplished if the sweater blends in with the rest of the ensemble as an accent, rather than the main event. He convinced me further with the examples he sent over. 
The men in these photographs do certainly have their pullovers lightly draped over their shoulders, but nothing about them comes off like profane 1980s cosplay. That's partly due to their sartorial choices — there isn't a rugby shirt or an argyle vest in sight — but sometimes, says John, fashion superiority relies on the consumer's own headspace. "The demeanor of the person wearing it [is also important]," he explains. "So if you act snobbish or douchey while wearing a sweater tied over your shirt then you're probably contributing to the stereotype."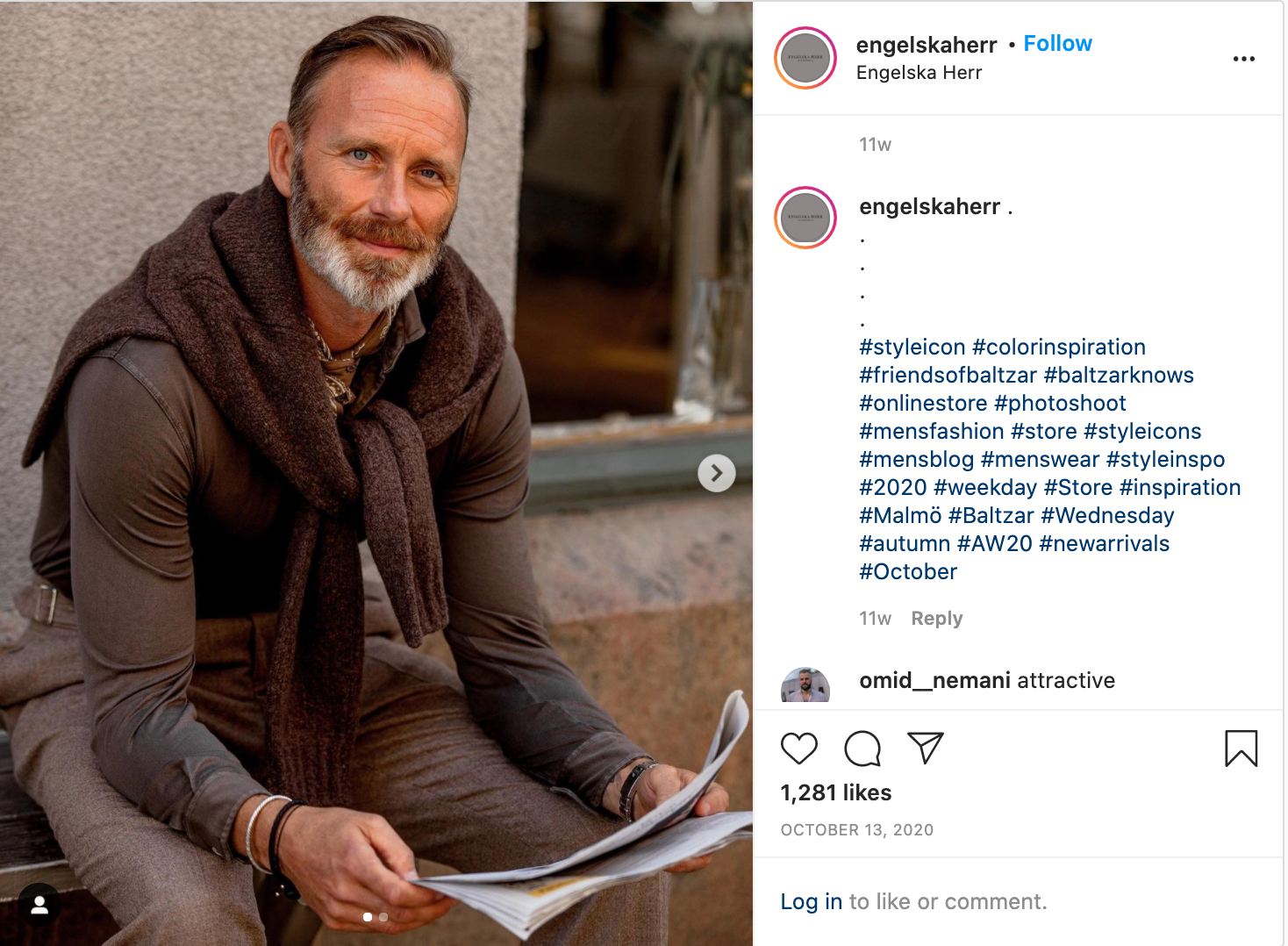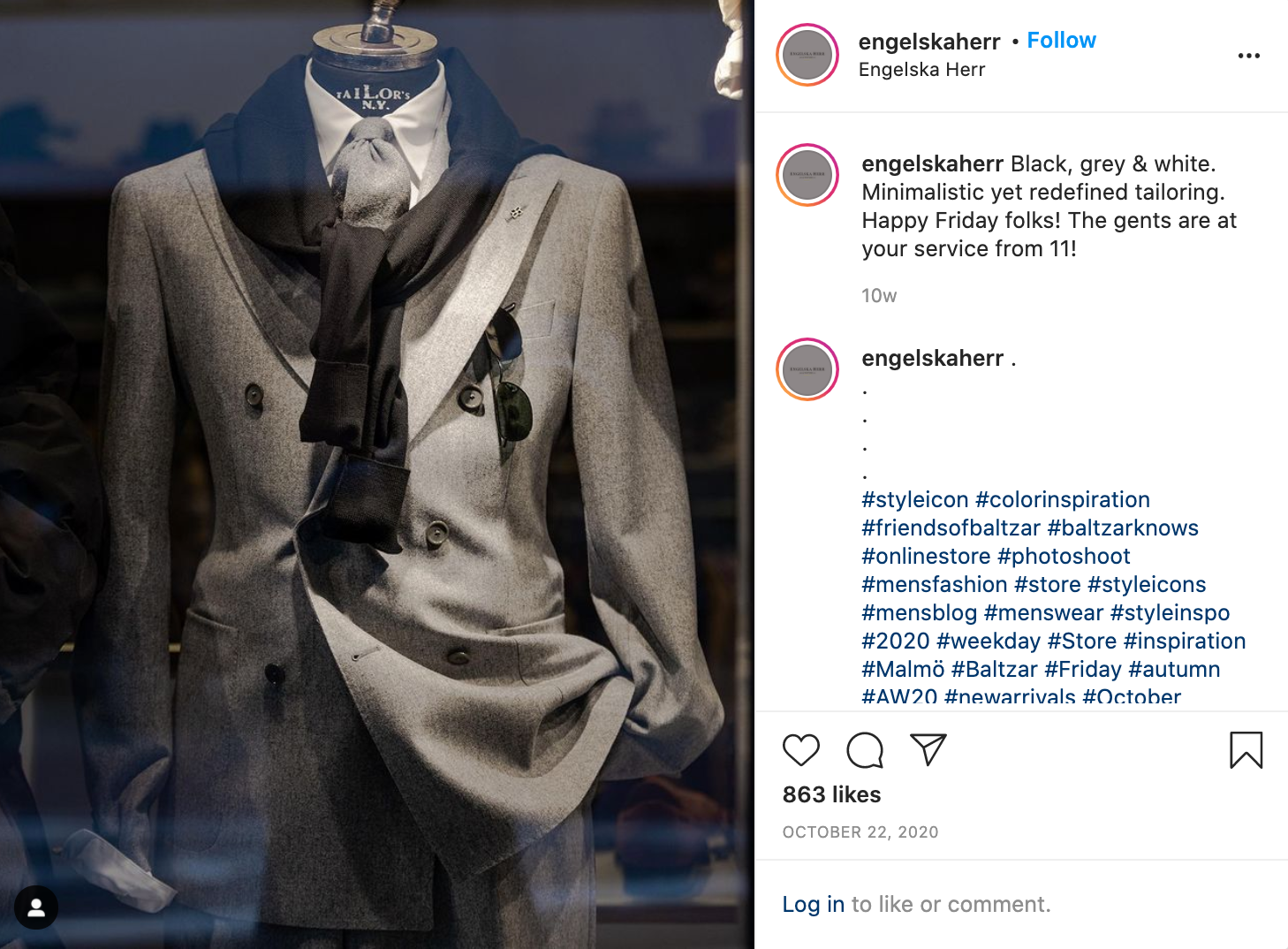 I admire both Wong and John for their attempts to reclaim the valor of the sweater-scarf. Their tenacity is without parallel — stepping into the mustiest and most derided corners of the wardrobe, and arriving on the other side, playing devil's advocate for a fashion statement that's so commonly disgraced by the public eye. 
I doubt I will be joining them — my sweaters will remain on my body, thank you very much — but some men will fight the good fight until the tide is turned. Imagine, a world where you can tie a sweater around your neck without everyone on the street assuming that your dad is a massive Trump donor. Is it worth the persecution? Probably not, but I'm glad that some think it is.
"I'm sure that people still think I look like a dork [with a sweater around my neck], and I am for a multitude of reasons," Wong concludes. "But at least I know I did my best to mitigate it!"