When Jakub is having gay sex this autumn, he won't just be thinking about his leather harness cutting into his chest. He'll also be musing on the crisp, woody aromas of fall — thanks to Pumpkin Spice Latte poppers.
"It smells like someone opened a bottle of poppers in a Bath & Body Works," says the 31-year-old from Missouri. "Or like a pumpkin pie was brought to [famous gay bar] the Eagle."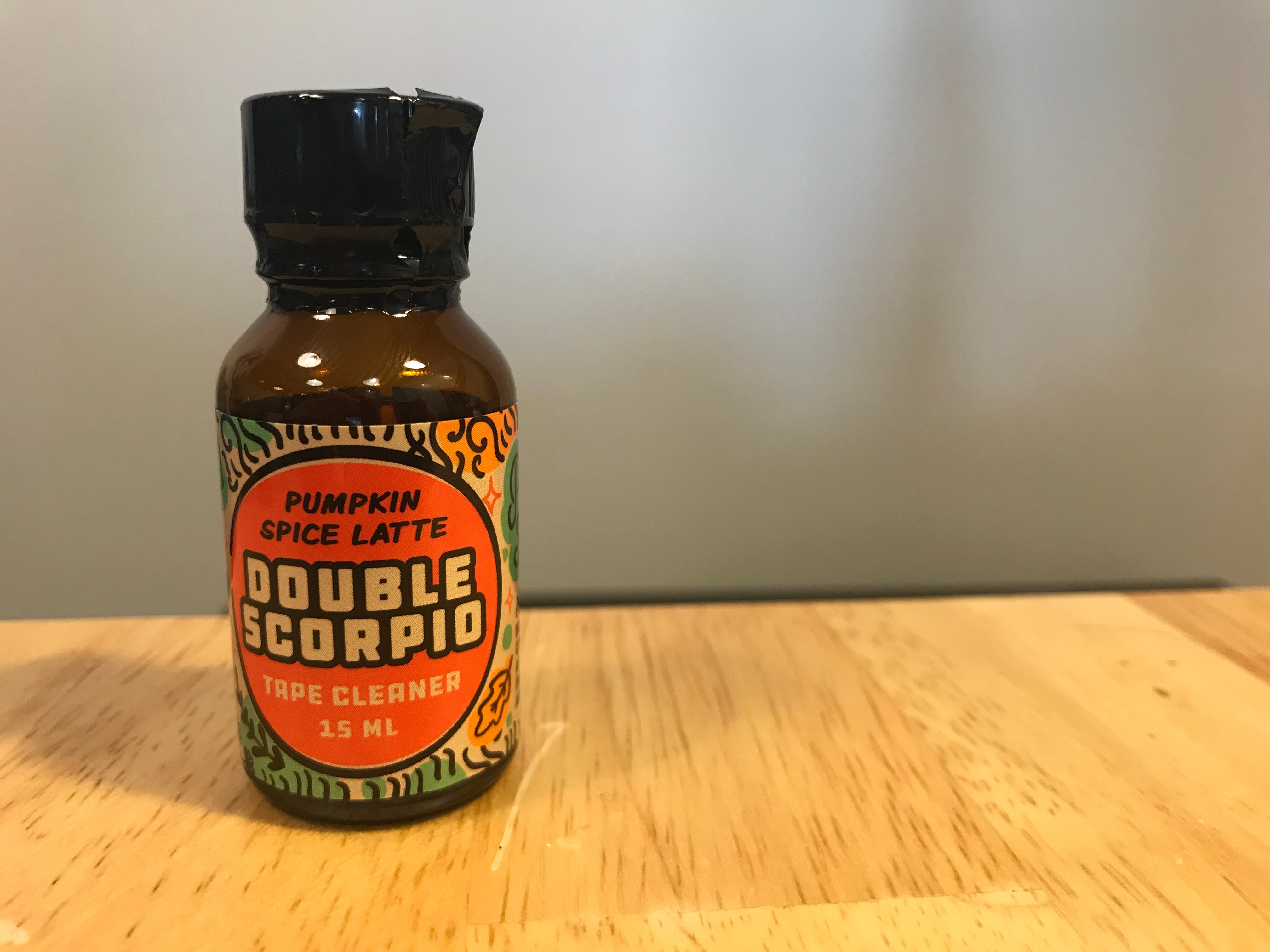 Poppers is the slang term for isobutyl nitrite, which is legally sold as tape cleaner, leather polish or room deodorizer. Poppers are also popular to huff during sex. They relax smooth muscles, including the sphincter for anal. Some people take poppers at raves, too, where they heighten sensory experiences. Just never ingest poppers. That can kill you.
And now, alongside Tall Bottom Thotumn, Double Scorpio's new PSL-flavored poppers are the trend of queer autumn. (Quautumn?)
Once You Pop, the Fun Don't Stop
There's a whole culture around poppers: memes, branded swag and even pop singer Charli XCX yelling "Gay Rights" while holding a bottle of Rush.
From Meme to Market
Last year, inspired by a poppers meme, "farm-to-disco" company Double Scorpio added a little autumnal dazzle to the culture. Co-founders Julian Eternal and his boyfriend Brian came up with the idea in August 2018 after they were repeatedly tagged in a poppers meme: a Rush bottle with the words "Pumpkin Spice," placed over a wreath.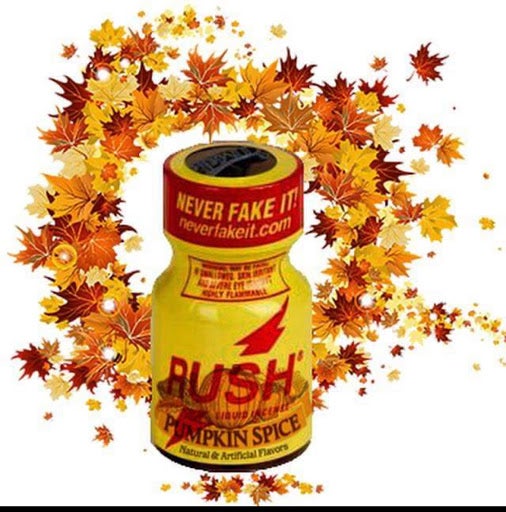 "It was just a gag," Eternal says. They initially just wanted to try to recreate the meme. After two months of experimenting, the couple found a working formula of essential oils and isolates (synthetic scents like spearmint or peppermint).
Soon after its release, PSL poppers quickly became a top seller. The response started as "you're trash" for backing the basic-bro PSL trend; soon, it became "I'm gonna get three bottles, thanks," Eternal says.
All Hail the Great Pumpkin
Boosted by Double Scorpio's witty online persona and support from famous drag queens like Willam, the PSLP has quickly found a serious audience. "It's cute for fall," says poppers expert and OnlyFans star DamagedBttm. "They smell extremely, chemically pumpkin."
To be fair, the PSL moniker is misleading: It's not really a replica of Starbucks' infamous drink. There's no real "latte" in the scent, for instance. "It does not smell true to a PSL," criticizes Justin, a 28-year-old in San Francisco. "It gives more of a vanilla-and-spice profile."
Even Eternal acknowledges it's more about the essence of the season than any specific autumnal smell. "Think of an apple cider without the apple. I'm really, really proud of how we managed to capture the scent," he says.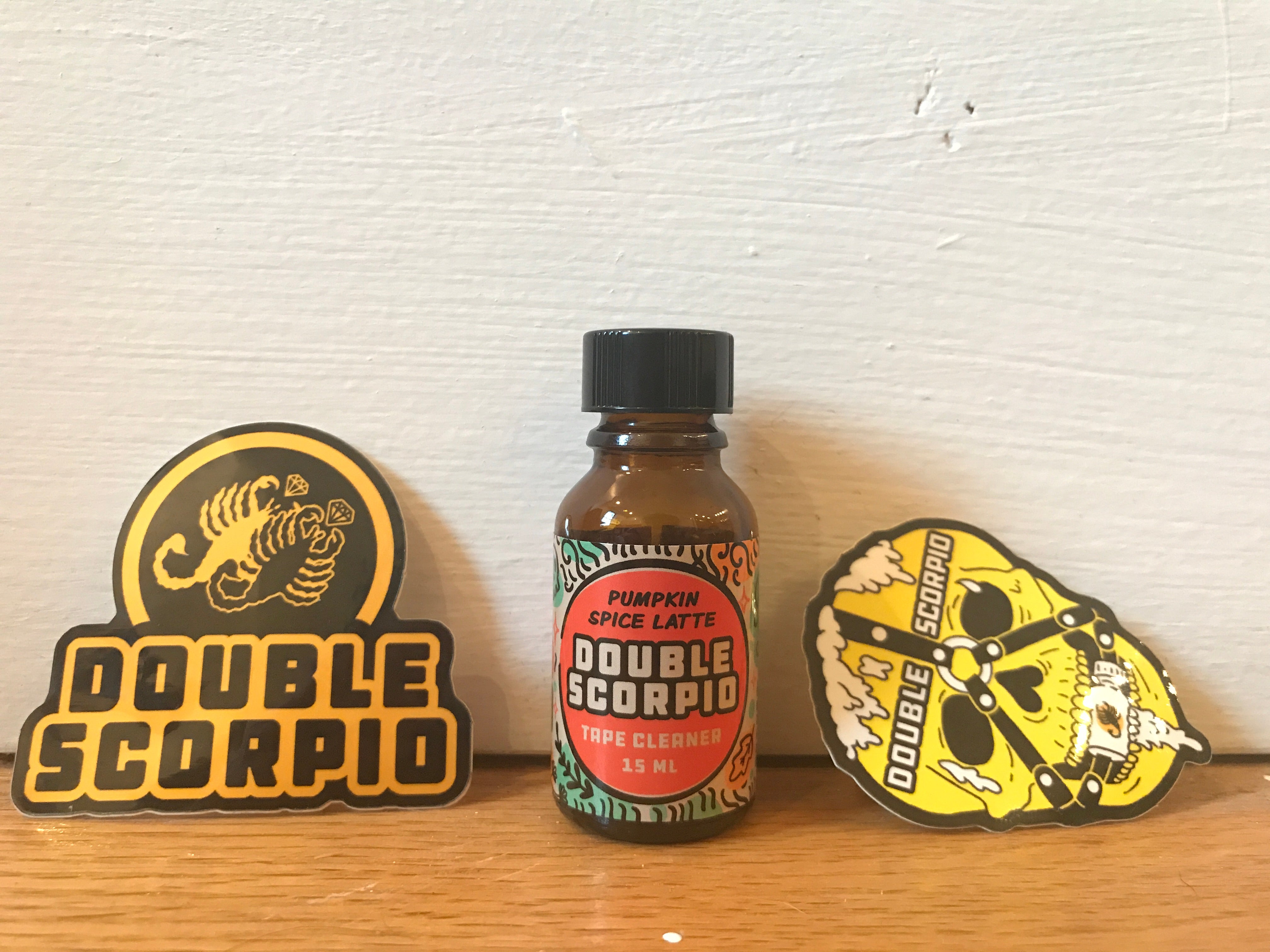 Supporting Queer Small Businesses
However, scented poppers serve a greater purpose than a seasonal novelty. Like a signature cologne, isobutyl nitrites can be a pungent token of a special friendship — or fuck session.
"I have a friend who specifically likes Honey, so I use that with him only," says Bentley, a 29-year-old gay man in New York. He has six Double Scorpio scents in rotation; Emerald is his signature aroma. "It's refreshing, familiar and crisp, and it leaves me with the cleanest VHS tapes I've ever had."
Because counterfeit poppers are rampant and there's an air of mystery around where these big companies like Jungle Juice and Rush (the Nike of poppers) operate, buying small-business poppers offers some peace of mind.
"I was paranoid ordering online my first time," says Mickey, a 31-year-old gay man from Dallas. Then he found queer-owned Austin, Texas-based Double Scorpio, which allowed him to buy directly from its website as opposed to janky online stores. Mickey has since become a loyal customer, and it just so happens that PSL poppers are his favorite. This year, he bought five bottles.
"Regular poppers smell like old Wite-Out," Mickey says. "PSL poppers are like sniffing a scented fall candle that makes you horny."