It's a scorching Saturday morning, and I'm winding through Joshua trees in the Mojave Desert en route to Sin City. I preemptively (and naturally) compare my trip to Hunter S. Thompson's Fear and Loathing in Las Vegas. In comparison, everything I'm doing feels diluted and mundane.
I'm in a subcompact Kia hatchback, not a snazzy, red convertible. I have a Nalgene full of water, not a suitcase packed with drugs. I'll be dining at a psychedelic-inspired restaurant called Superfrico, not taking real psychedelics.
Superfrico calls their cuisine "Italian-American psychedelic," but shrooms and LSD aren't on the menu. Instead, their aim is to replicate a psychedelic experience and produce a somewhat freaky ambience while still serving up bomb food. "The goal in creating the restaurant was to break down the walls between fine dining and the anything-goes, submersive splurges Las Vegas visitors crave," explains Ross Mollison, "impresario extraordinaire" of Spiegelworld, the production company behind Superfrico.
They certainly make some hefty promises about the Superfrico atmosphere on their website: "A veritable smorgasbord for the senses, expect wall-to-wall eye candy and impromptu amusements across a series of imaginatively-themed, infinitely explorable bars, lounges and dining rooms." Likewise, its press release describes the menu as a "mind-altering, multi-sensory melting pot."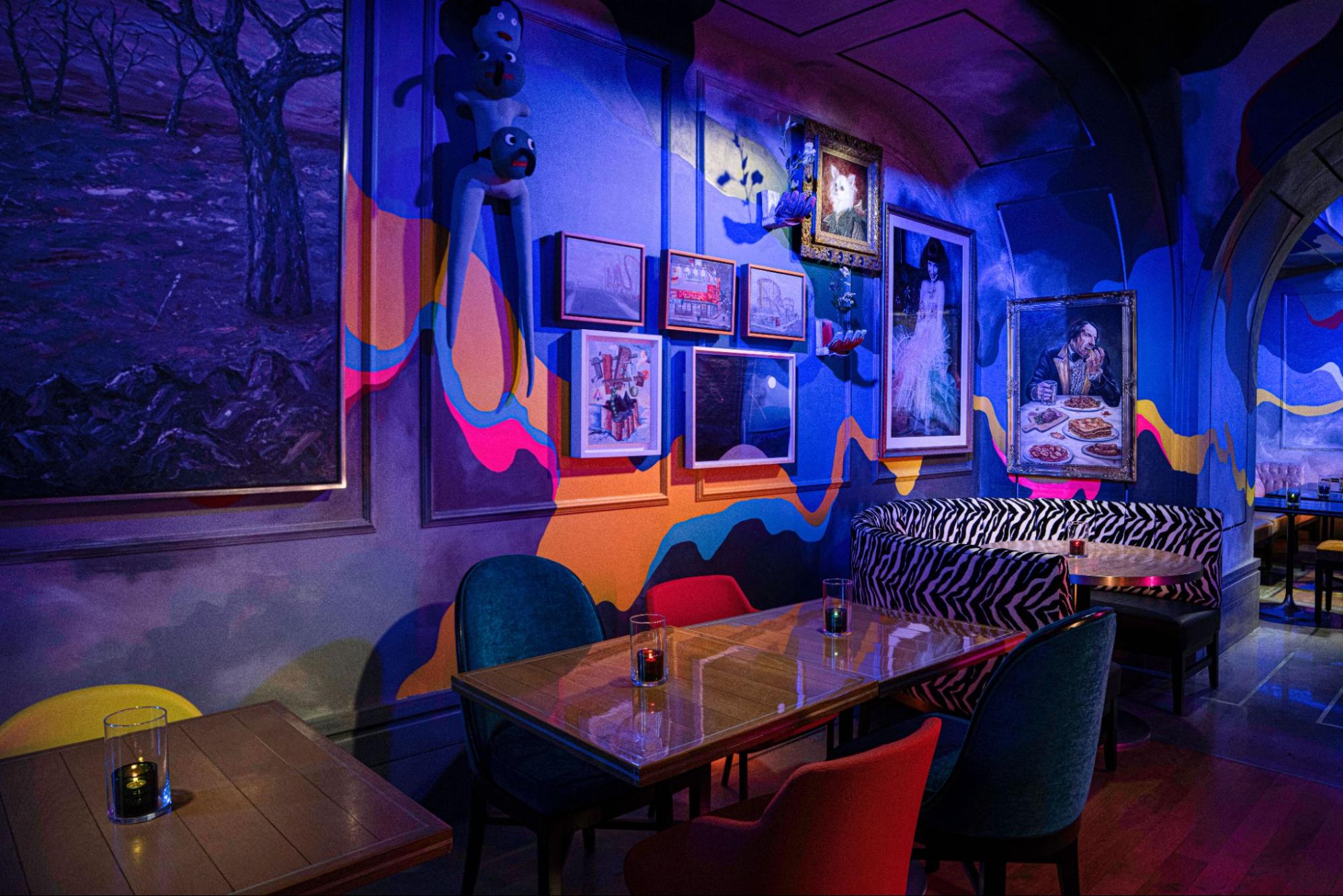 Because I'm cynical, the concept vaguely reminds me of when Carl's Jr. released their CBD-infused cheeseburger, evidence that weed had gone fully mainstream. Psychedelics appear to be on the verge of a similar renaissance: They're being decriminalized; companies like Psychedelic Water are employing their notoriety to move herbal supplements; and psychedelic R&D is now being offered on the stock market. So, it's only natural that joints like Superfrico pop up and hop on. 
Mind you, the arrival of psychedelic dining has been happening for a while. Mellow Mushroom, a pizza chain inspired by psychedelics, has been slanging pies since 1974.  Otus Supply, a Michigan eatery described as "fine dining for hippies," has been serving burgers and hosting psychedelic rock concerts since 2016. One Quiznos in Colorado even offered a so-called "Magic Mushroom Melt" (which included a triple serving of mushrooms and some other tie-dyed goodies) for a limited time to celebrate Denver's 2019 decriminalization of psilocybin.
But as I step through Superfico's sizable, purple doors, I'm undeniably suspicious. Can something as complex as a psychedelic experience really be replicated in a restaurant environment? Will I transcend reality as I swallow a meatball? Can a person eat their  way to ego death?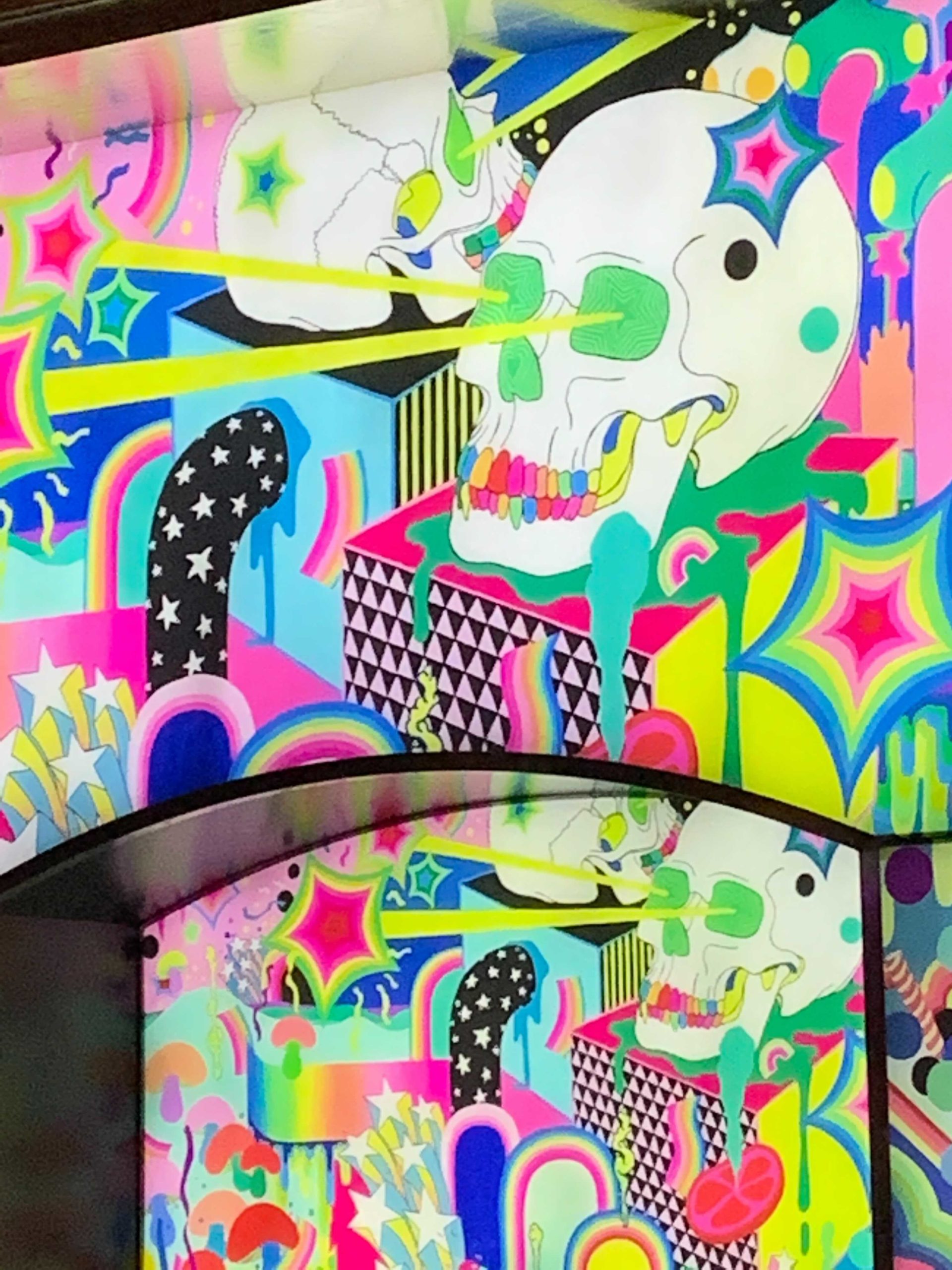 "The Tide Is High" by Blondie welcomes me into the dim restaurant. The decor is a mixture of psychedelia and horror — skulls shooting rainbows from their eyes, an eerie painting of some dead trees and a creepy, green doll stare at me from their places on the walls. If I were on psychedelics, I'd already be freaking out. The sinister charcoal-esque drawing of a man hanging six inches from my head would surely be speaking to me, and he'd have nothing nice to say.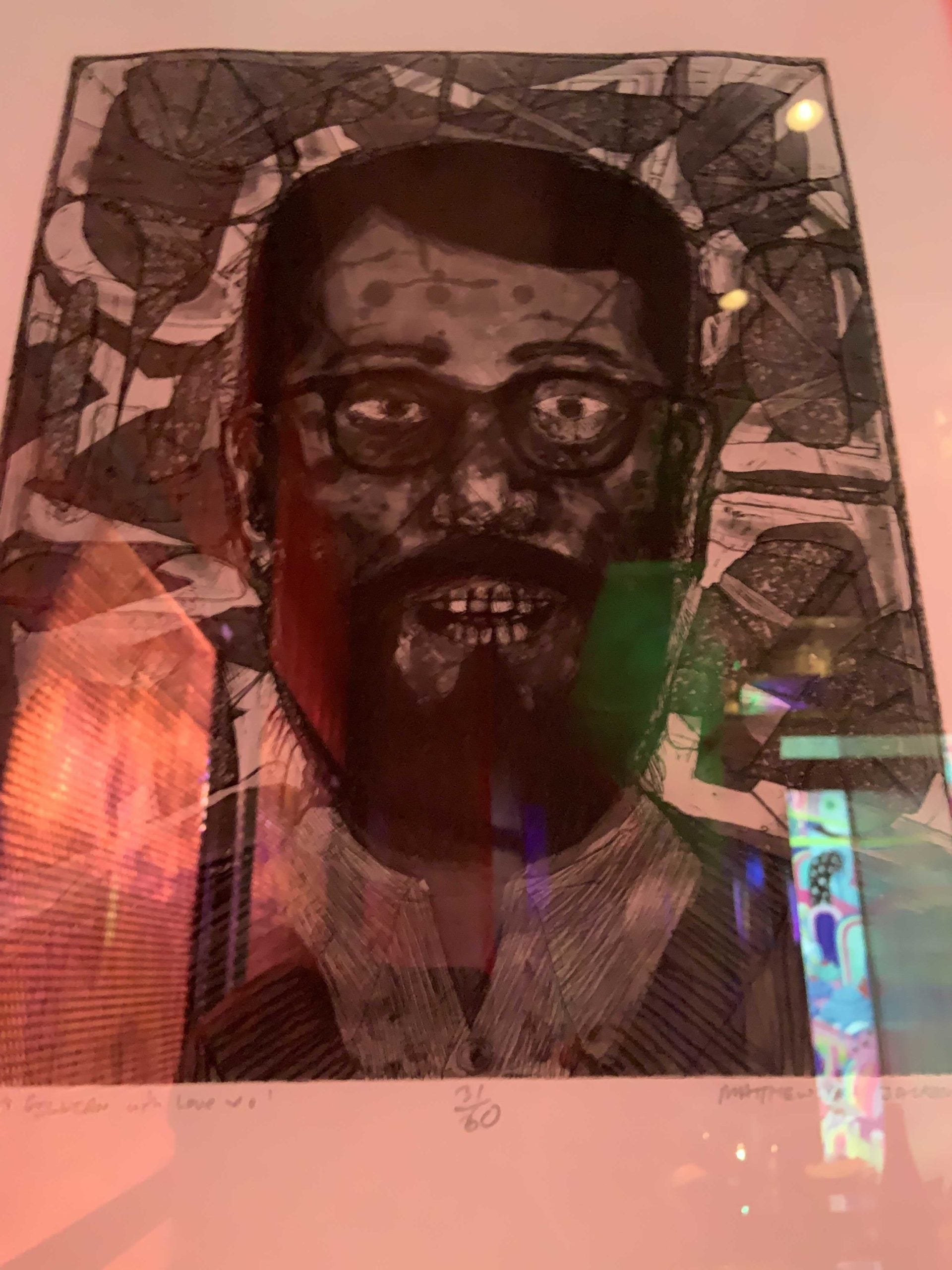 Compared to the eccentric atmosphere, the menu has much of what you'd expect from an Italian spot — meatballs, pasta and pizza. But as Mollison explains, each item comes with its own "international twist of unexpected flavors and techniques." For example, the calamari I order are pan-seared, not fried. The carne asada pizza is square and spongy, like a thicc chunk of garlic bread. The banana-walnut tartufo is accompanied by a miso caramel, not your average caramel. 
I'm no food critic and am easily impressed (I think Panda Express is good), but everything is delicious.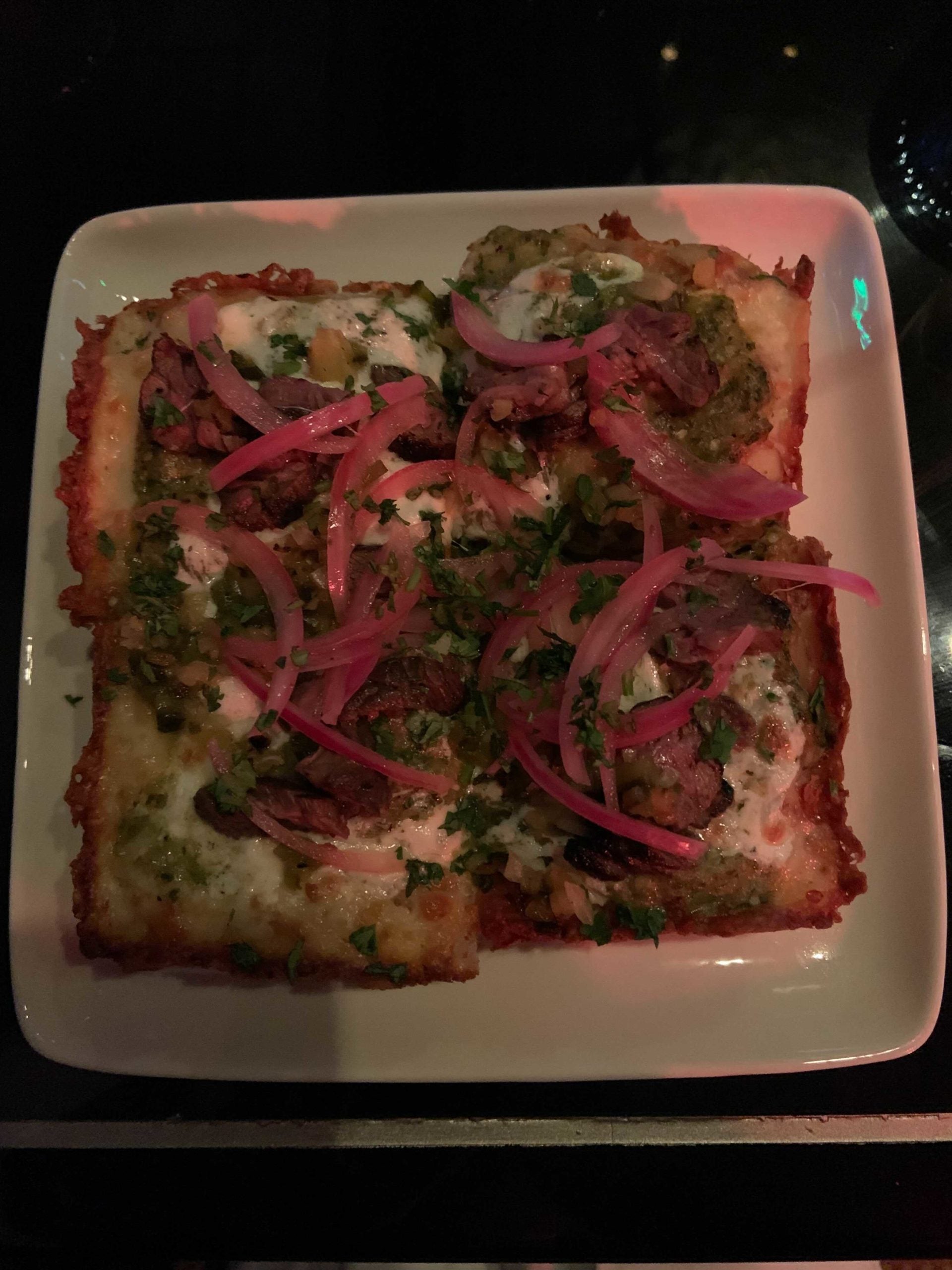 As a slight aside, Superfrico shares a door with OPIUM, one of Spiegelworld's shows. I caught the performance while I was there, and I can only describe it as a horny, space-themed circus. There were gymnasts, jugglers, a sword swallower, a bubble artist, people spitting banana chunks into each other's mouths and more "Uranus" jokes than I could count. At times, the performers walk through Superfrico and put on short performances, which certainly adds to the mind-bending experience.
It may seem as though the performers are on psychedelics, but what's more likely is that customers will leave wanting to try them. That would be an overall win for psychedelic reformation, according to Courtney Nichols, founder of the sometimes psychedelic-inspired Disco Dining Club. "The world would be a better place if everyone took a personal journey with psychedelics," she says. "If the mainstream wants a part of the pie, go for it."
Speaking of pie, now full and satisfied, I revisit my original skepticisms. Does Superfrico provide a unique dining experience? Yes, absolutely. Will you meet god, fall in love with a fern and leave the restaurant as a whole new person? Probably not.
But that's beside the point. Dining at Superfrico (and psychedelic-inspired establishments more generally) isn't meant to be a hallucinogenic experience. It doesn't come with the potential downsides that actual psychedelic drugs do, like nausea and hellish trips that haunt you forever. It's a place for the average person to enjoy a succulent Italian meal under slightly experimental circumstances.
I'm not sure that could be achieved if actual psychedelics were on the menu and non-psychonauts were freely allowed to eat. Some old guy would be calling 911 in the corner. Someone else would be singing "Kumbaya." I'd be somewhere in the kitchen bothering the chef. It would be, well, a lot like Fear and Loathing in Las Vegas, and that's probably not a good thing.
In fact, these pseudo-psychedelic dining experiences are likely more novelty than anything else. Real change looks a lot more monochrome. It happens at events like Global Psychedelic Dinners, which go down in people's homes, are more serious than psychedelic and act as fundraisers for actual research. But of course, it's tougher to get people in the door without the promise of carnies and carne asada pizza.